Prices in Riga
Prices in Riga, compared to the countries in Western Europe, are still not high, as throughout the post-Soviet space. In general, this applies to all items of expenditure of tourists. However, for those who like to be specific, it will be useful to get acquainted with this article.
Lodging: where to stay in Riga and how much will it cost?
The cheapest option will be a hostel. For example, in the city center (Old Riga) you can stay in a double room for 15-20 euros. In this case, the toilet and shower will be shared on the floor, as in all hostels. You may even include breakfast. This option, of course, is suitable for undemanding tourists, for 1-2 nights. Here are a few suitable options:
Those who like a more comfortable stay should pay attention to the classic three-star hotels. Double room in such a hotel can be booked from 25-30 euros. But it should be noted that these hotels will not be in the center of Riga. In the Old Town and near it a similar room will cost 40-50 euros. This price may also include breakfast.
Meals: cafes and restaurants
Riga is quite a big tourist center, so for gastronomy lovers there are places for every taste.
When asked "Where to eat in Riga, tasty and inexpensive", the most popular answer is "Lido" – a chain of inexpensive restaurants (although, rather, canteens), where the principle of self-service operates. If any of the readers have had lunch or dinner at Moscow's Mu-mu establishments, this is from the same series. In the Latvian capital at the moment there are about half a dozen establishments of the chain.
When we arrived in Riga, we went to Lido without thinking twice. The nearest restaurant was LIDO ALUS SĒTA, located a few steps away from our hostel (in the heart of the Old Town).
The photo below shows all the dishes we ordered. It all cost 9,5 euros.
In addition we will pay for drinks (tea – 1,5 euro, a glass of beer – 2-3 euro). In general, even a dense meal (first and second course + salad + drinks) in Lido for two will cost about 20 euros. Our requests, as you can see, were more modest, and we settled for 10 euros.
Of course, there are many other cafes and restaurants in Riga, in particular, those specializing in Latvian cuisine. Here is an example of a menu with prices of one of these restaurants in the Old Town (in the building of Jakovljevskie barracks).
Stores and supermarkets
Prices in Riga supermarkets, in general, are comparable with Russian ones. To help you compare prices and find your way around, here are a few examples.
The famous Riga sprats 1-2.5 euros.
Milk 1-1,5 euros, flakes 1-2 euros.
Drinks. Coca-Cola 0,5 l – 0,8 euro, 2 l – 1,9 euro.
Beer (0,5 l bottle) 0,75-2 euros, wine from 5-7 euros
Bread 0,5-0,8 Euro
Chocolate and other sweets
Some other products:
Cigarettes 2 to 5 euros
Riga balsam 10 euros for a 0,5 l bottle.
Eggs, 10 pieces – 1 to 1.3 euros
Bread, loaf – 1 euro
Tea, packet – 1-1.5 euros
Each ticket for public transport (bus or streetcar) in Riga costs 2 euros (if you buy it from a driver). If you buy a ticket from an automatic vending machine or a stall, the cost is 1.15 euro.
Souvenirs from Riga
As souvenirs and gifts from Riga most often bring:
Balsam of Riga (as mentioned above, a bottle of 0.5 l costs 10 euros).
Amber jewelry (jewelry made of real amber costs from 20-30 euros)
Magnets (1-3 euros) and other souvenirs with symbols of Riga and Latvia (key chains, mugs, cups, saucers, postcards).
The best way to get acquainted with Riga is to book a city tour. There are both classic options and quite unusual.
sightseeing tour of Riga for 2 hours – 15 euro per person
Prices for vacations in Riga
Planning a trip to Latvia? Find out how much a vacation in Riga will cost in 2022. We tell you about the prices of airfare, hotels, apartment rentals, food, transportation, tours, excursions and entertainment. Tips on how to save money.
Latvia does not yet accept tourists from Russia, but some successfully make their way through other European countries. Take a look at the list of open countries. For convenience, we provide pre-pandemic prices for trips and flights. Information about visas and flights may not be up to date now, check with official resources.
Contents:
Flight and bus prices
Where to find cheap tickets? Use the Aviasales search engine – it compares prices of all airlines. Learn the secrets of finding cheap airline tickets.
Airplane. A flight from Moscow to Riga and back for one person costs from 6000 rubles. Round trip airfare from St. Petersburg is a little more expensive – from 8900 rubles. Airfare prices during the year almost unchanged. The lowest they are at the end of January, and the highest – before the New Year and in the middle of summer.
Bus. The trip to Riga from Moscow costs from 3500 to 5000 rubles one way (the cheapest is at Lux Express). The price for a bus ticket to Riga from St. Petersburg is lower – from 2000 rubles. From Minsk – 1800 rubles, from Kaliningrad – from 1300 rubles. Look for tickets on GoEuro.
Don't forget about insurance! It will save you money in case of emergency. You can get it at Compare.ru or Cherehapa. The price starts from 300 rubles per week.
Useful selection:
: how to get to the city : prices of hotels and restaurants, weather, leisure : how to get on your own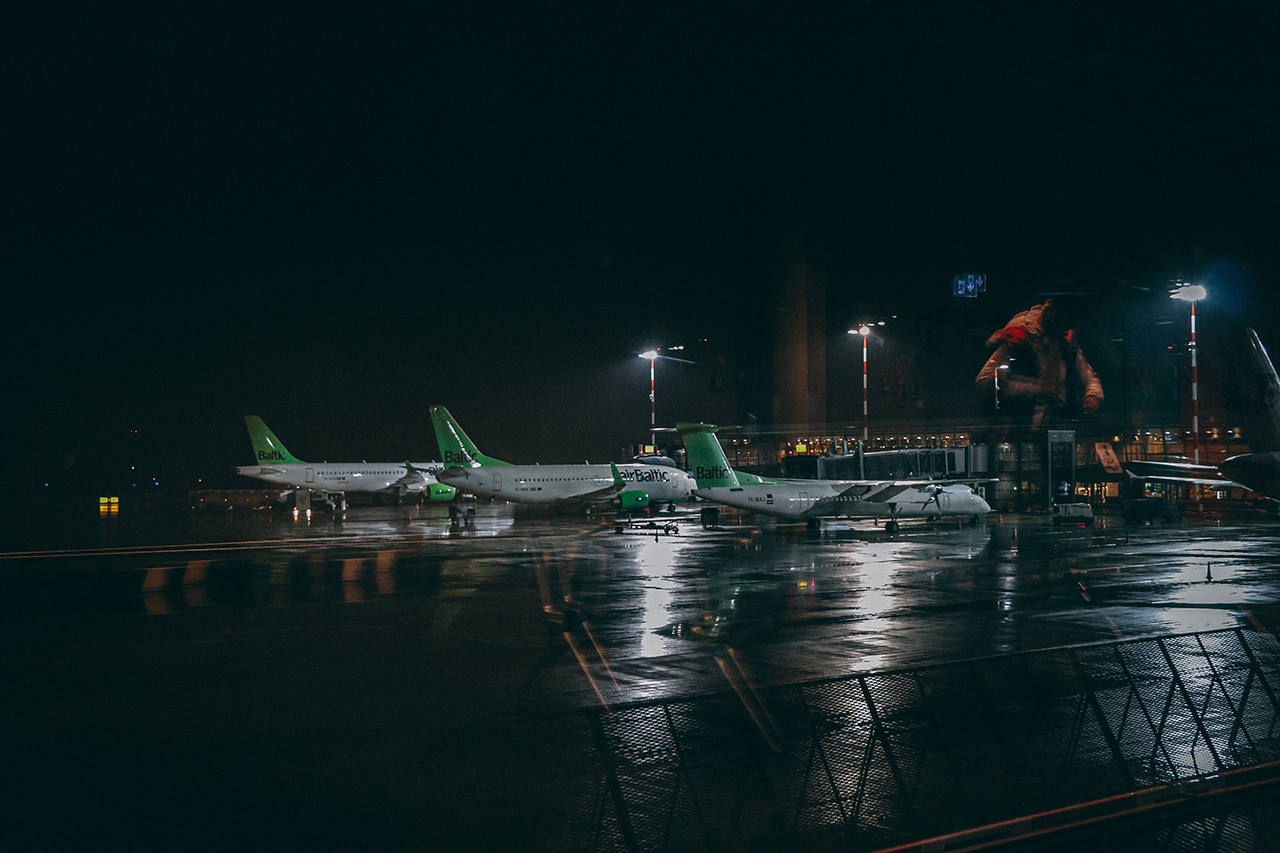 Airport in Riga. Photo: unsplash.com / @iamarthuredelman.
Prices for hotels and apartment rentals in Riga – 2022
Look for discounted hotels on Hotelluk. Here are the top rules for finding hotels.
The cheapest accommodation in Riga is in late fall, winter and early spring. The most expensive – in summer. However, price fluctuations by season are insignificant – you can rest inexpensively in Latvia, even during the New Year holidays.
Prices for double rooms in hotels in Riga during the high season
| | |
| --- | --- |
| Guesthouse | 20€ |
| 2* hotel | 25€ |
| Hotel 3* | 30€ |
| 4* hotel | 40€ |
| 5* hotel | from 100€ |
Many tourists like to rent from owners. Rooms in the city center rent for 15€ per day. In the central part of Riga, studios and one-room apartments with all conveniences will rent from 20 € per day up to 385 € per month in 2022.
Useful selection:
: prices of food, accommodation, travel : detailed ranking of 10 cities
Tour prices in Riga in 2022
The tour to Riga for two persons for 7 days with a flight from Moscow costs from 35 thousand rubles and from St. Petersburg – from 57 thousand rubles. The tour includes a flight, transfers and hotel accommodation in 3*. If you want to stay in a 5* hotel, a week tour for two from Moscow will cost from 68 thousand rubles, and from St. Petersburg – from 91 thousand rubles.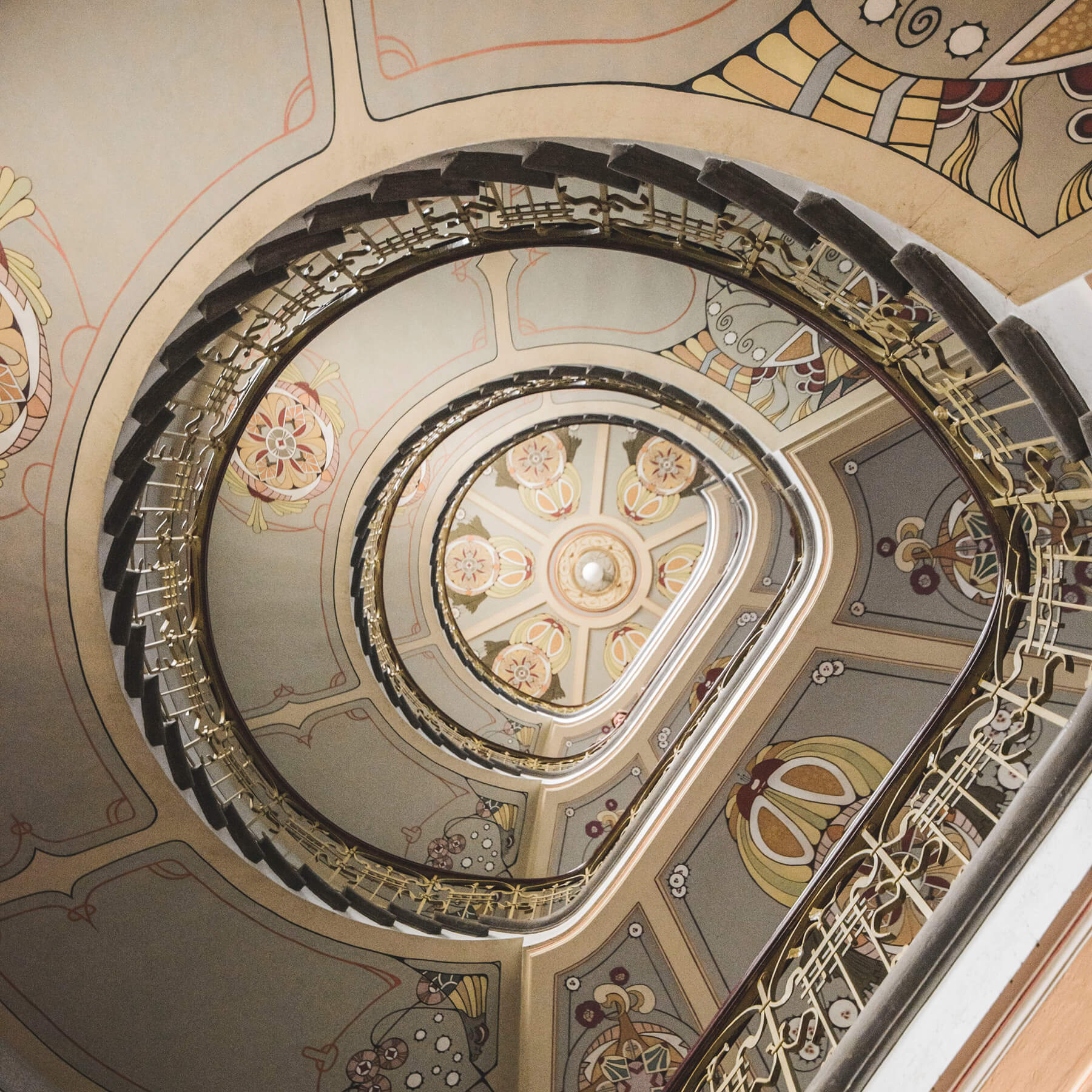 The staircase in the Museum of Art Nouveau. Photo: ydaniels / unsplash.com.
Food prices in Riga – 2022
A large part of any travel budget is the cost of food. Prices for food in Riga are quite reasonable. A McDonald's Big Mac set for one person costs 5,7 €, a breakfast or lunch at a budget café is 8-10 € and a dinner at a cheap restaurant starts at 16 €.
Prices for food in Riga's restaurants and cafes:
scrambled eggs with bacon and tomatoes – 5,7€;
soup – 5-7€;
salad – 7-8€;
French fries – 2,5 €
Salmon steak – 12,5 €
Salad with smoked meat – 6 €
cappuccino 2,5 €;
imported beer, 0,33 l – 2 €
Local beer, 0,5 l – 2,85 €
Coca-cola, 0,5 l – 1 €.
On the streets sell burgers – 5 €, hot dogs – 2-3 €, waffles – 2,5 €, croissants – 0,5 € and pancakes – 2,5 €.
Advice. Eat in cozy Lido self-service restaurants – the food is inexpensive and of good quality and the staff knows Russian. A business lunch is only 4€!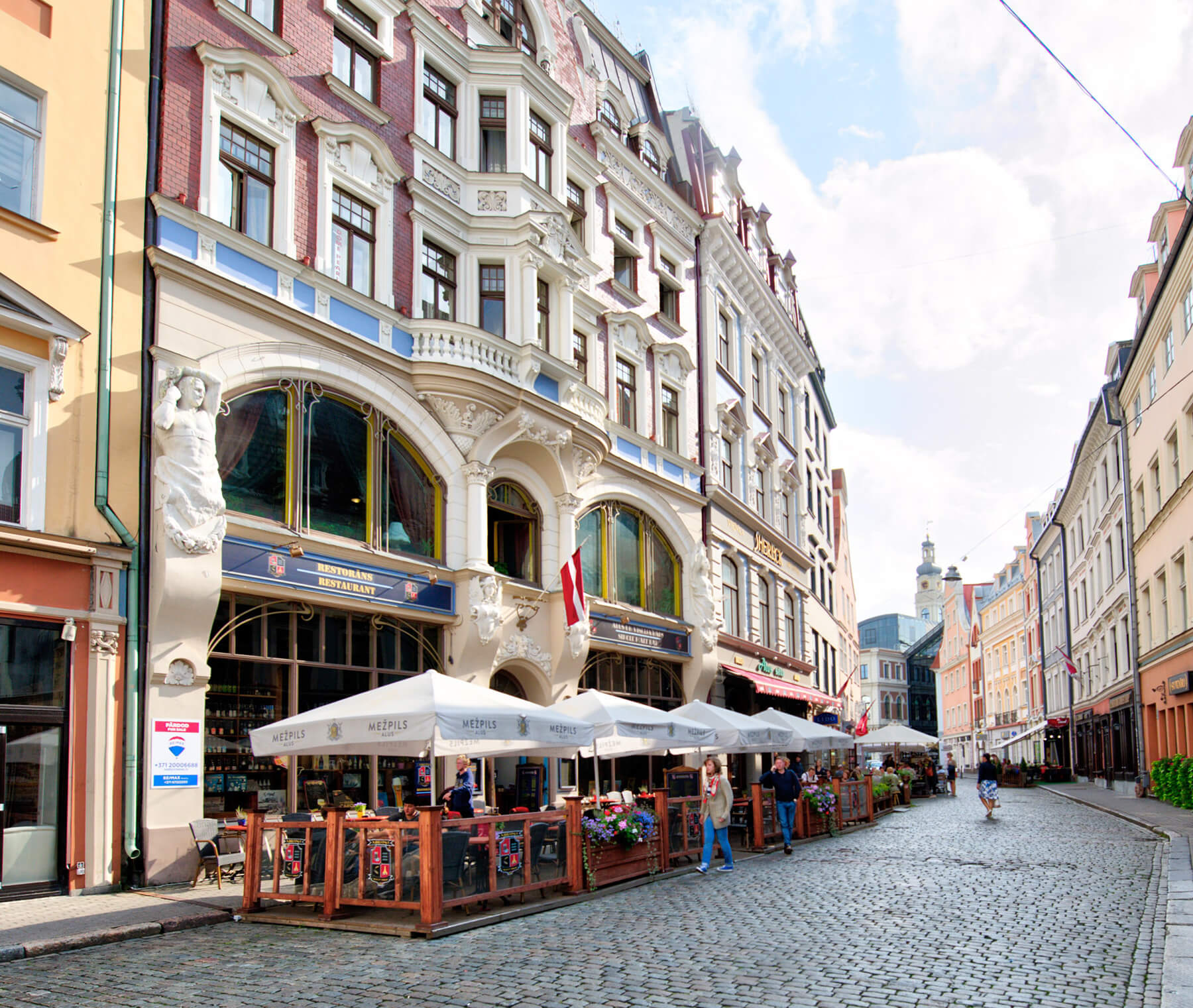 Street restaurant in Riga. Photo: jacquesbopp / unsplash.com.
Food Prices in Latvia
If you're staying in an apartment, it's more convenient to cook on your own. Grocery prices in stores in Riga in 2022 are not the lowest in the Baltics, but much lower than in Western Europe.
Groceries are sold in small stores, large shopping centers and markets. The chain supermarkets Maxima, Mego and Rimi are popular among the locals. They have a good range, regularly conduct promotions and offer discounts. Most stores are open daily from 7 a.m. to 8 p.m. to 10 p.m.
Prices for food and drinks in Riga
bread – 0,6-1€;
milk, 1 l – 0,83 €;
Kefir, 1 l – 1 €;
yoghurt – 0,5 €;
butter, 1 kg – 9€;
sunflower oil, 1 l – 1,55 €
cheese, 1 kg – 5,7€;
boiled sausage, 1 kg – 4€;
chicken breasts, 1 kg – 4-5€;
pork, 1 kg – 4€;
beef, 1 kg – 5,5€;
eggs, 10 eggs – 1,85 €
cauliflower, 1 kg – 1,2 €
cucumbers, 1 kg – 1,8€;
tomatoes, 1 kg – 1,6€;
Oranges, 1 kg – 3,4€;
mandarins – 3,5 €;
apples, 1 kg – 1€-2€;
sugar, 1 kg – 0,8-1,9 €
halva, 1 kg – 2,4-2,8 €
dried fruit, 1 kg – 4-7€;
draught beer, 1 l – 2,6-4€.
Variety and prices at Riga market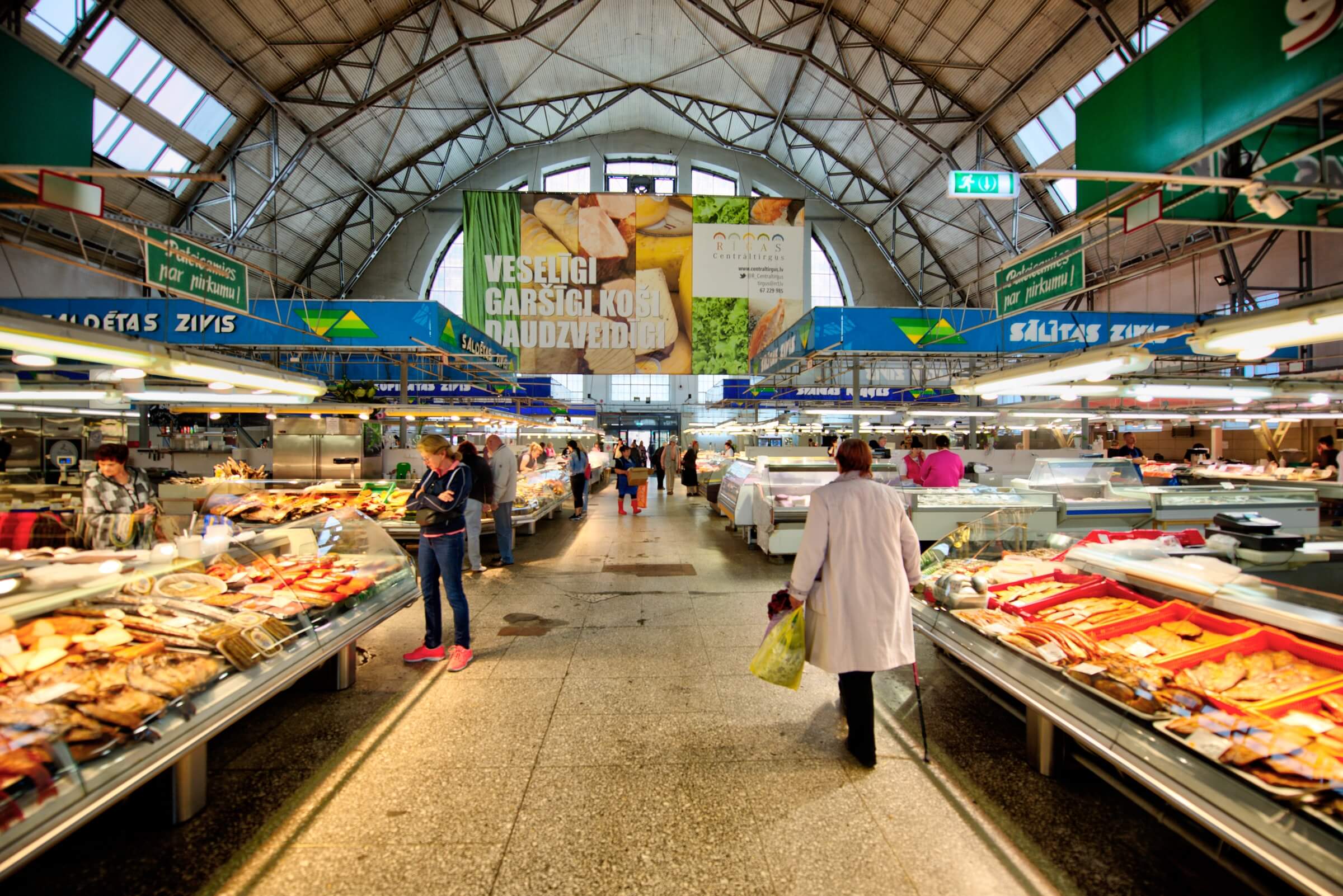 Central market in Riga. Photo: jacquesbopp / unsplash.com.
Prices for sightseeing tours and entertainment
Look for interesting excursions on Sputnik and Tripster websites. Individual and group, without crowds of tourists and in Russian.
Many excursions are organized for guests of Riga in Russian language. Tourists are popular with tourists:
– 15€. – 50€.
Boat trip to Jurmala – 20 €. – 100€. – 50€. – 35-45€.
Latvian Ethnographic Open-Air Museum – 20 €.
Journey to Courland – 130 €.
To get acquainted with Latvia's capital city you don't have to buy a ready-made tour. It's a pleasure to travel around the city on your own. See the streets of Riga from Panorama Riga for €5 and listen to an organ concert at the famous Dome Cathedral for €10. Learn about automotive history in the Baltics at the Motor Museum (€10) or visit the Riga Zoo for €6.
Transport prices
Riga has just over 640,000 inhabitants, so traffic jams of several kilometres a day do not occur here like in Moscow. It is convenient to travel around the city as by public transport.
Cab service . All cabs are official and metered. The price for getting into a taxi is 1,50 € and 0,7 € for each kilometer. A ride within Riga up to 3km will cost 2,5-3,5€, but for longer distances up to 15€. Rides at night are 20% more expensive.
To get from the center of Riga to the airport, you have to pay 12-15 €. For an hour of waiting for a cab – 7,90 €. It is convenient to call a car by phone, as all dispatchers in Riga speak Russian. Cash and credit cards are accepted for payment, but if a taxi terminal is available, it's best to ask the driver in advance.
Public transportation . Buses, trolleybuses and streetcars run throughout Riga. All buses and trolleybuses use a single ticket. A single ride ticket costs 1,15€ at a kiosk and 2€ from the driver. A single daily ticket costs 5€, a 10-ride ticket costs 10,9€ and a weekly ticket costs 50€.
If you want to save money, take bus no 22 from the airport to the city center instead of a cab. The trip takes half an hour and costs 1,15 €.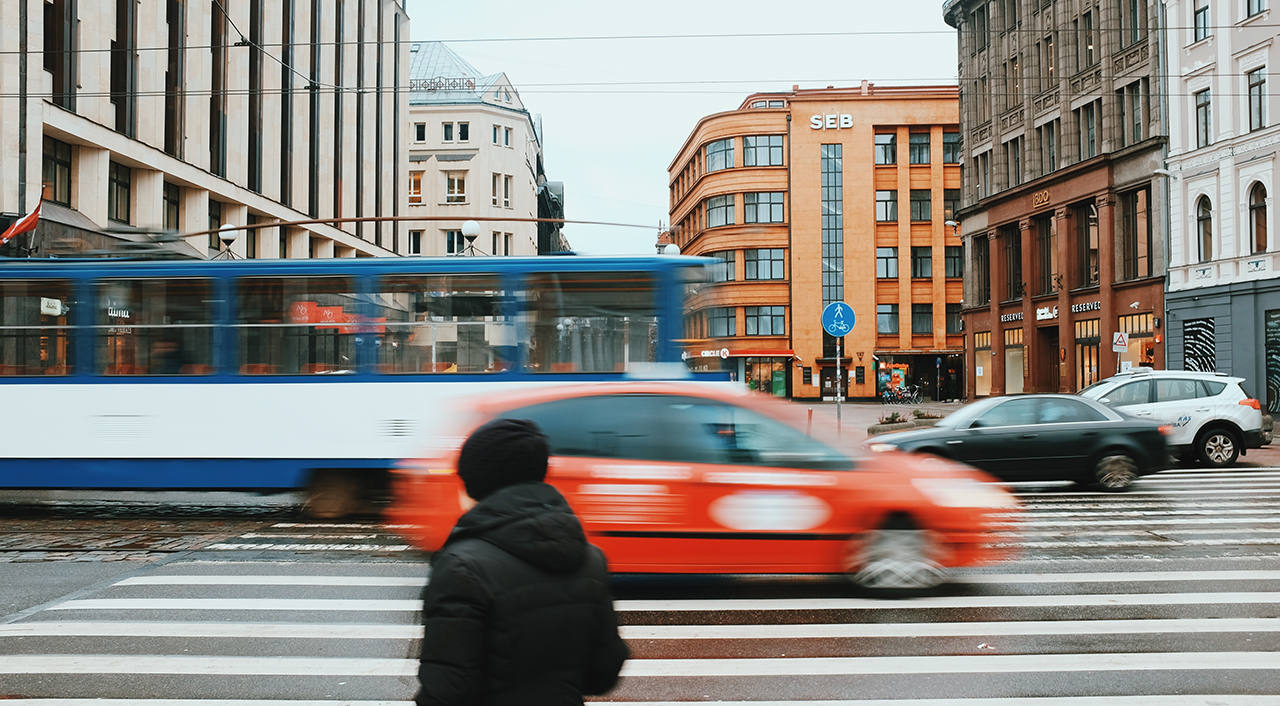 A street in Riga. Photo: unsplash.com / @nkachanovskyyy.
Railroad . The train from Riga is a convenient way to get to Jurmala – 1,4 € or Sigulda – 1,9 €. All prices are one way.
Car rental . A Volkswagen Polo with a manual gearbox for 13 €, a Ford Fiesta with an automatic transmission for 15 €. For full insurance without a deductible they charge 10 € per day. The best way is to rent a car at the airport. In Latvia, the price of 1 liter of gasoline AI-95 is 1.15 €, while AI-98 – 1.2 €. In the center of the city parking fees are €2 to €3 per hour.
Rent a bike or segway. Rentals can be found in different parts of the city, including the historic center. The self-service bicycle rental chain Sixt is very popular with the residents of Riga and tourists because of its lowest prices.
Bicycles in Riga cost 3-10€ per hour, 10-25€ per 8 hours and 13-32€ per day. Segways rent for 13€ per half hour and 25€ per hour. Price includes a briefing, safety helmet, lock and free maps of the city.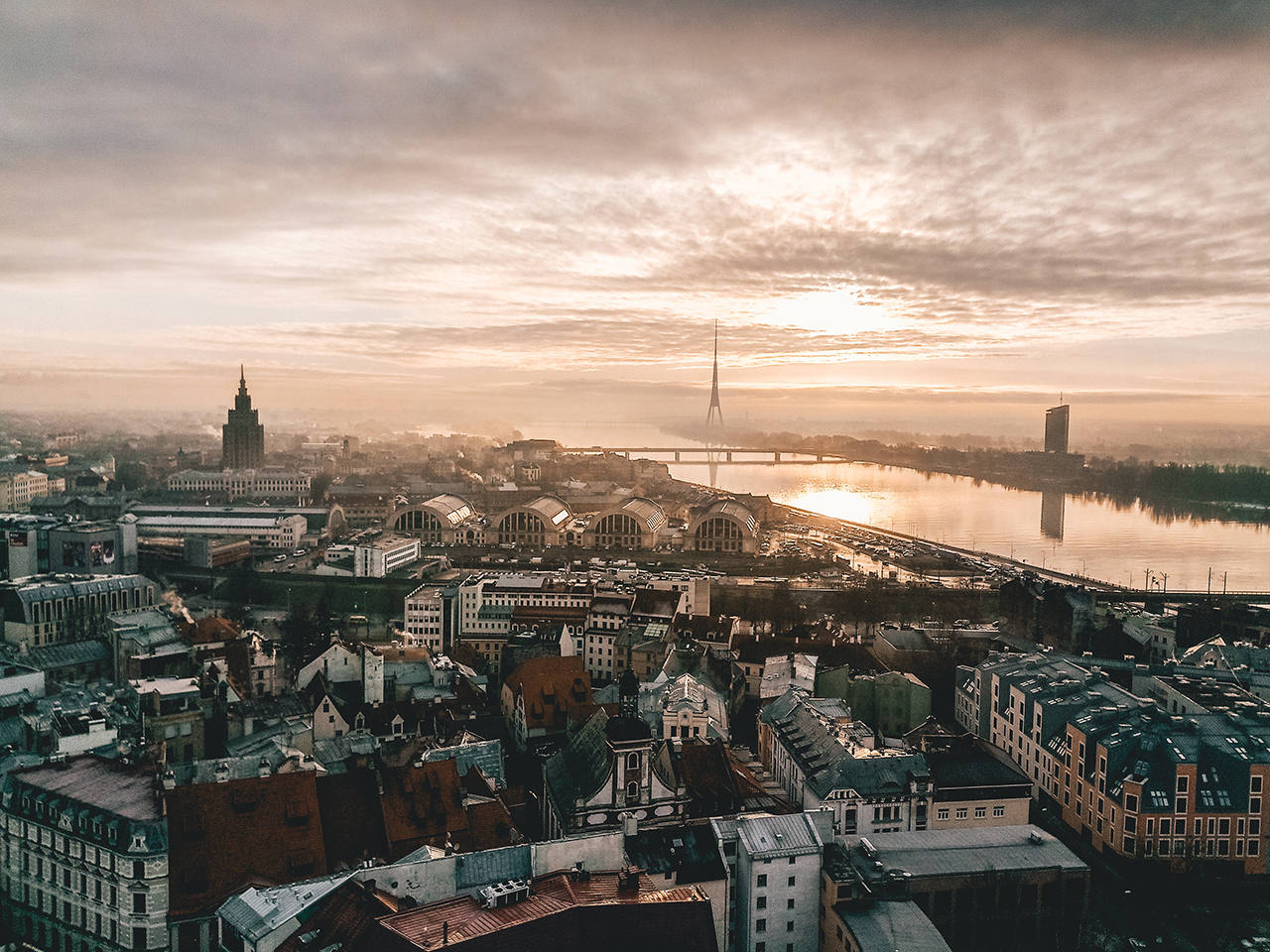 View of the city. Photo: unsplash.com / @gillyberlin.