Where to have a rest in Cyprus in 2022
Where to go to rest in Cyprus in 2022? We have prepared an article with photos and descriptions of the resorts of the island to find out where it is best to rest in Cyprus.
The article is conditionally divided into 2 parts:
Part 1 – an overview of the best resorts in Cyprus by type of holiday (beach, sightseeing, holidays with children)
Part 2 – more detailed information about each resort.
How to find cheap air tickets to Cyprus? Try to search through the search engine Aviasails. We advise you to check tickets for different departure dates.
Where to go on holiday in Cyprus – 2022
This part of the article has 3 sections to help you choose a holiday resort in Cyprus depending on your preferences: beaches, excursions or family vacations.
Beach Holiday
In this section we will talk about beach holidays in Cyprus: reviews, what kind of sea, where the best entertainment and more.
The best places for a beach holiday in Cyprus in 2022 are considered popular resorts of Paphos, Protaras and Ayia Napa, and a few less known – such as Polis and Pissouri.
The first three resorts have a developed infrastructure – hotels of different categories, cafes and restaurants, various entertainments. Ayia Napa is more suited for recreation for young people, and in Paphos and Protaras is worth going for a quiet holiday.
Polis and Pissouri are not bad beaches, but you can't find much infrastructure.
The most popular resorts in Cyprus with sandy beaches are Ayia Napa and Protaras.
Cultural and excursion activity
Where to go in Cyprus for sightseeing and excursions in 2022? If you prefer a sightseeing vacation, first of all consider such resorts as Nicosia, Famagusta and Kyrenia.
Each city can be explored in 1-2 days. The best option – rent a car and go around all the sights, stopping at each resort for a few days.
Rest with a child
Which resorts of Cyprus to choose for a trip with a child?
The main resorts worth going to with a child are Limassol, Protaras, Paphos, Larnaca and Ayia Napa.
These cities have a suitable infrastructure (hotels, beaches, entertainment), but each of them has its own advantages and disadvantages.
Ayia Napa – good beaches, but the resort is noisy and youthful
Larnaca and Paphos – resorts with airports (do not have to travel far to the hotel), but there are almost no sandy beaches.
Protaras and Limassol – Cyprus resorts with sandy beaches and plenty of entertainment.
Are you going on vacation with your family? Our materials will be useful to you: Holidays in Cyprus with kids – about resorts, hotels and beaches for traveling with a child; the best all-inclusive hotels in Cyprus for kids – a list of good family hotels with a suitable infrastructure.
Resorts of Cyprus – 2022: description and comparison
Ayia Napa
Where is the best place to go to Cyprus in 2022? Most tourists prefer to vacation in Ayia Napa: there are good sandy beaches, hotels and entertainment for all tastes.
Ayia Napa is especially popular among young people because the resort has many discos, nightclubs, restaurants, bars. There are opportunities for water sports, diving, windsurfing, fishing.
The beaches of the resort are covered with fine golden sand, many of them were awarded the blue flag. The best are considered:
Protaras .
Protaras is perfect for those who like a quiet holiday. The town itself disposes to a quiet and relaxing, but if you want more action, nearby is Ayia Napa with its discos and parties.
In Protaras well-developed infrastructure: cafes, restaurants, stores, supermarkets, and recreation prices are lower than in other cities of Cyprus.
The resort has sandy beaches with a gentle entrance to the water and all-inclusive hotels, so it is often chosen for recreation by families with children.
Among the popular beaches of Protaras good reviews get Connos Bay and Cape Greco .
Photo: beach in Cyprus near Protaras © dimitrisvetsikas1969
Larnaca
Where to vacation in Cyprus without spending a lot of time on transfers from the airport? One of the best options is Larnaca.
This resort has a quiet atmosphere, lots of attractions and hotels of all price ranges.
Larnaca's coastline is long and wide with yellowish sand and shallow waters. The beaches are sandy and pebbly (the most popular are Finikudes and Mackenzie). The entrance to the sea is shallow: to get to the depths, you must go a long distance.
Photo: Wall of Larnaca fortress © Sergey Galyonkin / flickr.com
Paphos
Paphos is preferred by tourists for its good microclimate, excellent hotels and picturesque bays. Holidays at this resort will cost more: the prices of accommodation and food here are higher than in other cities of Cyprus.
The beaches in Paphos are mostly pebbly, so many people prefer to go to the bay of Lara. This place is beautiful in itself, and there is a turtle farm nearby.
Another famous beach near Paphos is Coral Bay. It is located in a bay, so the water there is warm and there are no strong waves. The beach is crowded and has a developed infrastructure: cafes, restaurants, taverns, stores.
In Paphos and its surroundings, there are many attractions. Among them is Kato Paphos Park, which is ranked first in the list of the best attractions in Cyprus on TripAdvisor.
Not far from the city is the bay of Aphrodite, about the visit of which tourists leave good reviews.
Photo: waterfront in Paphos © Sergey Galyonkin / flickr.com
Limassol
Limassol is considered the most "Russian" resort in Cyprus, as most of our compatriots go here.
This resort is often chosen for its comfortable hotels with a high level of service.
The coastline of Limassol is 15 kilometers. The beaches are mixed – sand and pebble. In the city center beaches are often crowded, so tourists in their reviews of Cyprus in 2022 advise to go to more spacious beaches in the suburbs of Limassol. The best are considered to be:
Limassol has many attractions to visit – such as the ruins of the ancient city of Kourion and Kolossi Castle. Near the resort are the Troodos Mountains, where you can see the monasteries of Kikkos and Maheras.
Photo: sea off the coast of Limassol © Sergey Galyonkin / flickr.com
Pissouri
A small resort town Pissouri is located between Limassol and Paphos.
A holiday in Pissouri is perfect for diving lovers, as the town has some of the best diving sites in Cyprus. While diving near Pissouri you can see:
Shipwrecks and barges;
Rocks with a lot of marine animals;
Shark tunnel;
Caves.
Polis
A great place for a beach vacation, as it has a wide sandy shoreline. It is a quiet and secluded place. There is practically no entertainment. There are cafes, stores and taverns.
Photo: one of the beaches in Cyprus © Sergey Galyonkin / flickr.com
Useful information
What is the best resort in Cyprus, in your opinion? We are waiting for your comments!
Where to have a rest in Cyprus
Where to go in Cyprus to have a great vacation? We tell you about the best resorts, beaches, interesting sights. We present reviews of tourists.
Cyprus is not megapopular, but in the favorites of many: excellent climate, delicious food, beautiful nature, ancient heritage and most importantly for tourists – beaches, which are considered one of the best in Europe.
Useful Links:
and Travelata – search for great tours to Cyprus. – unusual tours in Cyprus. – Reliable car rental service from €14 per day.
Content:
Where to have a rest in Cyprus
Ayia Napa
This is the most famous youth resort of Cyprus, where there are a lot of nightclubs, bars and other entertainment venues. Ayia Napa is designed not only for young people and many believe that the best place to relax in Cyprus is here.
The beaches in Ayia Napa are sandy and well equipped. Entertainment standard: boating and catamarans, yachting, diving, surfing and fishing. For children there is a water park with rides and an amusement park. The most popular and crowded beach of the resort is Nissi Beach, while Makronissos and Landa beaches are quieter.
Hotels in Ayia Napa have different price categories, located both on the first line, and in the city. When choosing a hotel, consider its distance from the sea and the peculiarities of the coastline, as there are stony sections of beaches. There are family-type hotels that offer babysitting services, children's playroom and animation.
For fans of cultural activities in Ayia Napa there is an active ancient monastery, rock tombs and the Sea Museum, and in the area of Cape Greco you can visit the national park.
You will be interested to know:
Cape Greco in Ayia Napa. Photo: dimitrisvetsikas1969 / pixabay.com. The beach in Ayia Napa. Photo: dimitrisvetsikas1969 / pixabay.com. Love Bridge in Ayia Napa. Photo: ZA Tourist / unsplash.com.
Larnaca
Planning a family vacation with kids in Cyprus? Then you're best off vacationing in Larnaca – it's the most famous budget resort on the island. The prices are low, easy to get to – there is an airport nearby. True, there is little entertainment, but you can rent a car and go on a trip. We have an itinerary of Cyprus by car – read it!
The beaches in Larnaca are sandy with a mixture of fine pebbles and shell, with a good bottom without stones and depth differences – safe for children. A little pumped up the color of the sand – here it is unpresentable gray.
The most popular beaches in Larnaca are Mackenzie and Finikudes – clean and equipped. The first beach is preferred for recreation by locals, the second by tourists. Finikudes is located almost in the center of the resort with stores and tavernas. Mackenzie is a decent distance from the center, so food and all the entertainment is cheaper here.
As a cultural leisure tourists can be recommended a trip to the village Lefkara, as well as visits to local attractions – the castle in the harbor, the temple of St. Lazarus, the monastery Stavrouni (available only to men) and the mosque Sultan Tekke. For those interested in the underwater world in Larnaca there are several diving centers in operation.
Finikudes Beach in Larnaca. Photo: Chuso Pérez / flickr.com / CC BY 2.0. Pink flamingos on the salt lake of Larnaca. Photo: Sergey Yeliseev / flickr.com.
Paphos
Pafos is traditionally visited by wealthy tourists, as prices for holidays here are higher than elsewhere in Cyprus. There are many 5* or 4* hotels, but there is also budget accommodation. From entertainment popular excursions to the sea and golf. There are many historical sites: Archaeological Park, an ancient castle-fortress, catacombs and city museums. However, the stone of Aphrodite, where, according to legend, the mythical goddess of love and beauty first stepped ashore, is what attracts most tourists.
In Paphos the coastline is mainly rocky or pebbly, with few sandy beaches. There is a wide promenade. Good beaches, covered with light sand, are located outside the city in Coral Bay and on the shores of Lara Bay. There, the descent everywhere is gentle, and there are almost no waves, suitable for recreation with children.
The Aphrodite Stone, located 20 km away from Paphos. Photo: unsplash.com / @diddymonaco. The lighthouse on the territory of the Archaeological Park, Paphos. Photo: a.gaverdovsky / flickr.com / CC BY 2.0 license. Peyia, Paphos (Photo: Tobiasvde / flickr.com)
Protaras .
A quiet, quiet village near Ayia Napa. It is another place in Cyprus, where it is better to holiday with children – it is not as expensive and noisy as Ayia Napa, and the beaches are solidly sandy and well-equipped. The sand is clean and fine, there are showers, toilets and equipment rental. There are attractions for children and adults, taverns and massage parlor.
The most popular beaches for holidaymakers with children are beaches of Figova bay: the shallow, warm sea, bright clean sand. Protaras coast is also very popular with divers – it has excellent visibility and there are good places for diving.
There are no historical sights, only beautiful nature and quiet beaches. A few kilometers from the resort is Cape Greco and the National Park. If you want you can go to Aia Napa or visit the Oceanarium.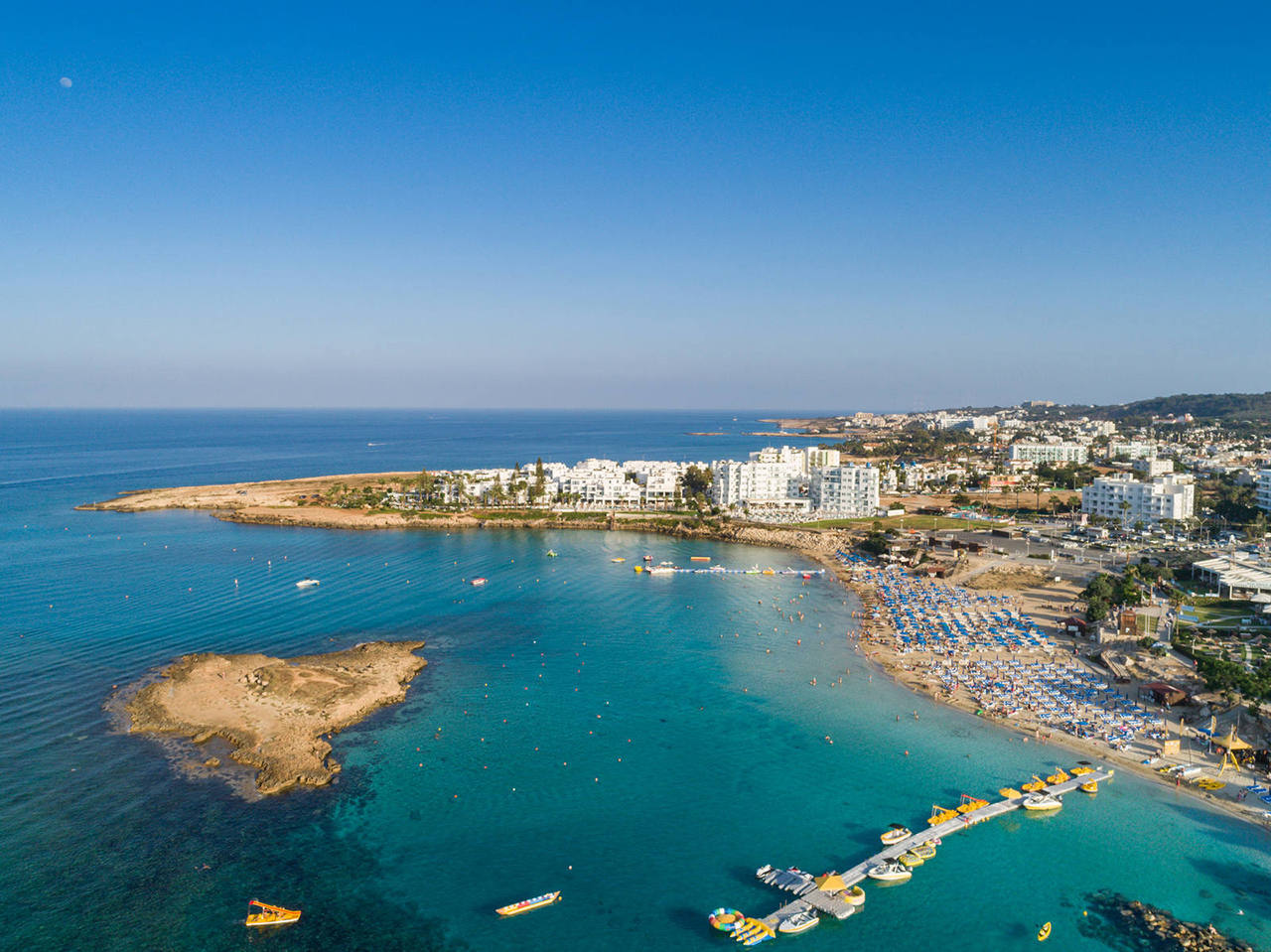 View of Fig Tree Beach in Protaras. Photo: dronepicr / flickr.com.
Limassol
This Cyprus resort has the most diverse crowd in a good sense of the word: young people, families with children, respectable businessmen, athletes. So why is it considered one of the best?
Historical monuments of different epochs, restaurants and night clubs, numerous gaming centers, tennis and horse clubs, water park and zoo function in Limassol. The hotel base is represented by hotels of different price categories, rented villas and apartments.
The longest beach of Limassol – Lady's Mile, it is also considered the quietest, so it is popular among family vacationers. There are cafes, playgrounds for children and opportunities for yachting, diving and skydiving for adults. There is another big sandy beach in the center of the town, called Dasudi, which is surrounded by a grove of eucalyptus trees. The beach is well equipped with sports fields for games, tavernas and small stores.
Related destinations:
Limassol waterfront. Photo: Sergey Galyonkin / flickr.com / CC BY-SA 2.0. A restaurant in Limassol. Photo: igorstarkoff / unsplash.com.
The best time to go to Cyprus.
High season
In May, the beach season opens on the island. The sea is already warm and pleasant +22 ° C, the air temperature is +28 ° C during the day and +16 ° C at night. In June comes the heat: no wind, no rain, too, and the temperature is at least +30 ° C. The sea is so gentle that you do not want to go on land, the water temperature is +28 ° C. At this time in Cyprus, there are many vacationers with children of all ages.
July is a hot month in Cyprus, the air heats up to +35 ° C and above. The water is steaming milk, the humidity is low, but it's just dangerous to be on the beach for a long time. In August the weather is no different from July: it's just as dry and hot, and the hotels are overcrowded with holidaymakers.
In September, the sea cools to +24 ° C, and the daytime temperature is +27 ° C. It begins velvet season. We advise you to choose September for a holiday in Cyprus – the weather is comfortable. In October the water temperature and air temperature drops by 2-3 degrees. In November, some still swim, although the daytime temperature is already cool +23 ° C.
Low season.
In December, a short and not too cold winter comes to the island. The wind blows, the sea becomes an unusual lead color, the sky is often covered with clouds, and the air temperature does not exceed +18 ° C. There is already snow in the mountains, sometimes bringing nighttime cold from the mountains to the coast. In January the temperature drops to +15°C during the day and +8. +10°C at night. The coast at this time there is nothing to do, holidaymakers in hotels are few.
In March the almond and fruit trees are in blossom, the air gets up to +20°C, the rain is still falling but not as often as in winter and in smaller amounts. In April it gets warmer up to +22 ° C degrees, the beaches again show holidaymakers. In spring it is better to come to Cyprus, if the priority is excursions and self-guided trips around the island. At this time, the weather is already similar to the summer, but the sea is still cold for bathing.