Rest in Greece in 2022: all-inclusive prices
We have studied the prices of all-inclusive holidays in Greece in 2022. We will tell you how much a trip to Greece – 2022 for 3-14 days costs, how the prices of tours change by months, at which Greek resorts to vacation cheaper.
The prices in this article are current at the time of publication (January 2022) and may change in the future.
The article features prices for holidays in Greece – 2022 "all inclusive" flight for 10 days from Moscow (for two people).
The cost of the tour is already included:
hotel accommodation
airport transfer
insurance
meals of your choice
How to buy a trip at the best price? It's easy to do if you use services like Travelate or Travel.Travel – they compare prices on tours to Greece from all tour operators.
If you find an inexpensive tour to Greece – it is better not to procrastinate with the purchase: the closer the date of travel, the higher the cost of the trip.
A brief overview of the prices of tours in Greece – 2022
The main tourist season in Greece begins in May and lasts until October.
The beginning of the season is characterized by the lowest prices – from 32000 rubles for 3 nights for two.
In June the cost of tours increases and stays at the same level till the end of October.
July and August are a little more expensive than June. In early June the prices for tours in Greece start from 43000 rubles, and by the end of the month tour for two with a flight from Moscow cheaper 47000-50000 rubles can't be found. In August the minimum price for a similar trip starts from 51000 rubles.
We give away 1500 rubles! Travellata offers discounts for our readers:
AFU500ASIANWAYS – 500 rubles for voyages starting from 40000 rubles
AFU300ASIANWAYS – 300 rubles on all tours starting from 20000 rubles.
Read here where and how to enter a promo code to get a discount.
The minimum cost for a tour to Greece in 2022 (per person):
5 stars
3-6 days
Prices for holidays in five-star hotels in Greece in 2022 start from 38000 rubles for 3 nights in May. For example, the hotels Istion Club & Spa (rating 9,1/10) and Bella Beach (rating 9/10) get good reviews from tourists. The tours to these hotels in May and June cost from 44000 and 47000 rubles respectively.
In July 2022 the minimum cost of a tour increases. A 3 night tour to Bella Beach costs from 74000 Rubles, and to the Istion Club & Spa – from 95000 Rubles.
7-10 days
All-inclusive weekly stays in 2022 cost from 55000 rubles; for 10 days – from 66000 rubles.
Hotels with a rating of 9+/10 and a lot of positive reviews will cost more. For example, a tour to the Annabelle Beach Resort on the island of Crete costs from 64000 rubles for 7 days and from 83000 rubles – for 10 days.
Another hotel with a high rating is Mitsis Faliraki Beach on the island of Rhodes. The price for a week tour here in May starts at 71000 rubles, and in mid-July – from 1220000 rubles.
11-14 days
The approximate price range for a long vacation in Greece in the summer of 2022:
11 days – from 73000 rubles in May and from 110000 rubles at the end of June
14 days – from 81000 rubles in May; from 128000 rubles – in June.
Popular hotels for long holidays in Greece are Aldemar Knossos Royal (from 98000 rubles for 13 nights in May) and Fodele Beach & Waterpark Holiday (from 149000 rubles for 14 nights).
Photo: The beauty of Greek resorts © Alex Blajan / Unsplash
4 stars
3-6 nights
Prices for all-inclusive packages in 2022 start from 35000 rubles for 3 nights in May. For example, a tour to the Mistral Mare Hotel, which gets good reviews from tourists, will cost from 37000 rubles.
The cost of tours to the best four-star hotels in Greece is higher. For example, a 4-day vacation at the popular Dessole Malia Beach Hotel in Crete will cost 53,000 rubles in May.
7-10 nights
A weekly vacation in mid-May with a flight from Moscow will cost at least 42000 rubles. But after two months (by mid-July) the minimum cost of similar tours increases to 80,000 rubles.
For example, a 7-day trip to Dessole Malia Beach Hotel will cost from 72000 rubles, and in July from 120,000 rubles.
11-14 nights
The long vacation is more expensive – from 52000 rubles for 12 days in May, from 89000 rubles – in June.
The tours for 14 days in May and June cost from 67000 rubles and from 100000 rubles respectively.
For example, a 14-day tour to a nice hotel Hersonissos Village Hotel & Bungalows (rating 8.9/10) in Crete will cost from 82000 rubles for two people.
The real opportunity to save money, but at the same time to have a good rest – last minute tours. But remember: in the high season there are not many good deals on Greece – everything will depend on the occasion. Study our special material on how to buy a hot trip.
3 stars
3-6 days
Prices for a short vacation in May start from 32,000 rubles. However, in mid-June for a similar tour you'll have to pay at least 53000 rubles.
Not bad reviews of tourists gets Avra Collection Coral Hotel. The tours to it start at 39000 rubles for 3 nights and 47000 rubles for 5 nights.
7-10 days
The cost of a vacation in Greece for 7-10 days with a flight starts from 39000 rubles in May. The trip for such period is a great option, because the tours for 7 days cost a little bit more expensive than the stays for 3 nights.
For example, in May the rest for 8 days in the Amnissos Hotel will cost 40000 rubles. The same tour in the middle of June will cost at least 67000 rubles.
11-14 days
Prices for a long holiday "all inclusive" in the Greek hotels of the category "3 stars" in 2022 are also quite low. For this reason it makes sense to buy packages for 11-14 nights. For example, the prices for stays of 11 nights start from 51000 rubles, and for 14 nights – from 55000 rubles.
The cost of May tours to the popular hotel with good reviews Messonghi Beach Hotel on Corfu begins from 103000 rubles for 11 nights and 111000 rubles for 14 nights. In July the minimum price for a similar trip rises to 134000 rubles and 160,000 rubles, respectively.
Photo: Island of Santorini in Greece © Hello Lightbulb / Unsplash
Prices by resorts
How much does an all-inclusive trip to Greece for two in 2022 cost? The price of the tour depends not only on the stardom of the hotel, but also on the popularity of the resort.
Below is the cost of trips to four major Greek resorts – Crete, Corfu, Halkidiki and Rhodes.
Holidays in Crete – 2022
Most tourists go to Crete for a holiday in Greece in 2022 – there are beautiful sandy beaches, a wide range of hotels in different price categories, a lot of entertainment.
Holidays will suit the taste of both young people craving for fun and couples (elderly or with children). The main thing is to choose an appropriate hotel.
How much does a vacation in Crete in 2022?
5 stars – from 50 thousand rubles for a week; from 63 thousand rubles for 10 days
4 stars – from 46 thousand rubles per week; from 55 thousand rubles for 10 days
3 stars – from 40 thousand rubles per week; from 47 thousand rubles for 10 days
Examples of hotels in Crete with a good rating based on a large number of tourist reviews:
– 9,5/10 – 9,2/10 – 8,9/10 – 9,1/10
On a side note: on tour search sites (Level.Travel and Travelata) use filters to find the right holiday option. You can specify the star of the hotel, type of food, distance to the sea, preferred tour operator.
Tours in Corfu – 2022
Holidays on the island of Corfu is recommended in the second half of summer (July and August), when on the other islands of Greece is too hot.
But choose the coast carefully. The north coast is more suitable for vacations with children, the south-east – for young people and romantic trips, but the western coast will suit the taste of diving lovers.
The price for an all inclusive tour to Corfu is 2022:
5 stars – from 131 thousand rubles for a week; from 178 thousand rubles for 10 days
4 stars – from 65 thousand rubles per week; from 85 thousand rubles for 10 days
3 stars – from 49 thousand rubles per week; from 82 thousand rubles for 10 days
Popular hotels for recreation in Corfu:
Photo: Bay of Navagio on the island of Zakynthos © moorpheus / Pixabay
Holidays in Halkidiki
One of the main vacation spots on the Greek mainland is the peninsula of Halkidiki. There is a large selection of hotels and not as hot weather as on the islands.
How much does a tour to Halkidiki cost?
5 stars – from 63 thousand rubles for a week; from 78 thousand rubles for 10 days
4 stars – from 52 thousand rubles for a week; from 64 thousand rubles for 10 days
3 stars – from 49 thousand rubles per week; from 59 thousand rubles for 10 days
Rhodes tours – 2022
The peculiarity of Rhodes – vacation in the eastern and western parts is completely different.
The eastern part of the island is different crowded, a lot of entertainment, warm calm sea and higher prices. The western part is more quiet, the sea is a little cooler. But here it is easier to find a good hotel at a relatively low price.
Rest "all inclusive" in Greece
How much does it cost to have an all-inclusive vacation in Greece? We have prepared an overview of prices for summer tours in 2022 and a selection of the best All Inclusive 3*, 4* and 5* hotels. Advantages and disadvantages of an all-inclusive vacation in Greece.
Russians have a special sympathy for Greece. They like this country for its beautiful nature, mild climate, comfortable hotels, good roads, delicious food and excellent beaches. Everything in Greece breathes history, and the monuments of antiquity can boast not only the big cities, but also small villages. It is easy to get to Greek resorts, and the prices for all inclusive holidays in Greece in 2022 will delight you with their democracy. These circumstances have long turned the Mediterranean country into one of the popular tourist destinations.
Search for last minute tours on Level.Travel and Travelata services – they will find the best deals among different tour operators. Want to save your money? Explore our 7 rules for buying tours online.
Contents:
Map of resorts and beaches in Greece
Beach holidays in Greece
Greece has the longest coastline in the world. It owns several hundred large and small islands, and each of them has its own pebble or sandy beaches.
The coast of Greece is clean and the sea water is particularly clear. According to the Environmental Commission of the European Community, the sea off the coast of this country is one of the cleanest in Europe. Many Greek beaches have the honorary "Blue Flag".
The only drawback of local beaches – the presence near the shore of sea urchins. To avoid trouble, when entering the water, look carefully under your feet.
Beach holidays in Greece are nice to combine with excursions. Travelers are popular with bus tours to ancient temples and monasteries, as well as boat trips along the picturesque coastline. Many people like to come on an all-inclusive vacation to Greece to do diving, sailing, windsurfing and hiking. Some prefer to stay in spa hotels and alternate swimming in the sea with thalassotherapy, massages, mud treatment and visits to healing springs.
Look for interesting excursions on Tripster. Individual and group, without crowds of tourists and in Russian.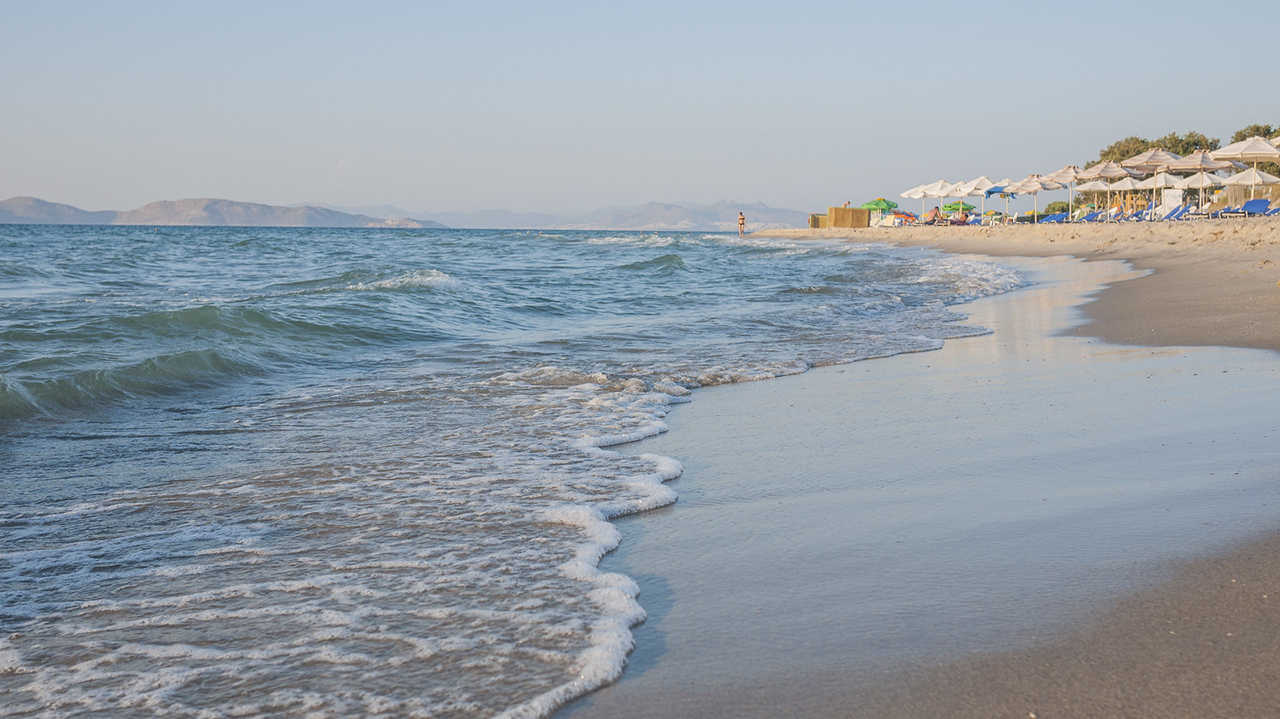 Beach on Kos (Photo: samchills / flickr.com)
Seasonality of tour prices
To the Greek resorts go from late May to early November . During these months, the temperature of the sea water is +20 … +26 ° C, and it is quite comfortable for swimming. The high season here lasts from early June to late September .
In July and August 2022 the prices for all-inclusive holidays in Greece are the highest. Despite the intense heat, everyone wants to relax in the Greek resorts. At the peak of summer are more popular tours to the islands, because on the mainland is too hot, and the island is constantly blowing fresh sea breezes.
Those who are contraindicated to the summer heat for health reasons, as well as parents with small children try to come to Greece in June or early autumn. In these months the weather is milder, and you can save a lot on packages. In early summer and during the holiday season in Greece, "all inclusive" prices in 2022 are 20-25% lower.
Some tourists prefer not to buy a tour in advance, and find an inexpensive last minute tour shortly before the vacation.
Prices for an all-inclusive vacation in 2022 for two adults from Moscow:
| | | | |
| --- | --- | --- | --- |
| month | 7 days | 11 days | 14 days |
| June | 40000 | 55000 | 66000 |
| July | 42000 | 62000 | 67000 |
| August | 48000 | 68000 | 75000 |
| September | 44000 | 55000 | 61000 |
| October | 43000 | 53000 | 60000 |
| November | 44000 | 54000 | 59000 |
The prices in the table are given in rubles. Keep in mind that the cost of the tours is approximate and is constantly changing.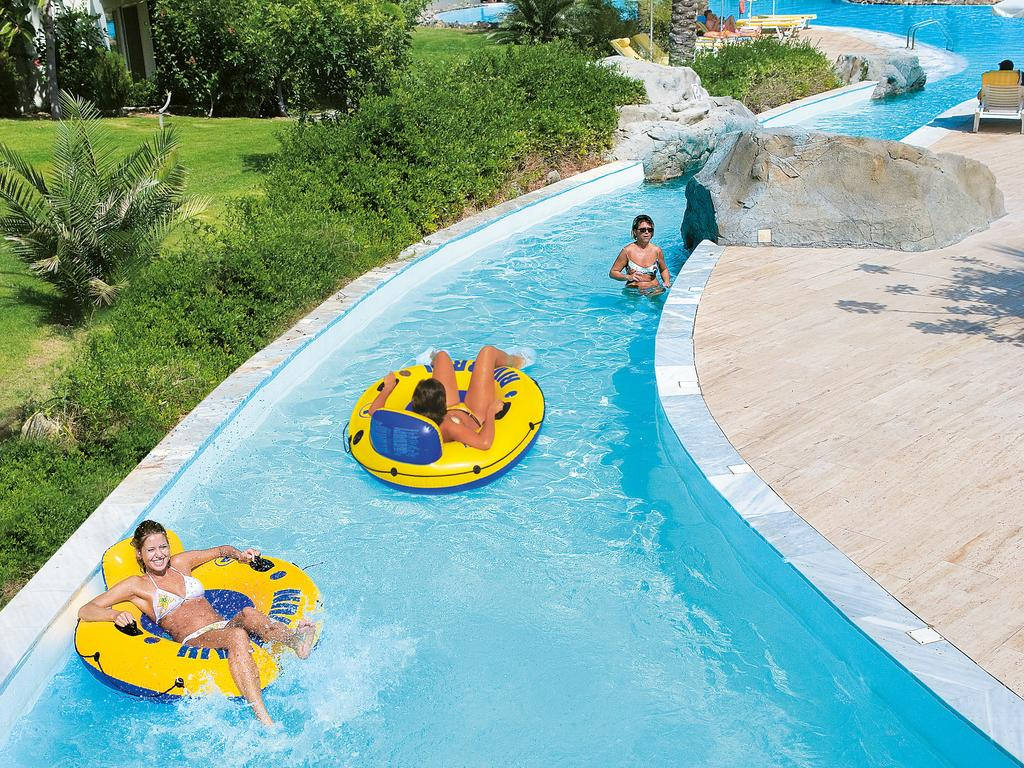 Rest "all inclusive" in 5* hotels
There are a lot of elite hotels on the islands and on the mainland offering a high level of service and maximum comfort. And year by year the number of comfortable hotels is increasing.
Families with children who go on vacation to Greece in 2022 on the program "all inclusive" choose 5* hotels for several reasons. Such hotels necessarily have children's pools, playrooms, animators and mini-clubs. There are children's menus in restaurants, and for a fee you can get babysitting services.
In contrast to other European countries, in Greek hotels All Inclusive usually fed three times a day. Hotel bars offer tourists delicious Greek wines, locally produced beer and soft drinks.
In 2022, prices for all-inclusive holidays in Greece in 5* hotels are quite high. A week's vacation for two in Crete Golf Club Hotel in Hersonissos will cost 595€, and a two-week vacation in Princess Lanassa in Kostitsi will cost 1036€.
According to tourists, the best 5* hotels are:
Video – Hotel Ikos Oceania 5*
All Inclusive Holidays at 4* Hotels
Some tourists are quite satisfied with the level of services provided by Greek 4-star hotels. In some of them, in addition to the pool, guests are allowed to use the sauna, gym and sports fields for free.
The price level in 4* hotels differs from the elite 5* hotels by about 15-20%. An all-inclusive vacation in Greece in 2022 for two people for 14 days in Saronis Hotel costs 484€, and a one week stay in Aliki's Apartments in Nissaki costs 252€.
Tourists especially like the Greek hotels 4* :
Video – Hotel Rodos Princess
All-inclusive vacations in 3* hotels
3* hotels are near the sea, have air-conditioned rooms and good service. Guests can count on three meals a day with a three-course meal. Such hotels charge from 150 € to 210 € for a week's stay for two.
Travellers believe that the best prices for all-inclusive holidays in Greece in 2022 offered by 3 * hotels: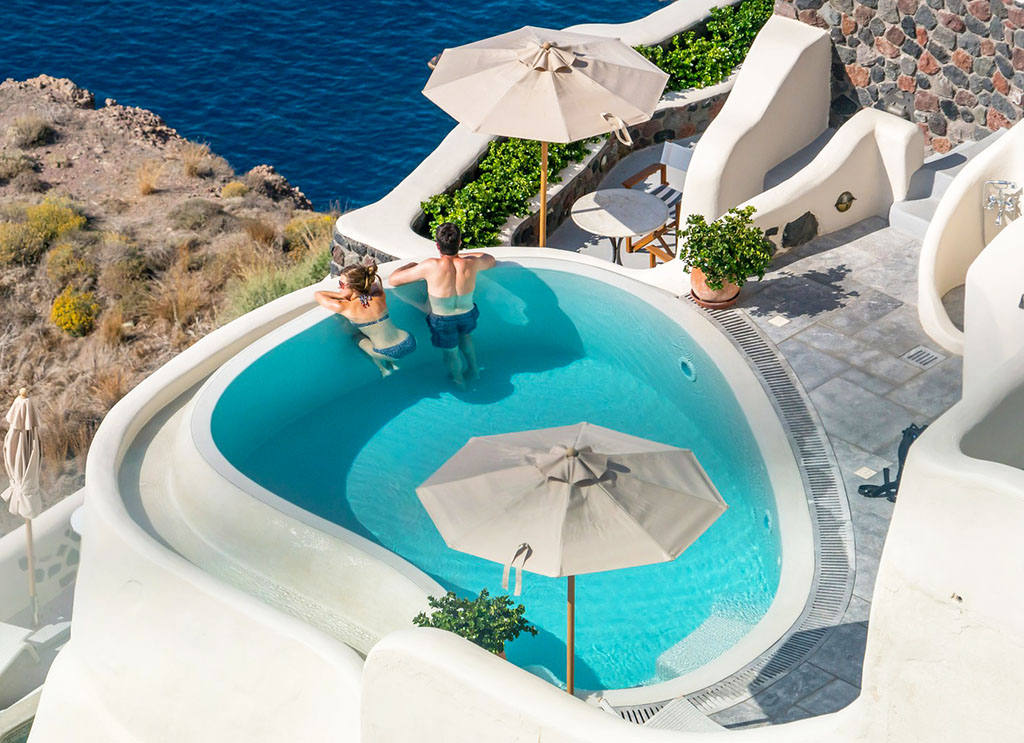 (Photo: Mariamichelle / pixabay.com)
Prices in resorts
One of the prestigious places for recreation is considered Corfu. The green island is the most expensive Greek hotels. Corfu has a milder climate, and the beaches are mostly pebble.
Quite expensive vacation on the largest and most visited island – Crete. Most of its resort infrastructure is located in the northern part of the island. There are a lot of good sandy beaches, entertainment centers and historical monuments. In Crete tourists come here with children and those who like to combine swimming in the sea with a rich program of excursions.
On the second most popular Greek island of Rhodes, there are also plenty of luxury hotels. The cost of living in Crete and Rhodes is about the same. Learn what to see in Rhodes and what are the best beaches.
The most prestigious Greek resort Mykonos is part of the Cycladic archipelago and is washed by the waters of the Aegean Sea. On Mykonos like to visit the bohemians and nudists. In the south of the island stretches beautiful sandy beaches. A week's stay at a 3* hotel for two in Mykonos starts at €1750, a 5* hotel at €3450.
In Greece, the resort of Loutraki is considered democratic in terms of prices for all-inclusive holidays in 2022. It has healing springs, clean pebble beaches and excellent tourism infrastructure. There are few hotels in Loutraki, but they are either newly built or recently renovated.
The island of Kos, the peninsula of Halkidiki and Katerini are also notable for low prices. A week's stay at inexpensive resorts in the peak season will cost from 150 to 560 € for two people. The price depends on the level of the hotel.
Beach Tsambika in Rhodes (Photo: Amaniero / flickr.com)
Reviews about all-inclusive holidays in Greece
Tourists find many positive things about all-inclusive vacations in Greek resorts:
"All-inclusive" is not always expensive, and tourists have a choice: it is possible to stay in a luxury tourist complex or in a budget 3* hotel.
There are many Al hotels in Greece oriented to accommodate parents with children. They are open almost at all resorts of the country. Vacationing with the family on an all-inclusive system is very convenient. During the vacation you can enjoy the sea, the southern sun and not worry at all about food, transfers and everyday problems.
Greek hotels have great food. In addition to the sought-after international cuisine, the guests are offered excellent dishes of lamb, beef, seafood and fish. The hotel restaurants serve moussaka, dolma, vitamin Greek salad, olives, sweets and delicious Greek yogurt.
According to tourist reviews, All Inclusive in Greek resorts is not without some drawbacks:
Hotels offering tourists all-inclusive holidays in Greece in 2022 are very popular, so book rooms in advance. This is especially true for the high season.
If you bought an all-inclusive tour in the middle of summer, expect that the hotel and the beaches will be very crowded. Queues form everywhere – at bus stations, in entertainment centers and at the ticket offices of tourist attractions.
The resorts and public places have signs in Greek and very few signs in English.
During the summer season, Greek stores, cafes, and restaurants close for the afternoon siesta. The break usually lasts from 14:00 to 17:00.
The level of service in Greek resorts is slightly inferior to Western European countries – Italy, Spain and France.
Despite the marked disadvantages, the positive effect of rest in Greece is much more. For this reason, the vacation spent at the Greek resorts leaves pleasant impressions on everyone.