Holidays in Baikal in winter 2022-2023: where to go and what to see
The purest, almost crystal air, which you can't get enough of. During the cold season it's especially felt at the lake. Rest in Baikal in winter is a special holiday, most tourists come for the New Year vacations: the peak is expected in late December 2022 and early January 2023. At this time the thermometer often drops below -20 and sometimes -30. At the same time, you will be offered so many activities that there will be no time to freeze.
Video: courtesy of Rostourism
But the main thing is the opportunity to see Baikal in winter. Stay at the camp site, leave your belongings, have a hearty meal of the local cuisine, and go! Choose an excursion on the ice. Don't worry about your fitness: you won't be thrown into the many-kilometer hike without preparation. Of course, it is better to go on skates. But even if you do not know how to stand on them, do not get upset. Any comfortable and surely warm winter shoes without heels will do.
The Baikal ice is unbelievably transparent, so you can see the pebbles at the bottom: the sight is simply fascinating. The rocks, protruding from the water column, are like marvelous castles with ornate patterns. If in summer you can see them only from a distance, but in winter you can really get closer, examine, photograph them. To touch them, at last. And feel all the power and might of the lake.
Popular destinations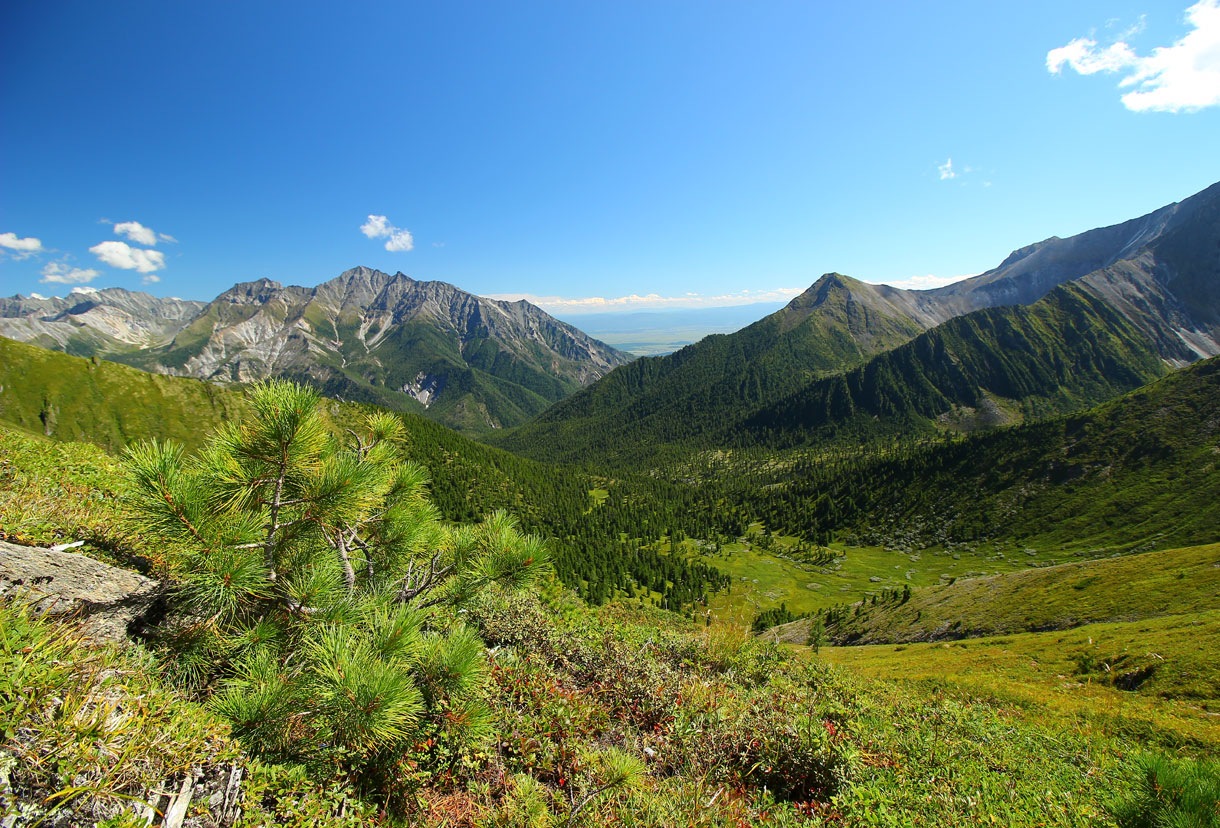 Arshan Resort
Olkhon Island
Listvyanka village
Small Sea
Baikal Transparent Ice and Olkhon Ice Fest
You can appreciate all the beauty and fairy tale of the famous lake, when it is covered with transparent ice – so crystal that you can see the stones at the bottom. And on the shore – the figures of dragons, mermaids and seals. Also made of ice. Our journalists went on an expedition to tell you how magical Baikal is at this time.
When to go
December
January
February
How to plan a dream vacation at Baikal
The most famous lake of the country is able to amaze travelers all the year round. In winter – with its magic ice and hot springs, in summer – with its rich fishing and amazing views. However, you need to book tickets here in advance: we tell you how to do it profitably.
Become a master of hospitality
More than a million tourists come to Baikal every year. In ancient Irkutsk, there is also a lot to see. Every hotelier, restaurateur, travel agent and other representative of the tourist industry is able to prove it. Masters of hospitality" contest organized by the project "Russia – the country of opportunities" is an occasion to make a statement, to share experience, to get experts' appraisal and recognition of vacationers.
In December we record on video, how the ice crackles
Baikal in December is for fans. For a thrill-seeker. Stop by any place at the shore to hear how the lake gets "angry": loudly and noisily "sighs", murmurs, loudly crackles. Scary, not for the faint of heart! In fact, this means that Baikal hasn't risen yet. In December, before your eyes, it's freezing, and the ice floes are cracking. If you go to any high point nearby, for example to the peak of Chersky in Listvyanka, you'll see, that the lake seems to "float.
In winter, ice hummocks form on Baikal. Photo: Yulia PYKHALOVA, "KP"-Irkutsk".
In December, Baikal is a real "off-season," which is not to everyone's taste. But if there is a fan of taking pictures of the broken ice, huge ice-holes with thick air over them, it's the right time for him.
If you plan to rest on Baikal in the winter of 2022-2023, you are advised to visit Listvyanka, Bolshoe Goloustnoe or the Maloe Sea. You should also visit the "Taltsy" museum.
Night Irkutsk: the most interesting places and entertainments
We made the most complete guide to the night city: where you can go after working day and what to do if you have a desire and strength to relax. The brightest places and places to visit in Irkutsk from sunset till dawn.
Where to celebrate the New Year
Banquet Hall "Alexandrovsky Sad" invites you to the "New Year's Eve
Address
Table reservation
Instagram
Magic Santa Claus will not let you get bored, and incendiary show numbers will unfreeze your good mood for the whole year. The program is conducted by true professionals – the hosts Victoria Irbitskaya and Sergey Berlov. They prepared the author's interactives and cool contests. We are waiting for you in the center of Irkutsk on the Angara embankment. Two cozy halls for 70-150 persons, European cuisine and cozy interior are at your disposal. There are a lot of places for wonderful photos and friendly staff.
Klintsch Bar/Restaurant: Individual menu for New Year table
Address
Phone
Instagram
Do you prefer to celebrate the holiday in a small circle of colleagues or friends? Spend New Year's Eve corporate parties in a small, cozy and hospitable bar-restaurant "The Clinch"! Orders for New Year's corporate parties up to 30 people are accepted. We offer: superb European cuisine, 3 cozy rooms, convenient location, individual approach to banquet menu. The cost of the banquet (without drinks) – from 1500 rubles/person. "The Clinch" is waiting for you on the feast!
With breeze! We organize dog sledding in January
The lake is completely frozen by the middle of January. It's a good time to go for a walk on the ice. One walk from the lake to Olkhon island means a lot! In spite of the fact that the way takes some hours, the way is not at all complicated, and even unprepared people are allowed to go for a walk.
You can take a dog sled ride on the ice of the lake with a breeze. Photo: globallookpress.com
At this time there is almost no precipitation (the sun almost always shines on Olkhon), but the wind blows, so there is no snow on the ice of the lake. It's as clean as a mirror and only sometimes touched by cracks. On the way you will be overtaken by skaters. So – can you go straight to your skates? As an option – to take a breeze ride along the shore on a snowmobile or a dog sled. And if you are going to travel along Baikal, then by all means by hovercraft.
You don't need to be afraid of cold weather, it's enough to take warm clothes, especially shoes. "Special offer" for fishermen – Festival of ice fishing on the Little Sea.
In February we go to festivals
Baikal in February is the height of winter, but there are no severe frosts. Baikal is frozen over completely, the ice is thick and strong: it will withstand not only people, but machinery as well. You needn't be afraid of the safety, that's what the organizers of all sorts of mass events are waiting for.
The winter games include extreme races, expeditions, Shrovetide and New Year's Eve celebrations. Photo: zimniada.ru
A bright and memorable winter vacation in Baikal will be if you get to the extreme race "Ice Storm", which will be held in February 2023. Some go on skis, some go on skates, and some go on bicycles for the 205-kilometer race.
Also in February, completely fabulous New Year in the Eastern calendar – Sagaalgan. It is celebrated in style, with a huge number of colorful national competitions.
And the Pancake week? There is a huge celebration at the museum of wooden architecture "Taltsy".
And, of course, the Zimniada. It is a separate "dish", which the winter Baikal has to offer. Zimniada unites dozens of festivals, which take place on the lake from late February to March. Before you buy tickets, ask about the dates of the events for this year.
Baikal winter activities
Skating, skiing, biking. Dog sledding, snowmobiles, hovercrafts. Mountains, caves, diving. Fishing, car racing, freeride.
Fans of ice fishing will definitely appreciate the winter recreation on Baikal. Photo: Yulia Pykhalova, "KP"-Irkutsk.
Active recreation at Baikal in winter is a real pleasure. So when choosing where to go and what to see, be especially picky, don't rely on chance. For example, the best mushers (dog handlers) are in Listvyanka. There you can also dive to the bottom of the lake with divers.
Travelling on the ice, if you don't count marathon crossings, is usually organized at the Little Sea. Here the ice is especially clear and one can reach Olkhon on foot in a straight line. Here are also the caves. In winter, you can go down into them as well; speleology is quite developed on Baikal. As well as mountain hiking and mountain climbing. But this is the Slyudanka area, the Khamar-Daban range. Nearby, in Baikalsk, you can go skiing. It's a wonderful place, incredible microclimate, the winter is soft and snowy.
Why not to combine not all this, but much? Also have time for festivals! Plan your vacation, and we will tell you bright ideas for it.
Choose the best hotels and camping sites in Baikal
Most tourists choose Listvyanka or Baikalsk for winter holidays at Baikal. Photo: globallookpress.com
If in summer all the ways are mainly to Olkhon Island and the Small Sea, in winter people go to Listvyanka and Baikalsk more often. What else can it be? Listvyanka in summer is more suitable for short excursions and diving, and in winter the situation changes dramatically: here is organized a lot of ice entertainments. You can stay in the village itself, there are fashionable hotels, expensive hotels, guest houses. The price list is 3000-5000 per day. If you want to save money, stay in Irkutsk. Local hostels cost from 400 rubles per night, apartments – from 1000 rubles per day, hotel rooms – from 1700 per day. It is 70 kilometers from Irkutsk to Listvyanka, and shuttles go every half hour.
People go to Baikalsk to ski. A hotel room will cost you 2500-3500 rubles for a night. Many townspeople willingly rent apartments, which cost from 800 rubles per day. There are recreation centers nearby, where the price per day starts from 700 rubles.
If you are going to visit Olkhon, you may settle at the guest houses of Khuzhir or at the camping sites. The price for the accommodation is up to 1500 rubles per night.
How to have a wonderful winter vacation at Baikal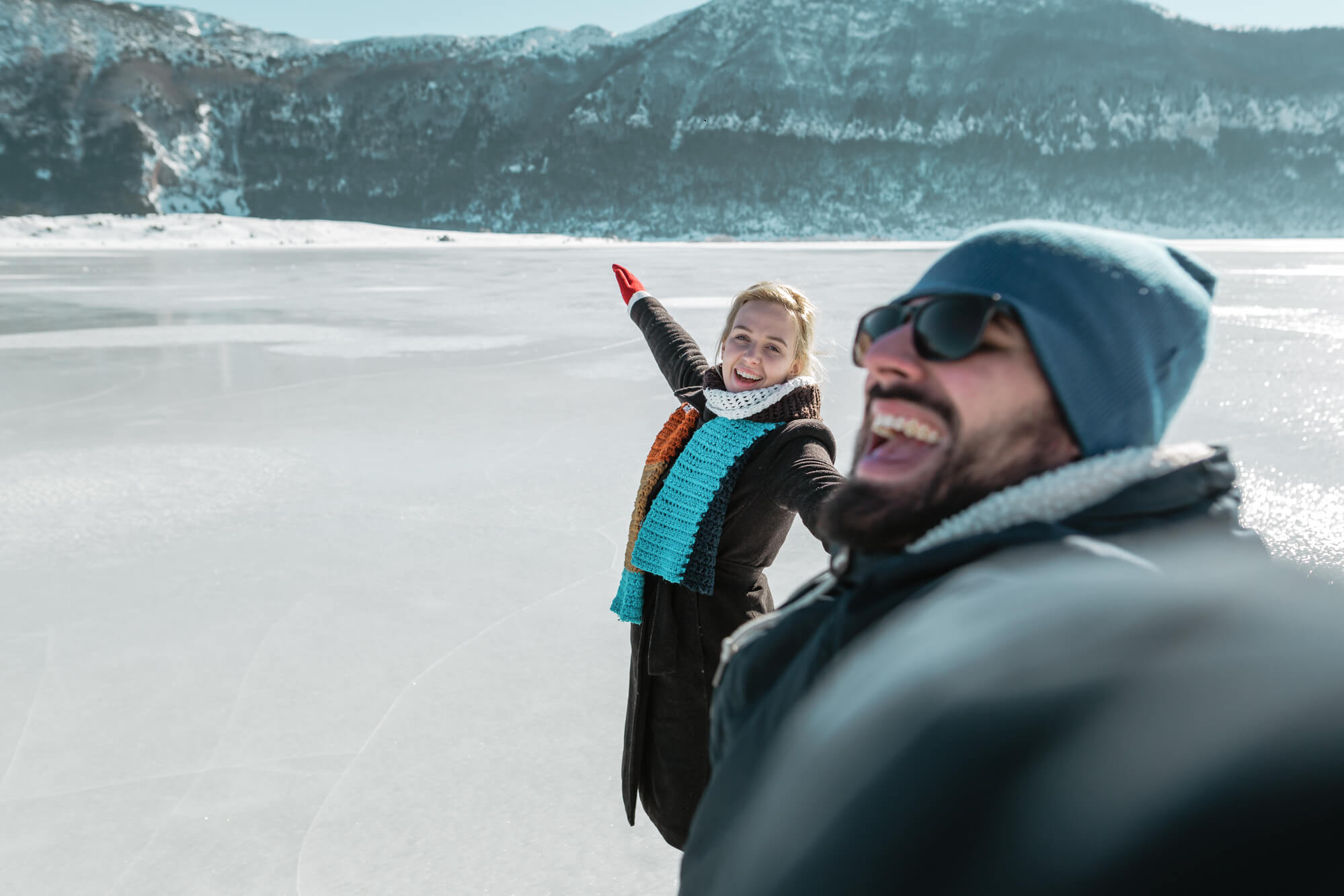 Baikal is wonderful in winter! Find out where to have an interesting rest at Baikal in winter 2021-2022, what to do on the shore and on the lake itself. How much do tickets, ski passes and bathing in thermal springs cost.
What winter is like at Baikal
Siberia has a sharply continental climate, so Baikal winters are long, frosty, and sunny. In November, there is already snow on the shores of Lake Baikal, and the water in the bays freezes. The main part of the area gets covered in ice after the 20s of December and freezes up completely in the second half of January. The mouth of the Angara river stays ice-free even in severe frosts.
In winter, the thermometer column in Baikal shows -4 to -30 degrees, but sometimes it may fall down to -50 degrees. In the north of the lake it is always colder than in the south. The strongest winds blow on Olkhon and the shores of the Small Sea.
Spring comes after March 20. In April, the snow melts to a full extent on the shore and the ice on the lake becomes crumbly and fragile.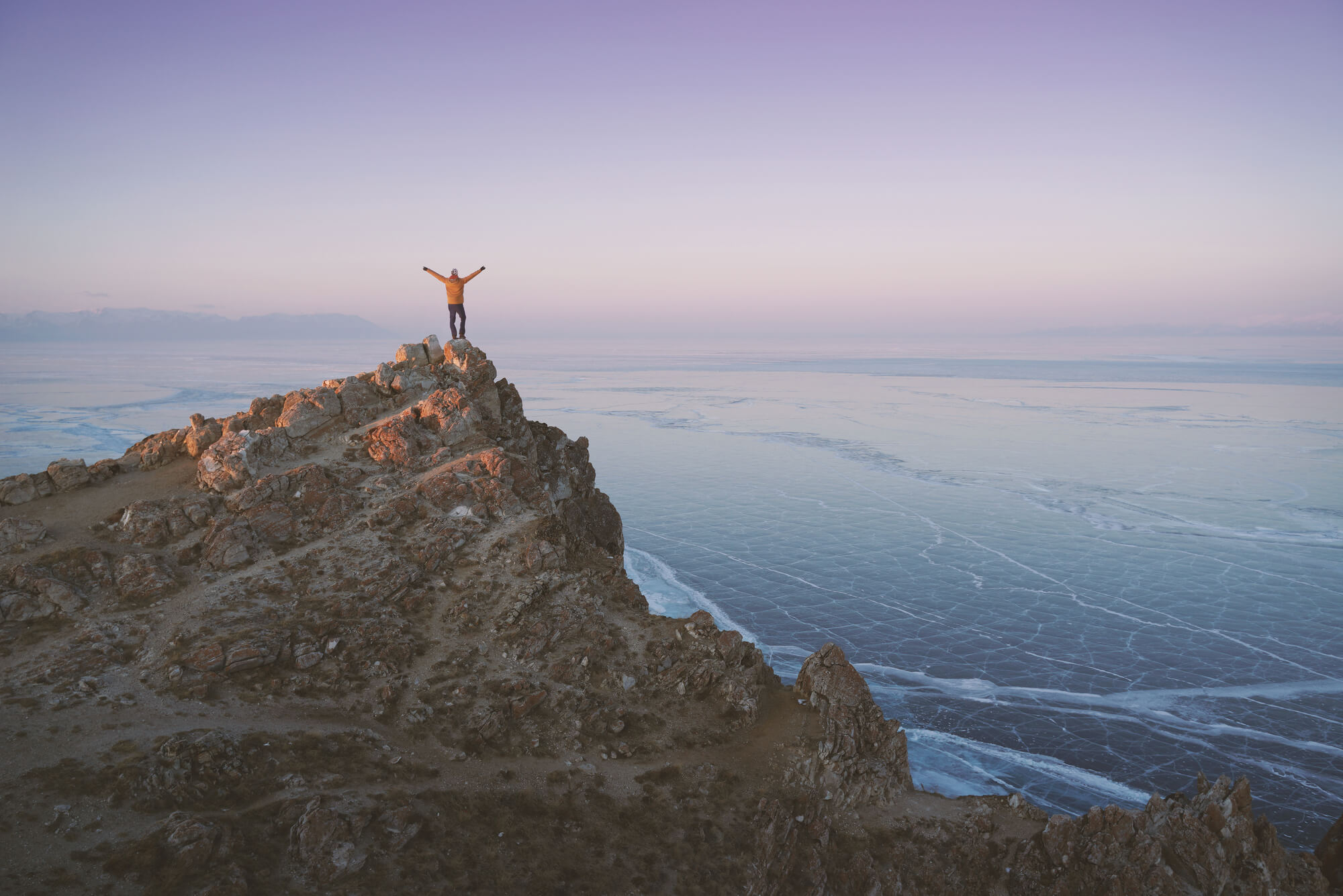 The basic water area is covered with ice after the 20s of December and freezes up completely in the second half of January. Photo: Anton_Sokolov / Depositphotos.com.
Spending the night in a tent with a stove
Those who like comfort in winter stay in Baikal at recreation centers and hotels, and the real adventurers spend nights in tents. Many agencies offer extreme tours on the lake. What can be more beautiful than the frosty air, a warm sleeping bag, a pleasant company of friends and a delicious dinner, which is prepared on the campfire! Keep in mind that in winter it's comfortable to carry your gear on sleds instead of backpacks.
Look for hotels and recreation centers on Hotelluk that work in winter.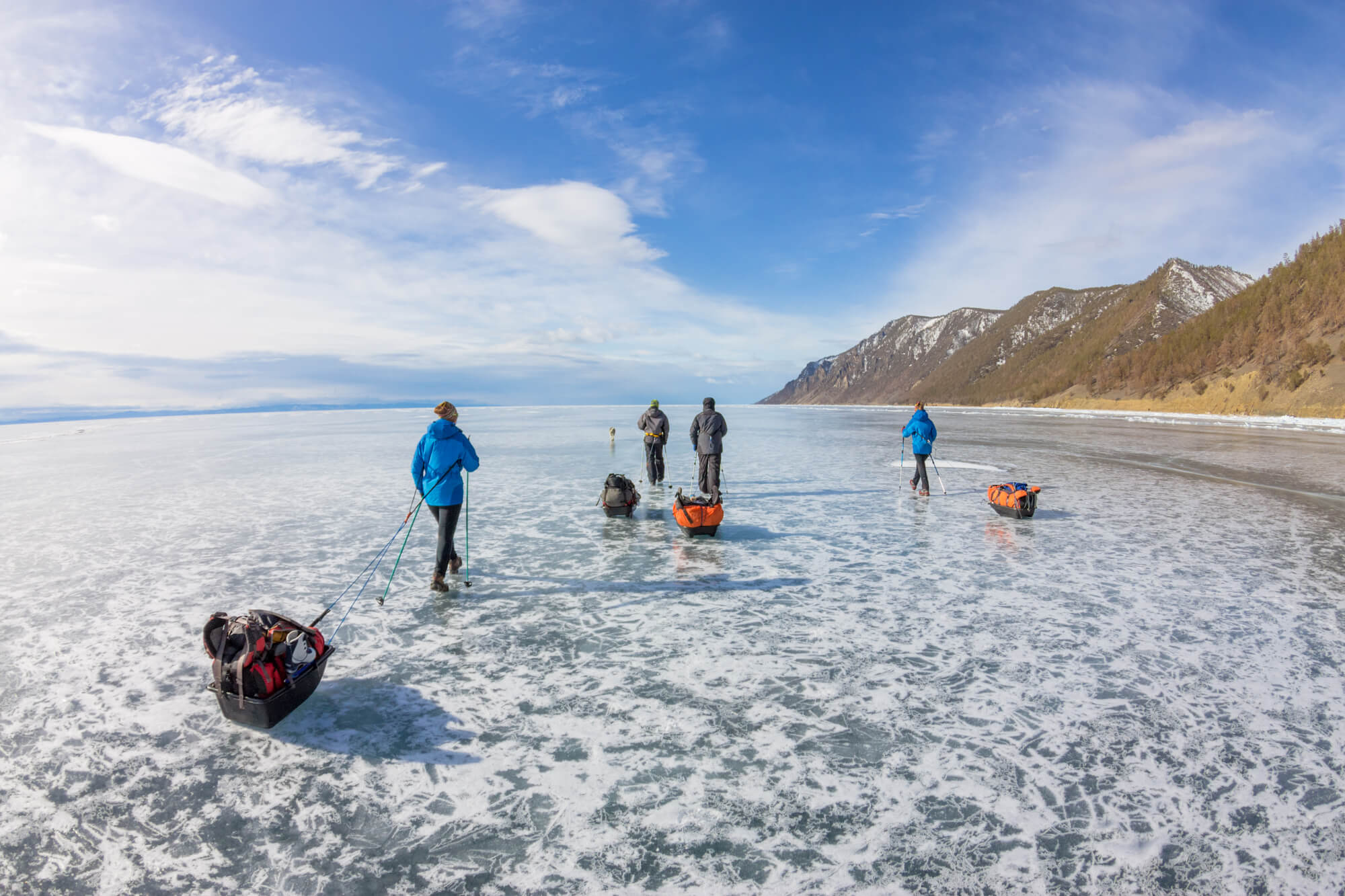 In winter it is convenient to carry equipment not in backpacks, but on sleds. Photo: kirzaa mail.ru / Depositphotos.com.
Take stunning photos of Baikal ice
As beautiful as Baikal is in summer, in winter it turns into a real fairy tale. The huge freshwater lake becomes a giant ice skating rink. To see the unique Baikal ice in all its glory, come from mid-January to the end of March. During this period, the ice cover is the thickest, 100-110 cm, so you can take a walk on the lake without any danger.
There are different names for Baikal ice – shakh, osenets, kolobovnik and zaberegi. The most beautiful places with the bluish-white ice are situated near the headlands of Olkhon island and the islands of the Lesser Sea. You can take pictures of spectacular ice surges, caves, deep crevasses, air bubbles overflowing in the sun and hummocks the size of a house. You can imagine what the tourists feel, when they see the fish on the depth up to 40 meters through the Baikal ice!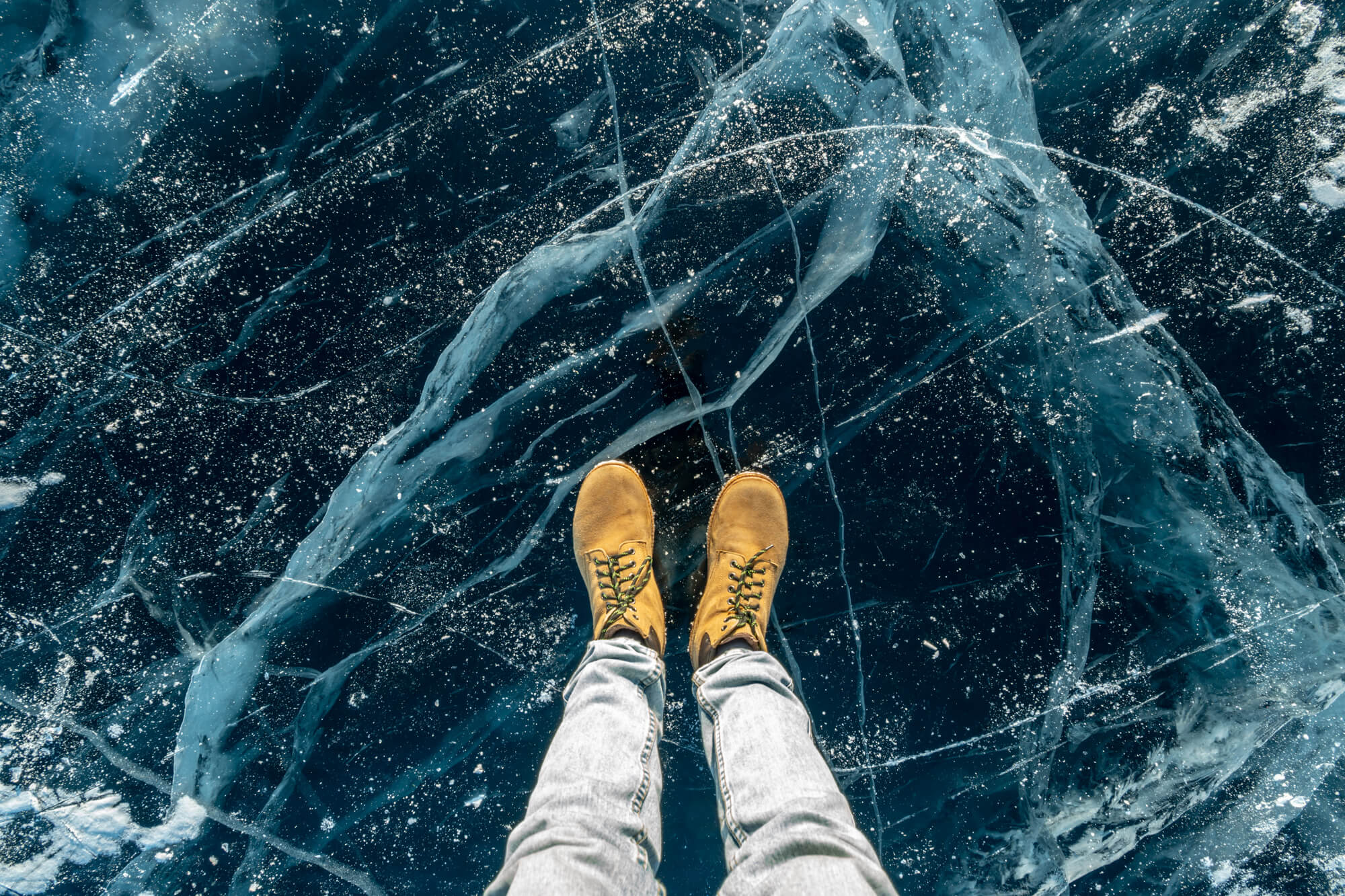 There are different names for Baikal ice: shakh, osenets, kolobovnik, zaberegi. Photo: artoleshko / Depositphotos.com.
Take a ride on Baikal with a breeze
From the middle of winter to the end of March, the frozen lake is accessible to different types of transport. Skates, skis, bicycles, snowmobiles, cars, dog sleds, and all-terrain vehicles travel short and long distances on the Baikal ice.
Hovercrafts "Hivus" are popular for trips to Baikal in winter. Tourists go with them willingly from Listvyanka to Olkhon, to Peschanaya Bay, to Tankhoy, Buguldeika, Sakhyurtu and to the southern end of the lake along the Circum-Baikal railroad. The interior of the boat is well heated, so it is comfortable in any frost. To rent "Khivus" for an hour costs 7500 rubles, and the excursion for 5-6 hours – 6000 rubles per person.
Popular excursions in Baikal:
– 6,500 ₽ for 1-3 people. – 9890 ₽ for 1-4 people – 11300 ₽ for 1-9 people – 7,800 ₽ for 1-5 pax.
To see the seals
Baikal seals, or seals, are found all over the lake, but you have to know the rookeries to see them. The seals winter in the hummocky parts of Baikal and piles of ice, which are called nudges.
Nimble animals feed in water, but breathe air. In the places where they spend the night there are "holes" 1-2 m in diameter and small holes of 10-15 cm through which you can stick your nose. The seals make these holes instinctively, raking the ice with the claws of their front paws.
Baikal seal. Photo: Streluk / Depositphotos.com.
Making a wish at shamanistic places
During a holiday at Baikal in winter 2021-2022, it is worth to visit the places, where most cherished dreams come true. If you want to find happiness, wealth and good luck in love, go to the Shamanka cliff, to the Khoboy cape, to the Love cape on the Olkhon island and to the shrine of the Barguzin valley – the bull-stone Bukhe-Shulun. Tourists who are interested in Buddhism go to the Ivolginsky datsan near Ulan-Ude. Buy a shaman tambourine as a souvenir of your trip to winter Baikal and you'll see your life will change!
Go to the Shamanka rock for happiness, prosperity and good luck in love. Photo: zastavkin / Depositphotos.com.
Fishing
The ice fishing season on Lake Baikal begins in January, when the ice shrinks the shallow bays. In the first ice you can catch perch, roach and pike – a common fish, which the local fishermen call catfish. In February, when the ice is firm, one can go to places where the famous Baikal omul, grayling, and burbot are caught. The most catchable time in Baikal is from the middle of March to early April, when the ice is still thick and the sun is shining with all its might.
You don't have to carry everything for fishing. The polite travel agencies and tourist agencies brought civilization to the shores of Lake Baikal long time ago. They can help you rent all the necessary fishing tackle, transfer you to your place and even drill a hole.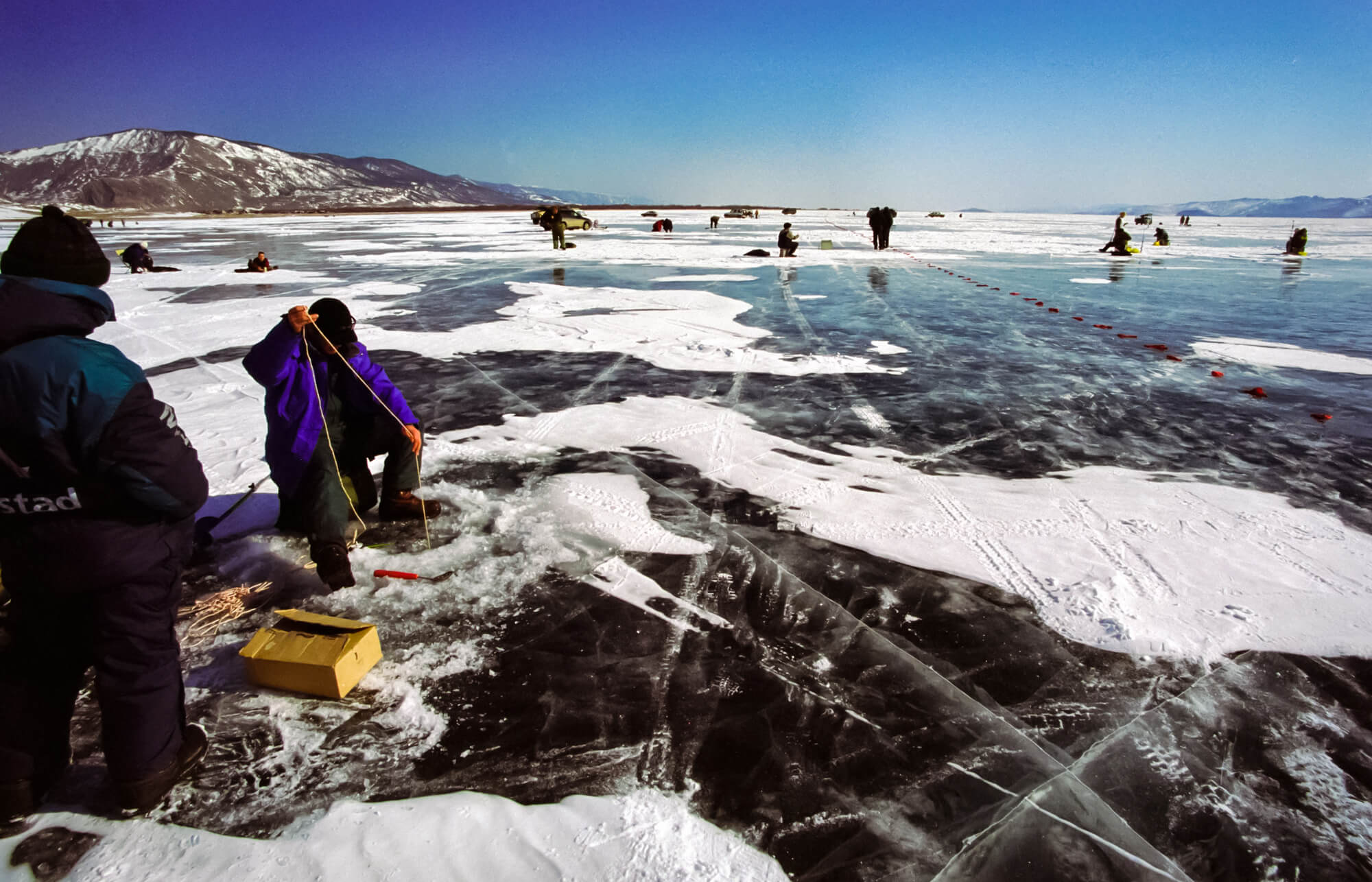 Winter fishing at Baikal. Photo: avstraliavasin / Depositphotos.com.
Swim in a thermal spring
It's a pleasant pleasure to swim in hot water in a crackling cold. Natural springs of fluoride-hydrocarbonate water with temperatures up to +50°C can be found in Buryatia and in the north of Lake Baikal. The most famous ones, Goudzhekit and Dzelinda, are easily accessible by train.
The water spas are quite comfortable. The pools are tiled and the locker rooms are heated. If you don't have a towel, rent a sheet! You will be charged 150-400 rubles for using the pools.
Take a rest at the ski resort
"Sobolinaya Mountain" is a popular center of winter recreation not only for the residents of Pribaikalye and Transbaikalia, but for tourists from all over Russia. Magnificent snow-covered slopes of the mountain lie in the south of Baikal, in Baikalsk. The skiing season is long – from November to May. The entrance to the resort territory costs 100-150 rubles, the skiing hour – 400-500 rubles, the ski pass for a day – 1100-1900 rubles, and a single visit to the ski lift – 110-200 rubles. During the New Year holidays the prices go up a little bit.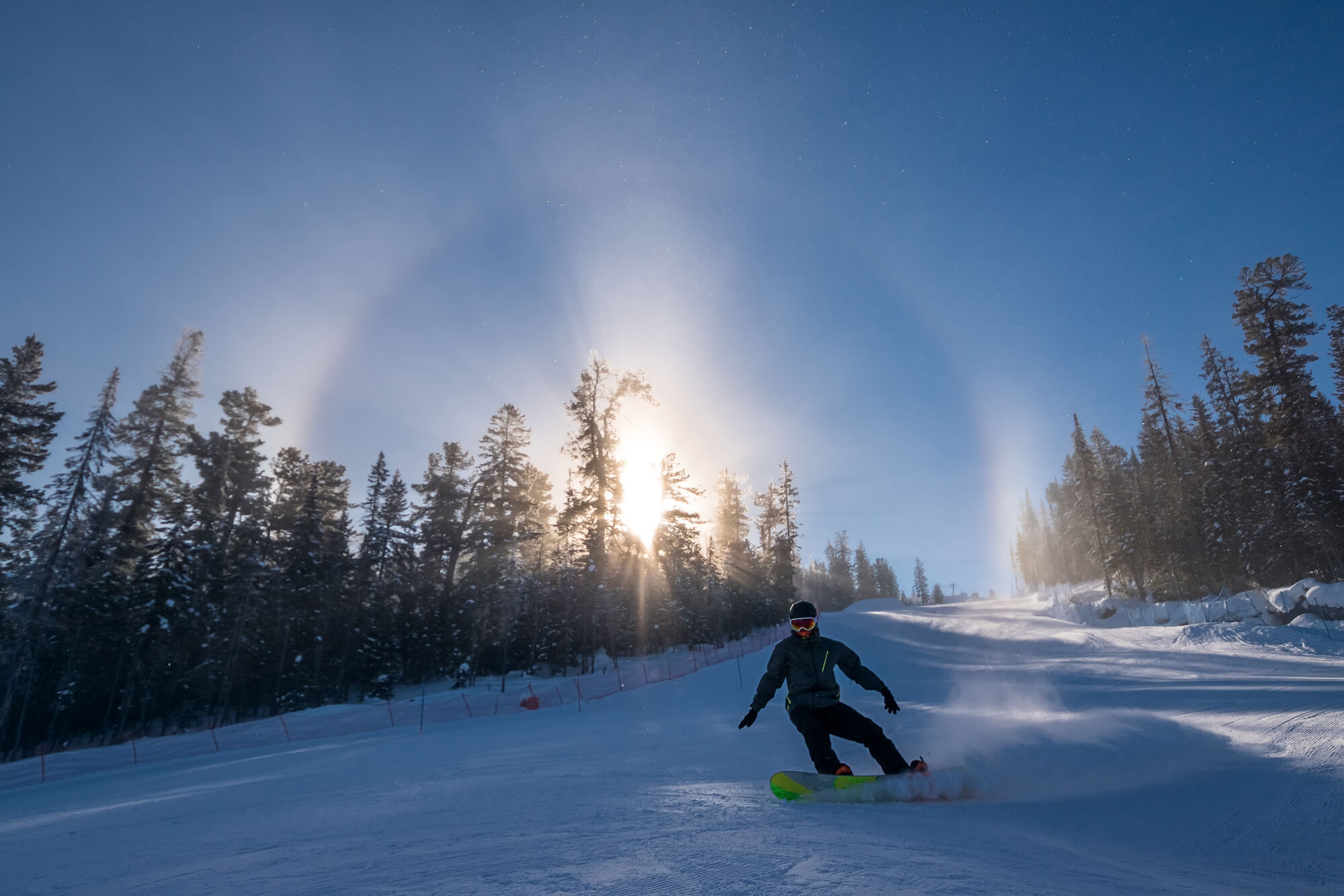 Magnificent snow-covered mountain slopes lie in the south of Baikal. Photo: Depositphotos.com