Car trip to Kazan in 2022
Going to Kazan by car is a great idea for a weekend trip and for a full vacation. The ancient city delights with beautiful embankments, impressive architectural monuments, ancient temples and mosques, pleasant places to walk, delicious national cuisine and the opportunity to have a great time in any season. This modern and beautiful city is rightly called the third capital of Russia. We will tell you about all the nuances that are worth considering if you go to Kazan in 2022 by car.
Yoshkar-Ola and Sviyazhsk: How to spend a fun weekend in the Volga region
Russian Railways' tourist train "Tales of the Volga Region" will take you to places where independent tourists don't get to very often. You will enjoy a fascinating journey around Yoshkar-Ola and a walk to the "Russian Atlantis" – Sviyazhsk island. Comfort on the trip is guaranteed, because modern trains, like a hotel on wheels – with air conditioning, outlets and showers.
Where to walk from one part of the world to another
In the Orenburg region there are two parts of the world – Europe and Asia, and it is also a land of sandy steppes, mountain peaks and salty lakes. Here they mine jasper, knit the famous Orenburg shawls and grow sweet watermelons. Yuri Gagarin learned to fly here, Vladimir Vysotsky grew up here, and in one of the villages Viktor Chernomyrdin was born. Here is a detailed guide to rest in the Orenburg region.
The route Moscow – Kazan.
It takes an average of 11-13 hours to cover this route including stops at gas stations and other places along the way, short rest periods and traffic jams. The distance between Moscow and Kazan is just over 800 kilometers. The route will take the federal highway M7 "Volga" through Vladimir and Nizhny Novgorod. Of course, if you want to fully visit these wonderful cities, the trip will take more time. But since you're traveling by car, no one forbids you to see most of the city from the windows of your car (if you drive during the day, of course).
Stopover one: Vladimir
The road from Moscow to Vladimir is quite busy. According to statistics, there are about seventy thousand cars traveling one way on the highway alone every day. Because of this, you can get stuck in a traffic jam as soon as you enter the M7 highway, which starts from the Entuziastov Highway. This is why it's recommended to leave early in the morning or late in the evening, as there is a better chance to get through this section quicker. But in general, this route you'll pass with comfort, it's enough illuminated, the road is repaired, on the way there are a lot of gas stations, cafes and picturesque places.
It's better to leave Vladimir either early in the morning or late at night. Photo: Vladimir VELENGURIN
Once in Vladimir you'll see the monument of Old Russian architecture "Golden Gate" and the Cathedral of the Assumption, located in the heart of the city.
| | |
| --- | --- |
| Travel Time | The distance between the cities is 184 kilometers, approximate travel time is 3 hours |
Second stop: Nizhny Novgorod
Leaving the Vladimir region, you will not encounter traffic jams, but this section of the road has its own disadvantages. The road consists mainly of two lanes and is insufficiently lit. Along the way you will meet many gas stations and roadside cafes, where you can rest and have a bite to eat.
To save time, you can take a detour road. Photo: Roman IGNATYEV
Speed limits are closely monitored in the Nizhny Novgorod region. Most road sections are accompanied by speed cameras and tripods. Therefore, it is important to follow the signs and obey traffic rules. Approaching Nizhny Novgorod, you will have a choice, as reminded by the signs: take a detour road to save time or still visit the central part of town, but there you may encounter very heavy car traffic. However, choosing the second option, from the windows of your car you can enjoy the beautiful architectural structures of Nizhny Novgorod, drive to the Square of Minin and Pozharsky, where the Kremlin of Nizhny Novgorod is located, at the confluence of the Oka and Volga rivers.
| | |
| --- | --- |
| Travel Time | The distance between cities is 242 km, approximate travel time is 4 hours |
Destination stop: Kazan
At the exit from Nizhny Novgorod you again get to the federal highway and the road condition will pleasantly surprise you. It will not take long to get there, but the time of day and rush hour will have an impact on the traffic density. When you leave Nizhny Novgorod region, you will definitely notice a change in scenery. At first you will see dense forests, which are the sign that you are driving in Chuvashia Republic, then you will reach the bridge over Sura river. Then you reach the Volga, the forests become narrower and the fields – wider at first, and then to the endless expanses. This means only one thing – you are in Tatarstan. The road along the way is narrow and broken in some places. You must keep in mind that heavy goods vehicles pass through there every day, so you must be careful and pay attention to the speed limits.
How much does it cost to visit Kazan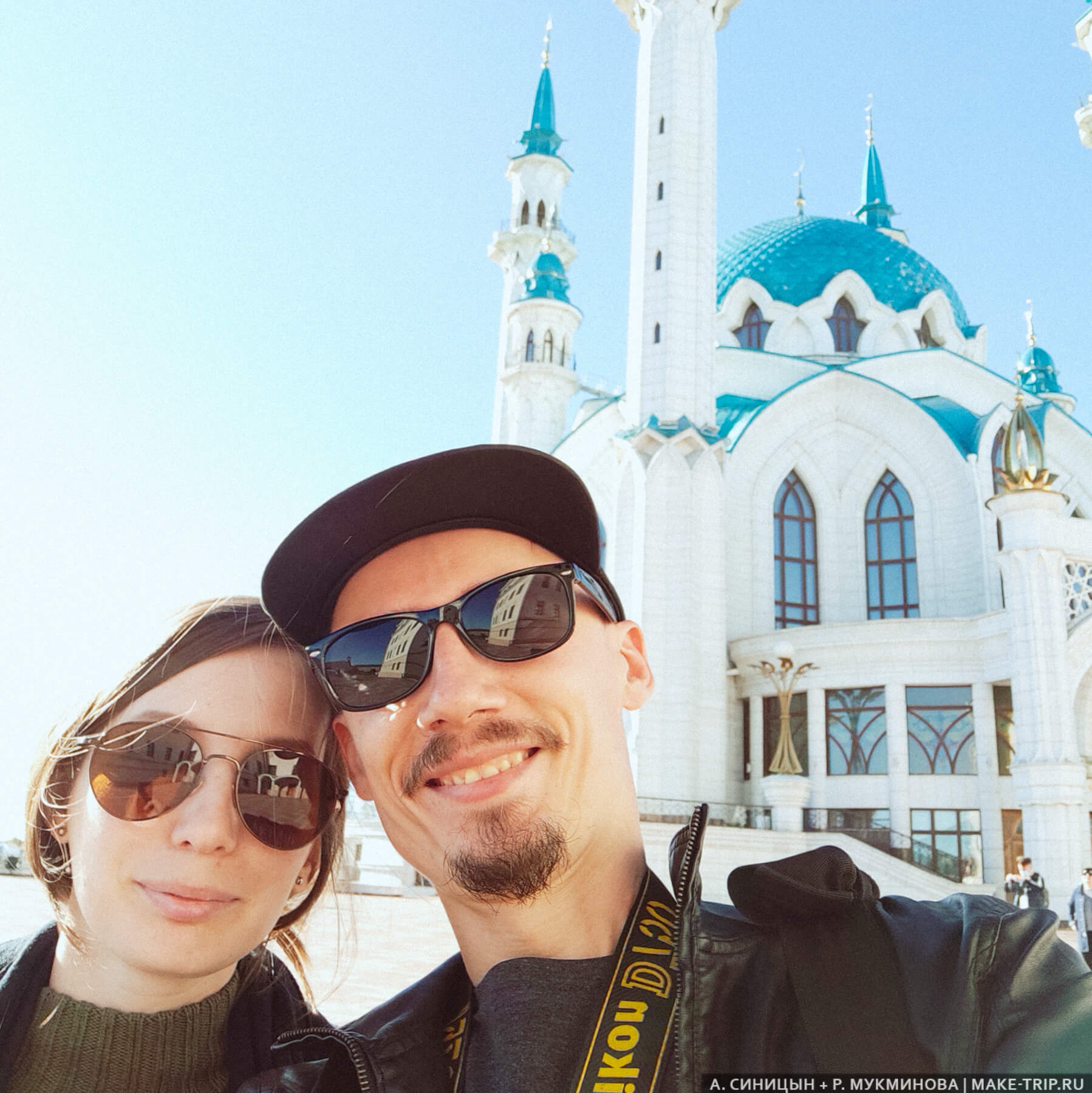 Kazan has blossomed in recent years: it is nice to walk here, taste the national dishes and admire the architecture. It's a great option for a mini-vacation, so every couple of years we consistently go to Kazan. Find out how much it costs to go on an independent trip for a few days. We share personal experiences, photos, helpful tips and talk about prices in 2022.
Content:
How to get to Kazan
It's easier to fly from most cities, and the cheapest is from Moscow. On Aviaseils they cost from 1200 rubles round trip in low season (yes, that little, it's not a typo!) and from 4800 rubles – in summer. Only a little more expensive to fly from Ufa. There are actions and sales – then the tickets are even cheaper.
From some cities it's more convenient to go by train – for example, from Perm and Yekaterinburg. It's convenient because the train is a night train and saves you a night in the hotel. We did it that way – from Perm a ticket in a reserved car costs 800-1300 rubles. We buy our train tickets on Yandex.Travel and Tutu.
A trip to Kazan from nearby major cities is more profitable by bus – from Ufa, Nizhny Novgorod, Ulyanovsk. Tickets cost about 1,000 rubles. There are also bus tours with excursions around Kazan and a visit to the water park "Riviera".
However, the most convenient option is to come on your own car. Last time we visited Kazan by car. From the pluses – independence and the ability to see the sights in the surrounding area by yourself. The only thing that spoil the pleasure is the heavy traffic and the terrible driving style of the locals.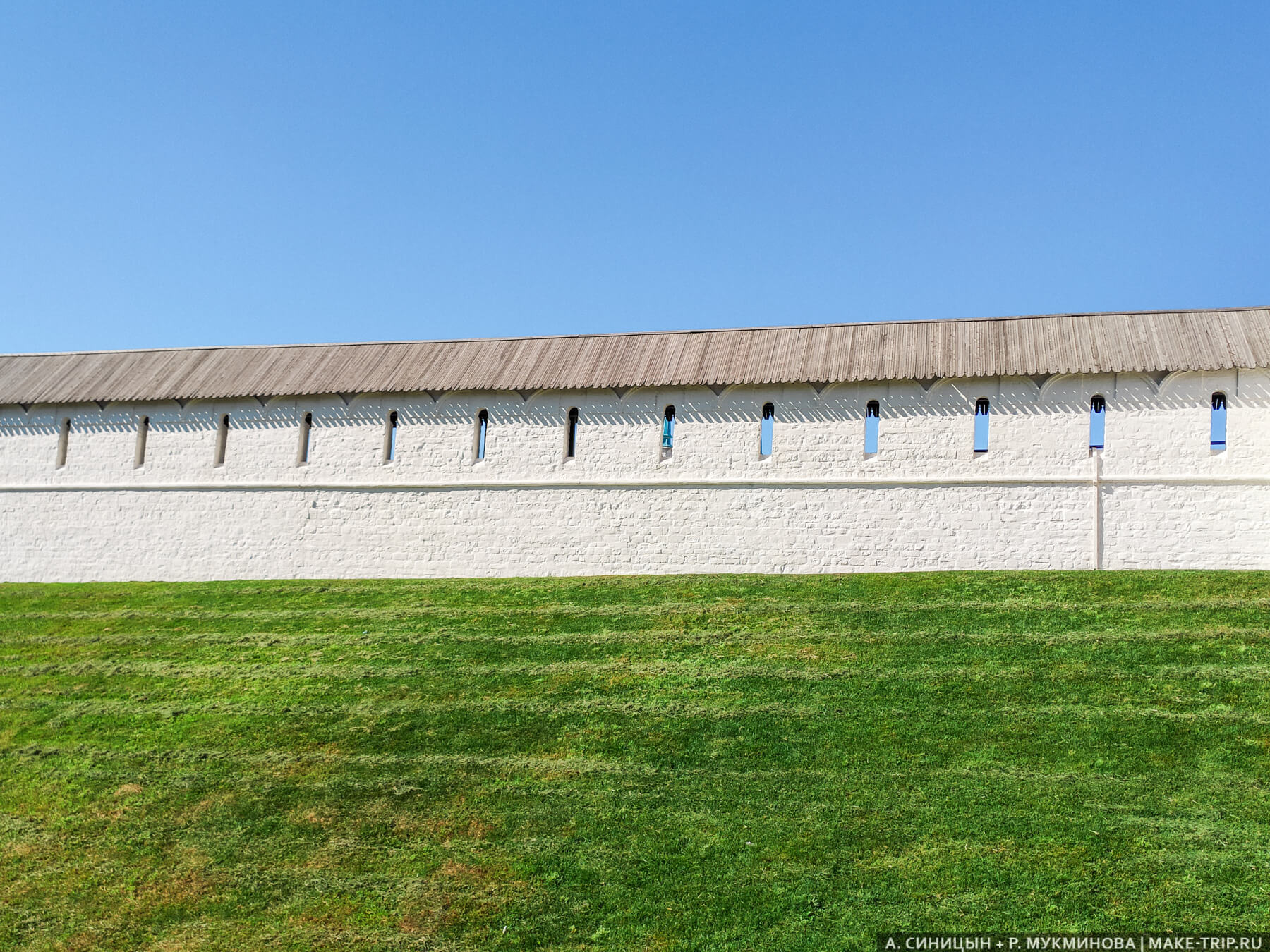 The white stone walls of the Kazan Kremlin look very beautiful.
Food prices in Kazan in 2022
What to try. When traveling to Kazan on your own, it's a sin not to try Tatar cuisine. We are even thinking of going to Kazan with a gastronomic tour. There are unforgettable pastries there: belyashi, echpochmaki and kystybyy. And what to say about the delicacies – honey chak-chak, talkysh-kaleve and gubadiye!
Canteens. The prices of food in Kazan are not too high. Some establishments are so cheap that you can't even believe it. One of them is "Good Dining Room" where you can have a hearty meal for 100-150 rubles per person. Salted beef – 50 rubles, meat cutlets – 30 rubles, mashed potatoes – 25 rubles. What can I say, visit their website and you will be surprised. Take note of the address: Bauman Street, 21, 2nd floor. Opening hours: from 7:30 to 21:00.
Cafe. The average bill in a cafe is usually 400-500 rubles. Soups cost 150-280 rubles and main courses start at 200 rubles. One of the cheap cafes we recommend is "House of tea" at Bauman Street, 64. The average bill there is about 200 rubles per person. You should try their Gubadia – we really liked it.
Restaurants. In restaurants the average bill is 1000-1500 Roubles. Piti and khash 310 and 350 rubles, pilaf 360-410 rubles, kutab 110-130 rubles, manty 350-390 rubles, fried loin 600 rubles, sturgeon 800 rubles, shah plov with lamb for 4 persons 3000 rubles. A good restaurant is "Uryuk".
Find out where to eat tasty and inexpensive food in Kazan. Let's share proven places!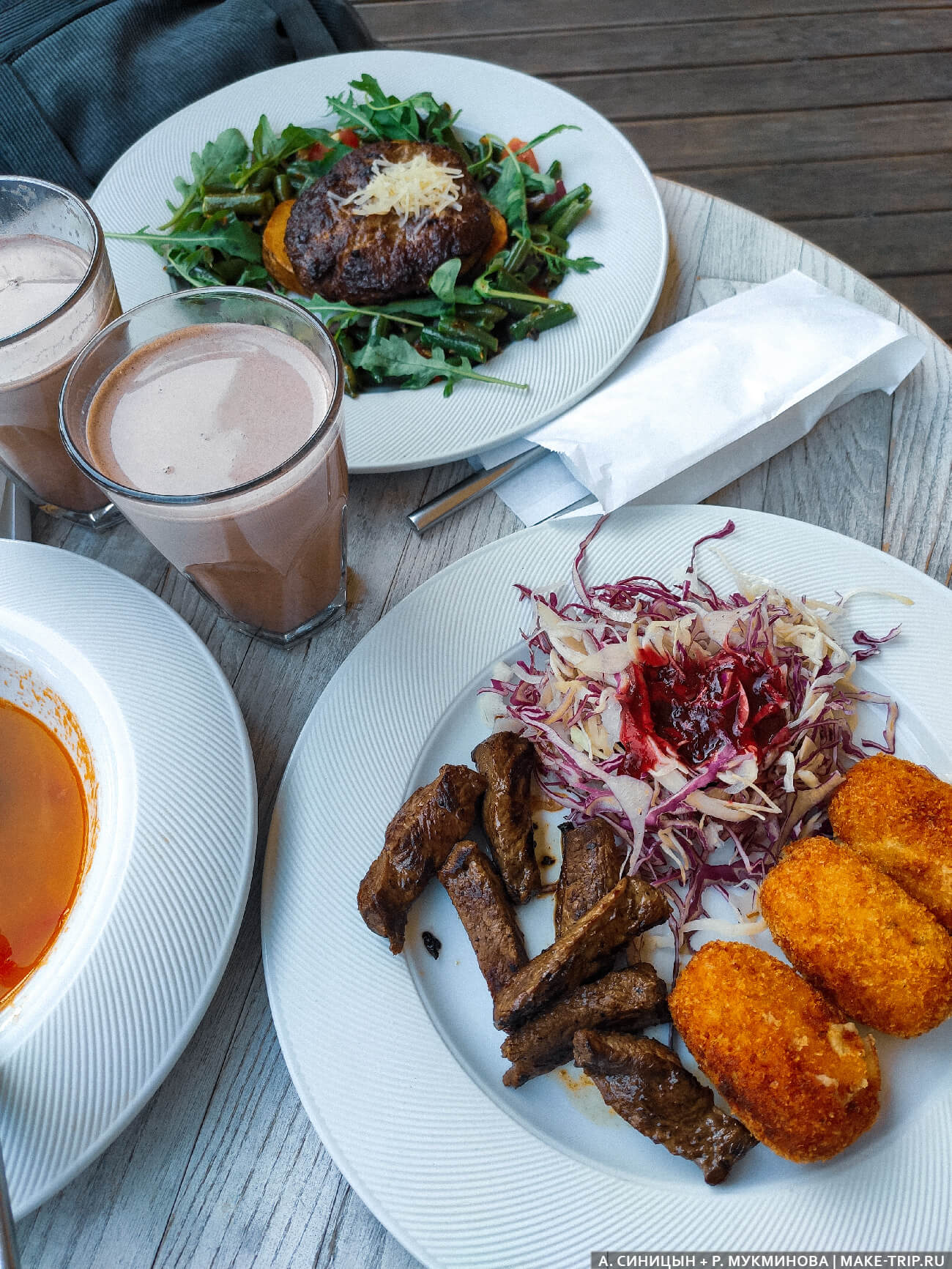 Our dinner at a nice bar "Salt" in the center of Kazan.
Hotel prices in Kazan in 2022
Where to book a bargain accommodation:
– Compares hotel prices, looking for discounts. – A huge selection of apartments and houses from the owners. Comes out more convenient and often cheaper than a hotel.
In what area to live. If you are planning a cultural city in Kazan, choose Vakhitovsky district, where all the main attractions are concentrated. Most hotels and apartments offer here. We ourselves lived here. It's only a 15 minute walk to Bauman.
The Novo-Savinovski district is close to Vakhitovski, so it's also relatively close to the center. There are a lot of offers for housing. Here is a water park "Riviera" and "Kazan Arena".
Moskovsky district will suit those who come to Kazan with children – there is an amusement park "Kirlay" and the park Uritsky with children's and sports grounds.
Here are the prices for hotels and accommodation in Kazan in the summer of 2022 for two people per day:
Price
Example
Bed in a hostel in the center
300 ₽
Hostel "Pushkin"
Double room in the hostel
1000 ₽
ABC Hostel
Budget hotel in the center
1800 ₽
"The Berison Kamala.
3* hotel in the center
2600 ₽
"Nogai"
Hotel 5* in the center
5600 ₽
"Mirage"
Apartment in the center
3000 ₽
Central Apartment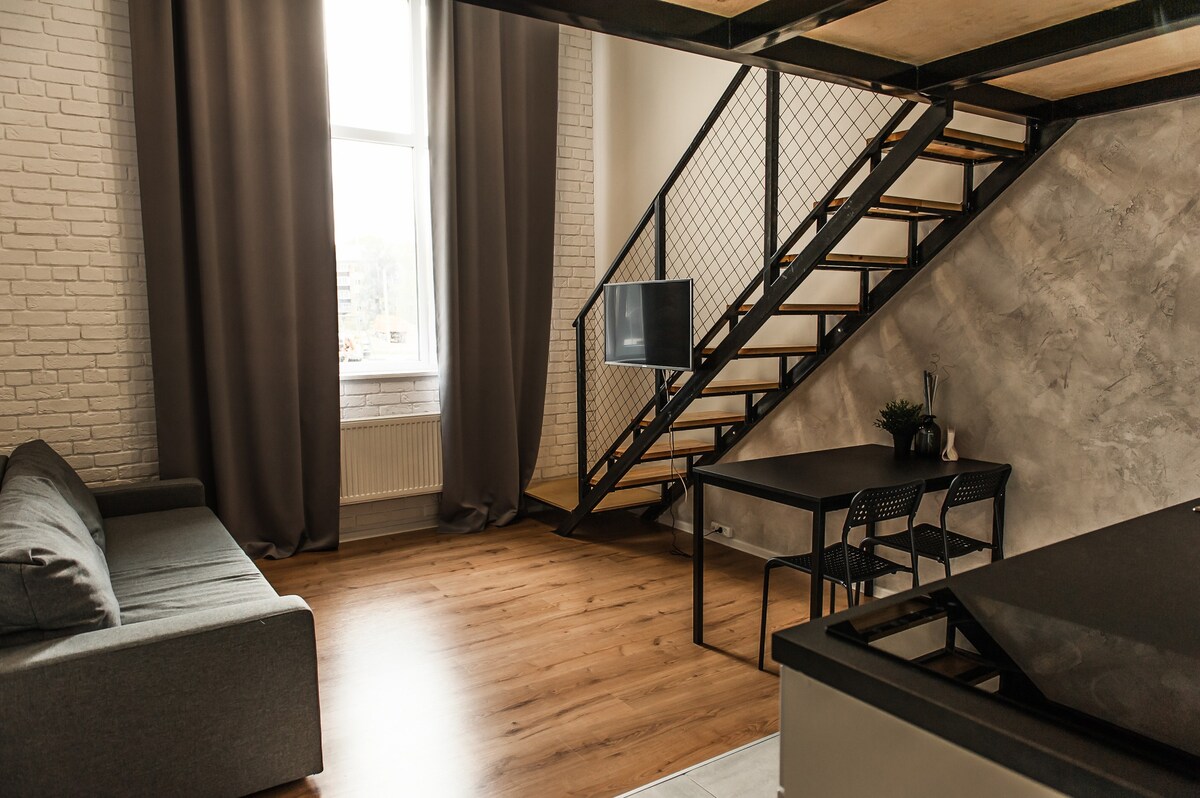 The designer loft apartment in Kazan we lived in. Photo: airbnb.ru.
Transportation prices
In Kazan, you need and can walk a lot! During one day of active walking we cover about 20-25 km, and then, tired, we take a cab home in the evening. We order a cab in the app "Yandex.Taxi" and it comes out about 100-120 rubles. At such low fares, using the subway and buses almost makes no sense.
The fare on the subway is 30 rubles, and children under 8 years old are free. Tokens are sold at cash registers and vending machines, but you can pay with a contactless card or smartphone with NFC, just by putting it to the turnstile. There are transport cards for 1 month, which costs 27 rubles, but the tourist does not need them. Metro opening hours are from 6:00 to 24:00. At the entrance to the station bags are checked.
Tickets for buses, streetcars and trolleybuses also cost 30 rubles, which you can buy from the driver in cash. To find the right transport, we use Yandex.Maps and 2gis.
Learn how to get to Kazan airport by bus, train and cab.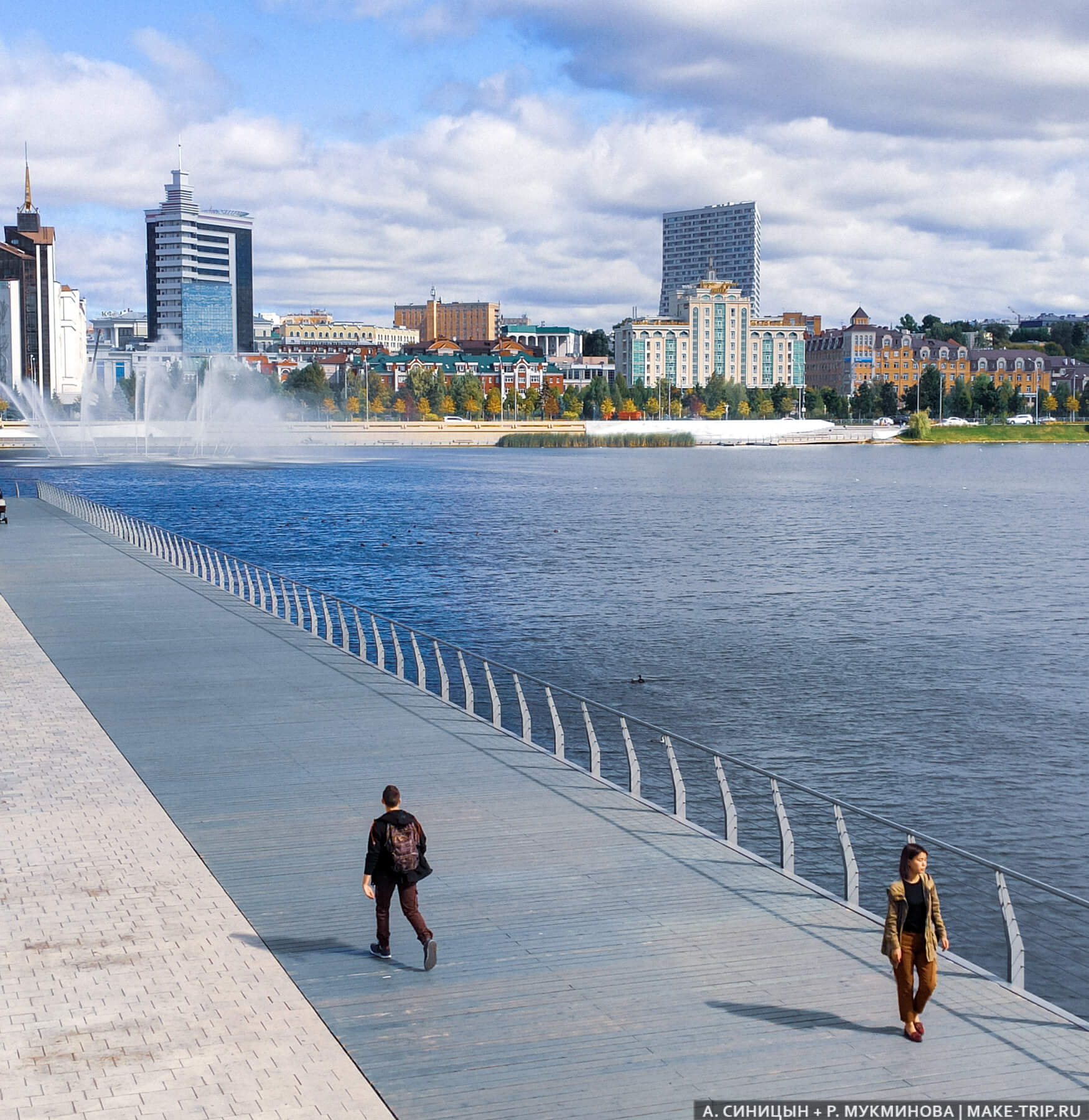 Embankment of the Nizhny Kaban Lake.
What to see
It is best to allocate at least 2-3 days for a trip to Kazan, because there are really a lot of interesting places here. The center of the city is cozy and clean, it's nice to just walk around. In one day, really see the main attractions of Kazan:
Kazan Kremlin with Kul-Sharif Mosque, Suyumbike Tower, Cathedral and Museum.
Kremlin embankment and Kremlin Street.
Bauman Street and Bell Tower of the Epiphany.
The Old Tatar Settlement and Nizhny Kaban Lake.
We told about all the most interesting places in Kazan and made a route for one or more days. Take a look at our Kazan travel guide.
For your convenience, we also made the author's guide to Kazan in the form of an offline map for smartphones. Download it if you need to have all the marks and descriptions of Kazan sights at your fingertips, but don't have the time or desire to copy this information manually. This convenience will cost you 200 ₽.
There's plenty to see outside the city, too. Rent a car (from 1000 ₽ per day at Rentalcars.com) and go to the island-town of Sviyazhsk, Raifa Monastery and the Temple of All Religions. We went there by our car. You can also go to these places with a tour.
Colorful and neat houses in the Old Tatar Sloboda.
Excursions in Kazan
If you don't want to plan a route around Kazan on your own, take a tour. There are plenty of choices! A good tour will help you to see more in less time. Look for the most interesting excursions with real tourist reviews on Tripster. There are classic sightseeing tours of the main places of the city and original options: bicycle tours, culinary workshops, river walks and even quests. Also very popular in Kazan field trips to the ancient city of Bolgar and Yoshkar-Ola.
Prices are low: from 400 ₽ per person in group excursions and from 2600 ₽ for an individual tour.
The cost of a trip to Kazan in 2022
So, how much will it cost to travel to Kazan on your own? Let's calculate the cost of the trip for 1, 3 and 5 days for two people. We've taken the minimum prices so that you can understand how much you should aim for when planning your trip budget. We did not count the tickets and attractions.
A budget hotel in the city center – 1800 rubles for two people per night.
Three meals a day – 3000 rubles.
Two trips by cab – 200 rubles per day.
Thus, the cost of the trip to Kazan for one day for two – 5000 rubles. The cost of three days of vacation – 15000 rubles, and five days – 25000 rubles.
Here we did not include the cost of entertainment, sightseeing tours and attractions, because it's very individual. For example, we spend very little on them. I advise to budget about 10,000 rubles if you're going as a family with children.
The budget of our trip
The last time we went to Kazan was in September, 2020. We stayed three full days and four nights. We drove our own car, so we easily visited all the neighborhoods in one day and walked around the city for two days. That's how much we spent: