5 out of 5: review of ski resorts in Georgia
Just as well known as seaside resorts and urban attractions are Georgia's ski resorts. The Caucasus in this country occupies a large area, so the resorts here are different in location, infrastructure, and slopes. Many mountain centers are close to other attractions, so you can always combine skiing with travel.
In this article I will talk in detail about the best ski resorts in Georgia, their features, advantages and disadvantages. You can see all the listed ski resorts on a map of Georgia. Let's start with a general overview of the natural conditions!
General information about Georgia's mountains and ski resorts
Mountains in Georgia are different, suitable for both beginners and experienced skiers. Often simple slopes are combined with difficult ones, so that you can try out several skiing options at once in one area. Ski resorts in Georgia offer both regular leisure, and extreme: freeride, heli-ski, backcountry. At each resort must have instructors and equipment rentals.
Skiing season in Georgia starts at the end of November and lasts until the end of April. The traditional peak of the popularity of the mountains is from December to March. This is the time when the most snow falls and the most tourists arrive. Winters in the country are mild, the temperature rarely falls below -10 ° C, almost all the time the sun shines. There is almost no wind – the Caucasus reliably closes the interior from cyclones.
How to choose a ski tour to Georgia? Detailed instructions with screenshots.
The most famous ski resorts in Georgia:
Gudauri.
Bakuriani.
Tetnuldi.
Goderdzi.
Khatsvali.
The first two have traditionally attracted a lot of tourists, because the quality and variety of these places is still unmatched in the country. But the three younger resorts are developing rapidly, and will soon be ahead of the competition. Read about the best ski resorts in Georgia so you know where to go.
Gudauri
The resort and the village of the same name are located in northern Georgia, 2 hours from Tbilisi. The easiest way to get here is by regular shuttle bus from Didube station. Gudauri is one of the best places for skiing holidays in Georgia, as it has ideal conditions for freeriding. By December-January thick fluffy snow falls, which covers all the uneven slopes – this is the time when there are the most tourists here. Especially advised to try heli-skiing with throwing on the wild slopes from a helicopter.
For fans of conventional skiing, Gudauri has 22 tracks with a total length of 75 kilometers. They are served by 7 regular elevators and a number of short rope tow elevators, including a free elevator for children on the tubing track.
A comparison of the ski resort in Georgia with its competitors shows that everything here is focused on skiing. Apres-ski is practically absent, in the evening you can relax only in the hotel or in one of the rare cafes.
In general, Gudauri is a great place for fans of skiing, to which almost everything is devoted here. But the infrastructure is rather weak, there are few entertainments.
Bakuriani
The oldest ski resort in Georgia is located in the south central part of the country. There are direct shuttles from the capital's Didube station, and there is also an option to go first to Borjomi, and from there by bus, cab or authentic narrow-gauge rail. Bakuriani offers only 4 trails, but they are long and multi-level, with different difficulty sections. One of the slopes – only 300 meters – is ideal for beginners, but overall the resort is more oriented towards skiers who know how to ski.
In contrast to Gudauri, the ski vacation in Georgia at Bakuriani resort is more diverse. In addition to conventional skiing and rare freeride here is much more opportunities for après-ski. The resort village has bars, nightclubs, casinos and hotels with movie theaters.
I advise stopping by the local botanical garden. In the surrounding area arrange hiking tours, climbs to neighboring mountains, trips to cave towns and ancient monasteries. Very close is Borjomi with its famous springs.
Bakuriani, though its history dates back to Tsarist Russia, has not lost its former merits. All tourists, even those who do not like skiing, will find it interesting here.
Tetnuldi
A new resort, opened in early 2016, is located in the far north of the country near the village of Mestia. It is part of the modern ski resorts of Georgia, built already in the XXI century. You can get to Mestia by bus or airplane, and already to the resort itself you will be happy to be taken by local residents. There are 3 main lines of elevators in Tetnuldi and a number of tracks: blue at the bottom and black at the top. Here is an excellent freeride, not worse than in Gudauri!
If for you ski vacation in Georgia is not just about skiing, Tetnuldi may seem boring. The resort itself offers no accommodation or entertainment. All tourists stay in Mestia, where there are hotels and private cottages. There you can also visit the museum of Svaneti, look at the famous towers, go for a walk to the glaciers or beautiful lakes.
To the resort itself you will have to travel every day with the locals – they offer an inexpensive shuttle service for the entire vacation.
Tetnuldi will suit well those who love solitude. It has not yet had time to build everything planned, so there are few tourists, there are no queues, and the snow is always fresh.
Goderdzi
Best ski resort in Georgia in the Adjara region – there are just no others nearby. It's most convenient to go here from Batumi with a connection in Khulo or from Tbilisi with a connection in Akhaltsikhe. Goderdzi is conveniently located close to the sea, so you can combine skiing and sea vacation. At the resort itself there are only 2 ski elevators and 8 kilometers of blue slopes. So beginners and inexperienced skiers will like it here. A separate plus – not a lot of people, there is no crowding at the bottom of the slopes.
At the resort there is a hotel with a restaurant, a couple of rental shops and open stalls with fast food. Entertainment is virtually nonexistent. You can stay at the pass or in the neighboring village Danisparauli, where locals rent houses.
Goderdzi must seem boring to everyone who is not ready to ski all day long, because even in the vicinity there is nothing interesting. Once again, I would advise to go to the sea, which even in the ski season in Georgia remains interesting.
Since Goderdzi opened recently – at the end of 2015 – it is still quite boring here, so there are few tourists, and the prices are lower than in Gudauri or Bakuriani.
Khatsvali
The second, or rather the first resort in the area of Mestia. It began operating in 2011, and remains popular even after the opening of the more modern Tetnuldi. These ski resorts in Georgia are neighbors, so in Mestia you can always compare them and choose the one you like more. There are 3 elevators and 4 slopes in Khatsvali, and there are areas for freeride. In the resort you will find rental shops, instructors and even a whole hotel with a restaurant.
However, I recommend renting accommodation in Mestia. Since 2017, the village and Hatsavali resort are connected by a modern cable car – in 6 minutes it takes tourists directly to the slopes. About this ski resort in Georgia reviews are quite satisfied, people like the privacy of the place and the absence of queues. It is worth to come here even in the summer – the cable car runs all year round, plus you can walk through the picturesque surroundings.
Hacvalli is notable for its affordable prices, proven and quality slopes, and convenient ropeway to Mestia. But be prepared for a lack of après-ski.
Georgia ski resorts on a map
For convenience, check the location of Georgia ski resorts on the map. It will help you navigate and choose the most convenient option. If you want ski resorts near Tbilisi, then choose Gudauri or Bakuriani. If you still want to relax by the sea, the best option is Goderdzi.
Personally, my top resorts, in order from best to worst, are as follows:
Bakuriani.
Gudauri.
Tetnuldi.
Khatsvali.
Goderdzi.
In love with Georgia, Igor OZIN.
Do not forget about travel insurance. Select a policy.
Car with driver in Georgia cheaper than on the street – choose the best option.
Ski resorts in Georgia – choose the best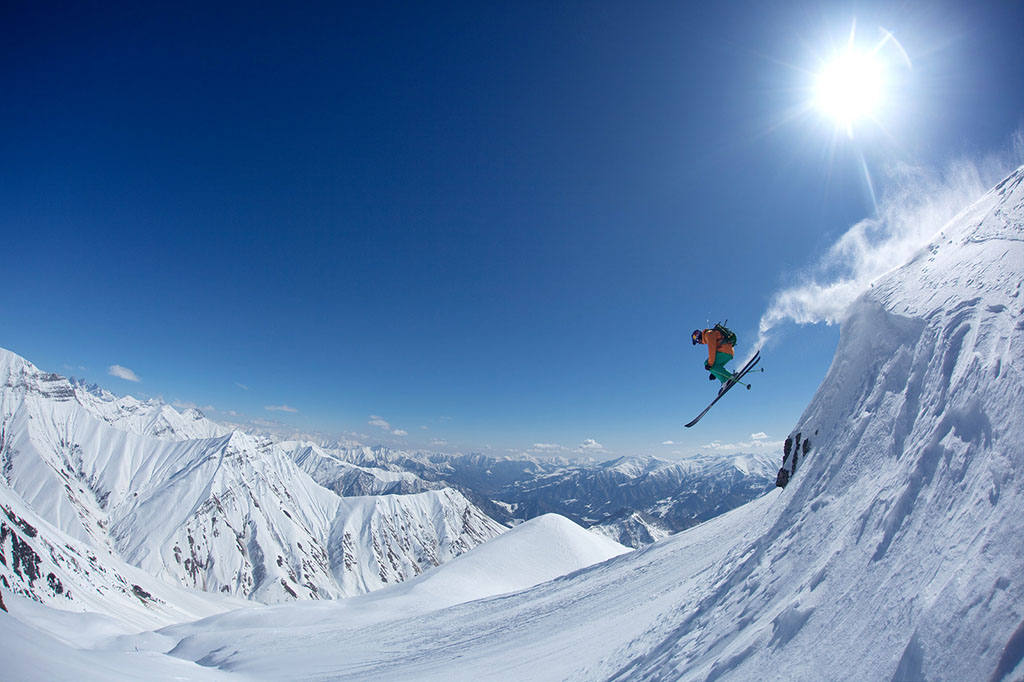 Tourists are attracted not only by the famous Georgian hospitality, delicious wine and beautiful mountains. We tell you about the first-class ski resorts in Georgia in 2022: when is the season for skiing, features of the slopes and infrastructure, prices and reviews of tourists.
Modern ski resorts in Georgia are little inferior to the famous winter resorts in Europe. They are famous for democratic prices, a good level of service and high quality preparation of the slopes. For beginners there are a lot of short slopes with slight differences in elevation. Experienced sportsmen have a lot of fun on complex slopes and freeride zones.
Ski holidays in the Caucasus – not only bright emotions of skiing on the slopes. Travelling here allows you to get acquainted with the rich history and culture of the country, enjoy the dishes of Georgian cuisine and immerse yourself in the atmosphere of national traditions. During a winter vacation you can see the medieval towers of Svaneti and traditional houses – machubi, visit ancient temples and castles.
Currency exchange rate: 1 Georgian lari (GEL) ≈ 19 RUB.
Content: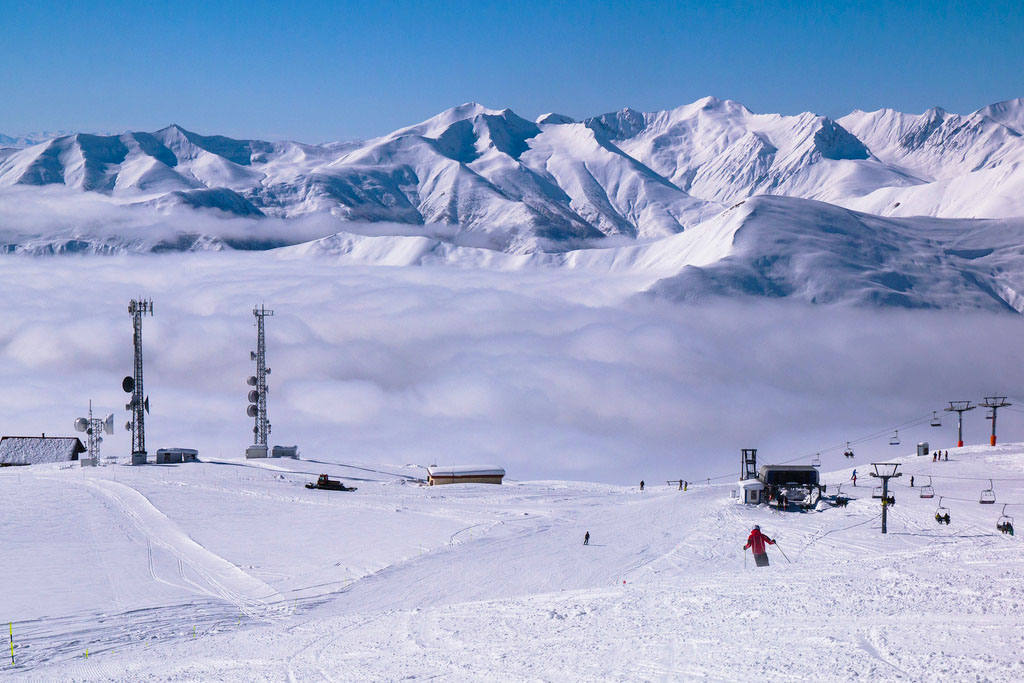 (Photo: pkmk / flickr.com / CC BY 2.0 license)
Climate
The ski season at Georgia's resorts starts in late November to early December and ends in mid-April to early May. Most tourists go skiing from December to March, when there is a lot of snow in the mountains.
The climate in Georgia is quite mild. The average air temperature in winter stays at marks -3. -1°С. On the slopes of almost all is sunny. There are high mountain chains on the way of cyclones coming from the continent, so there are no strong winds here.
Useful pic:
Winter in Bakuriani is mild. Because of the high mountains there are no strong winds. Photo: VictoriaBoroda / Depositphotos.com.
The best ski resorts in Georgia in 2022
Traditionally, in the winter season, the most developed ski resorts of Georgia – Gudauri and Bakuriani – receive tourists. The prices there are quite reasonable. New resorts have been opened in Adjara and Svaneti, so tourists have plenty to choose from.
Gudauri
The most popular winter center is located 120 km from the Georgian capital. It is focused on the youth recreation, but families with kids love to come here too. Near the slopes there are hotels, bathhouses, bowling, several restaurants and cafes.
Slopes . There are 16 kilometers of slopes, from green to black. These slopes are served by the Austrian Doppelmayer chairlift. There are separate tracks for cross-country skiing fans, and at an altitude of over 1.5 kilometers there are slopes for freeriding and heli-skiing fans.
Prices . A day ski pass for adults costs 30 GEL. Rent skis and snowboards for 25 GEL.
Tourist Reviews . This ski resort in Georgia is everyone's favorite. The snow cover in Gudauri is dense, there are no rocks on the slopes, and avalanches are extremely rare. Even during the peak tourist season there is always enough room in the hotels. Among the disadvantages is the accumulation of skiers on the elevators.
Gudauri ski slopes and elevators scheme
Bakuriani
Georgia's most famous ski resort has been developing since the late 19th century. Most of its slopes are located on the slopes of Kokhta (2200 m), 186 km from the capital of the country. This place is known for its healing mineral springs and beautiful Botanical Garden.
Slopes . There are four slopes with 10 descents of varying difficulty levels and elevation difference of 450 meters. Cross-country skiing lovers can enjoy a 13 km long track.
Prices . A ski pass for a day costs 20-25 GEL. Rent a set for alpine skiing or snowboarding – 25 GEL.
Tourist Reviews . Bakuriani is considered a center for family vacations. The resort has three ski jumps and a 1.35 km long toboggan run. In the park of the village ride on snowmobiles, and in the hotel "Eden" several ice rinks are open. The main drawback, as well as in Gudauri, is the queues at the elevators. Sometimes you have to wait for 40 minutes. In addition, during the season there is a shortage of hotel rooms, so it is better to book accommodation in advance.
Scheme of ski tracks and elevators in Bakuriani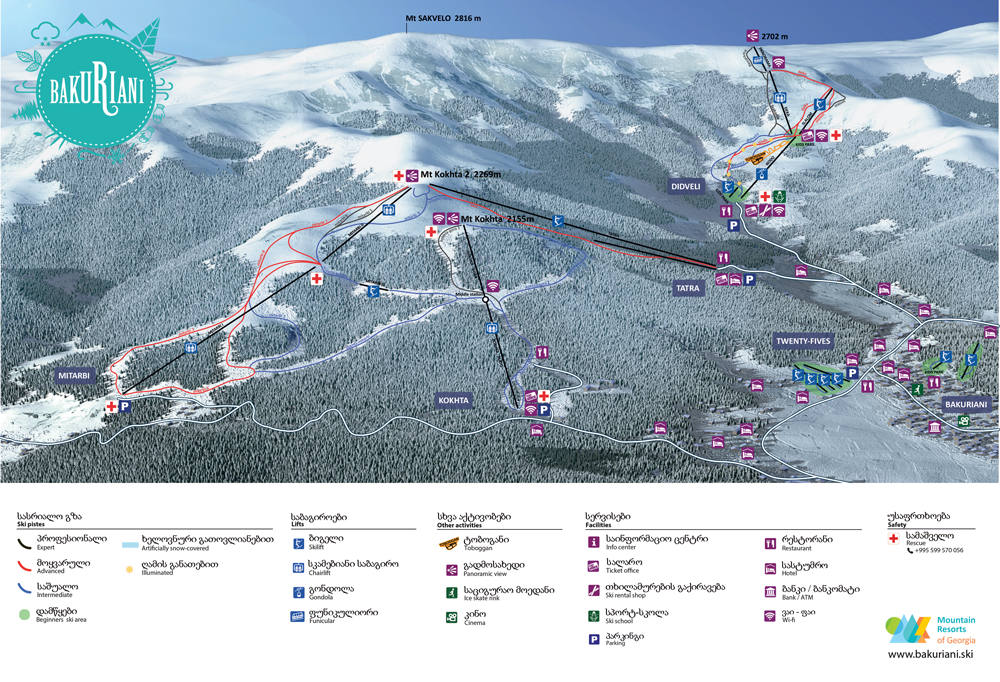 Goderdzi
A new winter recreation center was opened at the end of 2015. It is located in the most elevated part of Adjara, 109 km from Tbilisi and 110 km from Batumi. The modern resort is famous for its powerful snow cover.
The slopes . The slopes for skiing are located on the heights from 1700 to 2390 m. For their service is built a two-level road from the gondola and chairlifts 4 km long. It is open from 10 a.m. to 4 p.m. on weekdays and to 5 p.m. on weekends. There are 8 trails equipped, and there is an unlimited area for the lovers of extreme sports.
Prices . A day ski pass costs 20 GEL. Rent skis for an hour costs 5 GEL, for a day – 20 GEL.
Tourist reviews . The resort is just developing. You can stay in private houses or cottage rooms, similar to the Alpine chalets. A night's stay costs 60-150 GEL. Near the ropeway is a home-made fast food outlets and a hotel restaurant. There is no other entertainment and shopping here yet.
The scheme of the trails and elevators in Goderdzi.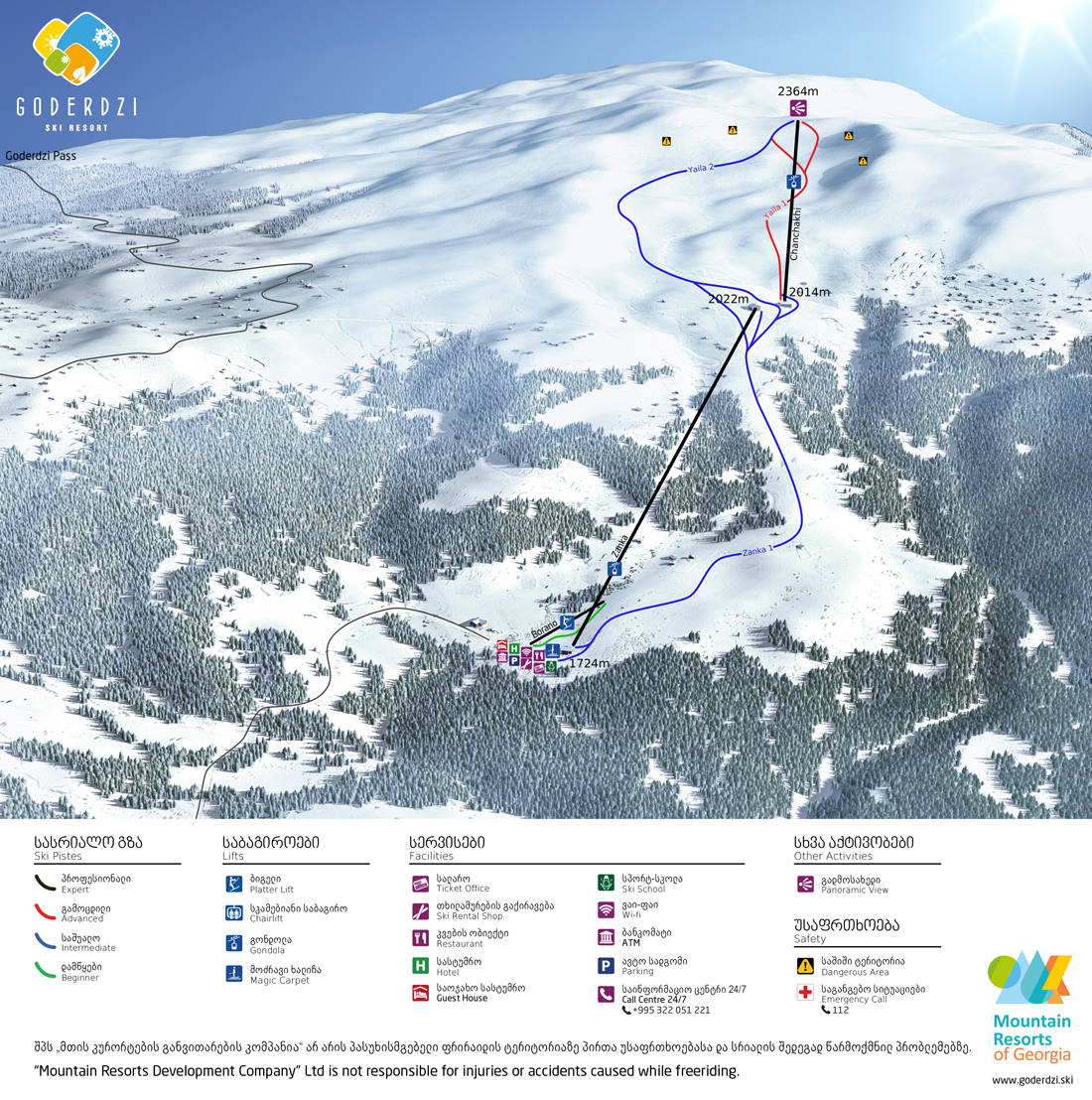 Khatsvali
The ski center is located 8 km from the village of Mestia, 260 km from Batumi airport and 214 km from Kutaisi airport. The resort area began to develop in 2011. It occupies the slopes of Mount Zuruldi and is open all year round.
Slopes . There are 4 slopes in the resort, the longest of which – "blue" – stretches for 2.6 km. Slopes are served by a 1.4 km long chairlift and two rope tow elevators. They are open from 10 a.m. to 4 p.m., and until 6 p.m. in March and April.
Prices . A day ski pass costs 20 GEL and a ski kit rental costs 25 GEL.
Tourist Reviews . To accommodate tourists at the resort built a hotel, there are guest houses. Vacationers note that there is no shuttle service to the village of Mestia, but a shuttle service to the slopes is organized. In addition, since December 2017, it is easy to get to the resort in 10 minutes by cable car. At an altitude of 2340 m there is a popular cafe with a great observation deck.
The scheme of trails and elevators in Hotsvali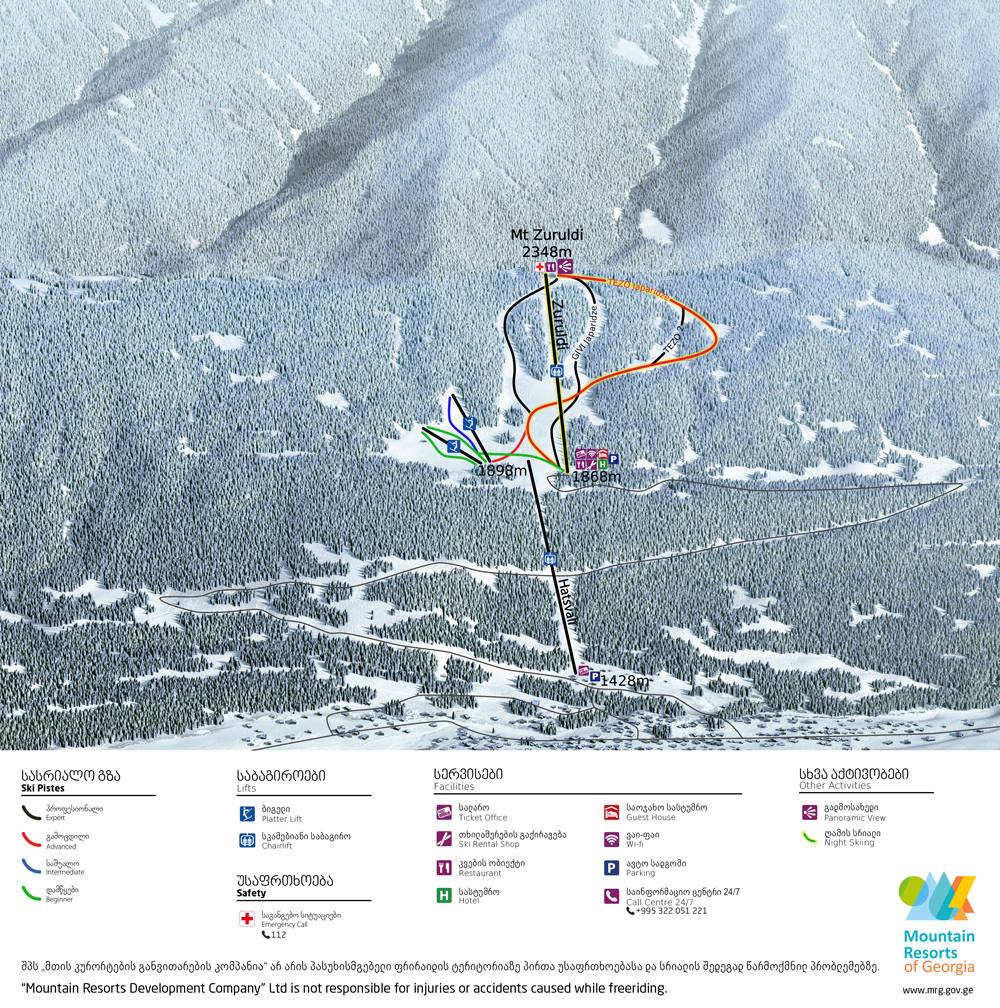 Tetnuldi
The new ski center in Upper Svaneti is 15 km away from Mestia. It has been developing since 2013 and is gradually becoming a good alternative to the popular ski resorts of Georgia.
Slopes . Slopes for beginners and advanced skiers lie at altitudes from 2260 to 3165 m. There are narrow and wide spots, counter gradients and steep sections. There are three chairlifts that work from 10 a.m. to 4 p.m. A nice cafe is open, and there is a warm locker room and restroom.
Prices . A day ski pass costs 30 GEL, and rent a ski kit for a day – 30 GEL. Snowboards are not available for rent.
Tourist reviews . The resort is only evolving and gets better every year. Vacationers praise the quality of rental skis and the fact that the slopes for freeride available directly from the ropeway. To the disadvantages of rest include the lack of housing near the slopes. You can only stay in the capital of the region – Mestia. Accommodation prices in hotels and gesthouses: from 17 GEL without food and from 65 GEL with two meals a day. The rates for transfers from Mestia to the slopes are around 60 GEL per car.
Scheme of trails and elevators in Tentuldi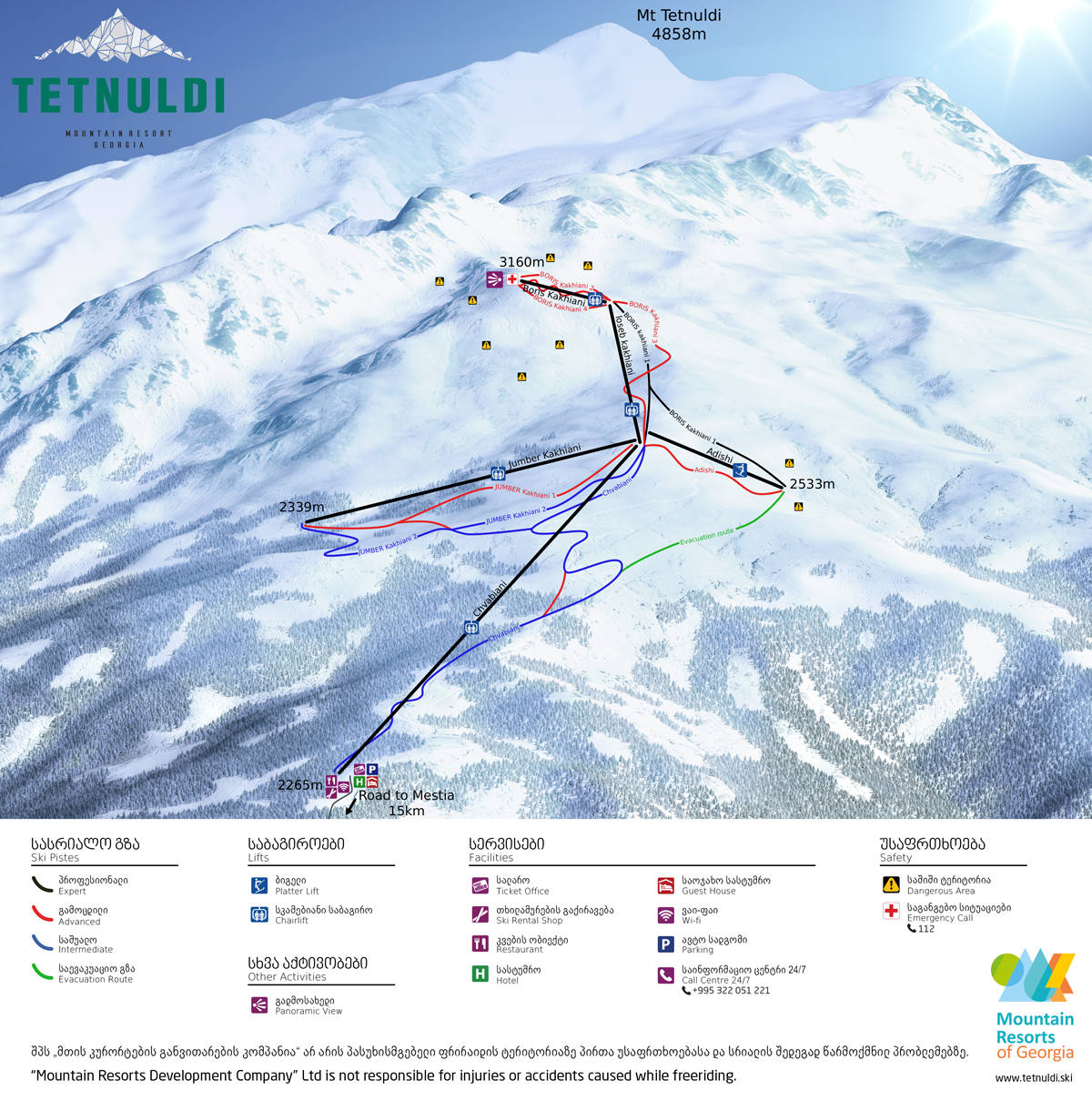 Which ski resort in Georgia to choose?
Skiing in Georgia attracts fans of beautiful nature, interesting slopes and colorful authentic places. Georgia's old ski resorts – Gudauri and Bakuriani – are good with developed infrastructure and affordable prices. If you go with children, they are ideal. It is also a good choice for tourists who are not looking for extreme adventures in the mountains.
New resort centers are good with low population and an abundance of places for exciting freeride. They are suitable primarily for young people. True, the resorts are still developing and are situated quite far away from major cities and airports. For example the road from Tbilisi to Tetnuldi takes 10 hours.
It is convenient that you can ski at all Georgian resorts, both old and new, using multipasses.
Other ski resorts:
An overview of Tetnuldi and Khatsvali ski resorts
First photo: Georgia Made by Characters / flickr.com / License CC BY-NC-ND 2.0