Rest in Sochi in December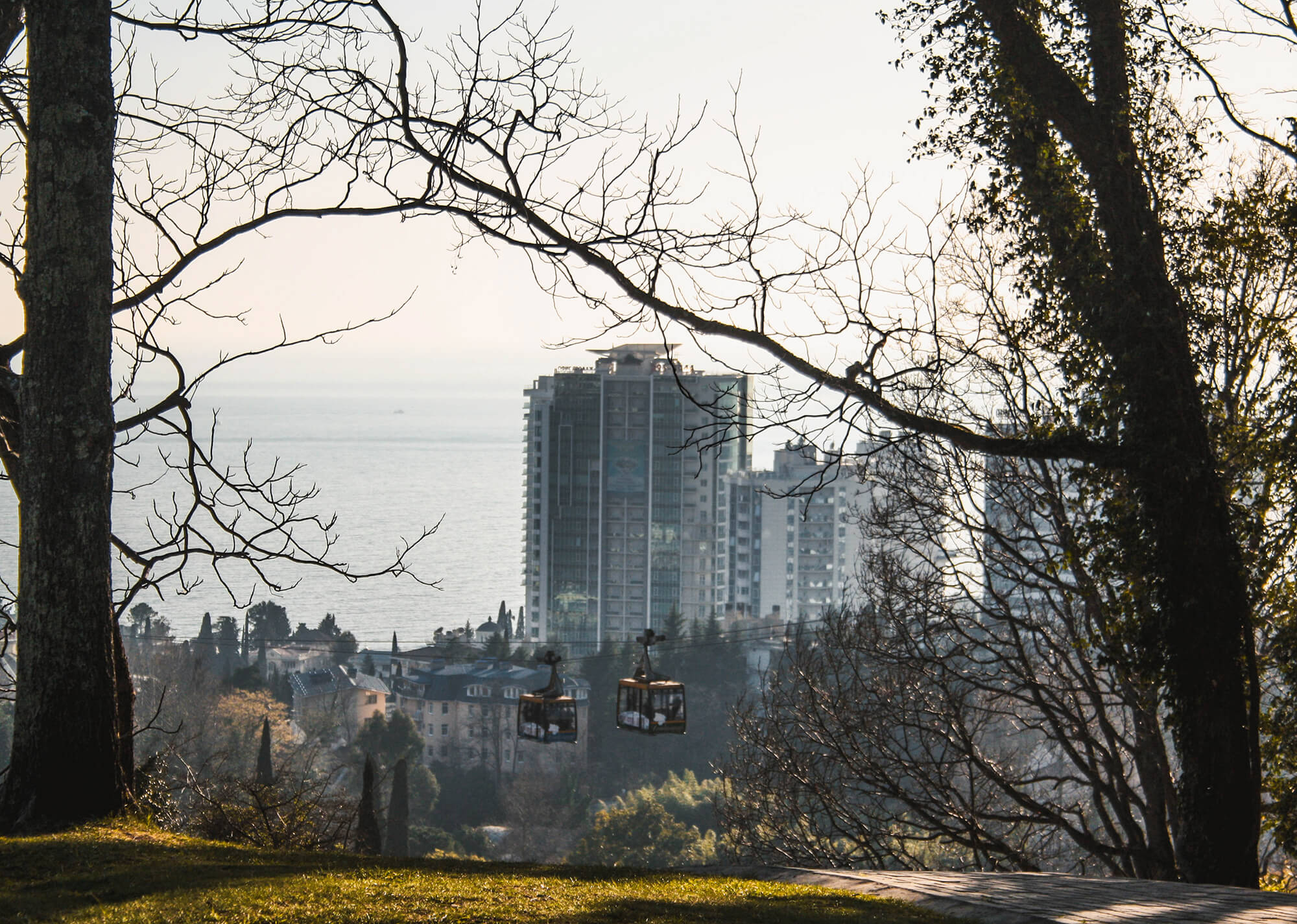 Learn all about resting in the main resort of Krasnodar region in early winter. What the weather in Sochi in December, how to dress, what to do and where to rest inexpensively. Tips and reviews of tourists.
Contents:
Is there life at the resort
Holiday in Sochi in December will suit everyone who likes to breathe fresh air and walk without the crowds. A major resort city on the Black Sea takes holidaymakers all year round – not in season tourists come much less than in summer, but the infrastructure does not stop. Restaurants, bars and cafes work, sightseeing buses take holidaymakers to sights, and almost all entertainment venues are open.
Tanyushka: "In December we rushed to Sochi and did not regret it. When we left it, there were snowdrifts up to our knees, but everything was green there. When we left Sochi in December we had snowdrifts that were drifting to our knees. In Sochi in December it is real spring. There are not many people. The beaches are empty. Go and enjoy the silence".
I`m glad that our city is clean and full of greenery. Fishermen on the waterfront are hunting for mullet, someone is admiring the seascapes, and some go for a walk to the open sea on a yacht. You can even see dolphins in winter.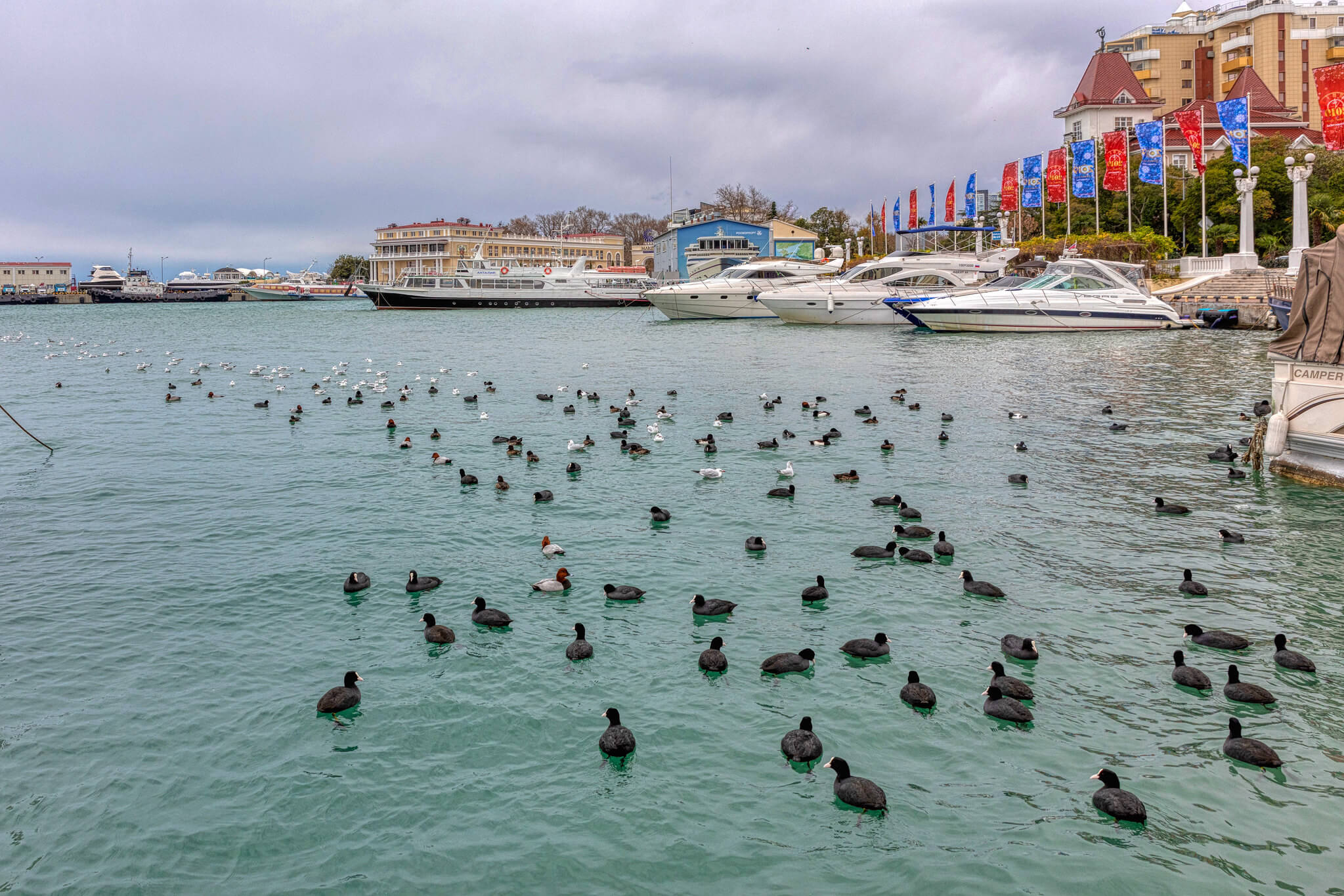 A seaport in December. Photo: Dmitry Karyshev / wikimedia.org / CC BY 2.0.
Temperature and rainfall
In December, the weather in Sochi is not cold. Snow lies only in the mountains. The average air temperature is +9. +11°C, and the water in the Black Sea is +12. +13°С.
On the northern border of the subtropics in winter, everything can change at any time. In the morning it is clear, and in the middle of the day the sun is covered with clouds and it begins to rain. In December no one swims in Sochi, but tourists are happy to come to the beach to admire the waves, seagulls and breathe the fresh sea air.
Air temperature in December, day and night:
| | | |
| --- | --- | --- |
| When | t by day | t at night |
| Beginning of December | +9°С | +6°С |
| Middle of December | +10°С | +7°С |
| End of December | +10°С | +7°С |
Elena: "In December we even managed to relax on the beach. Of course, we did not sunbathe in swimsuits, but managed to walk along the sea with a cup of coffee, enjoying the winter sun.
Luda: "It's very unusual to be in winter where we bathed in the sea in summer. The weather in December is like early spring. When the sun shines, it is warm, when there is no sun, it is cool."
How to dress
Because of the changeable weather will have to take on vacation and light, and warm clothes. Not out of place will be an insulated windproof jacket with a hood, a heavy-duty raincoat or umbrella, as well as waterproof athletic shoes. A warm hat and gloves are useful for trips to the mountains, and sunglasses for walks by the sea on a clear day.
LikaLina: "The weather is not warm: the coast is very humid, it can get rainy and windy. A light down jacket or jacket and waterproof demi-seasonal shoes – the most suitable option. It's better to use multiple layers of clothing: it was hot, took off his jacket, wind blew – insulated.
Yuri: "We were in Sochi in the middle of December: warm, but the showers overcame. Of the 5 days of rest three were wet. My umbrella and waterproof shoes helped. I advise to choose a hotel with an indoor pool, at least some entertainment in the rain.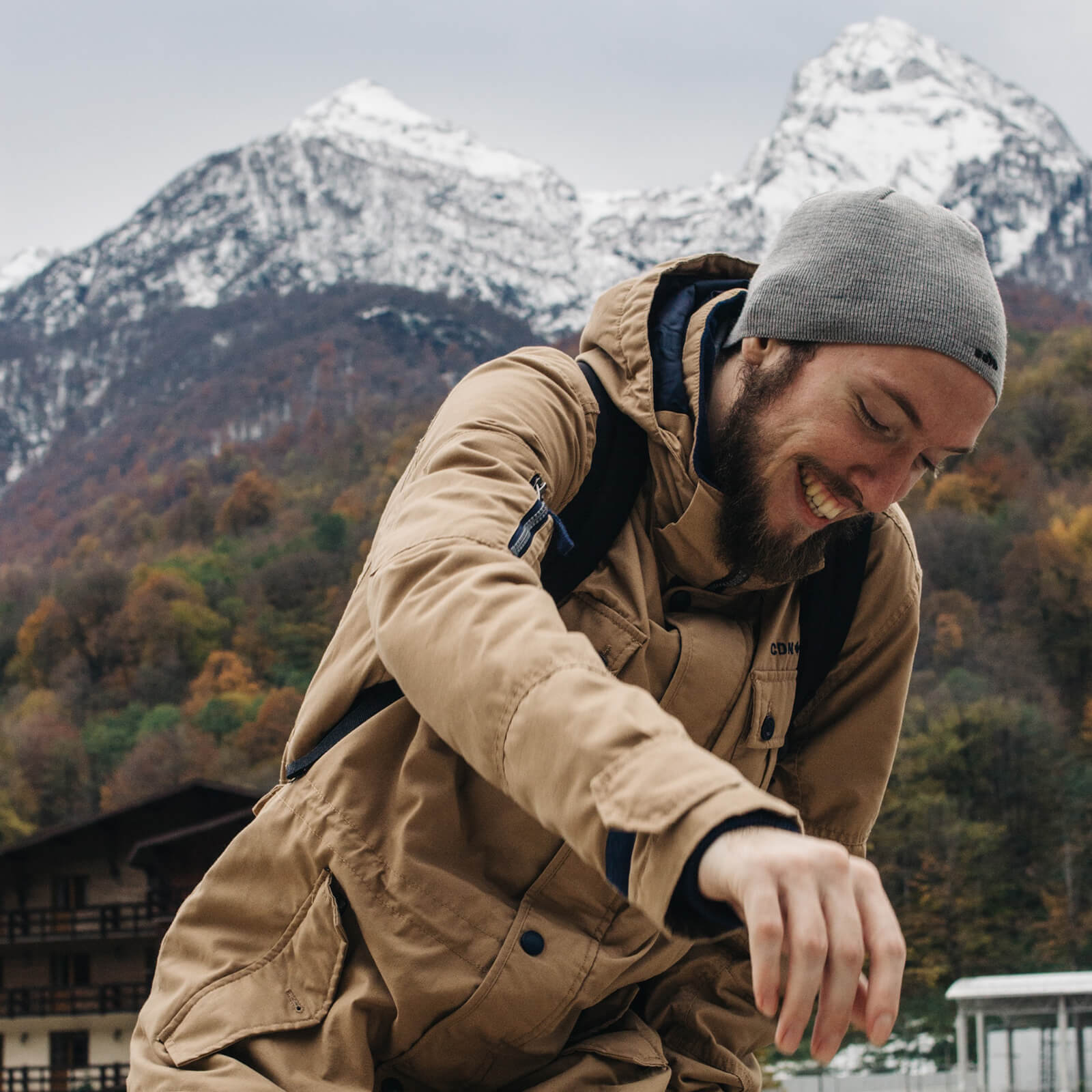 Because of the changeable weather will have to take both light and warm clothes on vacation. Photo: olianayda / unsplash.com.
What to do
In December in Sochi, it is pleasant to walk, go on excursions and discover interesting museums. If you like active recreation – climb the observation deck on Mount Akhun and pass the test of courage in Skypark. Even in December begins the ski season. Go skiing or snowboarding at Krasnaya Polyana!
Natalia: "We walked every day with a camera. The water in the sea was +13 ° C, were willing to swim or at least walk along the promenade. We could also go sailing on yachts and a catamaran.
Arkady: "We spent most of December in Sochi as a family. Everyone found something to do. My son and I went skiing in the mountains. My wife and daughter visited spas and mud baths. Sometimes we all went on excursions together and walked along the sea".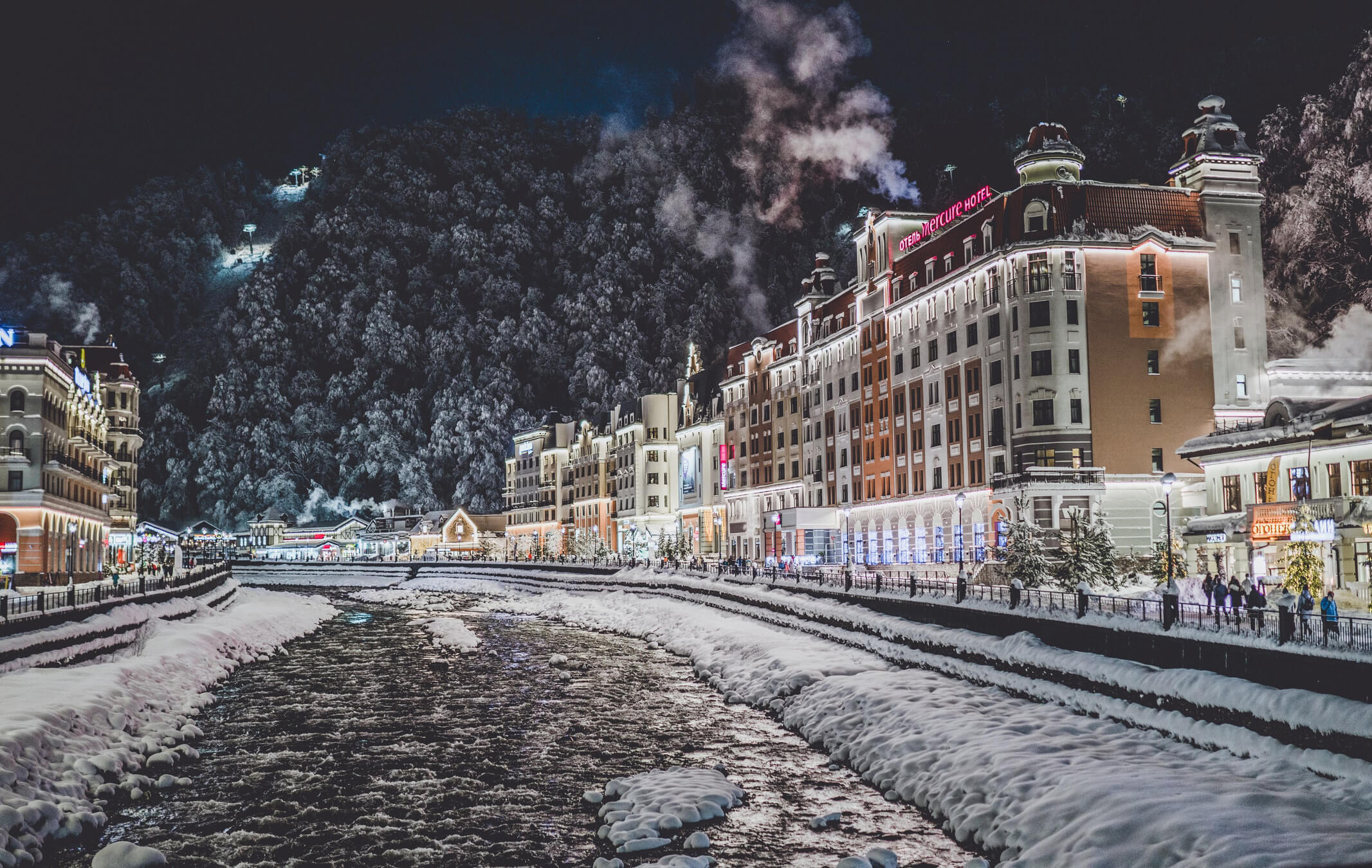 Krasnaya Polyana in winter. Photo: tetrakiss / unsplash.com.
Holidays with children
According to the reviews of tourists, a trip with a child to Sochi in December leaves good impressions. There are many places for walks in the city, the dolphinarium, the oceanarium and the amusement park "Sochi Park" work. Take a walk through the green park "Riviera", the arboretum and the Olympic Park, take the whole family to Yew-Box Grove and Agur Waterfalls! For a vacation with children in December, we advise you to choose a hotel in Sochi, which has a heated pool. Look for hotels on Hotelluk, the best of them:
Anna: "Were in Sochi in the second half of December. I liked the oceanarium. Let it be small, but the animals are diverse. It was interesting for kids to feed carps and watch morays. The good thing is that during the off-season, there were practically no queues at the booking office.
Malkouv: "Sochi Park looks same in winter as it does in summer. The territory is nice and well-groomed, attractions for kids work. I liked drawing on the wall with huge felt-tip pens".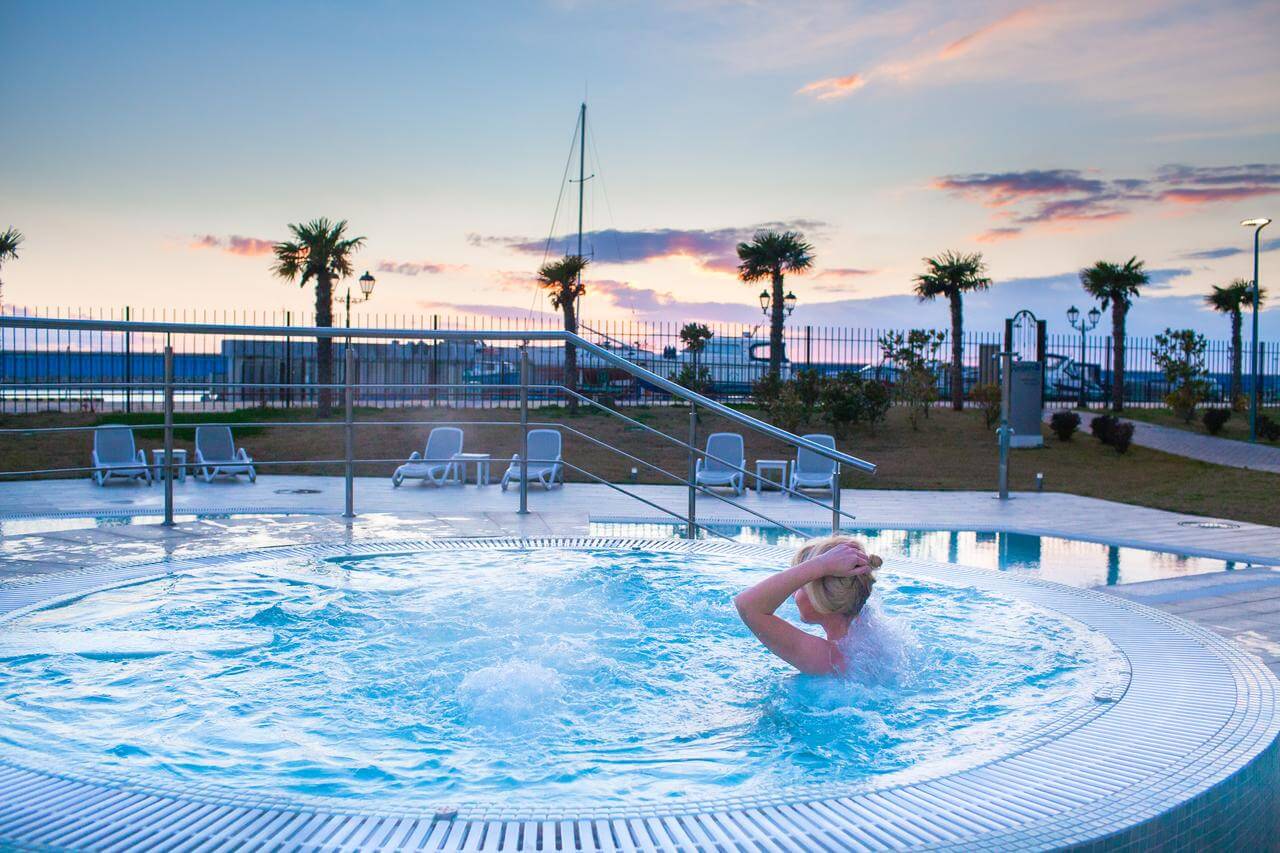 Jacuzzi at the Radisson Blu Resort. Photo: Radisson Blu Resort hotel.
Is it worth to rest in December
The low season in Sochi has a lot of advantages – there are not a lot of people, the prices for accommodations and excursions are lower than in summer, and the weather is not hot. Swimming in the sea is not allowed, but beach vacation compensate pools with heated water, which are in many sanatoriums, boarding houses and hotels in Sochi.
According to reviews of tourists in 2021, vacation in Sochi is especially good in the second half of December. At this time, preparations for the New Year holidays are completed, and the resort pleases with bright colors and a special pre-holiday atmosphere.
Sochi in December – Rest and weather
December holiday in Sochi is attractive not only for its ski resorts. If you want to know what else is able to surprise the resort in the first month of the winter season and how to celebrate the New Year, then read our article on Tour-Calendar.
Weather in Sochi in December and on New Year
The weather in Sochi in December cannot be called a stable month, but anyway for this time is characterized by a significant cooling. Luckily for many tourists, it is incomparable with the cold snap that reigns in the middle belt of Russia. Rather, the first month of winter at the resort resembles a Russian belated autumn. During the day time the thermometer column stays mostly at 11 … 12 degrees Celsius. The sun is a rare guest. Sometimes it is cloudy for weeks, sometimes between the rains the sun shines. Of course, they do not warm you up, but they set the tone for a good mood.
The rains are becoming more frequent this month, with the occasional rain and snow. As a rule, this happens during periods of cold weather, which is not uncommon for December. Another unpleasant feature of the month is piercing gusty winds that cause storms on the coast. On such days warm windproof clothes will protect you from bad weather, but we do not recommend to take long walks along the seaside. At the ski resort, located just an hour's drive from Sochi, there is a completely different type of climate. December here is the traditional time of season opening. According to the conclusions of weather forecasters local weather is determined by the following temperature readings: during the day air heats up to +7 ° C on the average, and by the evening cools down to 0 ° C (sometimes at night the temperature is negative). The height of the snow cover is already sufficient for winter sports. But one of the disadvantages of "Krasnaya Polyana" are the sudden thaws, so the slopes, which are not provided with artificial snow cover, can not always provide the right conditions for skiing.
What to do in Sochi in December?
What motivates people coming to Sochi in wet and nasty December? Some seek to improve their health with the help of its healing mineral springs and mud. Others want to breathe the sea air and spend a week or two in complete oblivion. Others just decide to change the scenery, escaping from the Siberian cold. But what they all have in common is the love for their native land or the lack of desire to deal with visa issues. The main tourist flow at the resort has already slept, so the exploration of cultural, historical, natural heritage of the city will take place in a quiet environment. In addition, the prices for excursions at this time significantly reduced, so that another plus December trip to Sochi are comparatively low costs.
Entertainment and excursions
In December in Sochi will please those who are not chasing the heat. Your time can be satiated with the sightseeing of the many attractions of the resort area. However, keep in mind that the main tourist bureaus operate only in large settlements – in Sochi, Lazarevsky and Adler. What is worth visiting? Sochi Arboretum – a kind of natural open-air museum – is definitely worth a visit. If you are not indifferent to the wealth of the kingdom of Neptune, you will certainly be pleased with a small aquarium, located on its territory, full of diverse representatives of the Black Sea. A fascinating journey into the world of marine life will also make it possible to "Aquarium & Marine Zoo" on New Matsesta, which is home to the inhabitants of northern seas, African hippos and crocodiles, cold-blooded animals from the South American continent, etc. Genuine excitement can be received during the feeding of animals, which can be attended by anyone. By the way, you can combine your rest here with treatment by the sulfurated waters of Matsestinsk, which helps with diseases of the musculoskeletal system, circulatory organs, skin problems, etc. Adepts of alpine skiing and freeriders will be able to appreciate the enormous amount of work carried out at Krasnaya Polyana in preparation for the Winter Olympics 2014. A wide range of restored and new accommodation facilities, excellent downhill runs of different difficulty levels, dozens of bars, restaurants and a Russian bathhouse.
The most exciting local entertainment is helicopter tours. The pleasure is expensive, but it is worth it. Sweet-tooth people are advised to stock up here with ecologically pure fragrant honey "Krasnopolyansky", as there is its own bee apiary on the territory of the resort. But still before the trip will not be superfluous to reinsure and know the height of snow cover, or choose hotels located near the tresses, provided with artificial snow.
New Year in Sochi and other holidays
The main holiday in December is New Year. Timing a trip to Sochi to coincide with this event is a very good decision, because you will not be bored here. Beautiful nature, warm weather along with the fun entertainment programs will bring bright colors to monotonous weekdays. A few weeks before December 31 trade fair opens on the Arts Square, where you can buy handicrafts, souvenirs, homemade wine, nuts and honey. However, the most noisy festivities take place at "Krasnaya Polyana": impressive laser shows, musical concerts, luxurious fireworks and much more.
What are the prices for a holiday in Sochi in December?
The cost of December tours in Sochi varies greatly. It all depends on the date of the trip and the resort area. In general, the prices for staying in hotels, located in seaside areas, until December 25 are very low: "summer value" minus 30%-40%. From December 25 (in some hotels from December 28) to the beginning of January, the prices are 50% to 100% higher. The average price for a New Year's Eve tour of 3 days/2 nights in the hotel complex "Marins Park Hotel 4 *" at the time of writing was 26,000 rubles.
Remember that you can buy a tour to Sochi cheaper on Travelata.ru – search tours of hundreds of tour operators! Use our promotional codes AF2000turcalendar for additional discount of 2000 rubles (tours from 100 rub), AF1500turcalendar 1500 rubles (from 80 rub), and AF1000turcalendar 1000 rubles (from 60 rub)!