Transport in Bangkok
The capital of Thailand, like in any major metropolis in the world, has a well-developed transport network. Everyone can choose one or another way to get around the city, depending on your preferences and financial situation.
Budget tourists usually use public transport in Bangkok (buses, subway), where the cost of travel is minimal. And in non-air conditioned buses in general is purely symbolic – 6-8 baht. Almost all attractions in Bangkok can be reached very inexpensively, the other thing is that the trip takes much longer than by cab (especially motorbike-taxi).
Transport in Bangkok is the subway, buses, river ferries and as many as 4 types of cabs.
BTS SkyTrain
The BTS SkyTrain is probably the fastest and most comfortable mode of transport in Bangkok. It opened on December 5, 1999. It takes you to all the major shopping malls, bars, nightlife, hotels, bus stations, parks, ferries and the other side of the Chao Phraya River. Covers the central, northern and western part of the capital. Has two lines, Sukhumvit Line and Silom Line, which intersect at Siam Station. At the stops Mo Chit, Asok and Sala Daeng you can transfer to the underground MRT.
Subway cars are very comfortable and air-conditioned. On the walls hang TVs on which are mainly advertisements.
Fares range from 15 to 55 baht, depending on the distance.
MRT Underground
The underground railway (MRT) is the second most popular, fast and comfortable way to get around Bangkok. Unfortunately, there are not many places where you can get by it (meaning tourist attractions), so the subway is not so popular among foreigners who come to the city with an excursion. The starting station is called Hua Lamphong and is located in the west, near the Chao Phraya River. The route passes through Rama 4 Road, Samyan, Silom, Ratchadaphisek Road, Queen Sirikit National Center, Sukhumvit Street, Rama 9, Phetchaburi (here you can transfer to the express train to Suvarnabhumi Airport), Phahon Yothin road, Chatuchak Park, the northern bus station Mo Chit and the station Bang Sue, next to the train station.
The subway runs from 6 am until midnight, the cars and stations – air conditioning. Interval of trains: 5 minutes during rush hours from 6 am to 9 am and from 16:30 to 19:30, 10 minutes – at other times. There are 19 trains in total. The fare depends on the distance and is 16-40 baht for adults and 8-20 baht for children.
City Buses
City buses are Bangkok's cheapest transportation. It is good that you can get practically to any point of the capital and to any point of interest for a penny if you know the routes. Buses come in two varieties.
The first are not air-conditioned. They have no glass in the windows, the only fan is above the driver's head (so if possible, it is better to sit close to him). During rush hour there are a lot of people in a hurry to and from work. The fare is 10 baht or less (it varies from route to route). The ticket is bought from the conductor already in the cabin. In the evening sometimes they are not available, so you can ride for free. Be prepared for the fact that passengers will look at you with interest, because a foreigner on the bus is a rarity and a whole event.
The second type of buses are air-conditioned. They have glass windows, they are less crowded and the whole trip will be more comfortable. Unfortunately, they run several times less often than regular buses. Tickets cost 15-25 Thai rubles, the fare is paid to the conductor.
More in a separate article "City Buses in Bangkok".
Tickets for intercity transport
If you need to travel outside of Bangkok, there are bus stations, railway station, Suvarnabhumi and Don Muang airports. You can also buy tickets online. Use the form below.
Bangkok's Chao Phraya River Transport
Ferries run along the Chao Phraya River and have definite stops. They provide easy access to the major attractions: the Royal Palace, Wat Po Temple, and Wat Arun Temple. The central pier from which the ferries depart is near the Saphan Taksin land subway station. They go quite far along the river, but tourists usually don't go further than Kaosan Road, a popular spot with many stores, tour bureaus and cheap accommodation.
All ferries run from 6 a.m. to 7 p.m. The fare depends on the distance and is 10-32 baht. There are special ferries for tourists with an English-speaking guide. They go from the Central Pier to Pier 13 (where Kaosan is), then turn around and go in the opposite direction. Travel time one way is 25-27 minutes. The ticket price is 150 baht.
Read more about this Bangkok transport in the article "Ferries on the Chao Phraya River".
Water Taxi
This Bangkok transport is motorboats for several people. Unlike ferries, which take a certain route and make certain stops, boats can go anywhere and drop you off anywhere. They can also wait while you're sightseeing. The good thing about these cabs is that they can take you on a journey along the tributaries of the Chao Phraya River and see how the locals live off the tourist trails. The trip costs about 800 baht. But this is the price for the whole boat and if you get, for example, 4 people, it will be 200 each.
Tuk-tuk cab
This transport is a symbol of Bangkok, many souvenir stores even sell small models dedicated to it.
Tuk-tuk is a modified motorcycle on three wheels. Accommodates no more than three people (adults) with suitcases. Their parking lots are everywhere and many people use tuk-tuks as an exotic, like "well, how not to be in Bangkok and try a ride on this wonder. The cost of the trip is negotiated in advance. Bargaining is quite appropriate, although within reasonable limits. It will cost you 15 to 20 baht for a few kilometers and 200 to 300 baht to go all the way around Bangkok. The more people, the cheaper it is, because the charge is not for each passenger, but for the entire tuk-tuk. You can get to almost anywhere in the capital. Tuk-tuks are located near popular tourist spots – shopping centers, attractions, markets.
Moto-taxi
This is the fastest of Bangkok's ground transportation, because you won't be stuck in traffic jams because of its maneuverability. In addition, it will take you to the place by the shortest distance – all sorts of alleys and corners.
The passenger gets in the back seat and the ride begins. Sometimes two people can fit in, but it's dangerous to ride that way. In general, motorbike-taxis are quite traumatic kind of transport – oops and crashed on the turn. If possible it is better to avoid it, although with urgency and during rush hour it can be justified. The price depends on the distance and is not much different from the cost of tuk-tuks – you will be charged 200 Thai rubles for a ride through the entire city. Cab drivers with motorcycles are on almost every intersection, near the sights and shopping centers of Bangkok.
Air-conditioned cab in Bangkok
It's a cab with a meter. In our opinion – the best transport option in Bangkok (except during rush hours when you have to stand in traffic). Cabs are foreign cars, painted in different colors (a lot of pink and green). On the roof is a sign "TAXI-METER". The cabin is very comfortable, and the fare will be cheaper (according to the meter) than driving in a tuk-tuk, blown to all winds. The temperature in the cab is brought to 21-23 degrees by air conditioning. It's very pleasant, given that it's +30 … +35 outside the window.
The cost of a cab in Bangkok is so: getting into the cabin – 35 baht (on the counter already there will be this figure), and then added on 2 baht (from 5 to 8,5 baht for km). Air-conditioned cabs go all over the city and you can easily catch them on busy highways, near major shopping centers and attractions. Read all the details about the fare and peculiarities of the ride in the article about cabs in Bangkok with a meter.
Private transfers in Bangkok
If you need to get from Bangkok to, for example, Pattaya, Hua Hin or Ko Chang, you can order an individual transfer. Pros in relation to cabs:
Transportation in Bangkok. How to get around the capital of Thailand
September 2016 (updated: 10.08.2018) 3
Bangkok has excellent public transport. In the capital of Thailand it is not necessary to rent a bike or car to move around the city. The main types of public transport in Bangkok are buses, subways, boats, and cheap cabs.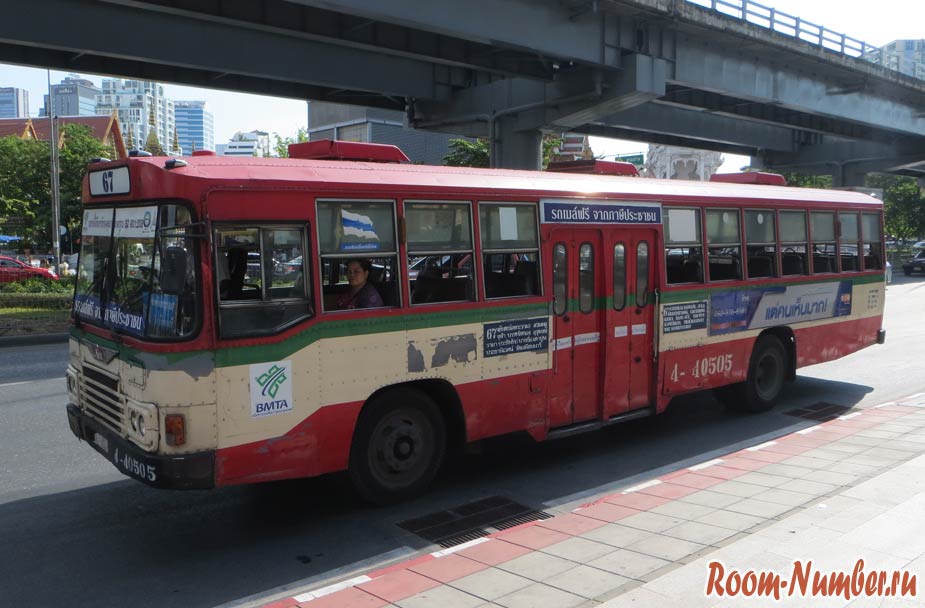 Buses
City buses in Bangkok are very cheap. For short distances the fare is less than 10 baht per person. Some are air conditioned and have open windows.

Our favorite is these red ones with open windows. The interior may seem a little treacherous. It's not hot while driving.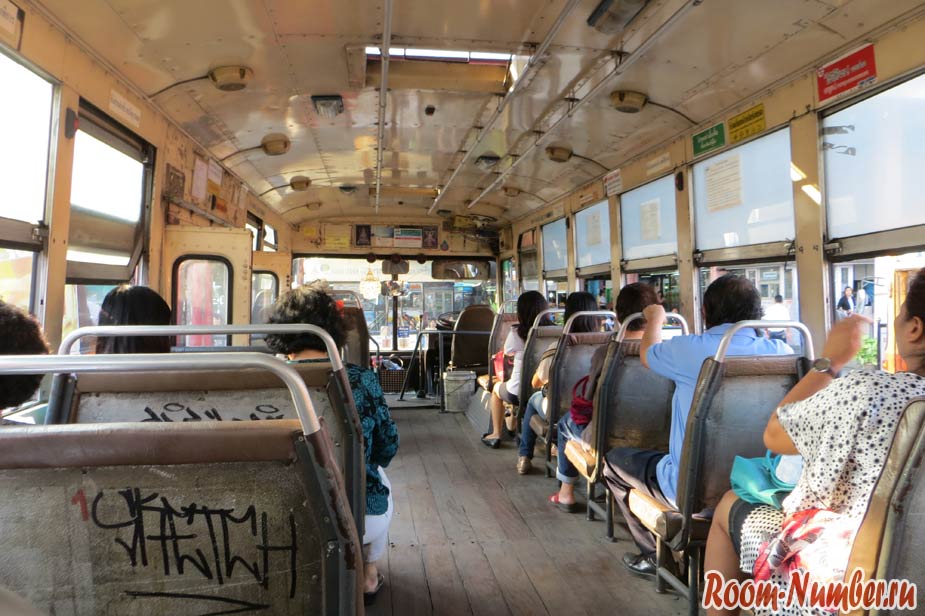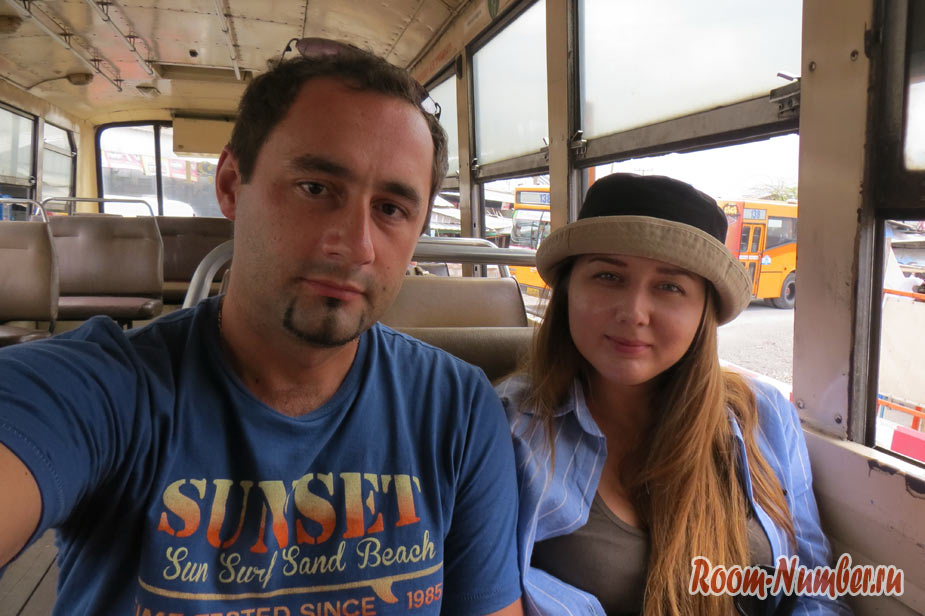 Another memorable feature of Bangkok buses is the conductors, who are very fond of rattling change in a round metal pencil case.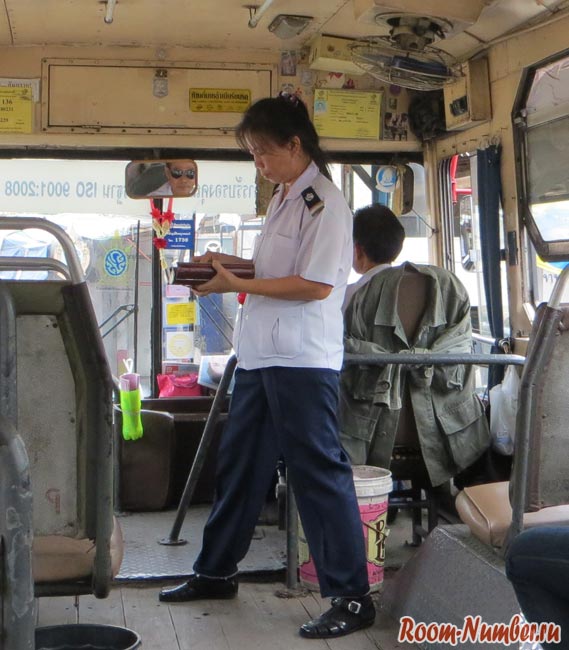 Bangkok conductor
Subway
There are two types of subway in Bangkok – surface (BTS) and underground (MRT). It costs more to ride the subway than buses. Fares depend on the distance. The trip costs about 15 to 60 baht. You can get to the other end of the city faster by subway than by cab or bus, since there are no traffic jams. Read more in the article – Subway in Bangkok.
Subway Railways Underground Railways Station
For getting around Bangkok, the subway is ideal. There is also a separate subway line directly to Suvarnabhumi Airport. Download a diagram of the Bangkok Metro
River transport in Bangkok
Boats and river streetcars are full-fledged public transport in Bangkok, just like buses. River transport is used by Thais themselves, as well as tourists for entertainment. Previously, we have already written to you about the route in Bangkok, where you can take two rides on the river streetcars.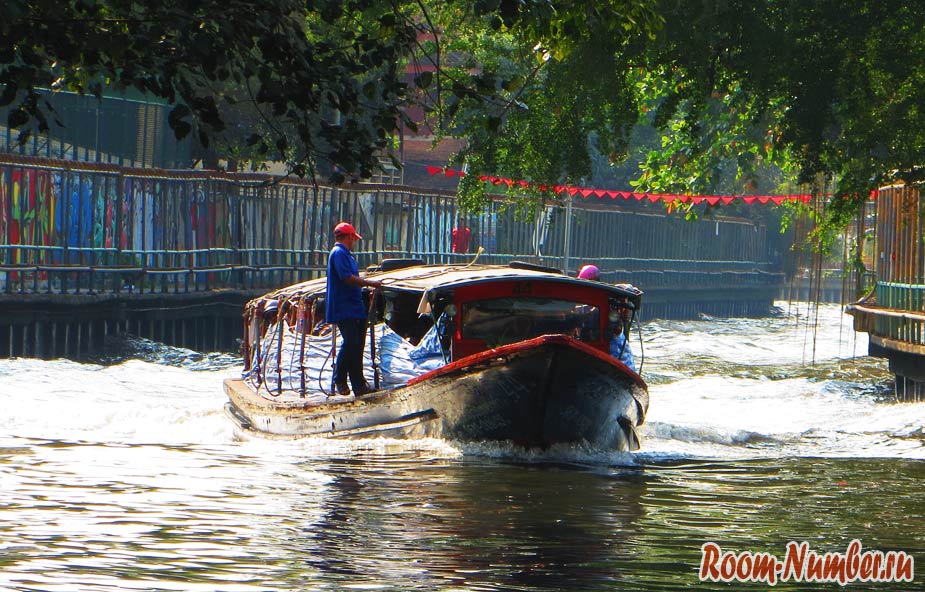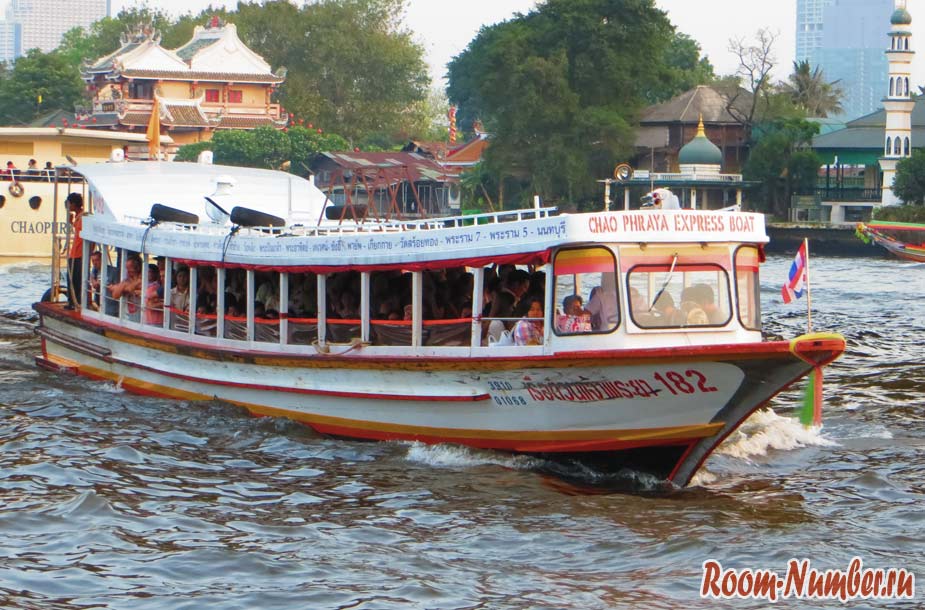 Cabs in Bangkok
Cabs in Bangkok are the cheapest cab we've ever taken. Often a metered cab ride is even cheaper than the subway. The main thing is that the driver turns out to be normal, understands correctly where you need to go and turns on the meter.
Cab drivers often do not speak English and do not understand the map.
Do not ask for a price, but be sure to ask to turn on the meter.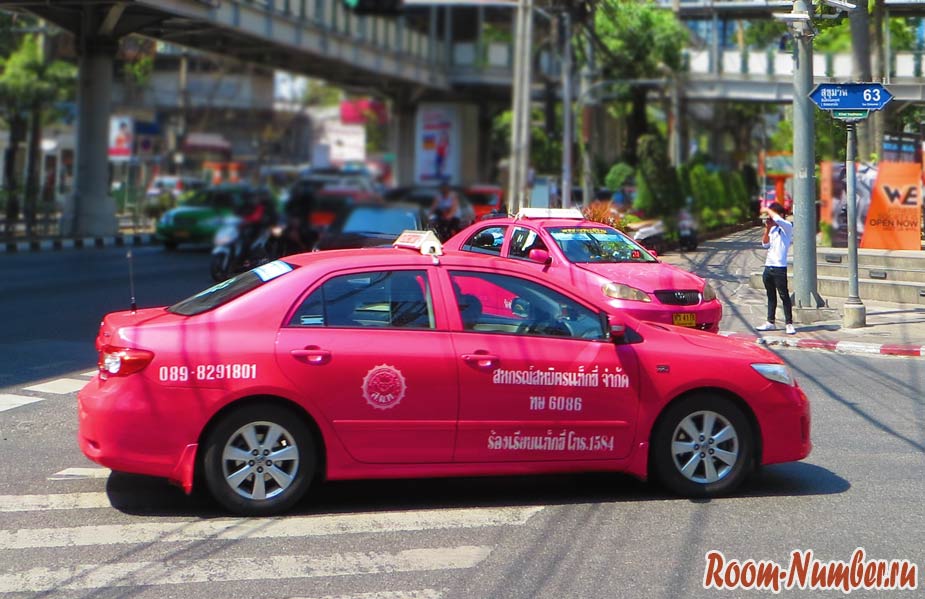 There are popular mobile applications Uber and Grab taxi in Bangkok. I don't know what the prices are, I have not used them myself, I have always made do with cheap state cabs around the city. Also in Bkk it is possible to book a transfer through Kiwitaxi. At the following links you can order a cab online. You can pay online with a bank card or cash to the driver:
– Transfer to Suvarnabhumi Airport – Bangkok → Don Muang Airport – Bangkok → Pattaya – Bangkok → Ko Chang – All destinations from BKK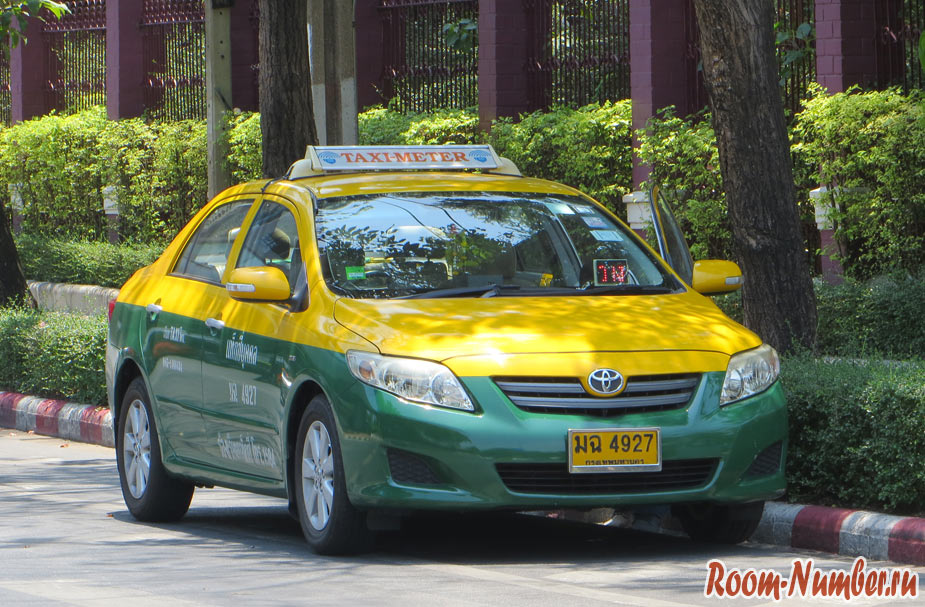 Taxi meter
Tuk-tuk
A kind of cab in Asia – a three-wheeled motorcycle. In Bangkok, tuk-tuks are quite expensive. I don't know how much tuk-tuks are paid by Thais themselves, but for tourists the cost of a short trip around the center can be 200-300 baht. The reviews on Bangkok tuk-tuks are not very positive. But the tuk-tuk itself looks cool, you can take a ride once for fun.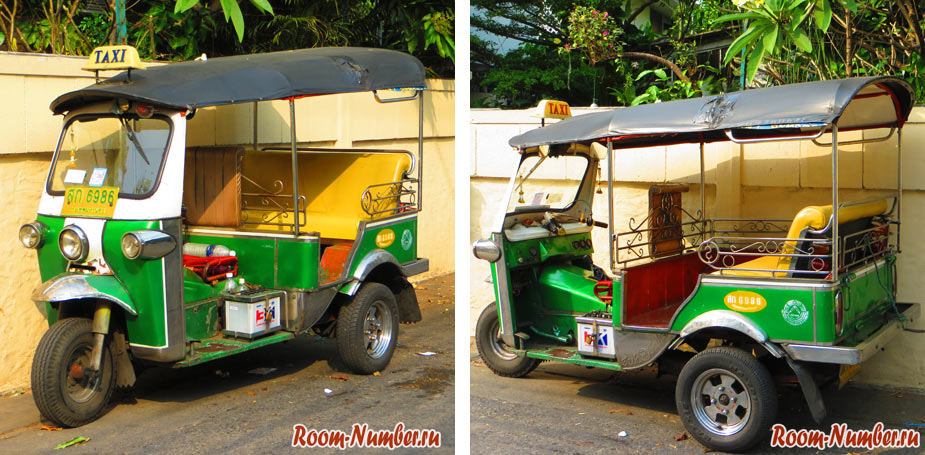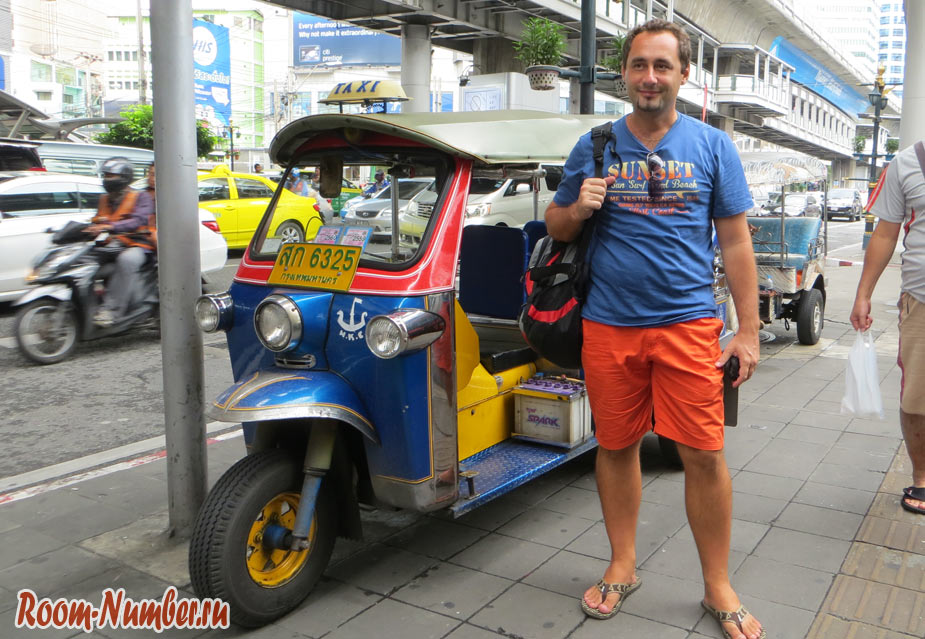 Motorcycle Taxi
A motorcycle cab for short distances. Very popular in Thailand and in many other Asian countries. All the locals use their services, as you can drive without traffic jams and it costs cheap. We rarely ride with motorcycle cab drivers, we prefer regular cabs.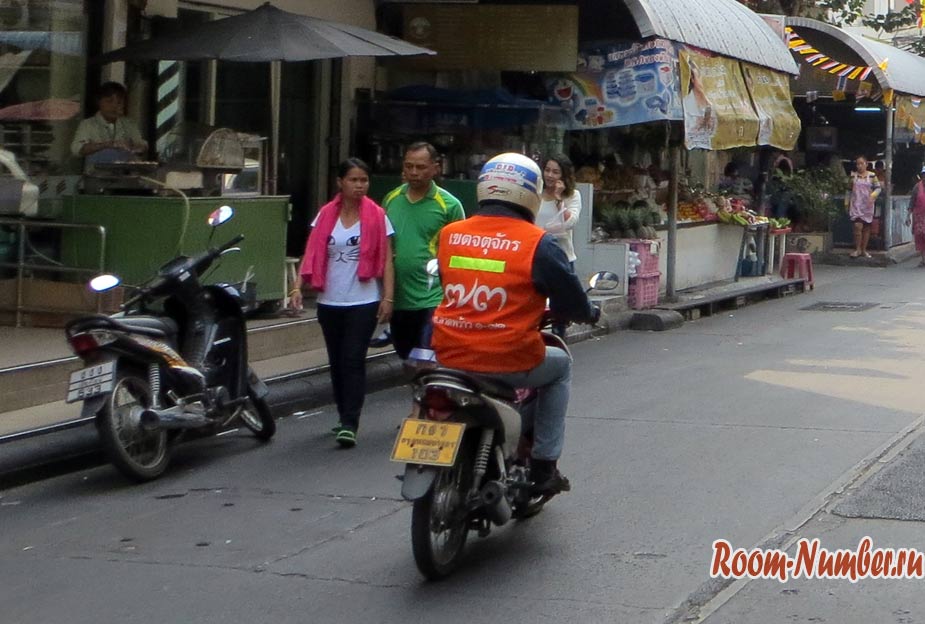 Trains
The central station in Bangkok is Hua Lampong. It is located at the metro station of the same name. From this station you can take the train to the far corners of Thailand. North to Chiang Mai, Chiang Rai, Nongkhai, or south to Surrathani (Samui), Trang, Hat Yai.
Trains in Thailand are very popular with both locals and tourists. Although, the train fare is more expensive than the bus. Tickets must be purchased in advance. You can do this either at the Hua Lampong station ticket office or online.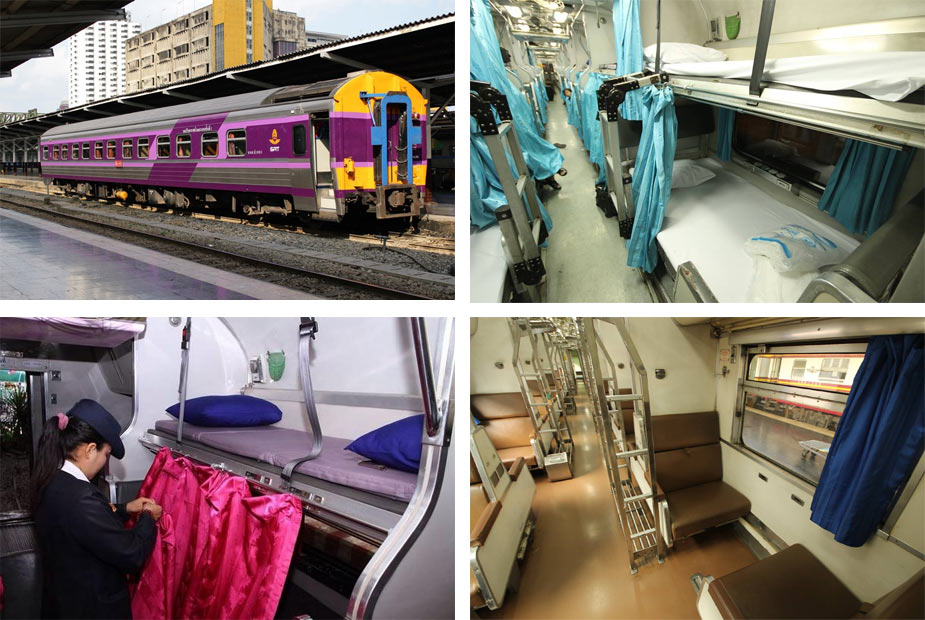 Intercity Buses
There are 3 major bus stations in Bangkok – Mochit, Ekkamai and South Bus Station, from which you can go to almost any city in Thailand in the south and north. There are buses to Samui, Krabi and Phuket. You can also take a direct bus to Cambodia and Laos.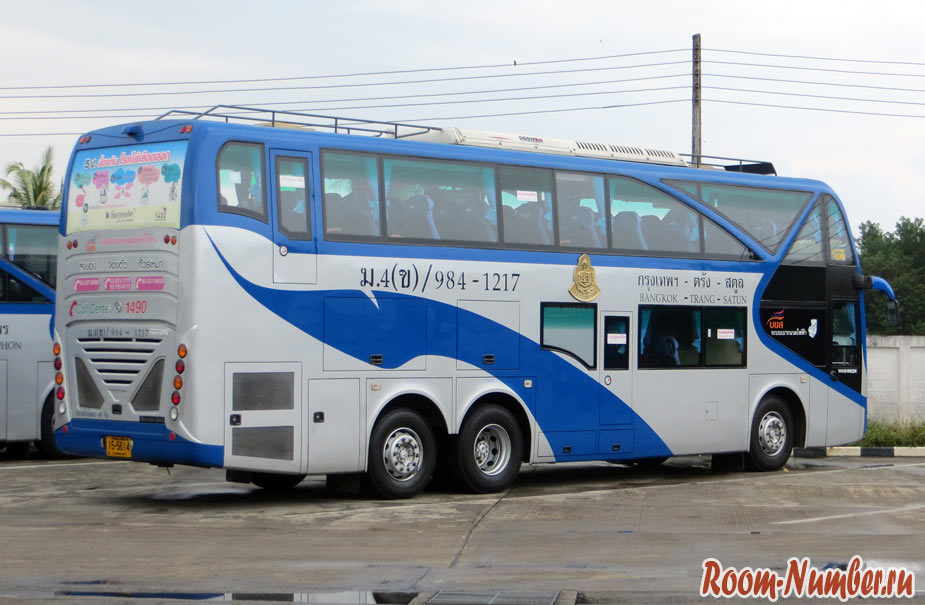 Long-distance buses come in different classes. The fare depends on this. All long-distance buses have a toilet and air conditioning.
The most comfortable buses are VIP class. They have the widest seats, which are unfolded into almost horizontal position.
Buses of 1st class are lower than VIP. Distinguished by the fact that the seats in four rows, that is, more cramped.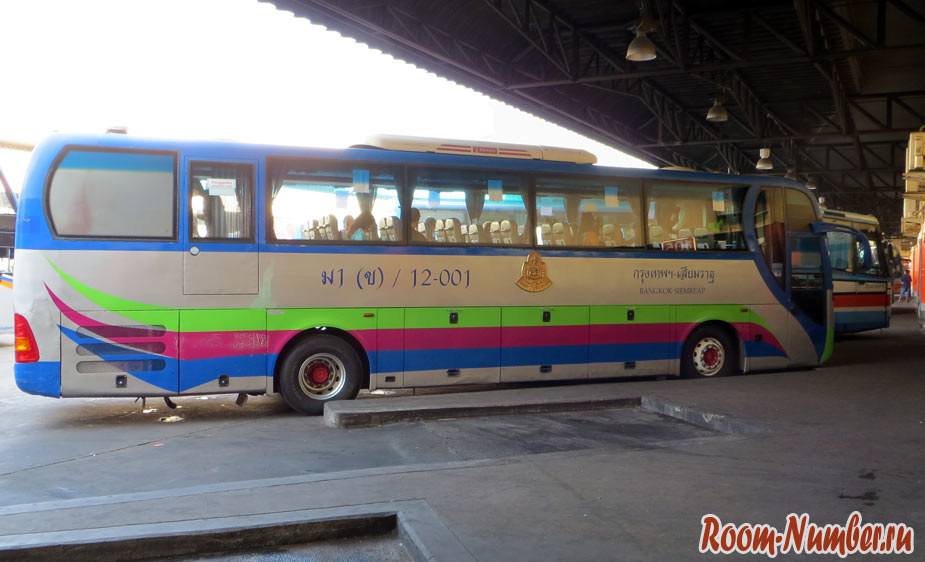 On all long journeys catering is provided. Each passenger is given a bottle of water and some snacks. Also on some flights you can have a full meal for free or at a discount at a stop, by showing a ticket.
Planes
From Bangkok you can fly anywhere in Thailand for the price of a train or bus, and sometimes even cheaper! For example, the flight from Bangkok to Phuket costs on average 800-900 Baht (25-30 $). If only Russia had such prices for domestic flights!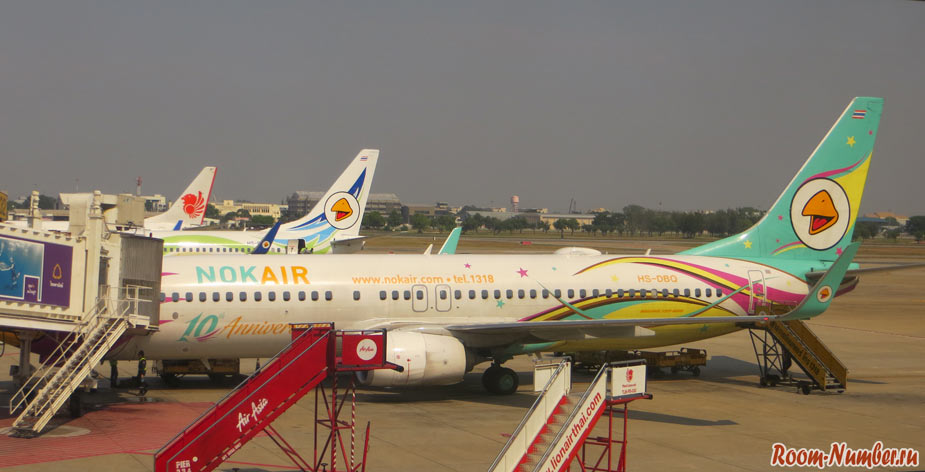 We have flown around Thailand many times. For example, from Phuket to Vientiane for visas. Very convenient and very cheap. A flight of 1-2 hours for the price of an overnight bus and you're on the other side of Thailand.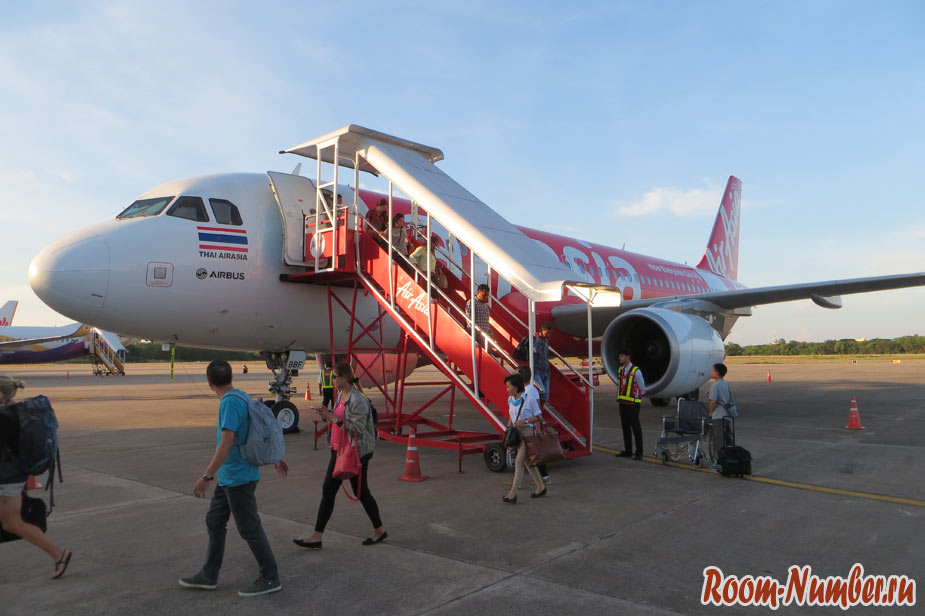 You can order tickets for Thai airlines directly from the official websites of AirAsia, Nok Air, Thai Lion, etc. All sites are in English, you can pay with your card.
Central hotels in Bangkok
To explore the capital of Thailand we recommend you to stay in the center of the city, so that all the interesting places and major attractions are within walking distance. We have a great selection of hotels in Bangkok for you to choose from. Book any of these hotels and enjoy walking around BKK.