Rest in Thailand in June
Is it worth going to Thailand in June, the rainy season? We've lived in the Kingdom of Smiles for years and we're sure there's no such thing as bad weather here. Find out how the rainfall, air and sea temperatures really are in Phuket and Pattaya. How much do tours cost in June 2022 and is it good to vacation with children.
As of May 1, 2022, Thailand is fully open to vaccinated tourists ("Sputnik V" is recognized). From now on, only unvaccinated travelers are required to have a PCR test before departure. In addition, all tourists must buy insurance and obtain ThailandPass. Tour from Moscow now costs from 120,000 ₽ for two people for 7 nights. Here are the optional prices for stays and flights. Information on flights and other aspects of holidays in Thailand may not be up to date now, check with official resources. Check the list of open countries.
Content:
Weather in different resorts in Thailand
June in Thailand is called the first month of the rainy season. In fact, after the dry season, the rains start as early as February. From mid-March to mid-May there is a period of intense heat. After the unbearable heat and stuffiness, in June the weather seems quite normal. The locals and expats are genuinely happy about the arrival of summer.
What resort to choose for a holiday in June in Thailand? The most rainfall occurs in Phuket and Krabi. Much drier in Pattaya and on Samui. Very comfortable in June in Chiang Mai, the cultural capital of Thailand. For the month there are only 4 days of rainfall, though the air temperature is higher than at sea resorts of +33. +34°С.
Air temperature by day and night in June:
| | | | |
| --- | --- | --- | --- |
| Resort | t daytime | water t | No. of rainy days |
| Pattaya | +32°С | +30°С | 11 |
| Phuket | +32°С | +30°С | 16 |
| Samui | +32°С | +30°С | 8 |
| Krabi | +32°С | +30°С | 12 |
| Ko Chang | +31°С | +29°С | 21 |
Holidays in Phuket in June
Water and Air Temperature. In early summer, when it is still cool to swim in Europe, the sea water temperature in Phuket is +28. +29°С. The air warms up to +31. +32°С. It is hot! You can sunbathe any day. Even when the sky is covered with clouds, the solar activity is high, and therefore it is easy to get burnt.
Precipitation and storms. In June, Phuket receives over 280 mm of rainfall. Monsoon rains fall almost every day and do not bring any coolness. It gets quite stuffy after the downpours, but the temperature does not change. On the west coast of Phuket sometimes storms, and on the east coast the sea is usually calm.
How to dress for the weather. Comfortable attire in June in Phuket is a T-shirt or shirt with short sleeves, shorts and sandals. Leave warm clothes at home! We would advise you not to pack too much stuff and come to Thailand light. All necessary for the rest you can easily buy on the spot.
Olga: "During my stay I could not swim in the sea, a very big wave. But you can feel the power of the Indian Ocean and get enough sea breeze.
In hotels with swimming pools all year round swimming season (Photo: forum.linvoyage.com / flickr.com)
Holidays in Pattaya in June
Water and Air Temperature. In June in Pattaya, the monsoons are not terrible at all. The rains and winds only gain strength. There is a lot of sunshine over the resort, and the clouds do not cover the sky with a solid wall. It is +30. +32 ° C, and at night it's only 3-4 ° C cooler. On the street even at midnight is very warm. The real coolness you can feel only under the air conditioner.
Precipitation and storms. June in Pattaya is humid. Every day the weather informers predict bad weather. It rains regularly, up to 11-14 days, and almost 170 mm of rain falls in a month. If it didn't rain in the morning, it will in the evening. If it's not pouring in the afternoon, it will rain at night. Does such weather affect your vacation? Believe me – no!
Tropical downpours are a true miracle of nature. They are warm and pleasant. Swimming in the rain – a pleasure! Beach holidays in Pattaya in June overshadowed only rare storms. When strong waves, not very pleasant to travel by ferry to the neighboring island of Ko Lan. During storms, the sea becomes muddy, and the beaches – dirty. To swim in all weathers, book a hotel with a pool!
How to dress for the weather. In the hot weather in June in Pattaya, lightweight clothes – t-shirts, shorts, swimwear are useful. It is better to have several sets. With high humidity, washed clothes dry badly. Don't forget a hat, raincoat or umbrella!
Natalia: "We chose a vacation in Pattaya for financial reasons. Tours were the most affordable. Sunbathe and swim went to the city beach. It is not clean, but for a few times will do.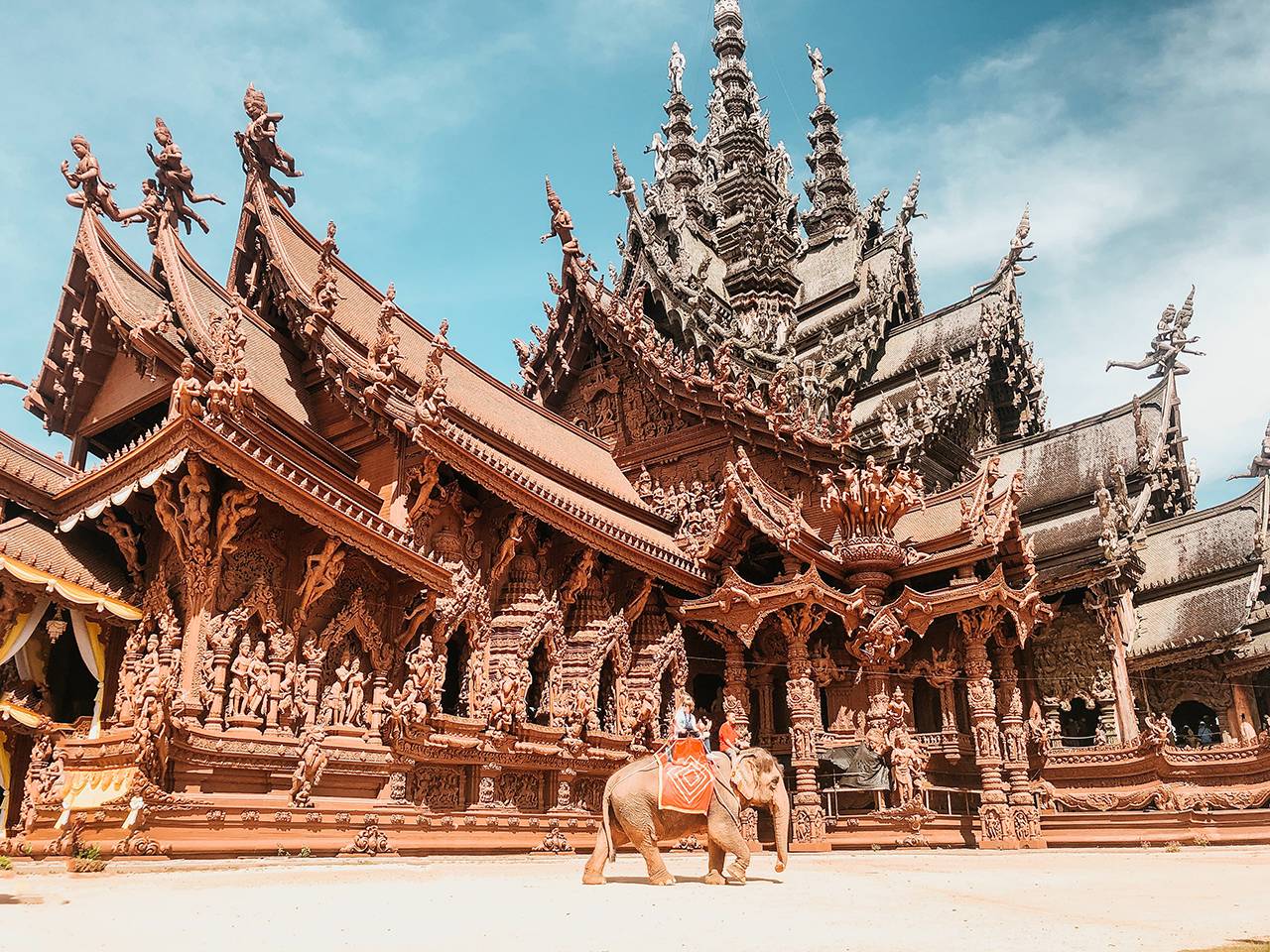 Temple of Truth in Pattaya (Photo: unsplash.com / @changlisheng)
June tour prices in Thailand
Travelata and OnlineTours tours to Thailand for June.
In the low season, there are few tourists in Thai resorts, so travel agencies offer large discounts on tours. For how much money can I rest in Thailand in June 2022 for two? Cheaper to go to Pattaya or Phuket. Our tours to Pattaya for 10 days with a flight from Moscow start at 76000 rubles and to Phuket start at 94000 rubles.
Take a look at how much tours to different resorts in Thailand cost in June 2022. These prices are for a tour from Moscow for two people:
| | | |
| --- | --- | --- |
| Resort | Price for two persons | Example |
| Pattaya | from 73 000 ₽ | Найти тур >> |
| Phuket | From 67,000 ₽ | Найти тур >> |
| Samui | From 90,000 ₽ | Найти тур >> |
| Krabi | From 70,000 ₽ | Найти тур >> |
| Ko Chang | From 80,000 ₽ | Найти тур >> |
Holidays with kids.
In June, we saw a lot of happy parents and children at the resorts. Holidays with children in Thailand in early summer are much more comfortable than in Europe, where the sea water temperature does not rise above +23°C.
For a trip with the kids we recommend wonderful island Ko Chang. For schoolchildren is more interesting in Pattaya – there are a lot of shopping and entertainment centers and interesting museums, where you can always take a break from the heat. Go elephant riding, feed the animals at Khao Kheow Open Zoo, visit a crocodile farm and Nong Nooch Tropical Park.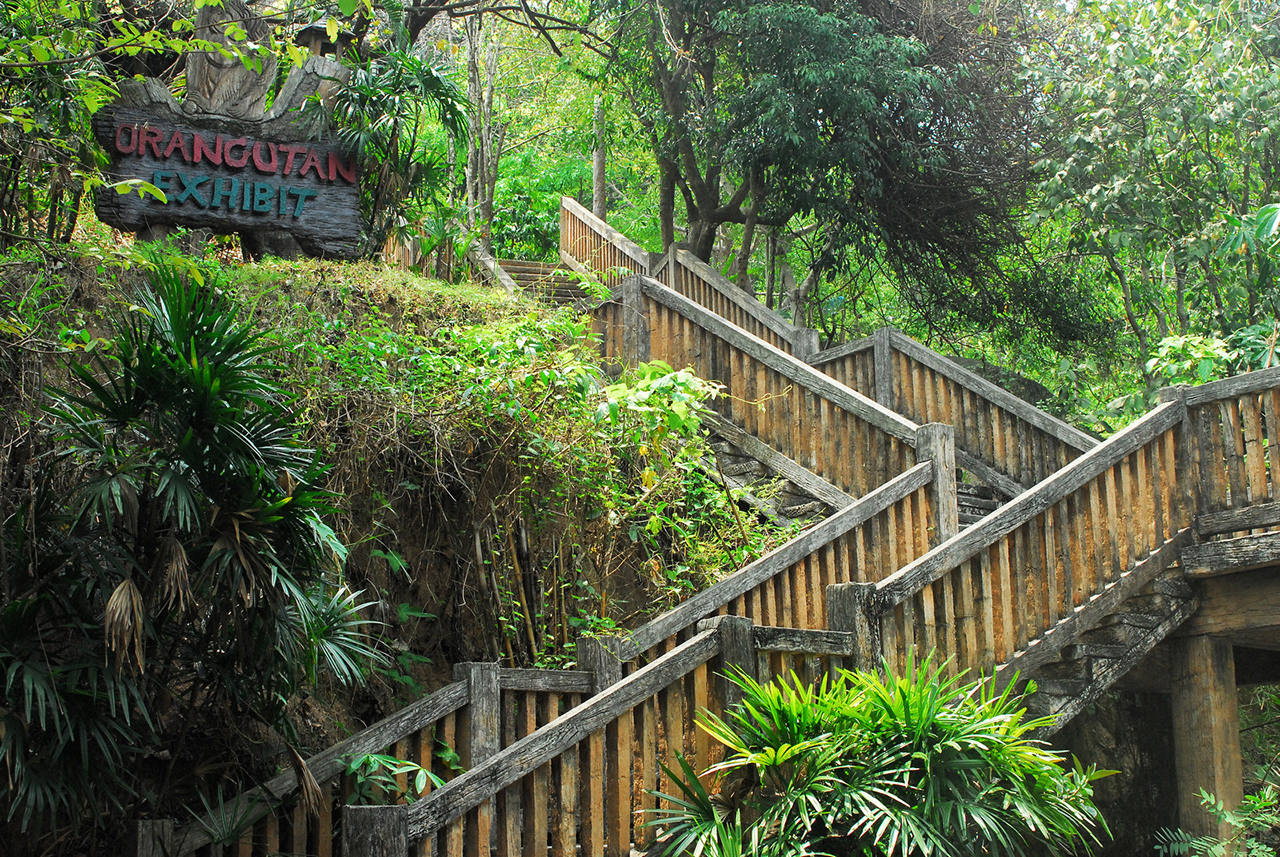 Khao Kheow Zoo (Photo: Thanate Tan / flickr.com)
Should you vacation in June in Thailand?
Don't particularly trust the pessimistic weather forecasts! June in Thailand is a good month for holidays. It's no coincidence that those who have already been in this country, enjoy discounts and come to Thailand in early summer with pleasure. However, high humidity and heat do not suit everyone. The weather of June is difficult for heart patients, hypertensive and meteoric tourists.
Beach activities and boat trips are spoiled a bit by storms. But apart from the beaches, there is much to do in Thailand – excursions, entertainment programs, cultural shows, nightclubs, shopping, surfing, kiting, Thai massages and spas.
Thailand in the summer of June 2022: weather, tour prices

What promises the tourist Thailand in the off-season, namely – in summer? Relaxation on the bed in the hotel room to the accompaniment of weeping weather (according to those who have NOT been in Thailand at this time of year), or a super-chip vacation in the atmosphere of the king of all resorts (according to those who have been)?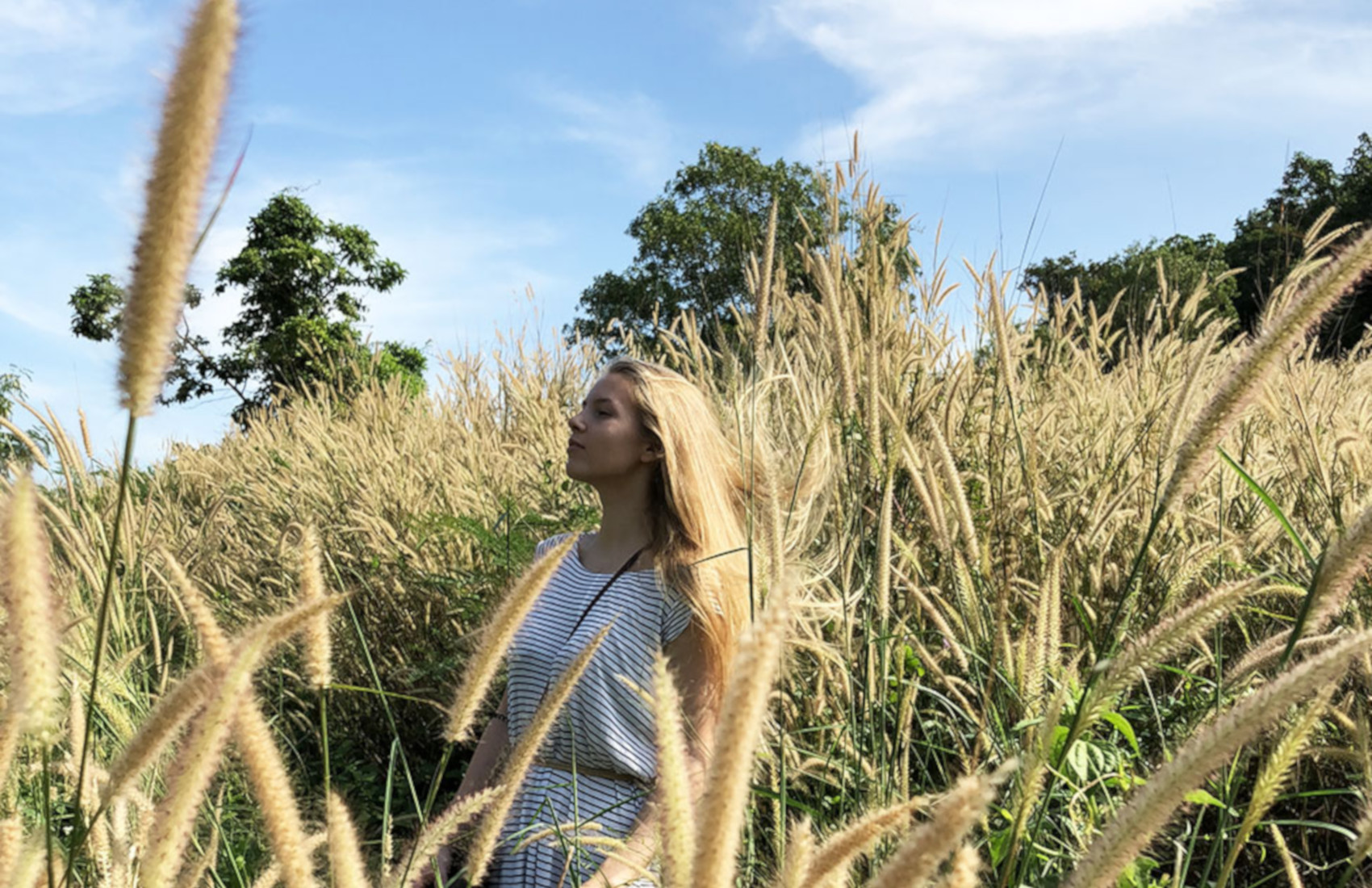 They say that a holiday in Thailand in June – is omnipresent thunderstorms, showers, floods, tourists sigh, imprisoned in four walls … Well, let them talk – because the less people on the beaches and cheaper prices for packages! And meanwhile, the warmest sea, hot sun and magic tom-yam in Thailand is always there, regardless of the time of year.
Update-2022: Information about attractions, resorts and weather in Thailand remains up to date. We've corrected everything that's needed – and we have a separate text written about the rules of entry, which are constantly changing. In brief, you can enter Thailand (Phuket, Krabi, Pattaya, Samui) if you are vaccinated with Sputnik – in addition you must pass PCR tests (before the flight / at the airport and on the 5th day) and live in the same hotel (and resort, of course) 7 days, but you can go to the beach and the street! After a week and a negative test you can move around the country legally.
Content
On a side note: our statement that the holiday in June in Thailand is as good as in the season, not at all unfounded – we ourselves spent 2 weeks in late May and early June in Phuket. Liked absolutely everything – and the weather (it rained at night or early morning only, and from power for an hour), and the deserted beaches, and the lack of Chinese on excursions.
The only inconvenience was the waves. Sometimes they rose to a point where jumping or diving under them was no longer possible, and we moved to the southern beaches.
The tour, as always, we booked online, but in advance, 4 months before the trip, so the cost came out very reasonable – 65 000 rubles for two. Our favorite and many times "recoiled" services to find cheap trips are:
Travelata – a great helper if you want to save money by booking early
Level.Travel – like Travelata, a search engine for "every day", but with a nicer interface and often more offers
Onlinetours – in case you urgently need a last minute tour .
Tour prices to Thailand in June 2022
Since we started with the cheap trips, and they will continue. Especially since the prices of tours to Thailand in June 2022 with a flight from Moscow start from 80 000 rubles for 10 days.
The cost of tours includes flight, transfers, hotel accommodation and insurance. You will have to pay for excursions, meals by yourself in most cases – the "all inclusive" service in the Thai resorts is rare. But the summer price tag in cafes, markets and makashnitsa (mobile carts with cooked food) is pleasantly different from the winter one.
If you plan your vacation in advance, try to free up more time for the trip: it's not uncommon that a tour for two for 10 days costs on average only 5000 rubles more than a week. Catch more sunny days!
Last minute tours in Thailand
The cheapest tours in Thailand should start looking for 2-3 weeks before your expected departure. Do not stop at the proposals of a particular tour operator, use online services to find the hottest deals! If you are lucky, you can rest a quarter cheaper than if you booked your trip earlier.
So, buy a hot tour to Thailand in June with the flight from Moscow you can for 45 – 50 000 rubles for two.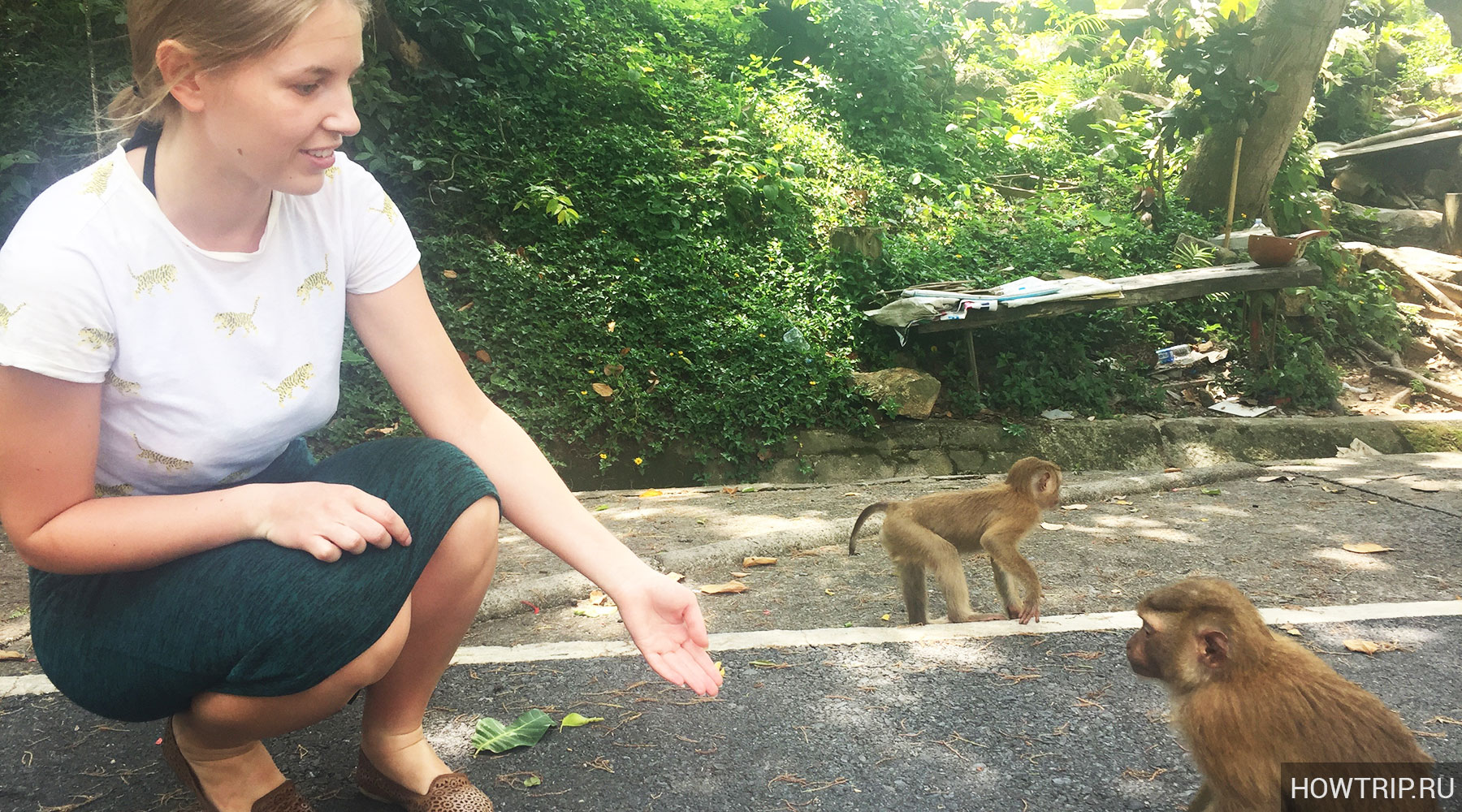 Trip to the monkeys in Phuket – Monkey Hill
Holidays in Phuket in June
Is it worth to go to Phuket in the summer? No, we should ask in another way: is it worth going to Phuket at a price unrealistic for the high season – 60 – 65 000 rubles for two people? Perhaps the question is rhetorical.
There are a couple of reservations: holidays in Thailand in June are unlikely to enjoy if you intend to lie on the sand and soak in the sea – the waves will make you move. If you're flying with a child, we recommend choosing the southern beaches in Phuket – Kata or Cape Panwa. The water element there is much calmer.
Rest in Phuket in June will clearly suit those who love solitude and are not afraid of high humidity. In early summer just a lot of tourists is not, plus, from May begins the rainy season and the monsoon. The rain in Thailand is a sudden ocean of warm water from the sky, pouring for half an hour during the day, or a lingering stream at night, the effects of which dried up in the morning. It's nice to get soaked under one of these.
Beach holidays can be spoiled by high waves – and they especially rage in Phuket on the central beach Karon – but surfers can only benefit. For anyone not "on a wave," we suggest settling closer to Patong, Kata, or the south coast. In our guide to Phuket, we have listed specific beaches where there are no waves at all.
June prices in Phuket – for food, hotels, car rentals – differ depending on the distance from the beach, the difference can be up to 50%! Look for non-touristy places, and may your wallet be happy.
What to do in Phuket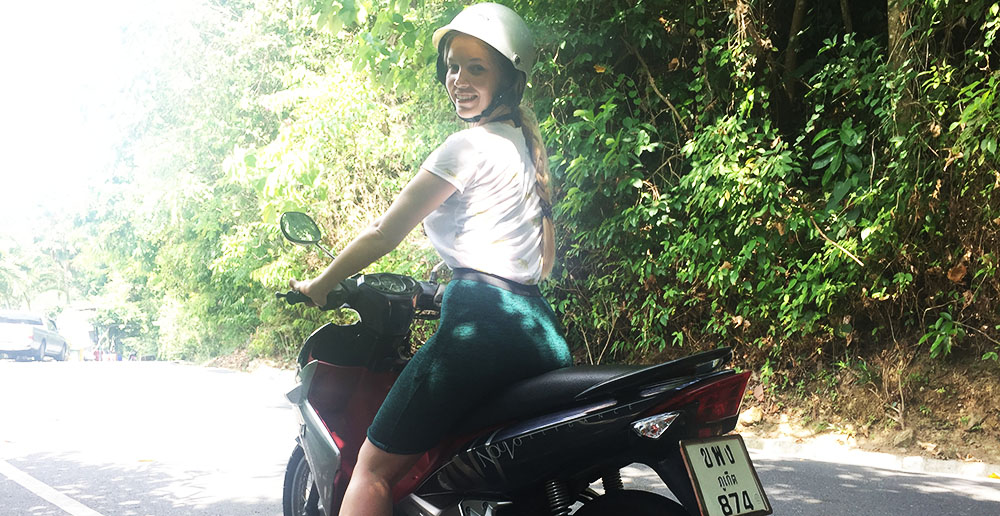 Rent a bike – 250 baht per day.
Vacation in Phuket in June in its "entertaining" component, in principle, no different from the season. Given that familiarity with the cultural and beautiful island is closely associated with frequent travel by transport, in the summer you'll be happy with the prices of tuk-tuks, cabs, bikes for rent.
See the island's three main beaches – Patong, Karon and Katu
Take a ceremonial lap around the Big Buddha statue and see a monk tying strings around his wrists at the rate of two tourists per minute.
See how the monkeys live on Monkey Hill and the elephants at Elephant Farm.
Have a cocktail on the terrace of Kata Rocks for stunning views over the bay.
Drive to the southernmost tip of the island, Promthep.
Of course you can't miss the famous Bangla Road. Just so you know how it is ( slutty )
Try tom-yam, pad Thai and baked mussels in at least 2 different establishments! And of course Thai ice cream.
Is it allowed to swim during the rainy season? It is always allowed to enjoy the sea, as long as there are no red flags. The weather in Thailand in June is consistently hot, and the water temperature does not drop below +25 ° C.
Holidays in Pattaya in June
View of the coast of Pattaya; a la the wheat bushes on the island of Ko Lan
In all of summer Thailand, the beach holiday is best in Pattaya. The resort as if it does not succumb to the vagaries of the weather and the threatening monsoons. Frustrating situation with the unsuitability of the local coast for this beach holiday – it is dirty, as the sea, and undeveloped.
Therefore, recreation in Pattaya in June is attractive to tourists not so much sun beds and umbrellas, as a wide range of interesting excursions and nightlife.
What to do in Pattaya?
Find a more or less clean sand can be on the beach Sai Keo. To do this you have to go outside the city. Or swim out – for example, on the island of Ko Lan, the most popular option.
By the way, a super-application on the phone, which has repeatedly led us out of the deepest dead ends – maps.me. This is a detailed map of cities almost all over the world. Its main plus is that it works offline, i.e. no internet or connection required. We recommend it
Vacation in Pattaya in June has a certain advantage: excursions will cost much cheaper than at any other time.
Take advantage of discounts and go explore the historical sights of Bangkok (150 km from the resort)
Take a two day trip on the River Kwai and stay overnight in a houseboat
Enjoy wildlife on Ko Chang Monkey Island
Go to Nong Nooch Elephant Park and take an elephant ride if you like.
In the evening open the doors of night clubs to experience the special Asian nightlife.
Thailand prices in June 2022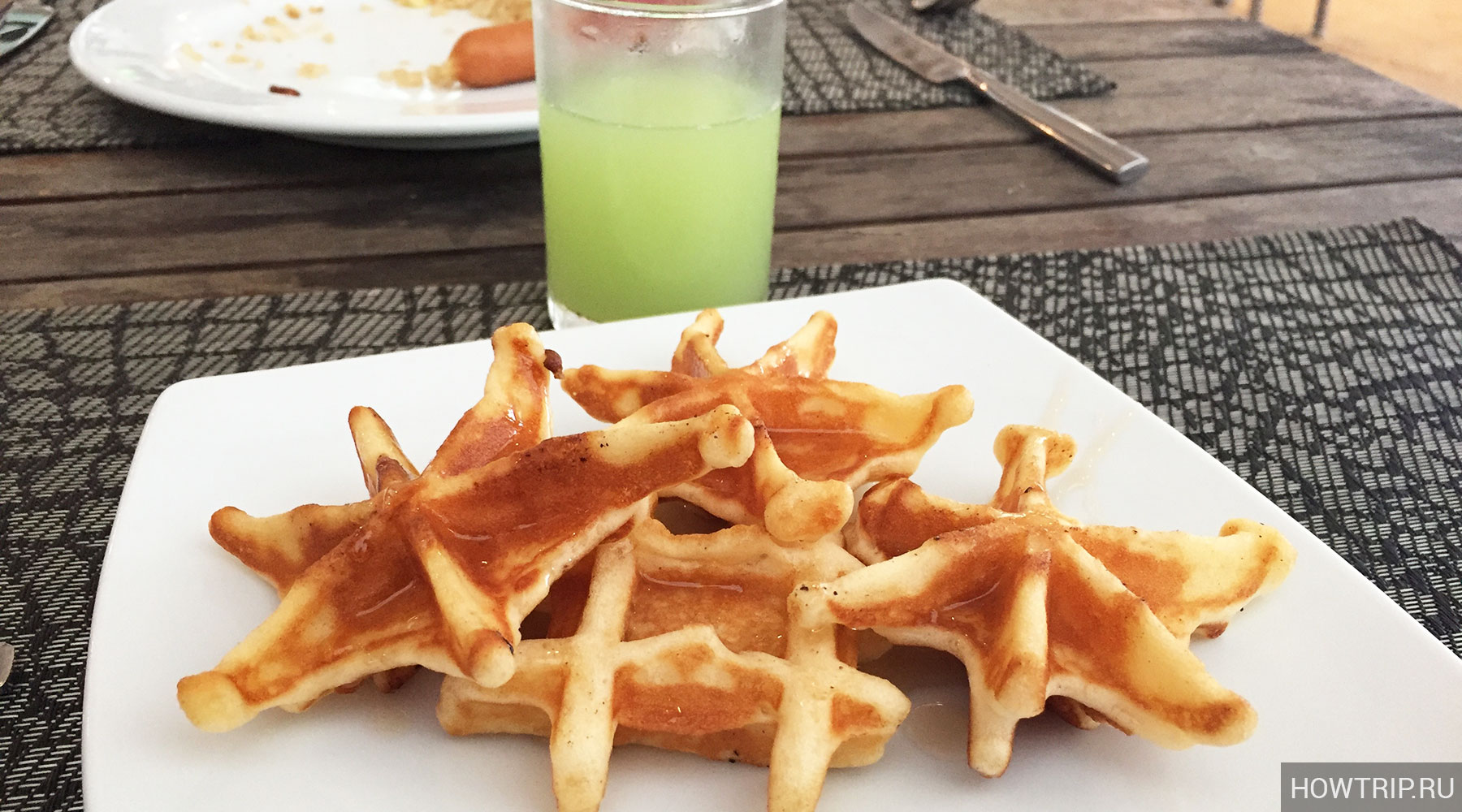 Buffet at the Hilton
Holidays in Thailand are especially pleasant prices. They are much lower than in winter on absolutely everything. In addition to the fact that the tours in Thailand in June are sold at the lowest cost, very attractive discounts offer and travel agencies.
Lower summer prices in cafes and restaurants, on the market and in supermarkets. For example, a kilo of mango "unseasonal" will give you 40 baht. In the season – all 60-90 baht.
Keeping in mind, with the prices in Thailand in June you can save up to 30% of the budget. Full meal in the summer will cost about 100-150 baht in a Thai cafe and 3-4 times more expensive in a European restaurant.
Еще о ценах в Таиланде — на примере Паттайи >>
Hotel rates in June
Prices in June for rent or for a hotel room are dropping rapidly. For a 2-bed hotel room in Thailand for June, prices for one night will be approx:
In Bangkok, from $8 on the outskirts; from $15 in the city center
in Pattaya – first line – from $30, farther from the coast – from $20
Ko Lan Island (10 km from Pattaya) – from $30
Prices for hotels in Thailand in Phuket in the summer:
hostel – from $7
3* hotel – from $10
4* hotel – from $20
5* hotel – from $50
Needless to say, that there is always a free room?
А где искать квартиры? Наш опыт с Аирбнб >>
Weather in Thailand in June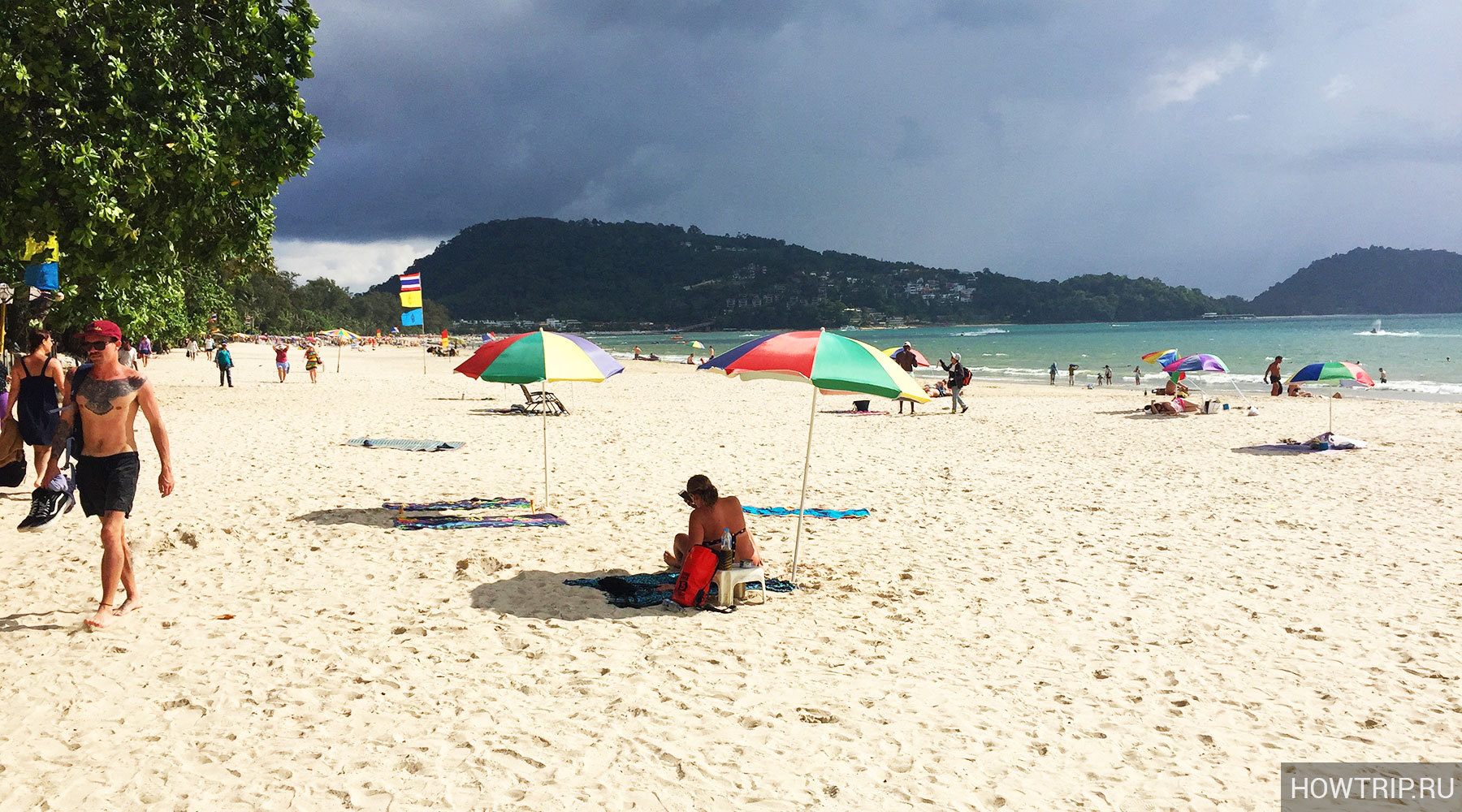 Beach in Phuket (our first day on vacation)
What is the weather in Thailand in June? It is difficult to answer unequivocally. The climate in the country is such that you can ignore the "year to year" trend.
In this month the highest humidity and the most strong winds, and at the same time there is a real tropical heat. Some days the thermometer can reach +36 ° C. The average daytime temperature is just a couple of degrees higher than at night.
In late June, it's hotter than in the beginning of the month. The water temperature in the sea is +28 ° C … +31 ° C. The rains may or may not be – even the local weather forecasters are unable to predict them.
Samui is the best weather resort in Thailand for June 2022.
What is the weather in Thailand in Phuket in June?
The weather in Thailand in June in 2022 may be drastically different from last year. It's like the situation when Thailand was flooded with downpours at the height of the 2017 season – no one would have thought
Usually the air temperature in Phuket in early summer is +31°C…+33°C during the day, +29°C…+31°C at night, the water warms up to +29°C. It rains mostly at night, maximum by noon it stops and allows you to bask on the beach under the sunlight. But! The sea is choppy, sometimes breaking such waves that it is forbidden to swim.
Reviews about rest in Phuket in June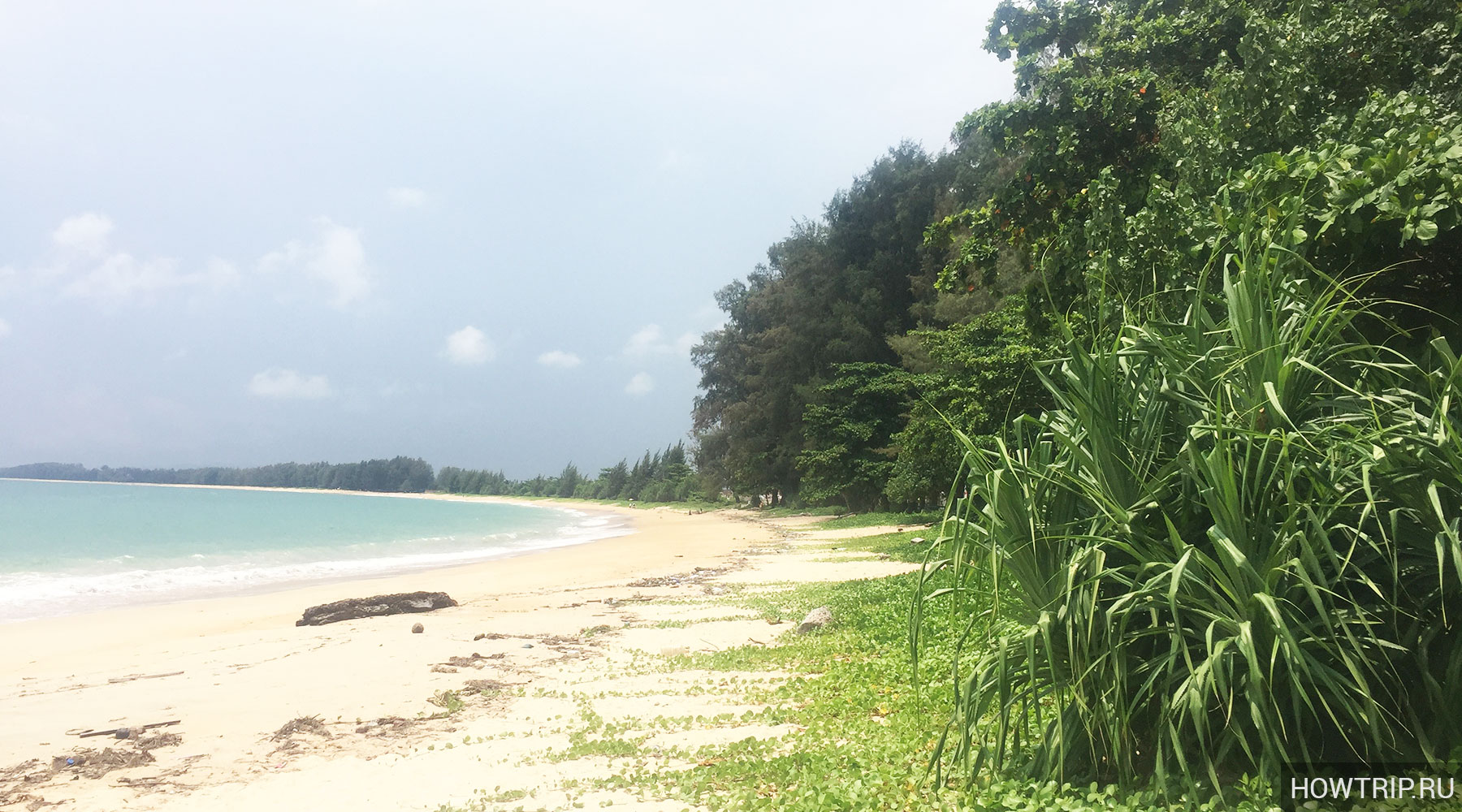 Going on vacation in Thailand in June? Reviews of tourists from 2019 will also help you prepare and get an idea of what you can expect from the trip.
Where is the best place to go to Thailand in June?
According to reviews, the island of Samet is suitable for those who like a quiet relaxation.
On Samui most tourists go for the wildlife
On Phangan they admire picturesque waterfalls and rock out at full moon parties.
Phuket is a classic vacation on white-sand beaches.
And Pattaya is packed with nightlife and exotic parks.
Advice from experienced travelers and useful for gourmets:
What fruits can you try in summer? Banana, pineapple, rambutan, coconut, guava, salak are on the shelves all year round. Seasonal fruits in early summer: mango, durian, mangosteen, longsat, sapodila, dragon's eye, papaya, pomelo, litchi.
It is cheaper to eat in small eateries or macashtraki, especially if you want to try authentic Thai cuisine
More advantageous to go to markets for fruit and seafood. Everything is fresh in the morning.
This material may be copied only with a mandatory direct, active and open to indexing hyperlink to howtrip.ru.