The 10 best all-inclusive 4-5 star hotels in Crete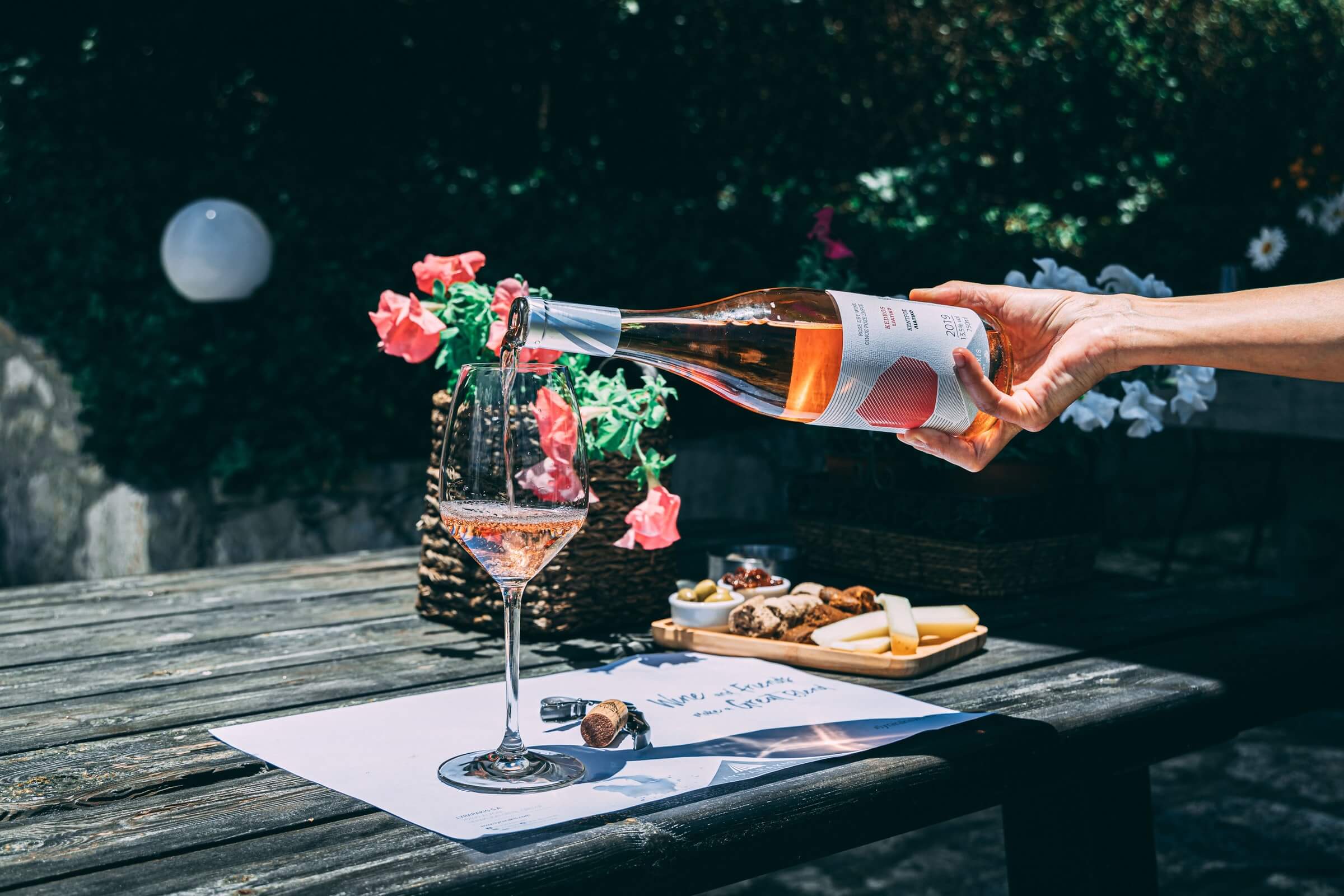 Want to go to the island and relax in an all-inclusive hotel? We've picked 10 good 4-5* hotels in Crete on the first line. Enjoy a beach holiday, excellent Greek cuisine and travel around the island!
Hotel reviews for hotels in Crete
Greece is not what you would call a flagship all-inclusive vacation destination, but all-inclusive hotels in Crete have been growing in popularity lately. What is included in the all-inclusive package? Compared to Turkey, the choice of dishes is not too great, but the food is fresh and delicious. As for alcohol, each hotel does things differently. Almost everywhere in all inclusive includes drinks of local production. For imported alcohol you will have to pay extra.
Sun beds and umbrellas on beaches cost 5-10 €. If the hotel is on the first line to the sea and has a private beach, the money will not take you.
There is animation, but entertainment programs are conducted in English, French or German. Aquatic entertainment in hotels of Crete is modest. If you want to have fun in water parks, choose the 5-star hotels Aldemar Paradise Royal Mare or Fodele Beach & Water Park Holiday Resort.
RoomGuru – Cheap Accommodation in Crete
Dimitrios Beach Hotel 4*.
Crete's best all-inclusive budget hotel is located 80 meters from Prevolia Beach. It is ideal for a trip to Greece as a couple or with children. There are swimming pools for adults and kids on site. If the weather is rough, the water is sure to be heated! Swim at your pleasure, order exotic cocktails and other refreshing drinks at the hotel bar.
Petra Mare 4*
In southeastern Crete you can relax in a good 4-star hotel on the first line. The hotel complex is located in Ierapetra, on the shore of the Libyan Sea. It is 100 meters away from the private sandy-pebbly beach. Tourists enjoy swimming in the outdoor pool, relaxing in the sauna and massages. There is a shallow children's pool for the little ones.
Meropi Hotel & Apartments 4*
There is a hotel with three pools and water slides, 100 meters from Malia beach, which is considered one of the best all-inclusive hotels in Crete. For breakfast there is a buffet. They serve seafood, meat dishes, porridge, yogurt and fruit. For holidays with children choose spacious apartments with a kitchen!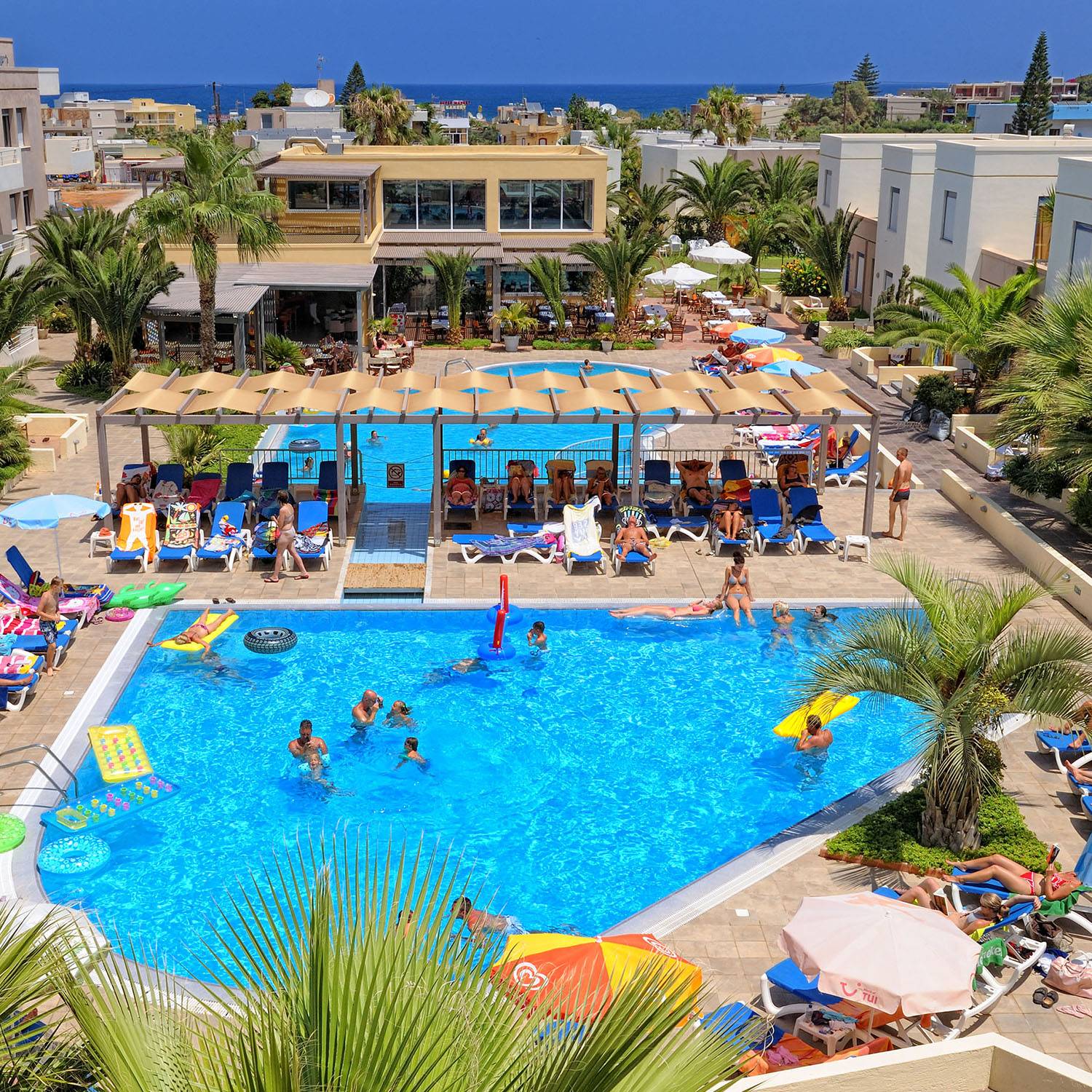 The Meropi Hotel & Apartments (Photo: meropihotel.gr)
Arminda Hotel & Spa 4*
Arminda Hotel & Spa is located in Hersonissos, just 100 meters away from the beach. One of the best 4-star hotels in Crete offers four salt water pools, a spa center, tennis court, gym and mini golf course. Hersonissos is a stone's throw away. Walk through the streets of the Greek city and see how and what the natives of the island live!
Sitia Beach 4*
According to reviews, this is one of the best hotels in Crete on the first line. It is situated 800 meters from the center of Sitia. It's a cozy resort hotel with its own sandy beach. Tourists like excellent food, unobtrusive friendly service and evening entertainment program. Tasty, quiet and close to the sea!
Euphoria Resort – All Inclusive 5 *
The ranking of the best all-inclusive hotels in Crete is headed by an expensive and prestigious resort in Kolimbari, 23 km from Chania. A private sandy and pebbly beach with sun loungers and umbrellas is just 15 meters from the three-storey building. A water park, swimming pools, sauna and a wonderful wellness area guarantees a real euphoria of relaxation!
CHC Athina Palace Resort & Spa 5*
Do you like to be not only comfortable but also beautiful? Stay in a good hotel in Crete on the first line, which is located 5 km from the village of Agia Pelagia. The resort complex is built as a cascade, on the slope of the mountain. Between the hotel and the seashore stretches a pleasant promenade. Book a room with a terrace or balcony with sea view!
Mythos Palace Resort & Spa 5*
One of the best all inclusive hotels of Crete is located in an ecologically clean area amidst amazing natural beauty. The beaches of Georgioupolis are famous for their shallow entrance and clear water, so it's nice to relax here with small children. The hotel has a shallow children's pool for water fun.
Panorama Hotel – All Inclusive 5*
In the Greek village of Kato Galatos you can find a real treasure – Panorama sandy beach. From the 5-star hotel it is only 100 meters away. According to the reviews of tourists, the hotel is distinguished by the original design and amenities. From the panoramic rooms you can see the mountains or the sea. Dine by the pool and go on excursions to Chania!
Cactus Royal 5*
Do you want to find the best hotel in Crete for a quiet and comfortable holiday by the sea? In the resort of Stalida, 6 km from Hersonissos, there is an extra-class hotel. Across the road from it stretches a long public beach. The area is small and decorated in a modern Greek style. There are many stores and cafes nearby.
4 Star All Inclusive Hotels in Crete with a Sandy Beach
Planning a vacation in sunny Crete, you should take care of the choice of accommodation in advance. The best option, of course, would be hotels of Crete 4 stars all inclusive with a sandy beach. Here you will be offered a high level of service, traditional Cretan hospitality and reasonable prices.
Star Beach Village & Water Park 4*
A spacious outdoor pool with children's water rides, as well as a Jacuzzi. There is also a water amusement park with steep slides, fountains and numerous attractions that will delight not only children but also adults. Own spa center offers a number of relaxing and tonic procedures, which will quickly restore strength and feel a charge of vivacity. There is also a well-equipped gym with modern trainers, Turkish hammam, hot tub, solarium and rest room.
There are several sports fields on site for mini-football as well as basketball. For golf lovers a shuttle to the nearest club "Crete" is provided (free of charge). Various entertainment programs and DJ parties are often held here. The reception desk here is open 24 hours a day. For vacationers there is a snack bar, three great restaurants and a bar in the lobby.
Agapi Beach Resort Premium All Inclusive 4*
The architecture and interior design harmoniously combine modern features with traditional Cretan national touches. It offers an excellent level of service, picturesque natural scenery and a variety of leisure and recreational facilities. Guests can stay in comfortable and bright rooms or bungalows with beautiful views of the sea and the local surroundings. There are Cretan, Italian and Mediterranean restaurants with gourmet cuisine and a wide range of drinks.
There is also an equipped beach and 3 spacious pools, with an area for relaxation with sun loungers and umbrellas. Those who want to visit the Museum of Crete History, the Heraklion Museum of Archaeology or the Palace of Knossos which are a few minutes' drive away, can take a tour of the complex and enjoy different cultural and historical sites. The complex offers all kinds of massage treatments, yoga or fitness classes, as well as its own sauna.
Silver Beach Hotel & Apartments – All inclusive 4*
A wonderful place to escape the hustle and bustle of the big city, surrounded by beautiful nature and beautiful sea views. There are several different categories of rooms, including family rooms, as well as luxurious suites and apartments with breathtaking views of the green park zone and the sea shore. A few steps away there is a supermarket, places of public recreation with restaurants and various cafes.
It takes about 20-30 minutes to reach the local historical monuments. The most famous are the monastery of Agios Fragkiskos, the cathedral of Agios Dimitrios and the fortress of Firkas. The property has its own fitness center, an equipped beach with sun loungers, as well as a swimming pool. Guests can make use of the car rental service, ATM or luggage storage. Shuttle service for holidaymakers is available on request.
Candia Park Village 4*.
The complex itself looks like a small settlement in the Cretan architectural style and is located next to the main sand and pebble beaches of Agios Nikolaos resort. It has about two hundred apartments with separate kitchen, refrigerator, safe, air conditioning and TV with satellite channels. It has its own coffee shop, bar and snack bar as well as a mini-market.
Every evening guests can enjoy live music in the bar or fine dishes of traditional local cuisine in the restaurant of the complex. There is a garden with a swimming pool and an open bar where you can enjoy your favorite cocktail on a sweltering day. There is also a seawater pool and jacuzzi. There are also several tennis courts and areas for volleyball, basketball or table tennis.
Infinity Blue Boutique Hotel & Spa – Adults Only 4*
Comfortable accommodation, excellent service and proximity to the historic, cultural and entertainment centers are the features you can expect from this unique hotel. The famous AquaWorld oceanarium, Labyrinth entertainment park and Lichnostasis national art museum are only a few minutes' drive away. It has a landscaped area with its own garden, private beach area with sun loungers and umbrellas.
Stylish rooms are designed in light or light-blue colors and include all the amenities for a comfortable and measured rest. The spa offers a wide range of beauty and massage treatments, as well as all kinds of spa programs. The entertainment infrastructure includes diving, hiking and biking excursions. Gourmets will appreciate the local cuisine, prepared with fresh products by high quality chefs, and snack bar will pleasantly surprise with a variety of snacks and a great choice of alcoholic beverages or cocktails.
Iberostar Creta Panorama & Mare 4*
It has a good location on the shores of the Aegean Sea, an excellent level of service and well-developed infrastructure for recreation and entertainment. All rooms, of which there are 454, have everything you need for a comfortable stay, as well as views of the sea and coast, with picturesque bays and natural landscapes. Local attractions here are just a 20-minute drive away: the museum of ancient Elefzenra, the Byzantine Art Center and the Arkadi Monastery. Here, guests can stroll through the beautiful garden, relax on the outdoor terrace with sea views or visit the beach just steps away.
You can go scuba diving, windsurfing or have a great time playing lawn tennis. Two restaurants will delight guests with delicious dishes of both local and Italian cuisine. For longer trips you can rent a car. There is also a foreign currency exchange and a tour desk.
Lyttos Beach 4*
Not far from the resort of Hersonissos, 20 kilometers from the nearest airport of Herakleion in a green area surrounded by gardens, resides the Lyttos Beach. Here you will find a private beach, plenty of activities and comfortable rooms, among which are family rooms and apartments, some of which have their own pool. There are six pools altogether, one of which is of Olympic size, while the others are equipped with slides and water attractions, which are sure to arouse a lot of enthusiasm among children.
There are three restaurants, several bars and numerous tennis courts. You can take a scuba diving course, ride bicycles, rent them, or play table tennis or darts. For children: a play club, playground, animation staff, and a babysitting service. A few kilometers away there's an 18-hole local golf club with picturesque views of the Crete mountains and the best courts.