The 10 best all-inclusive 4-5 star hotels in Cuba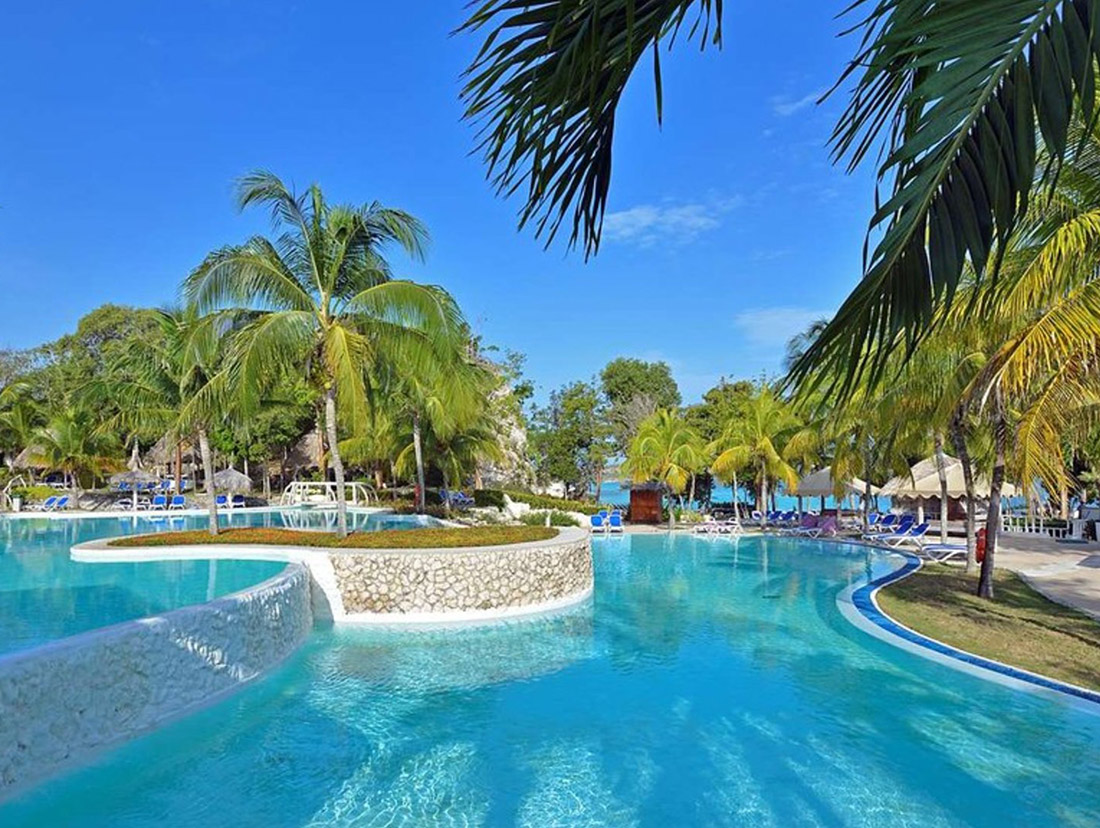 The island of freedom is good not only for its luxurious nature, beautiful beaches and revolutionary history. It's nice to have an all-inclusive vacation in Cuba. We tell you about the nuances of Cuban all-inclusive and the best 4 and 5-star hotels, which take tourists with all amenities.
Features of hotels and services in Cuba
The largest selection of all-inclusive hotels in Varadero. Full service package in Cuba has its own features – all inclusive usually operates around the clock, without time restrictions.
Meals necessarily include grilled meat, fresh vegetable salads, tropical fruits and dishes of fish and seafood – mussels, crabs, shrimps. Tourists are offered soft drinks, Cuban rum and cocktails made from local alcohol. If you are going on an excursion, you can take a dry ration – a bag with sandwiches. Food outside the hotel will cost more.
Animation in Cuban hotels is entertainment and disco on the beaches, rousing show programs and sports activities. The more luxury hotel, the more interesting entertainment. Almost everywhere the cost of all inclusive includes equipment for snorkeling, fishing gear, canoeing, catamarans and boats.
Look for last minute deals on OnlineTours, which offers the best deals from a variety of tour operators. Do you want to save money? Check out our 7 rules for buying tours and how to book a hotel in Cuba.
Blau Arenal Club 4*
One of the best hotels in Cuba is located in the suburbs of Havana, 25 km from the city center. It is a good option for those who want to relax by the sea and get acquainted with the capital of the country. Hotel is separated from the private free beach 100 meters. The hotel has many facilities – bar, restaurant, swimming pools for adults and children, beauty salon and hairdresser.
Melia Sol Rio de Luna y Mares 4*
It's not hard to find the perfect family resort on Liberty Island! A good hotel for a vacation in Cuba is located on Esmeralda Beach. The large hotel complex consists of two parts – Sol Rio de Luna and Sol Rio de Mares, and here you are guaranteed a good vacation and entertainment for all tastes! If you choose all-inclusive, you can swim for free in the outdoor and indoor pools, relax in the sauna, work out in the gym and play mini golf.
Brisas Guardalavaca 4*
A good hotel for a holiday in Cuba with children is in Holguin, in the resort of Guardalavaca. There is a beautiful sandy beach 50 meters from the buildings. Swim in the sea, sunbathe by the pools and do not worry about anything! Children are happy to play on the playground and engage with the animators in the club. A babysitter will look after your child for a fee. Find out where to stay with kids in Cuba.
Memories Holguin Beach Resort 4*.
One of the best hotels in Holguin Province, Cuba welcomes tourists near Playa Juraguanal Beach. Lush tropical vegetation, beautiful ocean views and excellent service – everything you need for a good vacation by the sea! The cozy hotel with pools is adult-oriented. Enjoy beach vacations, water sports and evening shows!
Playa Paraiso 4*
In an eco-friendly location on the tropical island of Cayo Coco there is a wonderful hotel with a beautiful sandy beach. It is 69 km away from the village of Moron. It offers stylish rooms in three-story buildings and all the necessary infrastructure – bar, snack bar, lobby bar, swimming pool and all-inclusive meals. A very good offer for those who want to take a break from the problems of the city!
Melia Paradisus Varadero Resort & Spa 5*
The rating of the best hotels in Cuba is headed by the luxurious "five" in Varadero. The exclusive hotel consists of 28 bungalows, has its own sandy beach, outdoor pool, fitness center and tennis court. If you choose all inclusive, you will get excellent food, be able to walk through an exotic park, do sports and learn the basics of Cuban dancing.
Melia Paradisus RIO de Oro 5*
A luxurious all-inclusive beach hotel in Cuba welcomes tourists in Playa Esmeralda, 22 km from the town of Rafael Freire. Within walking distance of the 1-2-story cottages are four excellent sandy beaches with free sun loungers and umbrellas. The spacious rooms have terraces with sea or garden views. There's a free fitness center, two swimming pools for adults and one for kids. The all-inclusive package includes horseback riding, diving lessons in the pool, and bike rentals.
Pullman Cayo Coco 5*.
If you want the highest level of service, stay at a 5-star hotel on the island of Cayo Coco. The world-renowned hotel brand guarantees excellent service and a comfortable stay. Swim and sunbathe on the private sandy beach! The only minus of the hotel is a paid Internet connection.
Melia Varadero 5*.
One of the best 5-star hotels in Cuba is located a few kilometers from the center of Varadero. It is separated from the ocean shore by only 50 meters. The beach is small, but there are always enough sun loungers. The hotel has a diving center. Learn how to scuba dive and explore the underwater world of Cuba!
Melia Las Americas 5*.
On the Icacos Peninsula, 3 km from the center of Varadero, there is a hotel that can safely be included in the top best hotels in Cuba. The all-inclusive resort hotel offers guests a private sandy beach, swimming pools, golf course, bars, restaurant, banquet hall, garden and internet cafe. Ideal for couples, golfers and youth groups!
10 Best Cuban Hotels All Inclusive
Cuba is slowly becoming an amazing tropical gem. A place to meet real people and experience real culture. All-inclusive resorts are a great way to vacation in Cuba without spending too much. In this article you will learn about the best Cuban all-inclusive resorts.
10 Melia Varadero *****
The pyramidal building of the hotel Melia Varadero, designed in the form of a flower with six petals, without exaggeration can be called a work of architectural art. In addition to the classic amenities offered by many resorts, the Melia Varadero has a hydromassage, bridal gazebo, arts and crafts gallery, golf club and family-friendly programs for all family members.
9 Brisas Guardalavaca Hotel ****
Guardalawaka Beach in Holguin Province is considered the place where Christopher Columbus once said: "This is the most beautiful land that human eyes have ever seen". The family-run Hotel Brisas Guardalavaca offers its guests three meals a day buffet, five gourmet restaurants with a-la-carte menus, and eleven bars, including live and dance music venues. A wide variety of water sports and recreation, activities for children, outdoor games like tennis and beach volleyball. There are swimming pools, jacuzzis and more.
8 Hotel Playa Costa Verde ****
Hotel Playa Costa Verde is a private resort standing on Playa Pesquero Beach in the province of Holguín. The hotel complex includes 31 buildings, two swimming pools, four restaurants, seven bars, a Jacuzzi, a spa complex and a health club. The resort even has its own doctor, in case any of the guests get sick. The all-inclusive package includes three meals a day, babysitting/access to the kids' club, water sports, drinks and nightly entertainment programs. There are "bonuses" for honeymooners, including extra in-room amenities, bed preparation for bedtime, use of horse-drawn carriages for wedding ceremonies.
7 Sol Rio de Luna y Mares ****
Sol Rio de Luna y Mares is a two-hotel resort located on the North Coast of Playa Admiralda. The hotel grounds offer direct access to stretches of rainforest and secluded beaches. There are seven on-site restaurants including French, Italian, Cuban and international cuisine. In addition to swimming pools, spa, health club and water sports and recreation, the resort offers Spanish and dance lessons, eco-excursions.
6 Iberostar Ensenachos *****
The Ensenachos Coast is home to some of Cuba's best beaches, and the Iberostar Ensenachos Hotel offers access to two of them: Ensenachos and Megano. Both beaches have white sand. The all-inclusive resort has a kids club (for children ages 4 to 12), swimming pools (including a children's pool), sauna, Turkish baths, children's playground, fitness room, babysitting, mini-market, restaurants, bars, water sports, theater and more. Accommodations are in both hotel-type rooms and individual villas. Specialty restaurants include establishments specializing in Italian, Japanese and Mediterranean cuisine.
5 Melia Cayo Guillermo *****
Cayo Guillermo is one of the places that inspired the famous writer Ernest Hemingway. The Melia Cayo Guillermo is an all-inclusive beachfront hotel located on the north shore of the island, next to the Caribbean's largest sand dune. Despite this, the resort is secluded enough to offer guests everything they need, from theater and scuba diving to a mini club for kids and ample recreational opportunities for their parents. There is a swimming pool, health club and spa complex on site.
4 Paradisus Varadero Resort *****
Paradisus Varadero Resort is another of the 26 Melia hotels concentrated in eight corners of Cuba. This hotel, specializing in family vacations, stands near the enchanting Varadero beach. The resort has a kids' mini-club and a wide variety of activities for children under twelve. There is also a club for toddlers from one to four years old. Both clubs are open until 10 p.m. Until then, mom and dad can relax and unwind, including from their kids. The resort has a spa and health center, swimming pools, a golf course, restaurants, bars, water sports and recreation, and more.
3 Melia Cayo Coco *****
Melia Cayo Coco is an adults-only hotel. Guests must be over 18 years old. It is located on the island of Cayo Coco, in the Hardines del Rey archipelago. The island is connected to the mainland Cuba by an embankment of rocks, so it can be reached by car. Accommodation in hotel-type rooms and individual bungalows standing on stilts in the estuary (saltwater lagoon). Large swimming pool, barrier-free access (for wheelchair users) to Los Colorados beach, volleyball, lifeguard service, fitness center, theater, game room, water sports and recreation equipment, deep-sea fishing and diving. Ten restaurants and/or bars.
2 Paradisus Rio de Oro Resort *****.
The owners of Paradisus Rio de Oro call their hotel an all-inclusive "ultra-class" resort. That means you don't have to pay extra for anything. "Included" are eight restaurants and five bars. Restaurant offerings range from casual "beach" lunches to gourmet Mediterranean cuisine and themed restaurants offering a new country cuisine each day. Guests can always enjoy fresh fish and seafood dishes, juicy steaks and local delicacies. The resort is adjacent to the Baja de Naranjo National Park. Some of the hotel bungalows are right next to the park. Paradisus Rio de Oro has a beauty salon, spa, swimming pools and free (included) diving courses with unlimited dives. A great location for scuba diving enthusiasts.
1 Iberostar Varadero *****
Iberostar Varadero stands on the beach in Varadero. The hotel offers guests 5-star service and an all-inclusive vacation. The price includes three meals a day, a daily refreshed mini bar, drinks from the hotel bar, and all sorts of entertainment. The rooms are distributed among eleven buildings and decorated in traditional Cuban style. There is a wellness center, spa complex, sauna, beauty salon and four swimming pools. Those who want to spend their time on the Varadero beach get free beach chairs and sun umbrellas.