Vietnam: what you need to know before the trip
In 2015, my wife and I flew to Nha Trang on a package tour.
We enjoyed the vacation so much that we returned to Vietnam to live and travel.
In my opinion, Vietnam is the optimal southeastern country for value for money vacation. Thailand has a higher standard of living, it is more developed, so it is generally more expensive. Vietnam has everything a budget tourist needs: year-round heat, sea and beaches, some of the lowest hotel and transport prices in the world, cheap tropical fruits and local alcohol, affordable and delicious exotic cuisine, inexpensive entertainment and excursions.
Vacations in Vietnam are not limited to the hotel, often they do not even have their own area and beach. For me, this is an advantage, not a disadvantage. Here you can not feel like a package tourist, but a real traveler: you can arrange your own tour, explore the city streets, do not be afraid to try the local food in street cafes, to communicate with the Vietnamese in Russian or English.
Tourist cities in Vietnam are not a sham: they are not cleaned to the luster especially for visitors. On the contrary, you can feel the real life and Asian color in every corner. There is a beautiful nature: the sea, mountains, islands, bays, waterfalls, lakes, diverse flora and fauna. In addition, Vietnam has a rich historical heritage from the imperial and colonial times to the time of the U.S. army resistance and the victory of socialism. All this attracted not only me but many others to come back here again. I know people who are vacationing in Vietnam for the fifth year in a row. Although I am not a proponent of such conservatism, I understand them.
My wife and I have been living in Vietnam for more than six months. In that time we have learned a lot of information that we would like to share. I will tell you at what time and where it is better to go, what the local cuisine is worth trying, how to save on lodging, how to avoid getting into trouble and what to bring from the trip.
What you will learn
Introductions
Flight time: 10.5 hours from Moscow, 7.5 hours from Novosibirsk.
The difference with Moscow: +4 hours.
When is the season: all year round, but at different resorts.
Average temperature in the season: daytime +32 ° C, night +28 ° C.
Currency: Vietnamese dong, ₫ (0.0028 P ).
Language: Vietnamese, many resorts speak Russian and English.
Russians can stay in Vietnam without a visa for 15 days. At the airport just put a stamp in your passport. But those who want to stay in the country for a long time still need a visa. There are three ways to get one. How to do this, I told in a separate article T-J.
✈️ How to get there
We monitored plane tickets from Moscow to Nha Trang a couple of months before our trip on Aviasales. This way you can catch a bargain flight option. A direct flight between Moscow and Nha Trang costs about 23,000 R on average. If you buy a connecting flight, you can save money. This is what we did: we bought a one-way ticket for 17,000 R with a six-hour layover in Novosibirsk.
Another option to save money is to buy a ticket to Ho Chi Minh City, and from there go to Nha Trang or Phu Quoc by bus. For example, the fare from Ho Chi Minh City to Nha Trang will only cost 500 P . There are many flights to Ho Chi Minh City from all over the world, so there is a good chance to get a cheap flight from 13 000 P . You can also stay longer in Ho Chi Minh City and see the city.
I subscribed to the mailing list for discounts on flights between Moscow and Nha Trang, and I've been following the price changes since March of this year. There are very few discounts for the summer months, but for the period from late fall to late winter there are even offers for less than 12,000 P for a one-way ticket. This makes sense: in Nha Trang at this time of the rainy season. But there is no rain in the southern resorts, where you can get cheap buses or domestic flights on low-cost airlines.
In Da Nang, the airport is right in the city. I took this photo when the silence on the pagoda was broken by the roar of the jet engine
Weather.
You can vacation in Vietnam at any time of the year. But it is important to choose a resort where the tourist season is at that time. Vietnam stretches from north to south along the coast, and the rainy season at the resorts begins at different times. We can divide resort Vietnam into two climate zones: Central (Nha Trang and Da Nang) and South Vietnam (Mui Ne and Phu Quoc). In each zone, the tourist season and rainy season last four months, and the spring and autumn off-season lasts about two months a year.
January and February are the high, dry season in the south of Vietnam. So beach holidays at this time are best on Phu Quoc Island or Mui Ne.
March and April are the ideal months for holidays throughout Vietnam. At any resort will be warm and there will be almost no rain. The air temperature during the day is comfortable – about +28 ° C. You can easily combine beach holidays with excursions.
From May to August, the high, dry season in Central Vietnam. At this time the sea is no waves, wind and rain, but on the street is unbearable heat – up to +38 ° C. At night, too stuffy – up to +30 ° C. This is the perfect period for a beach holiday in Nha Trang or Da Nang, but the excursions in the heat will be hard. Waterfalls at this time are not as powerful as in the rainy season. The southern resorts of Phu Quoc and Mui Ne have a low, rainy season at this time.
September and October in my opinion, is the perfect time to rest in Nha Trang. It is not so hot, but it's still warm. The average temperature is +28 ° C. The rains are short-lived, and even the effects of tropical showers disappear after a couple of hours. But do not forget that the weather can be a surprise and varies greatly from year to year. In the southern resorts, the weather at this time is variable, the rainy season is just ending there.
From November to December in Central Vietnam – Nha Trang and Da Nang – the rainy season, there is a chance of typhoons. At sea, strong waves, wind and as a consequence, a lot of garbage in the water and on the shore. At this time it is better to rest in the south of Vietnam – in Phu Quoc or Mui Ne.
Before a trip to Nha Trang, tourists look the weather on the Internet and are often upset because of the rains. But in fact they come less often than the forecast. This is due to the fact that the towers that record the weather are in the mountains, where clouds often linger. The most accurate weather, in my opinion, is shown by the Winde app or website.
Map of Vietnam.
Resorts and attractions in Vietnam
Nha Trang is the most popular Vietnamese resort among Russians. Here is a well-developed tourist infrastructure. Sometimes you forget that you are abroad: everywhere you hear Russian speech and music, everywhere you see signs and advertising in Russian.
I like Nha Trang for its compactness. Everything a tourist needs is located on the three streets closest to the sea: hotels, cafes, bars, restaurants, stores, shopping centers, souvenir shops, travel agencies, massage parlors, bike rentals, fruit points and ATMs.
My wife and I are big snorkeling enthusiasts, so we liked the excursion to the southern islands better. We got our own equipment, and those who don't have their own mask and snorkel will be given them for free. Do not expect that the underwater world there will be as rich as in the Red Sea, but still worthy of attention.
Da Nang is a major resort town on the shores of the South China Sea. It is not as compact and cozy as Nha Trang. There are not many tourists from Russia yet. Mostly tourists from Europe, the U.S. and Australia vacation in Da Nang, so the resort is more oriented to independent travelers who know English.
In Da Nang a wide and long beach strip, gentle entrance to the sea. The sea promenade, in my opinion, is inferior in beauty to the Nha Trang promenade, but there are many beautiful bridges across the Han River. For example, the Dragon Bridge spews out flames and water on weekends at 9 p.m. A lot of people gather every time to watch this show, and the neighborhood is like a city day celebration. You are advised to take an umbrella so you don't get soaked in the torrents of water.
The most popular attraction is the Bana Hills entertainment complex with its famous "Hands of God" bridge. In this place, you forget that you are in Vietnam, and temporarily move to France. In principle, you can come to Da Nang just for the sake of it. Many tourists do so. The area is huge. To have time to see everything, you need a whole day.
On the Son Tra Peninsula is a Buddhist temple with a statue of the Lady Buddha, which can be seen from the city beach of Da Nang. We have seen many pagodas and temples in Vietnam, but this one particularly impressed us. In addition to the gorgeous views of the city and the huge statue, you can walk around the cozy grounds and even meet monkeys. Admission is free, but donations are welcome.
Lovers of antiquity and history may enjoy the three Unesco cultural heritage sites around Da Nang. To the north is the former imperial capital of Vietnam Hue, to the south is the museum city Hoi An, and 43 km from Da Nang are preserved Cham Mishon towers ranging in age from 400 to 1000 years old. Personally, I was not impressed by this story: similar Cham towers of Ponagar I have already seen in Nha Trang. Also in Hoi An some of the historical buildings were given for stores and cafes, and in the narrow streets of the crowds of tourists and molested spoil the romantic atmosphere of the city-museum.
The architecture of Hoi An is ancient and very nice: low-rise houses with tiled roofs and Chinese lanterns
People go to Dalat to enjoy the clean mountain air and take a break from the heat. The city rises 1500 m above sea level and is 130 km away. It was founded by French colonists who could not stand the coastal heat. The average temperature is +23 ° C during the day and +16 ° C at night all year round. Because of this, Dalat is called the Vietnamese Alps and the city of eternal spring.
Dalat has picturesque nature, many waterfalls, lakes, forests and mountains. There are parks and squares for strolling, there are flowers all around, and in the local architecture is felt French colonial style. Thanks to the mild climate in Dalat grow fruits and vegetables, which can be seen on the shelves throughout Vietnam. Of man-made attractions, the Linh Phuoc and Chuc Lam pagodas are worth a visit and the architecture of the Crazy House Hotel is amazing.
Even if you spend your vacation in Nha Trang or Mui Ne, I advise to visit Dalat as part of a tour. One day will not be enough, but you can see the main sights. It is ideal to stay overnight in the city and see as much as possible.
Mui Ne is a coastal fishing village, which comes to rest from the big cities and enjoy the privacy. Waves on the sea there can be too big because of the constant wind – with children in Mui Ne can be uncomfortable. But lovers of surfing and kitesurfing this place will love it. The village is mostly low rise private houses and villas with a small green area on the beachfront overlooking the sea. All the modest infrastructure is located on a long street that runs through the entire resort. A lot of our compatriots vacation there, so the locals know Russian well.
Mui Ne does not have as many attractions as in other cities in Vietnam. For a couple of days you can visit everything: the ancient Cham towers Poshanu, white and red sand dunes, lighthouse Kega, acting since colonial times, the brook Fey and 49-meter statue of the reclining Buddha. If you start your introduction to Asia from Mui Ne, you might find the excursions interesting. Especially tourists highlight the white sand dunes, where you can temporarily move into the desert. This is not found anywhere else in Vietnam.
Personally, I and some of my acquaintances vacation in Mui Ne seemed boring. Perhaps the opinion would change if to ride a board or do other water sports. In my opinion, for a beach vacation is still better to go somewhere else. Mui Ne has too much trash, muddy water and strong waves.
Ho Chi Minh City is the former capital in the south of Vietnam, which used to be called Saigon. It's not a resort city: you have to drive about two hours to the nearest coastal Vungtau to get to the beach. Ho Chi Minh City seemed to me too big, uncomfortable and noisy. But it's still worth it for a couple of days.
Ho Chi Minh City will appeal to fans of the history of Vietnamese resistance to the U.S. Army. In the suburbs, you can climb through the underground tunnels of Cu Chi, where the Vietnamese were hiding, and even shoot with weapons of those times.
Phu Quoc is an island resort in the Gulf of Thailand. Tourists come here for a beach vacation in a tranquil setting. The beaches of Fukuoka have snow-white sand and blue water, and one of them is inhabited by starfish. Much of the island is covered with tropical jungle with unique plants and animals.
Packaged tourists from Russia come to Phu Quoc, so there are no problems with the Russian language here. Menus in cafes, advertising signs are written in Russian, and locals speak it well.
My wife and I plan to visit this island only next year. But a few of our acquaintances, who flew there for the winter from Nha Trang, on their honeymoon and just for vacation, really liked it. It seems to be a great alternative to Nha Trang and Da Nang in winter.
To Vietnam by yourself: how much does it cost?
Let's calculate how much it costs to go to Vietnam on your own in 2022: prices for flights, lodging, food, tours, and more. We study the cost of living in Vietnam.
Vietnam accepts tourists from the Russian Federation. For convenience, the article provides pre-pandemic prices for trips and flights. Information about flights, tours, visas and other aspects of vacation may not be up to date, check with official resources. Take a look at the list of open countries.
In this article I will talk about how much it will cost to go to Vietnam on your own, as well as life in Vietnam for a longer period of time (several months).
But the information will also be useful for those who go to Vietnam on vacation on a trip – if this is about you, you can just ignore the cost of airline tickets and hotels (you have already paid for it as part of the tour package), and read only about how much in Vietnam for food, drinks, tours, massage, transportation and much more. In general, no matter how you go to Vietnam – on your own or not – the cost of goods in this country for everyone will be the same (although you can make one caveat: something in the popular tourist spots will cost a bit more expensive than in other parts of the country – for example, food).
Currency exchange rate: 10 000 Vietnamese Dongs (VND) ≈ 32 RUB.
How much does it cost to fly to Vietnam?
Generally on this topic we have a large and very detailed article "How to fly to Vietnam: 7 decisions" – in it I took apart all the options how to fly to Vietnam on your own cheap, and I highly recommend it to those who have not yet bought tickets.
In a nutshell, how much does it cost to fly to Vietnam, the prices are usually as follows (round trip with all charges):
20-22 thousand rubles for a flight to Ho Chi Minh City with connections;
25-30 thousand rubles for direct flights;
It costs 17-18 thousand rubles during discounts (I always write about them on our website);
The tickets may cost 15-17 thousand rubles, if you are lucky to find a loophole for booking a compound flight (read more about this in the article I mentioned above).
If interested, you can read the article about how much to fly to Vietnam from Moscow, St. Petersburg, Novosibirsk and other major cities in Russia (the figures for all the key airlines that fly to Vietnam).
There are two more useful articles for those who are flying to Vietnam: how to get from Hanoi and Ho Chi Minh City airports to the center of the city and vice versa – all the ways and prices are explained there, so take note!
Where to look for the cheap tickets? Use Aviasales. Read also our tips on how to find the cheapest tickets.
Sometimes a tour is cheaper than a flight – look for travel on Travelat and Level.Travel. They will find the best deals among different tour operators. Do you want to save money? Learn how to buy a cheap tour!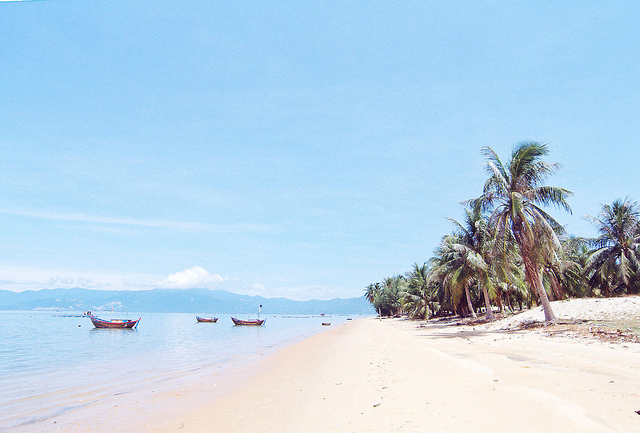 (photo © Khánh Hmoong / flickr.com)
How much does it cost to eat in Vietnam
1. The cost of food in cafes, restaurants and eateries
The famous Vietnamese soup Pho – soup with noodles and also with beef (pho bo), chicken (pho ga) or fish (pho ca) – costs 1-2 dollars (40-80 rubles).
Ban Mi (Vietnamese sandwich – a bun with vegetables and meat) is sold in street stalls for half a dollar, and in a cafe will cost 2-3 times more.
A portion of fish fried in ginger sauce with a plate of rice and a cup of soup at the local eateries is $1.
A portion of rice with chicken and broth at a local eatery will only cost you $1. The same meal costs $3 to $4 at more respectable establishments.
Dinner for two at a good restaurant will cost from $20-30.
Vegetable soup – from 14 thousand VND (30 rubles).
Seafood soup – 20-30 thousand VND (40-60 rubles).
Eel in an inexpensive establishment for locals will cost 80 thousand VND (160 rubles). Lobster costs about 270 thousand dong (550 rubles). Squid – 90-120 thousand dong (from 200 rubles).
Cobra cooked in front of you – $25 (the ration includes all parts of the snake: soup with herbs is cooked from the meat, heart and gallbladder are eaten (or rather swallowed) raw, and snake blood is mixed with vodka and drunk).
Related articles:
(Ho Chi Minh City, Can Tho, Da Nang, Hue, Hoi An, Hanoi, Halong) – prices, nuances, tips, photos. : prices, names in Vietnamese, descriptions. : best gifts and souvenirs. : where to vacation, what the weather is like this time of year and how much food and hotels cost. .
(photo © stacieicats / flickr.com)
2. Prices for some products.
A kilo of bananas or mangoes costs about $1-1.5.
A pineapple is $0.50.
Tomatoes, cucumbers, carrots – about $0.5 per kg.
Coconut juice (1 serving, at the market) – 8 to 20,000 VND.
A bottle of local wine – from $4. Imported wine – from $10.
Fresh sugar cane juice – 7-10 thousand dong per glass (12-20 rubles).
Juice or fruit shake – 10-20 thousand VND (depending on the type of juice).
Shrimp at the market costs from $5 depending on their size – note, in Vietnam they are sold fresh, not diluted by 50% ice as in Russia.
Frog legs in stores and at the market – 140 thousand VND (300 rubles) per kg.
Can of beer – from 12 thousand VND (25 rubles).
Baking – 5-25 thousand dong.
A bottle of mineral water – 8 thousand VND (16 rub.).
: prices, detailed descriptions, names in Vietnamese. Collected by us: prices, photos, descriptions, names in Vietnamese.
(photo © fabulousfabs / flickr.com)
How much does coffee cost in Vietnam
The legendary Vietnamese coffee! Many travelers claim it's worth flying to this faraway country just for the sake of it alone. This drink is quite different from what we are used to – Vietnamese coffee is quite dense and resembles melted chocolate. A cup of coffee in Vietnam costs about 1 dollar. Our impression of coffee in Vietnam can be read here – the drink is truly divine.
One of the best firms making Vietnamese coffee is considered Trung Nguyen (especially praise #4 and #5).
Coffee in Vietnam is grown mainly in two places – in Dalat and Buon Ma Thuot – these cities are considered the coffee capitals of Vietnam.
Accommodation in Vietnam
The cost of hotels and hostels in Vietnam, as well as anywhere else, may vary depending on your requirements for the place you want to stay. In the tourist cities of Vietnam (for example in Nha Trang) you can find a very nice hotel in which a double room (with shower, toilet and air conditioning) will only cost 6-10 dollars a day.
You can compare prices for hotels in Vietnam on the popular service Rumguru – you can find both hotels and private accommodation there.
People who travel to Vietnam on their own, have two different points of view on how to solve the problem of housing: some people prefer to pre-book a hotel through online services, while others book a hotel online only for the first few days, and then look for accommodation on the spot. So there is no universal advice. But on the whole, the picture is like this:
The first option is more suitable for active travelers who have decided on an independent trip to Vietnam to travel around the country and constantly move from city to city, not staying in one place for a long time.
The second option is more suitable for those people who have come to Vietnam to live here for a while (to spend the winter or just one or two months). In this case, housing for a long period (from a month to a year) is really better to look for on the spot – obviously, it will not be hotels, and rented apartments or houses.
(photo © nhi.dang / flickr.com)
Cost of excursions in Vietnam
Wherever you travel to, no matter what country you're in, the cultural, entertainment and sightseeing program is better to organize yourself, without resorting to intermediaries – it comes out cheaper and will not have to depend on anyone in terms of schedule and routing. If you organize your own cultural program in Vietnam, it will require very little money. There is nothing difficult to do yourself to travel to the desired location on a rented bike, cab or bus, buy your own entrance ticket, find and read the information about the place where you are going – and do not have to wait for anyone to walk in a crowd with other tourists and listen to the dull lectures thousandfold repetition of guides.
But if you want the organization of the cultural program is someone else, it is worth turning to agencies. The cost of tours in Vietnam, ranging from $ 30 (for the simplest and shortest) to $ 150 (for large). Also note that the excursions in Vietnam with a Russian-speaking guide are several times more expensive than tours in international groups, where the guide speaks English.
Small boat excursions cost from $7.
The average self-guided trip to a nature reserve will cost about $20-40 for two people, including transportation and entrance fees. Excursion to the same nature reserve with a tourist group (bus, guide, all things) will cost $40-100.
Entrance card to the Vinpearl theme park, located on a small island near Nha Trang (the price includes all the fun and games in the park, entrance to the aquarium and water park, as well as a trip to the island of the longest cable car in the world or by boat) costs 450,000 VND (22.5 $).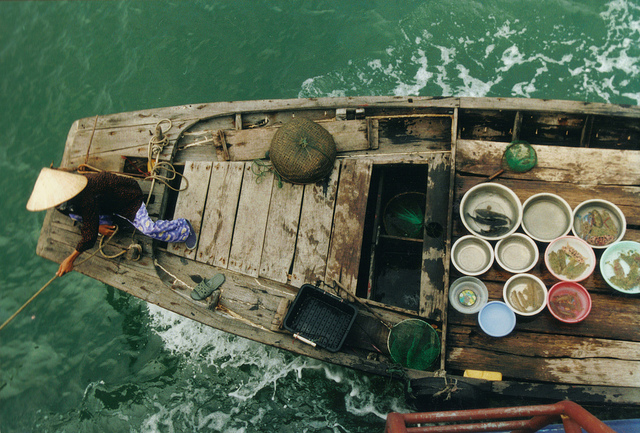 (photo © vbernamont / flickr.com)
How much does a massage cost in Vietnam
Foot massage from $3, back acupressure from VND 50,000 ($2.5), hot stone massage from VND 60,000 ($3). You will have to leave a tip for the masseuse after the treatment. Sauna – from 30 thousand VND ($ 1.5). In popular tourist spots prices can be much higher.
Transportation Expenses
The cost of renting a bike
Usually it costs about $5 to rent a bike for a day in Vietnam. A liter of gasoline costs $1.
Cab
A cab ride in cities in Vietnam costs $1-5. The calculation is usually as follows: $0.5 is taken for getting into a cab and then the meter turns on (the price per kilometer – from $0.4 to $0.7). Be careful: Vietnamese cab drivers may try to cheat you using the counter tweaked in their favor or winding up extra laps during the trip.
Trips to other cities
A night bus from Ho Chi Minh City to Siem Reap (Cambodia, Angkor Wat is nearby) costs about $20.
A boat ticket to Vung Tau is $10. A night (slipbus) ticket is $10, a day ticket is $9.
Seats (cheapest) on the train Nha Trang – Hanoi (travel time 1.5 days, 6-hour daily stop in Hue) – $ 25.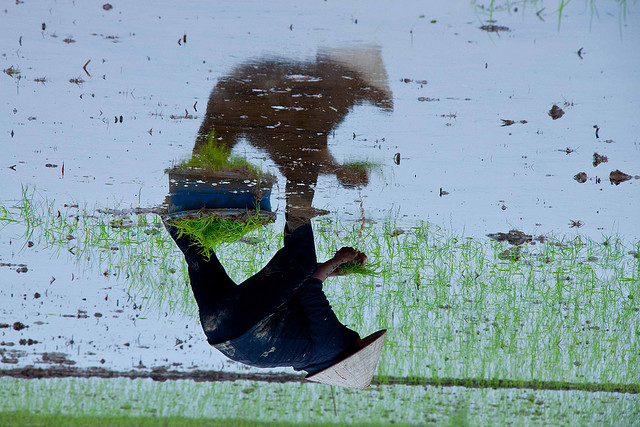 (photo © mel_d / flickr.com)
Miscellaneous
A polo shirt or t-shirt at the market costs from VND80,000 (160 rubles).
Disposable raincoat – VND 5,000.
One hour in an Internet cafe – 4 thousand dong.
Haircut in a barbershop – from 80 thousand VND.
Article on the topic: Shops in Vietnam (addresses, names, tips).
Living Budget in Vietnam
Based on all of the above, you can now easily calculate how much it costs to go to Vietnam for a short time and stay in Vietnam for a longer period. If you are planning to go here for a month or more, the budget can be calculated as follows (for two people):
Lodging (rental apartments, hostels, cottages) will cost you about $ 150-250 per month (7-12 thousand rubles)
Food costs in Vietnam will be $ 150-200 for two people (7-9 thousand rubles)
Transportation costs – about $ 100 – this enough money to rent a bike per month, or as an alternative to travel by public transport and travel to other cities.
Everything else is added based on your personal desires and needs. It turns out that if you count all the major items of expenditure, the living in Vietnam will cost in the range $ 400-550 $ (18-25 thousand rubles) per month for two people + small additional costs for clothing, household goods and other things. As you can see, life in Vietnam costs very little money.
Sapa – a mountain town in the north of Vietnam. Photo: @wild_away / unsplash.com.
Bottom line: how to save money on a trip to Vietnam
Do not eat in restaurants, designed specifically for tourists (at least do not go to them three times a day: for breakfast, lunch, and dinner), and look at places where people eat – it will always be cheaper and tastier there.
Do not buy water, fruit, sweets, souvenirs in tourist areas (for example, on the beaches in resort towns), and buy it all in stores and markets.
To be fully independent in Vietnam: himself to make their own routes, to rent a bike or travel by public transport, to invent and organize excursions and other cultural program.
When searching for lodging compare prices in a variety of booking systems, as well as study the prices offered in the hotels on the spot.
Follow these tips and you will have a great trip to Vietnam on your own, memorable and very economical!