Tourist reviews about holidays in Turkey in 2022
Analyzed the latest reviews of tourists about rest in Turkey in 2022 (August and September) and collected the information in one article. We will tell you what impressions Turkey leaves, what tourists like on vacation and what they leave negative reviews about.
? How to find cheap tours to Turkey? It is convenient to do it with services Travelata and Level.travel – they compare prices for tours in all tour operators and show them on one page.
Traveler Reviews of Turkey – 2022
We've gathered for you fresh reviews from tourists who vacationed in Turkey in 2020-2022.
Flight. Flying to Turkey from Moscow in August 2022 on a tour. We had our wrist temperature taken several times (at the entrance to the airport, before boarding, upon arrival in Turkey). At the airport and on the plane, it is mandatory to wear a mask. On the plane are handed out questionnaires about the coronavirus and you need to fill them out.
The situation in Turkey right now. In Turkey itself there are the same restrictions as in Russia – you must wear a mask at shopping malls, stores and transport. At the entrance to the mall take your temperature. In the rest there are no special differences.
Rest were satisfied!
Food. Went to Side in late August with my husband and child. "All inclusive" in Turkey in 2022 is not something. All food for breakfast / lunch / dinner is behind glass or film. Tourists cannot put their own food in any way, all this is done by the staff (wearing masks and gloves) – they put on what you show them.
In our hotel there were no large queues for food, although I heard that somewhere in Turkey you have to stand for a long time, because the food is put by one person.
As for our return flight with Ural Airlines, we were not fed during the flight.
Flight. We flew Aeroflot from Moscow. The flight attendants wore masks and gloves. After three hours on the airplane it was announced over the speakerphone that it was necessary to change the masks. The stewardesses took the old masks and gave out new ones to all the passengers.
I read that because of the coronavirus there is no food on the planes. We were fine, we were fed.
On vacation. In Turkey, you now have to wear masks in public places, but you can walk on the beach without them. At the hotel, almost all the tourists were without masks; the staff – in masks.
How we got there. We stayed in Turkey in August with two children. We took a Turkish Airlines flight from Moscow to Antalya. During the flight we were fed, but not too rich: a cheese and vegetables sandwich, cake, juice, water. If you take off your mask in the plane or at the airport, you are politely asked to put it back on.
Meals. In the hotel restaurants you had to be wearing a mask (at the food distribution, when moving). You can sit at the table without a mask. There is a lot of food on the buffet, the choice is large. There were no queues.
On the beach, too, few people, most of the sunbeds are empty.
The flight. We have had a holiday in Kemer in September – 2022, we liked everything. The mask had to be worn at the airport, on the plane and on the bus during the transfer to the hotel. The coronavirus test did not have to be taken anywhere. When checking into the room, the temperature was taken and the luggage was taken away for disinfection.
Hotel and beach. The staff wore masks and gloves. On the beach of our hotel was a lot of people, all the sun loungers are busy during the day. Beach towels are given by the staff in a sealed form. Many hotels along the coast are still closed.
In the restaurants of the hotel cutlery is disposable, in packages. Drinks are mostly bottled. Hammam, SPA and gym work, but with frequent (30-60 minutes) breaks for disinfection.
Flight. We flew there in early September on Azur Air. No food on the plane, but offered hot and cold drinks.
Turkey. It was very hot on the street. Probably should have gone in late September or October. You can walk on the beach without masks. The hotel has a marking for social distance, but no one observes it.
Food. The food is good and tasty, but all behind glass, put on by the staff. Sometimes there were queues. For lunch the main restaurant was closed for disinfection, you could eat at the bar on the beach. Breakfast and dinner at the main restaurant.
There were fewer tourists in the hotel and on the beach than usual.
We would love it if you could leave your review of your vacation in the comments under this article!
It will help those tourists who are still thinking about a trip to Turkey to plan their vacation.
✨ Conclusion. You can have a great vacation in Turkey in 2022. You just need to be prepared for a flight in masks and some restrictions on your vacation – such as the new rules on buffet meals and keeping a social distance.
A detailed video with tourist reviews of holidays in Turkey in August – 2022:
General Vacation Impressions of Turkey – 2022
In recent reviews, many tourists agree that now Turkey is trying to do everything to return Russian tourists to the resorts, with a special emphasis on safety. The situation in the resorts is quiet, the rest of tourists is protected by a large number of police officers.
Staff in hotels has become more helpful and friendly, the food at the hotels is better and more varied. Substantially lower prices for goods and excursions.
While Turkey was closed to the Russians, many hotels have shifted attention to the local population and tourists from Arab countries, who travel as large families with children. For this reason, the hotels have a lot of children and the environment is noisy. Animation is mainly in Turkish.
The main advantages of rest in Turkey in 2022 according to tourists' reviews:
a wide choice of hotels for tourists with different budgets
Low prices for tours to Turkey from Moscow and Russian regions
a large number of attractions and excursions
a lot of regular and charter flights to the country, short flight time;
high quality all-inclusive catering
good transport links within the country can easily move from city to city – one of the most popular among Russians: the hotels have mini-clubs, children's meals, entertainment, animation, children's water slides and pools
Of the disadvantages of Turkey in 2022 in the reviews most often mentioned the following:
less entertainment compared to other years (discos, shows, animation)
obtrusive service
sometimes there are a lot of people on the beach, and it is hard to find free sun loungers
a large number of budget tourists package, which sometimes behave inadequately
Photo: Cleopatra beach in Alanya, Turkey
Weather feedback
Most tourists prefer to vacation on the Mediterranean coast. Summers in this part of Turkey are hot and dry. The hottest climate is in Antalya, Alanya, Side and Belek.
The bathing season starts at the end of April. Many people come here for May holidays and are happy with their rest. The air temperature reaches 27 degrees, the sea warms up to 20 degrees.
In July and August at the resorts of the Antalya coast is very hot, sometimes there are negative reviews about too high temperatures at this time of year.
Some tourists in their reviews advise not to go on holiday to Turkey with children in July and August. The daytime temperature reaches 30-35 degrees, the sea warms up to 27 degrees.
Advice: if you go to Turkey in October, it is better to choose five-star hotels: the prices are reduced, the territory has entertainment, heated pools, additional services.
Experienced travelers recommend vacationing in Turkey in September and October: at this time, the weather in the resorts is comfortable; there is no heat, but the sea is still warm. In addition, at this time low prices for hotels, and on the beaches there are fewer tourists.
How to save money when buying a tour? Travelata offers discounts for our readers:
AF2000ASIANWAYS – discount of 2000 rubles on any tour to Turkey worth from 100000 rubles
AFU500ASIANWAYS – 500 rubles discount for stays in Turkey from 40000 rubles
AFU300ASIANWAYS – 300 rubles on any tours priced from 20000 rubles
Where and how to enter a promo code to get a discount, read here.
Photo: coast near the village Mahmutlar
Reviews about the sea and beaches in Turkey
The Aegean coast is mostly dotted with pebbles. Here are such popular resorts as Bodrum, Marmaris, Izmir, Fethiye, Kusadasi.
In the resorts of the Mediterranean Sea beaches can be both pebble and sand. The best tourist reviews in 2022 are beaches of Alanya, Belek and Side:
In Belek the beaches are wide, clean with a gentle entrance to the sea, covered with fine sand. Most of them are awarded the Blue Flag.
In Side beaches are sandy, but the depth is shallow: for a trip with the kids will be perfect, but the adults will have to find places for good bathing. Because of the shallow water in the sea is well heated, the bathing season in Side often opens in April, and closes in October or early November.
In Alanya, the coastline is narrow, but the beaches themselves are good, with yellow sand. Minus holiday in Alanya, some tourists call the fact that most hotels are located across the street from the beach (there are underground and ground crossings).
In Antalya the beaches are covered with sand, but tourists do not like that they are dirty and crowded with locals.
For holidays with children, many advise to go to Belek and Side, as beaches there are sandy, with a comfortable gentle entrance to the water without rocks and boulders.
On a side note: When booking a hotel pay attention to whether the hotel has its own beach. Most 4 and 5 star hotels have beaches where you can use deck chairs and umbrellas for free. They are regularly cleaned of garbage and algae.
Photo: Beach in Alanya, Turkey
Reviews about prices and food in Turkey – 2022
Despite the fact that most vacationers go to Turkey on all-inclusive tours and trips, there are a large number of cafes, restaurants and eateries in the resorts.
Many tourists leave good reviews about the food in the eateries on the street, as it is tasty and inexpensive:
pastries – 20-35 rubles
coffee – 50 rubles
shawarma and ayran – 50 rubles
ice cream – 20 rubles
water 0.5-13 rubles
Experienced travelers recommend to eat in a cafe for locals. The food there is cheap and delicious:
pizza – 100-230 rubles
sausages and potatoes – 200 rubles
sandwiches – 80-170 rubles.
It is best to dine in cafes, which are located on the second and third coast lines. At the establishments on the beach, embankments, and in popular tourist spots the prices for food are inflated several times.
pizza – 230-340 rubles
Kebabs – 300-450 rubles
Photo: Ottoman kebab at panoramic cafe, 66 lira
If you are going to go to one of the restaurants or cafes in Turkey, we recommend reading the reviews of tourists about this institution on TripAdvisor. There you can find out the opinion of holidaymakers about the quality of food, cuisine, service, prices.
In their reviews, tourists are advised to try the following dishes while vacationing in Turkey:
Turkish pastries, such as baklava;
Simit – a Turkish bagel;
Dondurma – an ice cream;
Turkish coffee;
kebab;
lahmajun pizza;
Have you recently returned from a vacation? Leave a review of your holiday in Turkey in the comments to this article – your information will be useful to tourists who are planning a trip this year!
If the information was not enough for you – try reading reviews of Turkey on Vinsky forum.
In May and June last year we ourselves on a trip rested 10 nights in Alanya. Read our impressions of the resort in an article on Yandex Zen channel.
Is it worth to go to Turkey now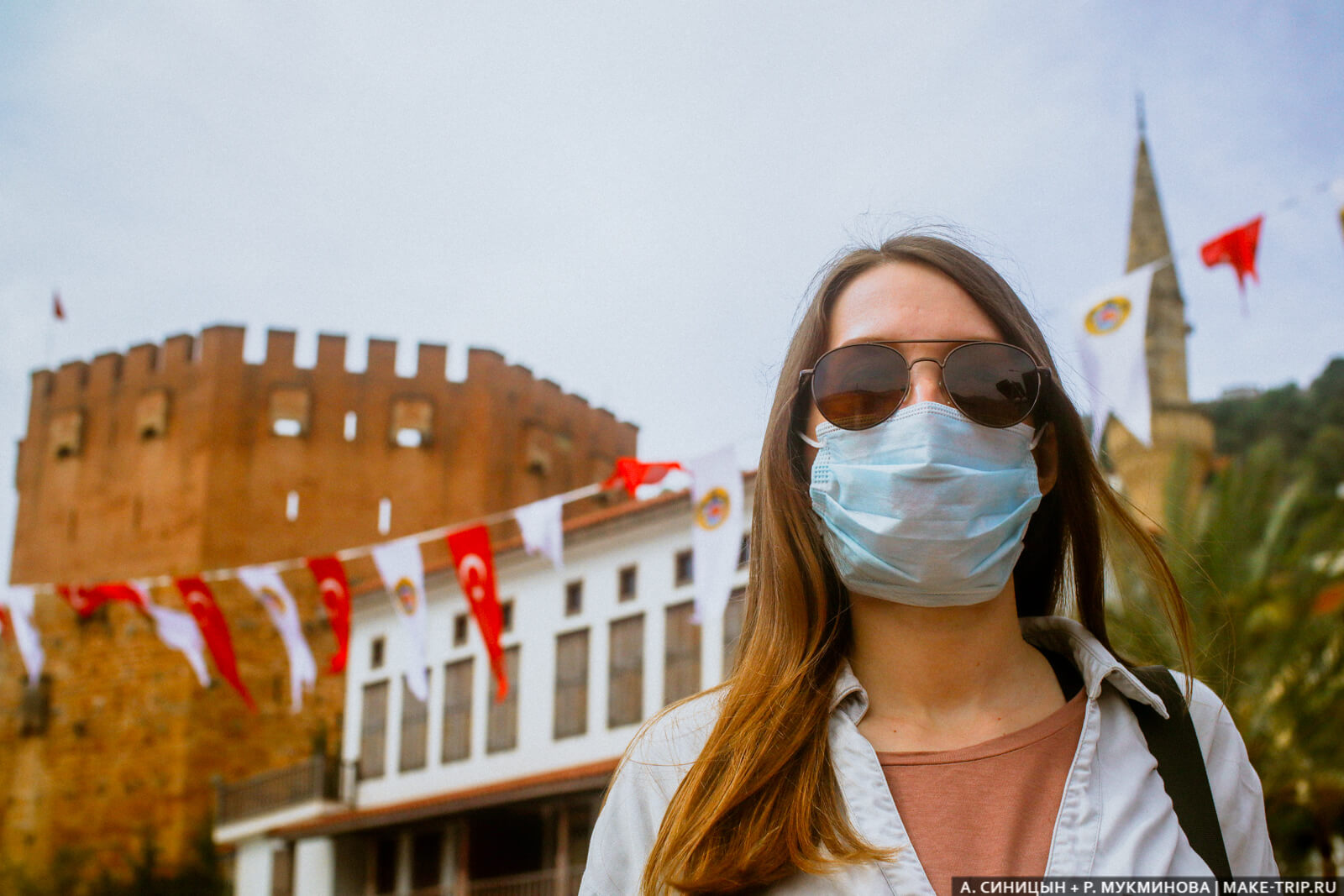 Let's see what tourists say about vacationing in Turkey now, during such a difficult situation. Is it safe in the country? How are the Russians treated in Turkey? Are there any covid restrictions? Is it comfortable to rest and travel? We share our personal experience and opinions of other tourists.
Contents:
Is it safe in Turkey now?
If you are in doubt whether it is worth to go on holiday to Turkey now – do not doubt and go! According to numerous reviews of tourists, Turkey is calm, good and safe. The country is open to Russian tourists, but it still has a number of coronavirus restrictions. However, they are gradually softening.
In general, now at the resorts as usual. Cafes, restaurants, stores, hotels, excursions and animation are working. Is that somewhere still asked to wear masks. Now remind of the coronavirus only security measures, which are quite strictly enforced, especially in the big "five": disinfection, the new rules of the buffet and other – I wrote more about it below.
How the Russians are treated in Turkey now
Many people because of the current situation are afraid to go to Turkey (and anywhere else). The media are stirring up this fear and giving the impression that Russians are hated abroad. This is not true: according to reports from Russians living or staying abroad, everyone is generally friendly and expresses sympathy and compassion. I've seen reviews in Telegram channels and on Vinsky's forum that some even help Russians who are stuck abroad.
Of course, a lot depends on the environment, and you can come across discrimination – in any herd there is a black sheep. But still, most people are reasonable and separate politics from the people. Of course, there are countries where there are xenophobic attitudes now, such as Georgia (not everywhere, but the problem is present – read interviews with Russians on Esquire and RBC). Remember, however, that many locals are out of politics and are equally at ease with all foreigners. Not everyone can tell a Russian from a Ukrainian or a Byelorussian, and Russian sounds to them like any Slavic language.
And what about Turkey? According to feedback from tourists, the Russians in Turkey are still treated well, nothing has changed in this regard. Turks remain neutral and behave diplomatically. Is that the prices for rental property have risen by half.
In Turkey now live permanently or temporarily a lot of Russians, and in the cities there are Russian diasporas, where you can find support and help.
Another fear of many Russian tourists is to encounter aggression from Ukrainians abroad. According to tourist reviews, such incidents sometimes occur, but we understand that the incidents are few and far between, and mostly occur when someone is passionate about demonstrating his or her political views in public. We advise you to stay out of the way and stay out of discussions. If you suddenly faced with attacks on nationality in Turkey, read what to do in such a situation.
Representatives of Turkish hotels assure that the nationality of guests does not matter for them, and in case of conflict between the guests they will immediately call the gendarmerie. TourDom.ru spoke with a representative of the hotel L`Oceanica and this is what she said: "Our hotel has guests of different nationalities – Russians, Ukrainians, Belarusians, Kazakhs, Bulgarians, Balts, there are two families from Great Britain. They all live on the same territory and share the same infrastructure. We do not distinguish between them, all guests live together. Your tourists can be advised not to raise political issues and not to support polemics on this subject." The hotel representative added that only women and children come from Ukraine. Men are not allowed out of Ukraine now, so the likelihood of conflict is very low.
Read a review of a Russian woman living in Turkey: "I have not heard any stories about negativity from the Turks. I think Turkish citizens do not understand what is going on, so they are in no hurry to judge. Waiters, sales clerks, cab drivers who hear our Russian speech, on the contrary, ask us questions: What? How? And why? But I read information about the growing conflicts and aggression between Russians and Ukrainians. That in the last week the city's prosecutor's office has received more than 200 complaints from Russian tourists about threats and insults on ethnic grounds. And some car service stations in Alanya reported cars received with scratches or doused with paint. I do not know how reliable this information is; we cross paths with Ukrainians, they hear our speech, but we did not notice any slanting glances or verbal aggression, rather sadness and pain in the eyes of displaced people".
On the Vinsky forum they write: "Everything is the same as before, the attitude to the Russians has not changed. Were on several days in villages, in Antalya and Istanbul. And once no one asked or said anything about the current events. The locals live their lives.
Kaputas beach is usually crowded with tourists, but during the lockdown we were almost alone there. And this is Mermerli beach in Antalya, when the restrictions had already been loosened. There was life.
Entrance rules in Turkey now
The Turkish authorities really want to see you in their resorts, so they made the entry requirements extremely easy. You now need only. bring your passport! No more certificates, tests, and bureaucratic hassles in the form of HES codes.
Read at the end of this article about the nuances of returning to Russia.
Do I have to wear a mask in Turkey?
The requirements have been appreciably relaxed: they no longer ask for an HES code everywhere, and the mask is now necessary to wear only in some areas, for example in public transport and hospitals. But during the spring lockdown of 2021, locals and tourists had to wear masks even on the street. Everything was strict: the police made sure that masks were worn and asked to wear one. Politely, they never once pestered us, although I read a nightmarish review on the Vinsky forum about the lawlessness of the police and an attempt to impose a fine on a couple of tourists. By the way, during the lockdown for refusing to wear a mask was a fine as much as 900 lire!
There was one absurd incident with masks – the police at the ruins of Side asked us to wear them even though there was no one around. Wearing a mask in the ruins in the open air, where there are no tourists at all, is beyond me.
On the streets there is no need to wear a mask anymore.
How hotels in Turkey work now
The hotel business was badly shaken during the pandemic, and many had to adapt quickly to survive. Most importantly, hotels were required to obtain "health certificates. That is, meet the safety criteria. Without it the hotel can not operate. According to feedback from tourists and our opinion, thanks to the introduction of certificates, service and cleanliness have greatly improved! We told you how to check Turkish hotels for the certificate.
What has changed in the hotels and what security measures have been taken:
Occupancy should be no more than 65%.
Cutlery is now individually served.
The buffet has undergone a metamorphosis.
Towels and bathrobes are sealed and sealed.
Some hotels measure the temperature – at the entrance to the hotel itself and the restaurants.
Some hotels treat suitcases.
Everything is disinfected.
All staff wear masks.
To get into the fitness room or sauna, you have to sign up. There is a limit on the number of people.
Now these anti-coveting measures are gradually being relaxed.
Let me explain about the buffet . When we vacationed, it was impossible to come close to the racks with food – it was behind glass or was fenced off. The food was served by the staff, and we just served a plate and said or showed what we wanted. It was also impossible to pour drinks by ourselves. But now, according to reviews by tourists, this practice is left at the discretion of hotels. In some hotels the usual tourist buffet is fully restored, and at the entrance are given masks and disposable gloves – such a clever solution to the problem!
For example, that's what they do at the Commodore Elite Suites & Spa 5*.
We were surprised, but the measures are really respected – it's not a fiction. So if you care about safety and hygiene, then everything is great in Turkey. We just did not like that according to new rules in the rooms in many hotels now are disposable tableware, and bathrobes and kettles are not everywhere. I was also uncomfortable asking the staff to put food on (I think I'm the only one who is so squeamish). And otherwise all of this had no effect on our vacation!
The food is put on by the staff. We went without masks during lockdown at the hotel, but wore them at the entrance to the hotel restaurant. This rule was left up to the discretion of the hotel. Animation, dancing, water parks, pools, saunas, water slides, tennis courts, fitness rooms – everything works in the hotels!
Our review of hotels in Turkey
All of the above security measures are observed in the hotels where we vacationed. So we advise Kleopatra Atlas 4* and Sunprime C-Lounge 5* adult only in Alanya, Aska Lara Resort & Spa 5* with water park in Antalya and stylish Bosphorus Sorgun 5* in Side. The last two are good for families with children.
Read our detailed reviews of hotels in Turkey:
We find the most profitable tours on Travelate and Level.Travel – they are convenient and reliable sites that compare offers of all tour operators in minutes. Learn how to buy tours cheaper, and be sure to use promo codes for discounts.
Sunprime C-Lounge 5* adult only in Alanya liked it best. Note that the towels and bathrobes are individually wrapped. Bosphorus Sorgun 5* in Side.
How not to miscalculate with excursions
When we vacationed in Turkey, we took some great excursions. We loved it, so we would recommend it to you:
– A stunningly interesting tour of the amazing Cappadocia. – Clear water, white sand, picturesque bays, turtles. – Walking through the epic "Turkish fjords" and fishing. with an intelligent guide. We wrote a separate review about it, we liked it so much! – A boat ride to the beach, healing mud, sea turtles and Lycian tombs.
I also suggest going to Cappadocia and Pamukkale – beautiful places to see! We went there by rented car, but you can take a group or individual tour. I advise you to look for them on our favorite service Tripster – there are reviews of tourists.
In Turkey, interesting excursions, and almost all the tourists speak of them excellent. Well, there are pitfalls to be aware of. Read the truth about tours in Turkey.
See interesting excursions from different resorts:
Lyosha on an excursion to Green Canyon. Boat trips are the most popular excursions in Turkish resorts.
Pros and cons of vacationing in Turkey now
We traveled through Turkey during their grand three-week lockdown in May, when all the locals were locked in their homes by the authorities and everything around them resembled post-apocalypse movies. It was a pity for the Turks and tourists who didn't manage to get into the country, but we were so buzzed by the holiday in deserted Turkey!
Then tourism slowly began to come back to life, when suddenly a new blow came. Turkey was flooded not with a flood of Russian tourists, but with refugees and forced migrants. The prices of tours, flights, hotels and rents rose legitimately. And because of the fall in the lira exchange rate the prices of food, food and services have grown. Despite all this, the pluses of a holiday in Turkey now:
For Russians is very easy entry into the country.
There are tours and flights.
You can withdraw money and pay with a card "MIR" (but not everywhere).
Friendly attitude towards Russians.
There are considerably fewer tourists than usual.
Hotels are adhering to security measures.
No restrictions for tourists (the Turks are good: they were not even in the most stringent lockdown!).
All the charms of "all inclusive" preserved.
The minuses of rest now very little:
Problems with bank cards.
Vacationing has become expensive.
PCR test on return for the unvaccinated.
Some inconvenience in hotels due to security measures.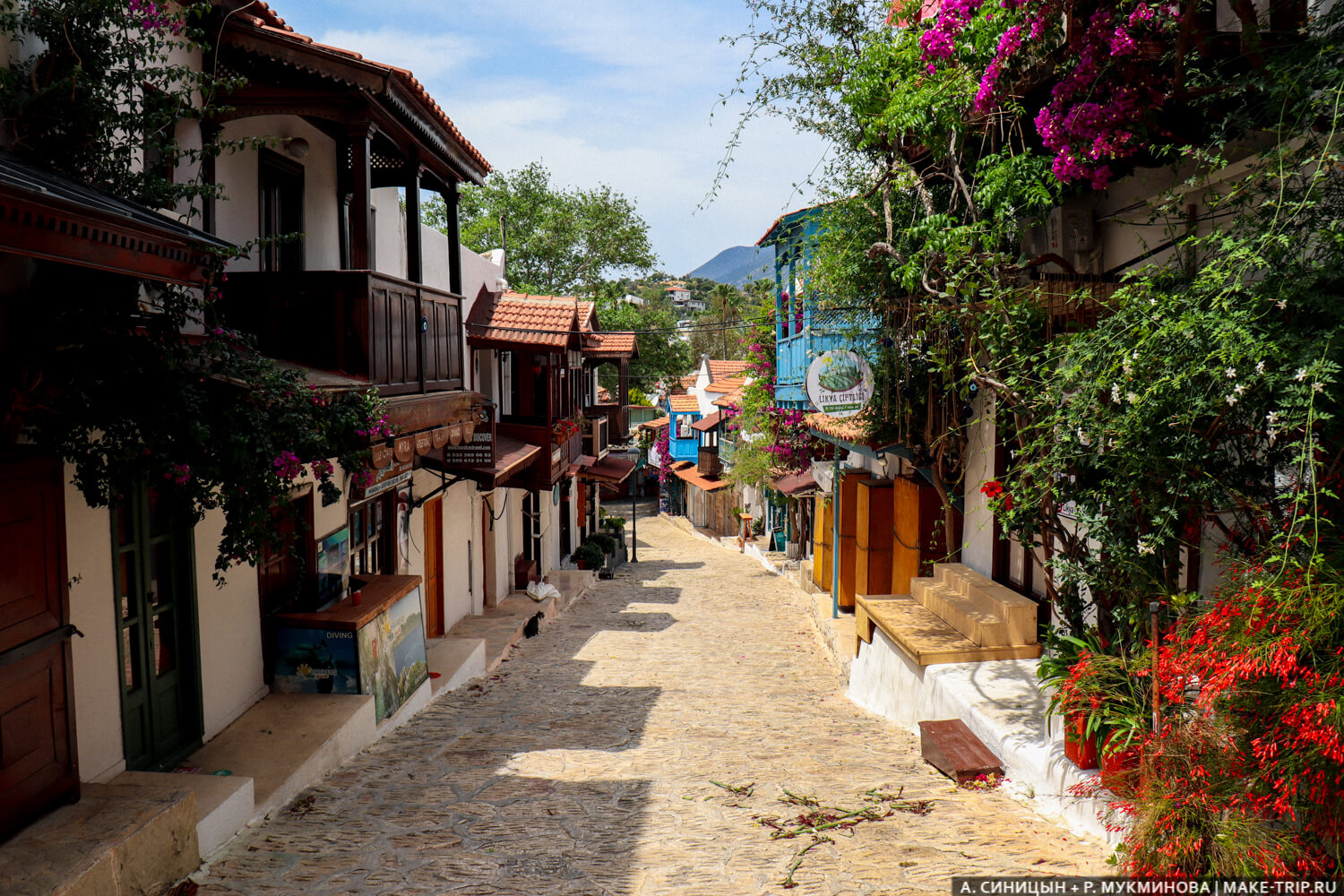 Empty streets of the popular resort of Kash – this is something you will probably never see again.
Tips for your holiday in Turkey now
The most important thing – wear a mask in rooms with a crowd of people, do not come into contact with people, wash your hands, do not touch your face. Well, these rules for the pandemic are ingrained in the blood, so here I will give other advice.
The most important thing is to be aware of the rules for entering Turkey. The conditions are constantly changing!
Before travelling, obtain a "MIR" card. You may only withdraw cash from this card at ATMs of İş Bankası, Ziraat Bankası, Vakifbank and DenizBank. You can only pay with it if a cafe, hotel or store has a terminal of one of these banks. Have some cash on hand too. Learn how to withdraw money in Turkey without a fee in 2022.
In these challenging times, you should only go on vacation with insurance. You can buy cheap and easy insurance with Cherehapa – the policy with coronavirus treatment costs from 400 rubles for a week, plus they have a handy website and good customer service. We always use it ourselves. The tour is usually already included in the insurance, but check whether it covers kovid.
For independent tourists, I strongly advise to rent a car and build an exciting route. It is easy and will give a lot of impressions! Read how to rent a car in Turkey.
If you are not vaccinated, when you return to Russia, do not forget to take a PCR test within 3 days, and within 4 days after arrival to upload it on Gosusluzhba.
More tips: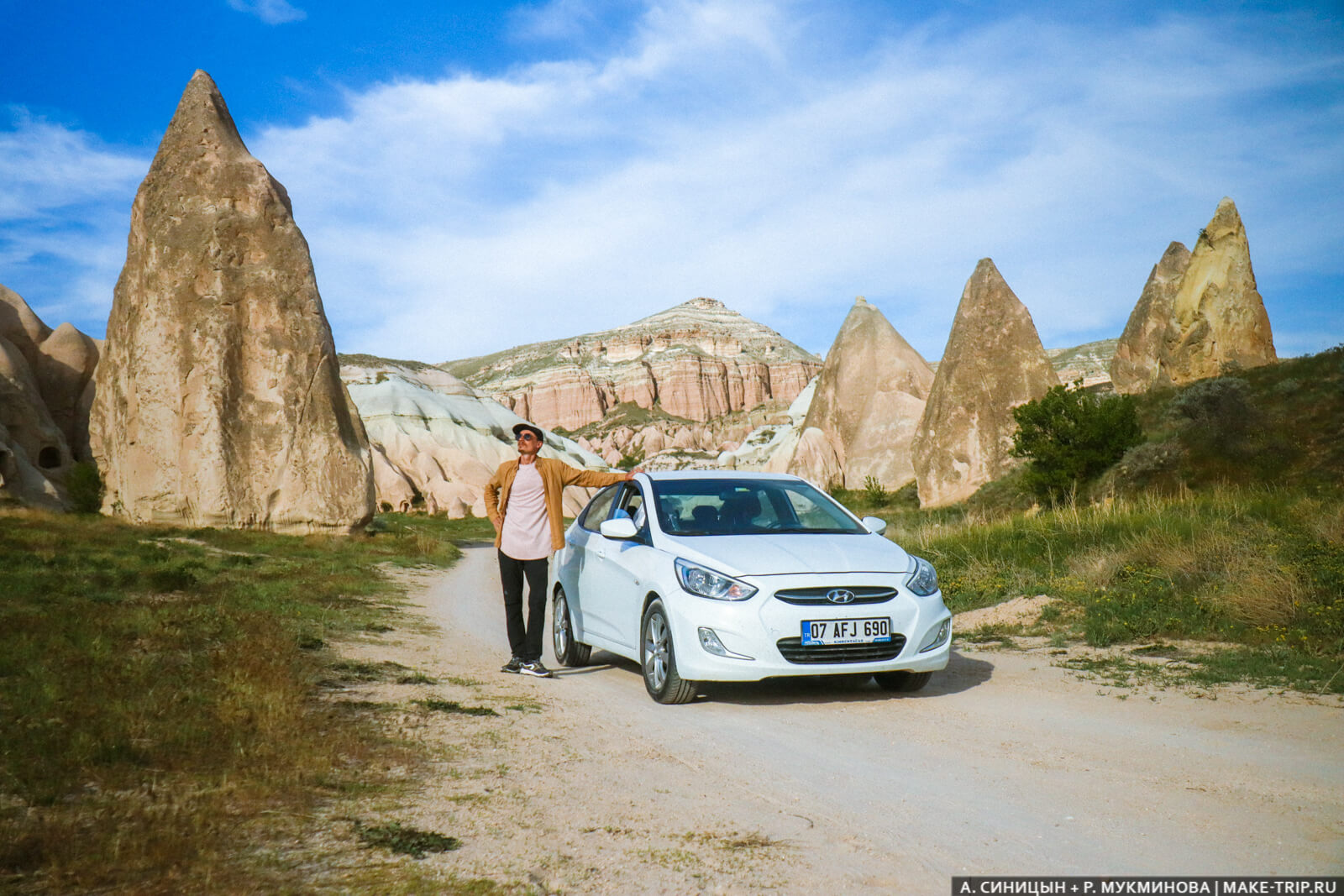 Rent a car on vacation, and get a lot of impressions!