Around Baikal by car in 8 days
We usually celebrated our wedding anniversary in some European city, taking our time to explore the streets and the local culture and food, but this time we decided to go to Baikal. The decision was not an easy one, because we knew that the place would be wild, we would face the harsh domestic reality, and it would be difficult to make a plan. So it was, but the beauty of Baikal was calling us, which motivated us a lot. Agree, when you have traveled through a number of Asian, European countries and have already been to Latin America, it is a little uncomfortable to think that successfully drove the entire Costa Rica along and was almost everywhere, and the native country only to the Urals.
So we bought tickets on a direct S7 flight from St. Petersburg to Irkutsk, we had 9 days in total, of which 1 fell out at once because of the time difference. We took off at lunch from Pulkovo, 6 hours later were at the airport in Irkutsk, where it was already midnight, so we do not count the day, the total of 8 days.
Looking ahead I will tell you the difficulties we had and were ready for:
1. 1. The car will not go to an international rental agency, you will need to find a local dealer, the payment will be made only in cash, cash deposit, advance payment in advance, they will withhold a small amount to pay fines after returning the car, and if there are no fines they will return the car.
2. There is a sense to reserve excursions in advance, as on a place it is not difficult, but it is necessary to lose time to be registered on the next day, or to enter successfully into the current excursion, but to be on a place early, however, there is a risk that there will be no places. If you sign up for the next day, it turns out that the place to stay for 1 extra night, that in our time limit did not fit.
3. Not all travel agencies respond by mail, not all willing to correspond and after receiving the request. It is better to call directly, preferably get on someone younger who will keep in touch with you and then, in my case, it is desirable to be in touch on WhatsApp until the date of the tour.
4. With the reserves is difficult, out of three I was answered one, but it was already great luck, because by that time I had already reconciled to the fact that the usual communication and let's call it "service" will not be, you have to be prepared for this everywhere.
5. Many places there is no connection, you can only look at the map, where you move at the moment, but the locals say that the best in their catch is Tele2, but not MTS, for example. What does this have to do with? The towers had been bought by Tele2 from a small cellular operator and they cover the whole area, but that doesn't mean there is no connection at all. But that doesn't mean that there are no connection at all. You can have connection in the towns, small villages but not on the route, in the mountains, on Olkhon outside Khuzhir, in the nature reserve etc.
6. ATMs of large banks are only in Irkutsk, our cards allow you to withdraw from any without commission, looking for them through 2Gis. Pay anything by card outside Irkutsk, but not at all gas stations, not in all settlements and not in every store and cafe. The farther away from Irkutsk, the fewer such places, and if they exist, there may be a transaction fee. It is easier to have cash on you than to solve the quest "where do we withdraw money?
Day 1: Irkutsk
We flew in late at night. it was 1 a.m. when we got to the hotel, we did nothing but get to our destination that day.
Day 2. Irkutsk – Listvyanka
Waking up in Irkutsk we drove by uber to the car rental office, found very easily, faced the local color from point 1. We were ready for that, so we easily jumped into a 2018 Hundai Creta and drove to Lenta. We stocked up on a small list of items and groceries that had been made in advance. We had a room booked in the Buguldeika area in a few days where there are no stores, cafes or breakfast at the hotel, so we bought some food right away for that day, as well as tick spray, a pack of water, little things like wet wipes, etc.
We planned to see Irkutsk one last time, so without losing time we went to the highway Irkutsk – Listvyanka, the way was to the ethnographic museum Taltsy. It's a wonderful place, quite a big area on the Angara river, more than 60 houses and a lot of exhibits brought from different parts of the Irkutsk region. On the site it was mentioned that you can book a guided tour or a sightseeing tour, but you can also wander around on your own. My personal opinion, on your own is not as interesting as with a guide. We were very pleased that we booked a tour in advance, so many things, bylinas, peculiarities of life and history of the complex itself you can not learn on your own, as from a local. We chose the subject of Siberian tea, you can try it there, there are a lot of variants, there is a small cafe with local food and pancakes. At the end we met the inhabitants of the mini-zoo on the territory of the museum.
After the museum our way went to Listvyanka, where there was a lot to do. From that we chose: Nerpinarian (attention, on the site is not correct timetable), quay, local market (purely touristy, the same in Irkutsk is cheaper and much more), Chersky stone, Dendropark. I remember the view from the Chersky stone most of all, time just stands still there on a height, the view is luxurious, silence and calmness. We went by google-map two different routes in both directions, back down the trail, where the cable car passes. The route is very easy, fairly gentle, anyone can do it. We spent the rest of the evening on the balcony with a view of the two tumbling mountains and Lake Baikal in between.
How to go to Baikal by car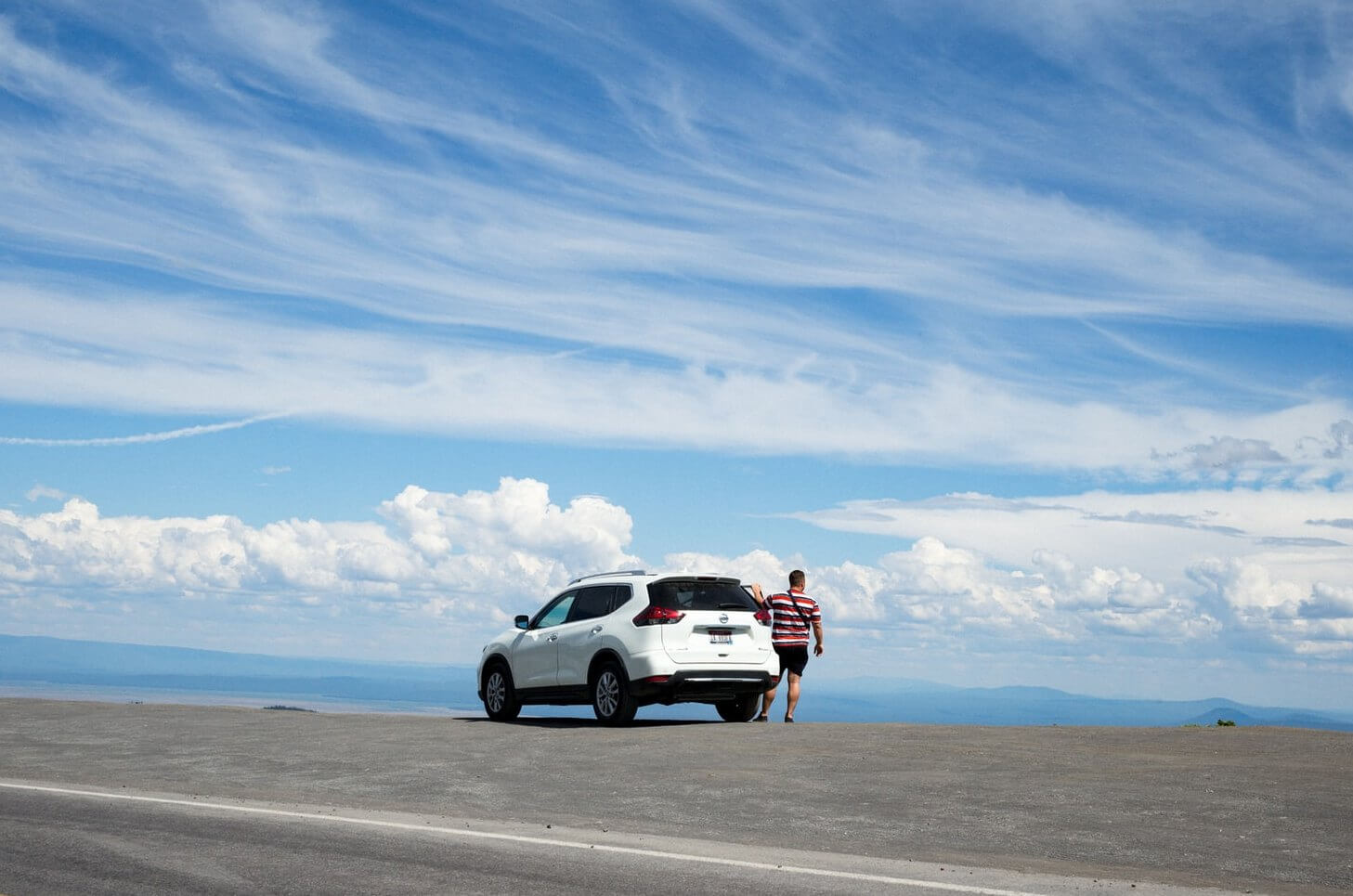 Planning to visit Baikal by car? We have collected valuable practical tips and reviews from car travelers that will help you organize your trip in summer 2022 and give you an idea of what to expect on the road.
A trip by car to Baikal is always a small adventure, and if you start from Moscow or St. Petersburg, it's a whole journey. While planning your route you will need to remember that you will be able to get to Baikal from the three nearest Baikal towns – Irkutsk, Severobaikalsk and Ulan-Ude.
How to reach Baikal by Car
From Moscow
The distance from Moscow to Baikal is more than 5,000 kilometers (5,200-5,300 kilometers depending on the chosen route). The way lies along the federal highways M-7 "Volga" and M-53 (P255) "Siberia" – via Nizhny Novgorod to Kazan, Ufa, Chelyabinsk, Tyumen, Omsk, Novosibirsk, Krasnoyarsk, Irkutsk. The second option is from Moscow via Kirov to Yekaterinburg, Tyumen and then along the same route. During this time, travelers will change five time zones.
From St. Petersburg
By car to Baikal from St. Petersburg you can go through Tikhvin (A114) to Vologda, then to Kirov, Yekaterinburg, Omsk, Novosibirsk, Kemerovo, Krasnoyarsk, Irkutsk. The distance is about 5,800 km. The second popular route is by M-10 to Moscow, and from there by any route, listed above.
From other cities of Russia
From Yekaterinburg to Baikal by car it is best to take the federal highways P-351 through Tyumen, P-402 to Ishim, Omsk and P-254, P-255 to Kemerovo and Krasnoyarsk. The distance to Irkutsk is about 3500 km.
The distance to Novosibirsk-Irkutsk is about 1,850 km. The main route is P-255 to Kemerovo, Krasnoyarsk.
From Krasnoyarsk the distance to Irkutsk is almost 1100 km, the main route is M-53 (P-255). According to reviews, the road is good, but in some places there are repair works.
You will be interested to know: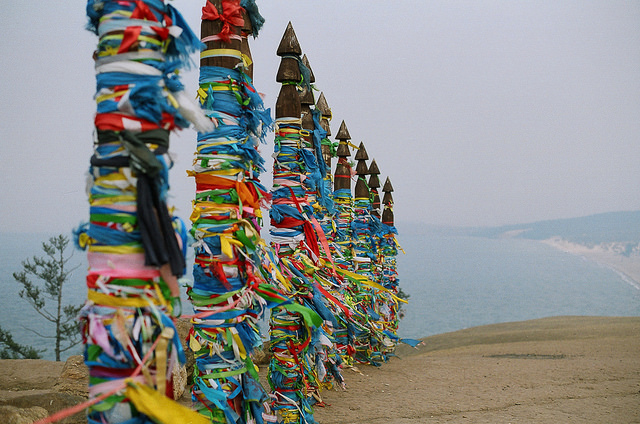 (Photo: marla_rochester / flickr.com / License CC BY-NC-ND 2.0)
The road to Baikal according to travel reviews
Given the long distance and length of the trip, you should make sure that the vehicle is in good technical condition. The main trouble is bad sections of roads, which is dangerous for the suspension and tires. The possibility of minor damage is always there, so the spare, spare parts and rope must be taken with you.
As you get further away from Moscow, the distance between the cities increases. Because of the difference in time zones two hours "disappear" in Ufa, then one hour in Omsk, Krasnoyarsk and Tulun. And every hour of such trip is quite appreciable, so it is better to plan the lodging in advance. Not all sites have motels, you may have to deviate from the set course. According to feedback from tourists, someone not to waste time and get to the lake as soon as possible, sleep in the car, and some tourists are not in a hurry and stop in major cities to see the sights. Mandatory ritual – a commemorative photo near the monument Europe-Asia. We advise you not to take chances and stay at a hotel, because the way to Baikal by car is quite tiring.
The travelers who went to Baikal by car, in their reviews noted that, in general, the condition of federal highways is satisfactory, although there are some difficult sections. The road from Ekaterinburg to Tyumen makes me sad by its traffic – there are a lot of trucks, overtaking is problematic. Closer to Tyumen is a good free road with two lanes in each direction.
Near Omsk, the road is good, but near Ishim there is a bad part. Drivers unanimously called Ishim-Abatskoye the worst section. It is possible that this season the road will already be repaired. Up to Novosibirsk, the route is unloaded, flat and monotonous: birch groves, steppes and a complete lack of settlements for hundreds of kilometers.
Useful tips:
(Photo: Geoff S. / flickr.com / License CC BY-NC 2.0)
Tourist tips for traveling to Baikal by car
When to go to Baikal. Most locals and experienced travelers assure: the best time to travel to Baikal is from mid-July to mid-August. There are a lot of tourists, but the weather is good and the nights are warm. Another period, popular with travelers, is early spring, when it is not so cold, but at the same time you can catch the famous blue lake ice.
What to take with you. Even in summer at Baikal there may be strong temperature differences (difference of 10-15°C), and the weather may be just unpredictable. So you must take sunscreen, first-aid kit and warm clothes (autumn jackets, sweaters, warm socks). In first-aid kit – drugs for allergies and colds, for diarrhea, painkillers. If you're planning to live in a tent and camping wilderness, think thoroughly about your outfit and don't forget all the necessary camping things.
Gasoline. The most common gasoline brand in Siberia is Gazpromneft. Feature of Siberian roads – gas stations are not often found here, about every 50 km. After Krasnoyarsk distances are even greater, so it's better to fill up a full tank and periodically refill, keeping a reserve of fuel for 200 kilometers.
ROAD POLICE. The regularity here is simple – the farther into Siberia, the less traffic. Even beyond Omsk, the number of traffic police becomes significantly smaller. But this does not mean that you may break the law: the surveillance cameras capture everything.
Food and lodging . The density of cafes, gas stations, hotels and small stores on the route is quite high. Travellers will not stay hungry and cold too. It is cheaper to stay overnight at roadside motels than in cities. You can find quite decent 3-bed room for 1500 rubles with free parking. You can save money and sleep in your car at a truck stop, but it is easy to spend 1 night in such mode, not 5-6 days.
Money. It is desirable to take cash with you, cashless payment is not too common, and ATMs are only in cities.
Atlases and GPS. Going to such a long trip by car it is better to have a paper map and GPS navigator. The route is unfamiliar, it is easy to get confused and go astray. Relying entirely on the GPS-navigator is impossible, many travelers say that the technique is cheating, many objects are recognized incorrectly. Of course, much depends on the maps, which are loaded.
Ticks. Activity of ticks peaks in May and June. In August, they are also there, but not as active. The main precautions are to cover body parts with clothes, wear headgear, especially when crossing the forest area. You can treat your clothes, your tent and sleeping bags with agents against ticks.
Roads in Baikal. They are extremely bad in some places. On Olkhon Island it is unpaved and heavily rutted. The way from Irkutsk to Olkhon along R-418 road (Irkutsk – Kachug) through Elantsy to Sakhyurt ferry takes not less than 6 hours. In summer there are long queues at the ferry, especially on weekends. All parts of the lake are poorly connected and the shortest way is by water.
What to see. Lake Baikal is not only the popular Olkhon and Listvyanka. Read what other interesting places Baikal has to offer.
Your own trip to Baikal by car is not an easy one. It is a long, difficult and sometimes bumpy way, but it is a great opportunity to see all the beauty of Russia with your own eyes. By car you are free to make your own schedule and choose your own route, which makes the trip much more interesting and eventful.