How to travel to Bulgaria by car
Which countries can I go to Bulgaria by car? Which route lies through the Ukraine and a detour? Documents for border control in 2022, Bulgarian roads, places for recreation and popular routes. Tips and reviews of tourists.
Warning . The information in the article may not be relevant due to restrictions during the pandemic. Check the possibility of crossing borders in 2022 with official sources.
Renting a car is the best way to travel! Localrent.com is a reliable and convenient car rental service in Bulgaria. Choose a car for your taste and budget – the choice is wide. The cost of renting a car from 8 euros a day. Do you have any questions? Russian speaking support service will help you with everything.
Look for excursions on the Tripster site. Individual and group, without crowds of tourists and in Russian.
Travelling to Bulgaria by car is attracting more and more tourists. It takes 3-4 days to get from the European part of Russia to this country. Self-guided car trip allows you to sunbathe on sandy beaches, relax at thermal resorts, take part in national festivals, see ancient temples and admire the natural monuments of Bulgaria.
Content:
How much to drive to Bulgaria by car
| | | |
| --- | --- | --- |
| Place of departure | Distance in kilometers | Travel time |
| Moscow | 2050 | 26 hours |
| Saint-Petersburg | 3110 | 1.5-2 days |
| Minsk | 1660 | 1 day |
| Gomel | 1460 | 20 hours |
| Tula | 1910 | 25 hours |
| Yekaterinburg | 3730 | 2 days |
| Nizhny Novgorod | 2480 | 1.5 days |
Routes to Bulgaria by car
You can get to Bulgaria in different ways. The shortest route runs through Ukraine. To bypass Ukraine, autotourists from Russia transit through several European countries.
Through Ukraine
The fastest way to Bulgaria is via Ukraine. There are three main roads for independent travelling by car. Each of them has its advantages and weaknesses:
Through Zhitomir, Chernivtsi and then – through the Romanian city of Suceava. This option is advantageous due to the small number of border crossings, the absence of mountainous road segments and the good quality of the road pavement.
Through Odessa, the southern part of Ukraine and Moldova, and Romania. Some roads on this route leave much to be desired.
Through Kiev, Dubasari (Transnistria), Chisinau (Moldova) and Romania. Unfortunately, the shortest route cannot be driven quickly. A lot of time is taken by border crossing.
Border Romania – Bulgaria. Negru Voda (Romania) – Kardam (Bulgaria).
By car to Bulgaria bypassing Ukraine
To bypass the Ukrainian territory, tourists take highways of Belarus, Poland and Slovakia, and then go through Hungary, Romania or Serbia. The detour from Moscow to Varna takes 3 days (3050 km). During the long road you need at least two overnight stays. It is convenient to stop in Lublin and Budapest.
The trip is long, so a lot of gasoline and money are spent for it – you need from 300 euros to get from the cities of European Russia to Sofia.
In transit countries, car tourists are required to buy a vignette to travel on local roads. A Moldovan vignette costs €3 for 7 days, €8 for 15 days, and €14 for 30 days. Vignette for travel on roads of Romania, or rovinieta, costs 3 euros for 7 days and 7 euros for 30 days.
From Russia (Moscow) to Bulgaria by car – map of the route.
Border crossing.
Visa. Bulgaria is a full member of the European Community, but it is not included in the Schengen area. For entrance to this country in 2022 the citizens of Russia must obtain a Bulgarian visa. It's made within 5 working days.
The document package for the visa includes a passport, questionnaire, a photo, medical insurance covering 30.000 €, hotel reservation confirmation, financial solvency information, car documents and a copy of your Green Card. Bulgarian national visa costs 35 euros plus a service charge of 19 euros. The fee for an express visa is 70 euros.
If you travel to Bulgaria by car passes through the territory of Poland as well as Slovakia and Hungary, you need a Schengen visa. Under the current rules it is allowed to travel to Bulgaria on a double or multiple Schengen visa. Experienced tourists are advised not to waste time on obtaining a national visa, and immediately apply for a Schengen multiple visa to Poland.
(Photo: Gatanass / flickr.com / License CC BY-SA 2.0)
Border control and customs regulations. Checkpoints at the borders of transit countries are open 24 hours a day. Border control and standing in queues usually takes from one and a half to four hours. The Romanian Customs takes its shifts from 7 a.m. to 8 a.m. and from 7 a.m. to 8 p.m. During this time, no vehicle is allowed in or out of the country.
According to the customs rules it is not allowed to bring meat and milk products into Romania, Bulgaria and all EU countries. Only take food with you on the road, as all products are easy to buy on the road and in Bulgaria itself.
You are allowed up to 1 liter of spirits, 2 liters of wine, and 5 liters of beer per adult tourist. You may bring up to 40 cigarettes (2 packs) and personal medication for 3 months. If you have a chronic illness, bring a prescription for medication.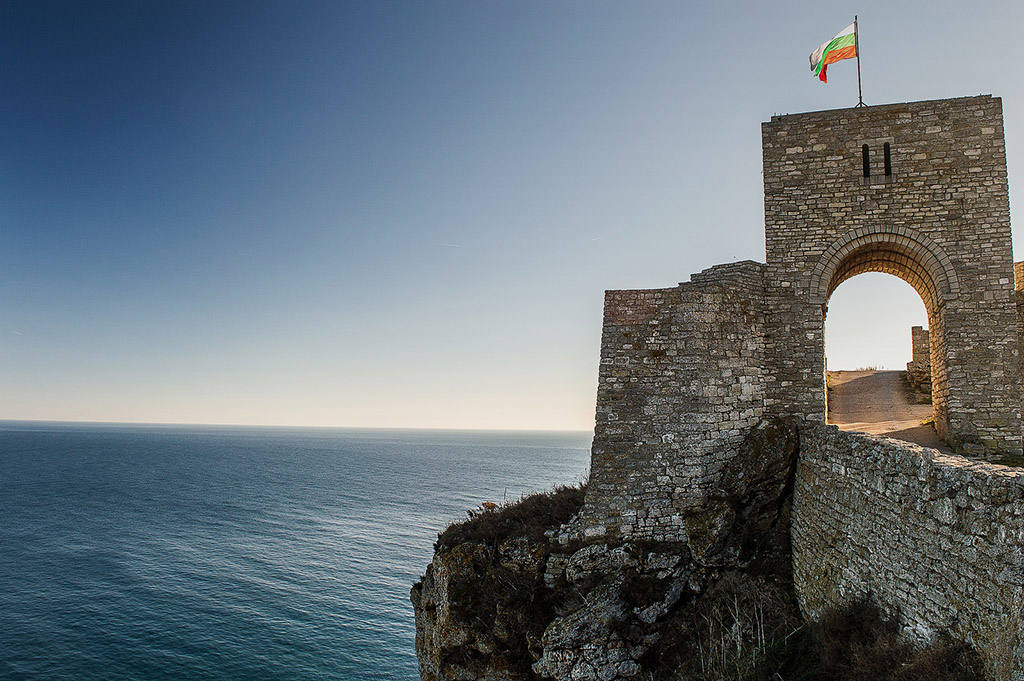 (Photo: Balcon del Mundo / flickr.com / CC BY-SA 2.0 license)
Roads in Bulgaria.
All car tourists in Bulgaria like good roads, clear markings and clear road signs. The Burgas-Sofia and Varna-Sofia autobahns especially impress travelers. The travelers note that the Bulgarian drivers are more disciplined than the Romanian ones, and always warn the oncoming cars about the checkpoints of the traffic police with flashing lights.
Vignettes. You have to pay to use the Bulgarian road network. A vignette for passenger cars costs €8 for 7 days and €15 for 30 days. Vignettes are sold at the Bulgarian border and at gas stations. According to the rules the driver is obliged to affix the vignette in the right lower corner of the windshield and take it off when it expires. The presence of the vignette is checked by special cameras, and the lack of it will result in a fine of 150 euros.
Rules of the road. Before going to Bulgaria by car study the Bulgarian traffic regulations. It is convenient that they are similar to the Russian ones in many aspects.
There must be a first-aid kit, a fire extinguisher (they may check the validity period), two warning signs and a reflective vest in the car.
The speed limit for driving in cities and towns is 50 km/h, 90 km/h outside cities, 20 km/h in the pedestrian zone, and 120 km/h on motorways.
It is forbidden to use anti-radar and drive on studded tires.
From November to March the car must have winter tires.
The driver is obliged to turn on dipped beam at any time of the day, otherwise – a fine of 10 euros.
It is forbidden to use a cell phone without a headset.
Tinting the windshield and side windows of the car is prohibited.
Seat belts are obligatory for everyone, including passengers in the back seat.
Parking lots. In almost all towns of Bulgaria parking parking is paid, and in the peak tourist season it's rather difficult to find a free place. The cost per hour is 0,5-1 euro. You can pay in cash to the valet, through special machines or by sms. Parking is free on Sundays. You will have to pay a fine of 10 euros for parking in a place for disabled people.
Gasoline. Diesel fuel in Bulgaria will cost 1.17 euros per liter in 2022, gasoline 95 – 1.15 euros, and gasoline 98 – 1.30 euros. Approximately the same amount will have to be paid for fuel in transit countries.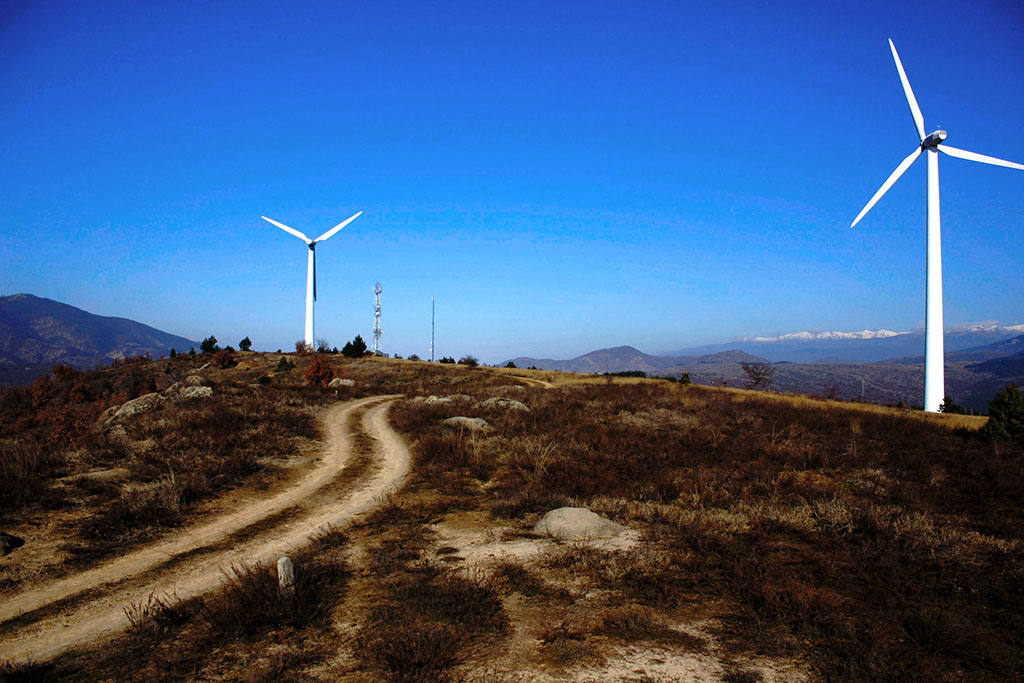 (Photo: unsplash.com / @ptochka)
Itinerary for your trip to Bulgaria
Where to visit during a car trip to Bulgaria and what to see in the country? Travelling to Sunny Beach, the largest seaside resort on the Black Sea coast, is popular with tourists. They come here to bathe in the clear sea and sunbathe on fine sandy beaches. Sunny Beach is one of the first cities in Europe – the old town of Nessebar, which is now protected by UNESCO.
From the most popular Bulgarian resort along the sea is a convenient drive to Bourgas. The distance of 35 km can be covered in 40 minutes. In the ancient city it is interesting to visit the orthodox churches and visit the exhibition of sand sculptures.
A useful selection: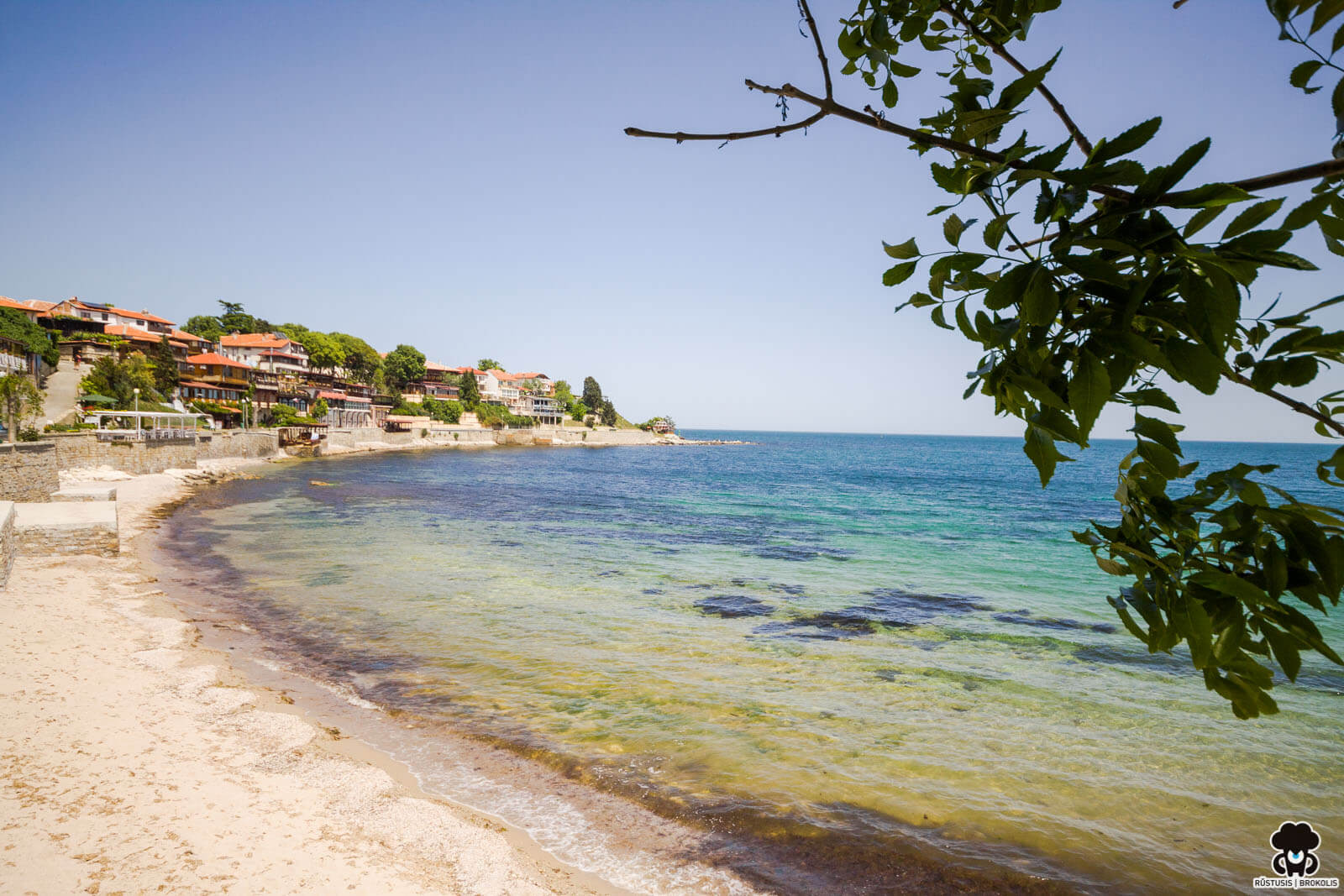 (Photo: Scowl Broccoli / flickr.com / License CC BY-NC-ND 2.0)
Just over 100 km separates Nessebar from Varna, where there are several beautiful churches, eco park and green parks. Next to the large coastal town there is the ancient rock monastery Aladzha.
Many tourists take a trip from Varna to the ancient capital of the country – Veliko Tarnovo. The distance of 221 km is easily covered in 2.5-3 hours by the Autobahn A2 and the highway E772. The beautiful city on three hills attracts travelers with its narrow streets and ancient architecture, the residence of the Bulgarian kings, the Patriarch cathedral, the quarter of artisans and the Tsarevets fortress.
A useful selection: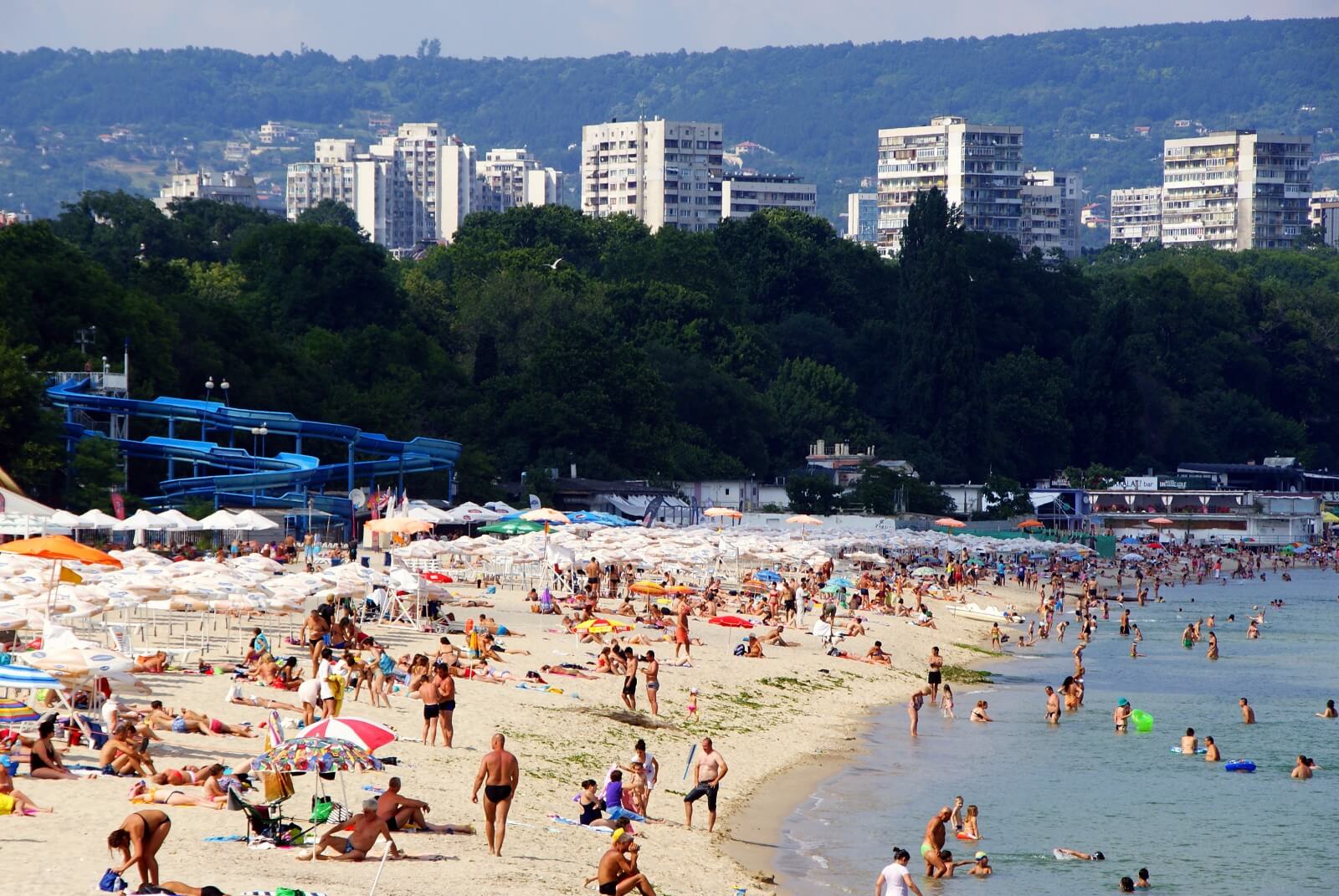 (Photo: Złota Bułgaria / flickr.com / License CC BY-NC-ND 2.0)
When traveling by car through Bulgaria from Veliko Tarnovo, the route south through the laughing capital of Gabrovo and the famed Shipka Pass to Kazanlak is interesting . If you take the scenic road through the mountains from the second half of May to June, you can see the blooming Valley of Roses.
Some travelers stop in Pleven . The old town is famous for the Skobelev Park, the panorama "The Pleven Epic," and the museum of Russian and Romanian soldiers. Tourists love to taste wine in the wine museum, which is open in the Kajlık Park. The return route home from Pleven or Veliko Tarnovo is conveniently laid through the capital of Romania – Bucharest .
Itinerary for your trip to Bulgaria
You can visit Veliko Tarnovo, Gabrovo and Kazanlak on your way back or when traveling to the south of the country.
Recreation in Bulgaria by Car
Recreation sites. There are plenty of places for rest and rest along the Bulgarian highways. There are cafes, free toilets, technical and drinking water.
Hotels. Bulgaria has many hotels and hostels with parking lots. In any Bulgarian town a suitable accommodation is easy to find on the spot. The most expensive hotels are those located on the first line of the sea. Room in 3* hotel, situated 500 m away from the beach, for two people costs 15-18 euros, and accommodation in an apartment – 8-10 euros per day. Keep in mind that during the high season in coastal villages, budget accommodation options are in high demand among vacationers, so rooms in these hotels and townhouses should be booked in advance.
Camping. During a trip to Bulgaria by car in 2022, it is convenient to stay in campsites. These are special recreation areas, which provide sites for tents, common toilets, showers and kitchen. Some sites offer wooden houses for campers. Bungalows for four people cost 15-22 euros. There are equipped camping sites in Varna, Plovdiv, Sozopol, Rila Monastery, Tsarevo, Dyuni, as well as in some other cities and towns in the country.
Look for discounted hotels and guest houses on Rumguru. Here are the main rules of searching for hotels.
(Photo: Gatanass / flickr.com / License CC BY-SA 2.0)
Reviews of a trip to Bulgaria by car
Queues at the borders are a real lottery. You can never predict how long it will take to get through the checkpoints. To plan your route accurately, use online services that show congestion at borders of European countries.
If you want to stay at seaside resorts in Bulgaria during the high season, book lodging 2-3 months before your trip.
When you park your car, always make sure it's locked and there are no belongings left inside.
Fines should be paid on the spot to the traffic policeman who issued the receipt.
A useful selection:
(Photo: ivaylost / pixabay.com)
Advantages and disadvantages of driving in Bulgaria
Pros of a car trip to Bulgaria:
A long car trip allows for a new and interesting experience. Such a trip is more fulfilling than going to Bulgaria by rail or plane.
By car for a short time you can go around a lot of interesting places, which do not go by regular buses.
It is easy to combine an informative tour around the country with a beach holiday at the sea.
It is necessary to get a visa.
Crossing several borders takes a lot of time and effort.
Gasoline prices in Bulgaria and transit countries are higher than in Russia.
Whether a trip to Bulgaria by car is worth the efforts and money spent, everyone decides for himself. Share your experiences of traveling by car in the comments!
Car trip to Bulgaria from Moscow in 2022
Holidays in Bulgaria have become popular with Russians during the Soviet era. In contrast to former times, today more and more often many citizens of the Russian Federation go by car.
Advantages and disadvantages of traveling by car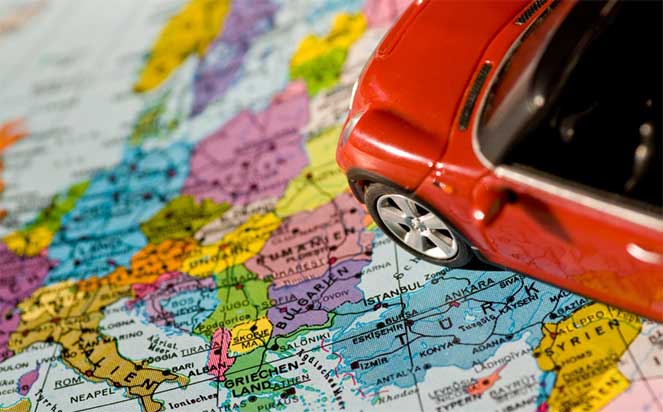 The main advantage of traveling to Bulgaria by car is that you can stop wherever you want, see the sights, have lunch in a favorite cafe, or take a break when leaving the highway.
If your destination is not only to spend time on the beach, but also to visit major architectural and historical sites, shopping and natural attractions, having your own car is more than beneficial. A rental car will cost from 35 euros per day.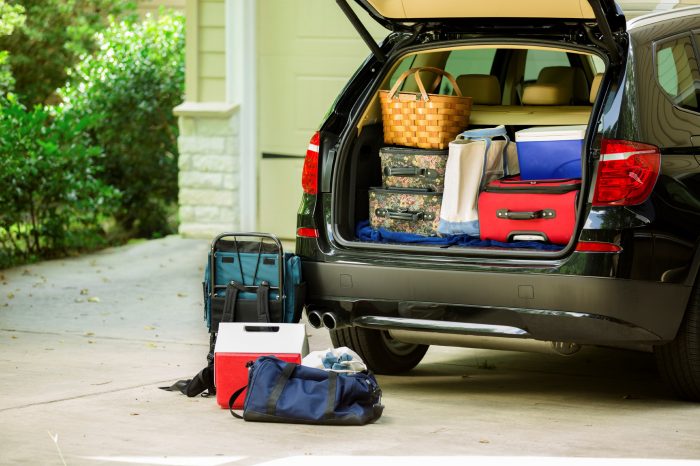 Another advantage of traveling to Bulgaria by car – you can take as much luggage as the volume of the trunk will allow, plus what will fit in the cabin on the free seats. This is much more than you can take when traveling by air (what is forbidden to take and carry on the plane you can find out by following this link). And no one needs to pay for luggage.
You can also read the article "Extra fees for excess luggage on the plane" by following this link.
The pluses include cost savings: airline tickets for the whole family and luggage, trips to places of interest, stores, cafes, etc. by public transport or cab will cost much more expensive than a car trip.
But there are also disadvantages: the driver will have to spend a lot of time at the wheel, especially on the way to Bulgaria and back. That's a total of four to six days. In addition, the car can break down, and if that happens on an unpopulated highway, you will have to wait a long time for help.
There is a risk of getting into an accident or run into fraudsters. But if you are careful and extremely cautious, do not break the rules and do not trust strangers, then the trip will be a pleasant journey, with a wonderful pastime.
Advice from experienced travelers: in order to save the car, things in one piece, be sure to use the guarded parking lot. It is best if it is in the hotel of residence: it is cheaper and more convenient. At this point you should definitely pay attention while booking a room.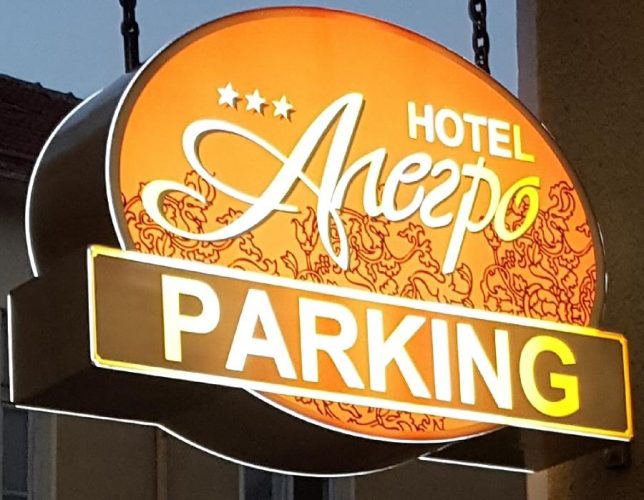 Alegro Hotel, Veliko Tarnovo, Bulgaria
If you use specially allocated places for tourists, you will have to pay dearly.
Planning a trip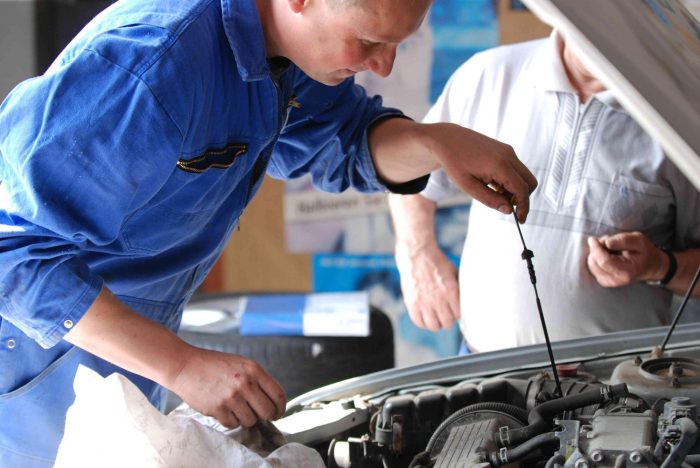 Preparing your car. Doing an independent technical inspection in this case is not recommended. Serious, sometimes almost imperceptible defects can be identified only by an experienced specialist. It is also necessary to replace old parts, so that you can be confident in the reliability of your car and not worry all the way, whether it will hold up or not.
Drawing a route. You can do this on the map and on the way be guided by your plan. Even better is to use a special application of your mobile device or a navigator.
Study the area where you are going to rest, the weather conditions and the forecast for the time of stay.
Plan your budget. In this case, you need to take the money not only for gas, drinks, food, accommodation, tours, but also additional funds for incidental expenses.
Calculate travel time. In doing so, it is best to consider smaller rather than larger numbers. Traffic jams, bad weather conditions, and other situations can throw you off schedule. Therefore it is best to initially build in a time allowance.
Make a list of necessary things, documents, products.
Time for a trip
Routes features
There are two routes to Bulgaria: a short and a long one, passing through the territories of several states.
Through Ukraine
You can travel through the territory of Ukraine by car along several roads that have their own advantages and disadvantages:
1. Via Odessa
The route will go to the south of Ukraine, and then – through Moldova and Romania.
The main drawback is the poor quality of some parts of the route, due to which the trip will take more time. In addition, you will need to cross the border of different countries three times, which takes extra time and money. During the season, you can spend up to several hours at any of the border crossings.
Pluses: inexpensive gasoline, shorter distance to travel through the Ukrainian territory.
The option will require at least one overnight stay. For this you can book a hotel, for example in Ismail, or in one of the Romanian cities – Braila, Galati.
2. Through Zhytomyr
Then you have to go as far as Chernovtsy and drive to the Romanian border and through the town of Suceava. And then go to Bulgaria.
Advantages: good roads without any mountainous areas, only two border crossings.
Disadvantages. On the way to go through a large number of villages and towns, where the speed is allowed no more than 50 km. In Chernivtsi there are almost always large queues at the customs. Because of the delays on the way you will spend more time on the road. So you must be prepared for the fact that you will need to stay overnight at least twice.
3. via Kiev
From the Ukrainian capital we have to cover the way through Transnistria, Moldova and Romania. The route can be not the shortest one due to the poor quality of roads. In addition, you should be prepared for the fact that it can take a long time to cross the borders: there are four customs points to be passed.
When choosing the most suitable route, one should always pay attention to the quality of roads, traffic congestion at each border crossing, existence of ferry crossings, distance and other parameters, important for a particular driver and passengers.
On a side note: right now, due to the tense situation between countries, it's best not to go through Ukraine in 2022.
Bypassing Ukraine
You can bypass Ukraine and reach Bulgaria via Belarus, and then other European countries. Time is longer, so there will be at least two overnight stays.
You can choose one of the hotels in Lublin or Budapest.
You will need a lot of gasoline for your trip. For its purchase only one way will need to spend about 290-300 euros.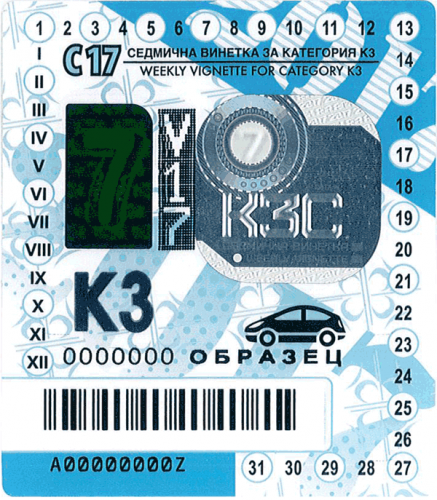 The Bulgarian visa card looks like this
It's worth mentioning: to avoid problems at the border of Moldova, Romania and Bulgaria, you should pay the fee for passing through the roads of these countries. It is necessary to buy Bulgarian and Moldovan vignette and Romanian rovignette.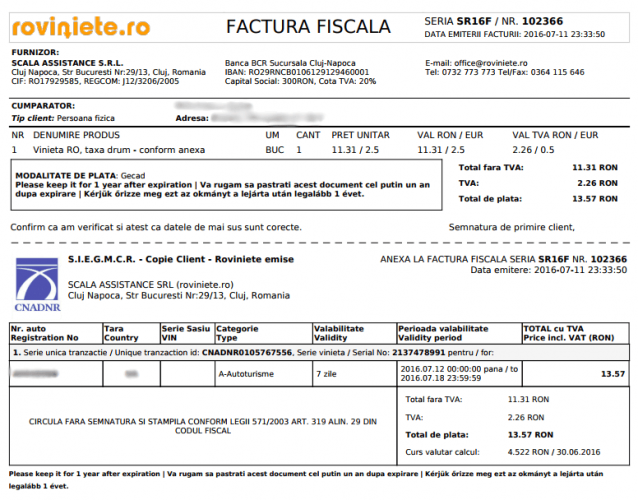 Romanian rovignette looks like this
Thus, a Moldovan vignette for a week costs about three euros, for half a month – eight, and for a month – 14. The cost of the Romanian vignette for a week is three euros, for a month – seven.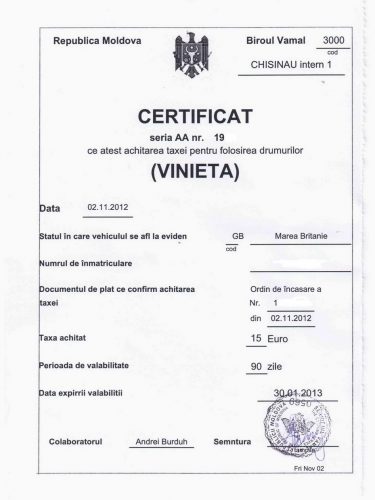 This is what a Moldovan vignette looks like.
Border crossing.
To cross the border of many European countries, you need to get a permit. Although Bulgaria is a full member of the European community, it has not yet joined the Schengen area (for details see "Is Bulgaria in the EU and the Schengen zone").
But you can enter the country with valid open visa issued by any Schengen country in 2022 (read more about rules of entry to Bulgaria on the Schengen visa by following this link).
If you do not have one, you will need Bulgarian visa for crossing the border of this country.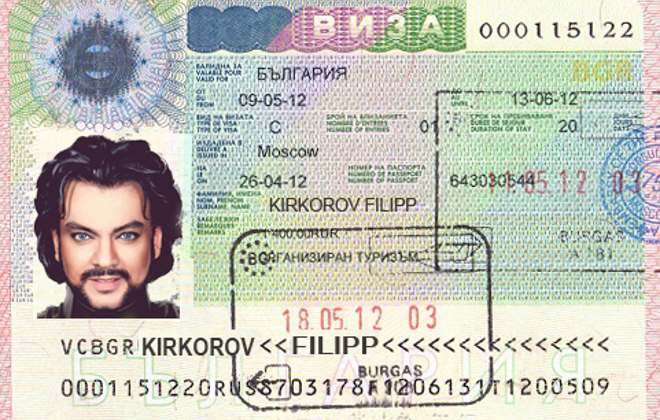 An example of Bulgarian visa
It takes 5-6 days to get Bulgarian visa. The following documents are required for registration: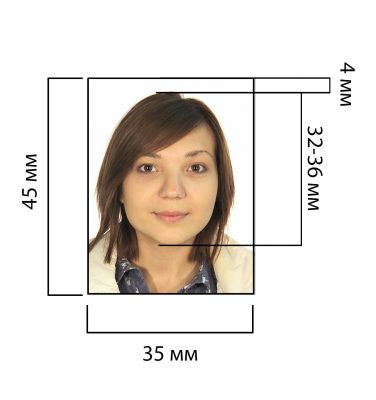 An example of photo for Bulgarian visa
An example of Bulgarian visa application form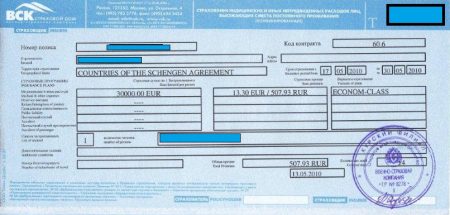 An example of medical insurance for Bulgarian visa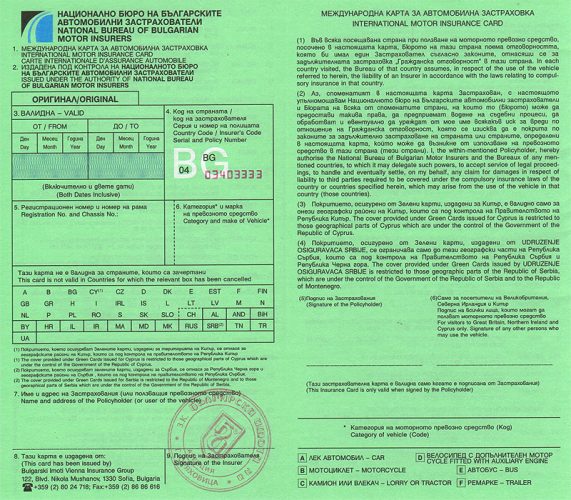 This is how Green Card to Bulgaria looks like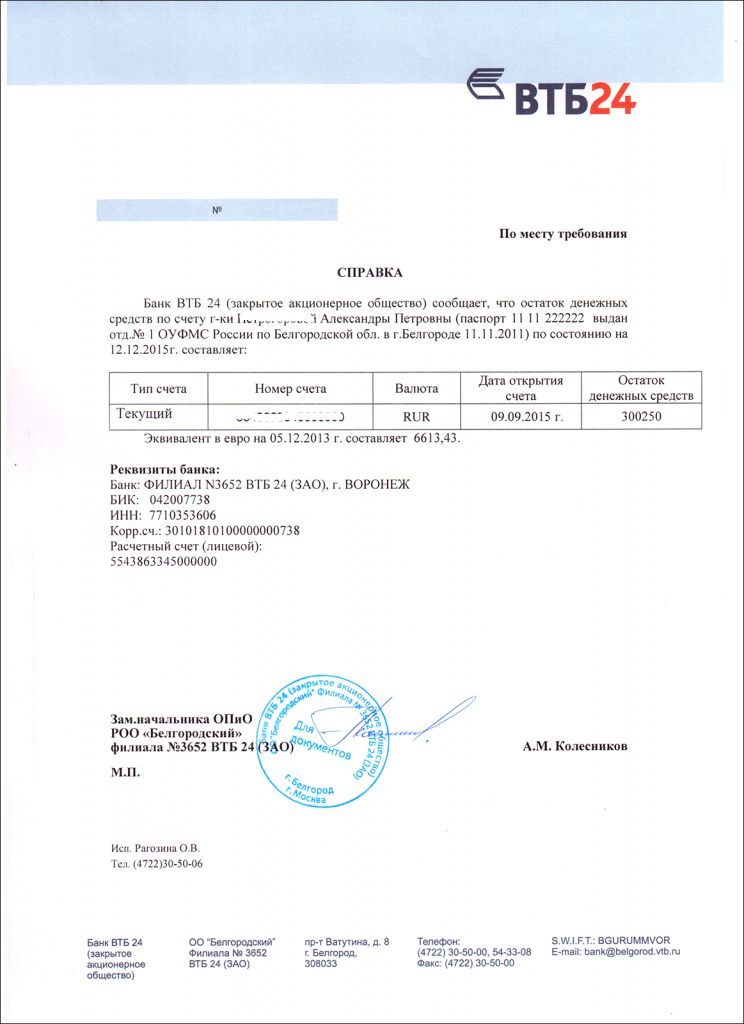 Bank statement on your financial condition
Sample of document, confirming hotel reservation
The fee for the Bulgarian national visa is 35 euros, and the service fee is 20 euros. Not to wait for a week, and in a season even longer, there is an option of getting an urgent permit (70 euros).
If the route passes through Poland, Hungary, Slovakia, you will need a Schengen visa. You may use the same visa for Bulgaria (double or multiple entry). Therefore you may apply for a multiple visa to Poland, for example – it's easier and faster.
Also you can watch the video below on how to drive from Moscow to Bulgaria through Georgia and Turkey:
Border control and customs regulations for entering the country
Checkpoints at the border of each transit country are open 24 hours a day. The exception is the shift time from 7 to 8 o'clock (twice a day), when the checkpoint will be closed. You can stand in line for 1.5 to four hours, or even more, between the two shifts.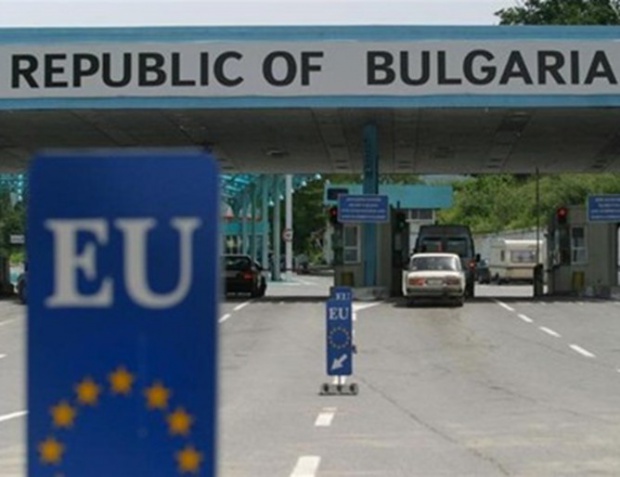 Photo of Kardam checkpoint on the Bulgaria-Romania border
You can also read the article "Border Crossing by Car" by following this link.
According to the customs rules it is not allowed to bring meat and dairy products into any EU country as well as Bulgaria and Romania. You can buy anything else for the road, but do not stock up, everything can be confiscated at the checkpoint.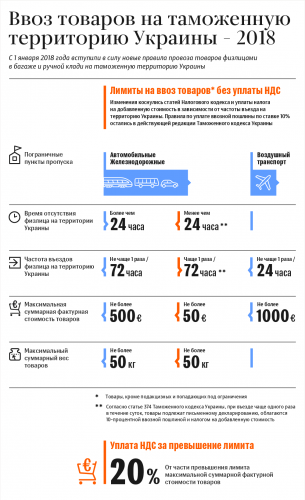 For those who will choose the route via Ukraine, familiarize yourself with the customs regulations on the entry of goods into the territory of Ukraine.
You can learn more about Russian customs regulations by following this link.
There are no problems with import:
Hard alcohol – not more than 1 liter.
Beer – 5 liters.
Wine – maximum 2 liters.
Cigarettes – 40 pieces.
Personal medication. For chronic diseases are allowed to take necessary medication, but you must provide a prescription and confirmation from your doctor.
Important: the number of drinks and cigarettes is indicated per adult tourist.
About the import of alcohol to Russia you can learn by following this link.
Bulgarian roads
Russian tourists who traveled in their cars say the following:
Bulgarian roads are characterized by clear road signs, clear markings and good quality.
The best autobahns in the country are recognized the routes from Sofia to Burgas and Varna.
Traffic Rules in Bulgaria
About the peculiarities of the Bulgarian traffic rules everyone who is planning a car trip to this country should know:
You can cross towns and cities at a speed of 50 km/h. On motorways the speed is allowed up to 140 km/h, behind settlements – 90, and in pedestrian zones – no more than 20 km/h.
Standard speed limits in Bulgaria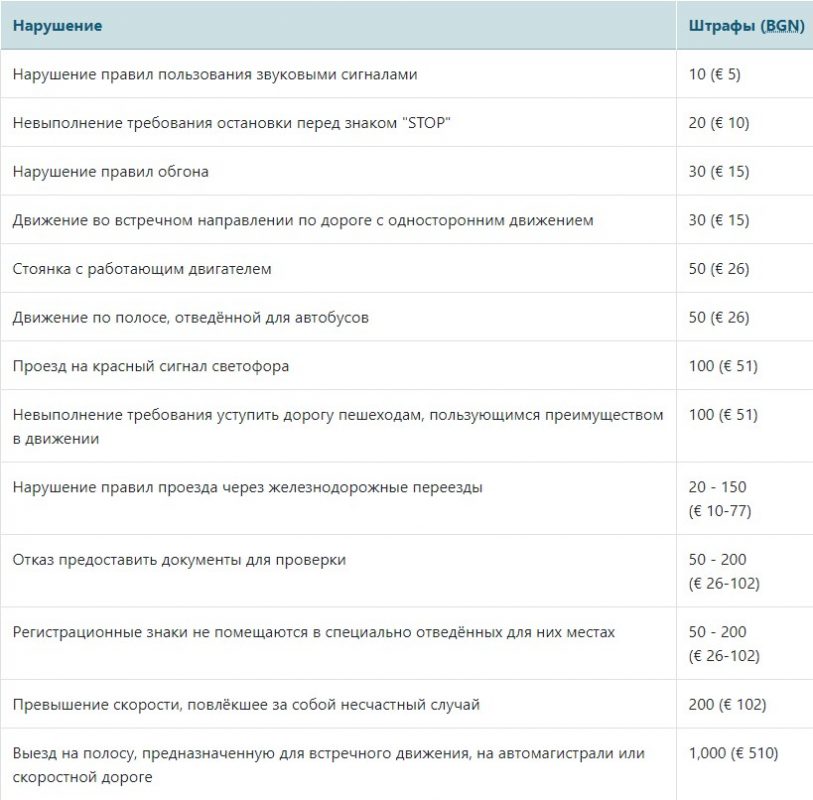 Table of fines for traffic violations in Bulgaria
Parking lots and cost of gasoline
There is practically no free parking in Bulgaria. You have to pay from 0.5 to one euro per hour of use, provided you manage to find a parking space. Payment is made as follows:
Through the valet.
BY SMS.
At a special machine.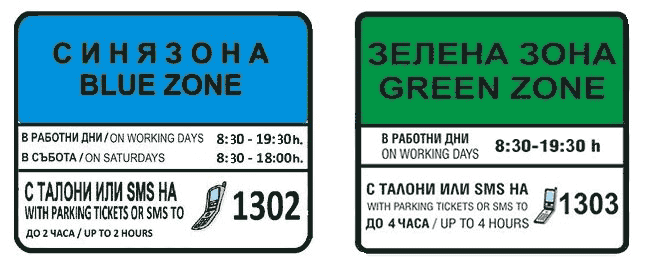 Most parking lots in cities are paid. Parking zones are marked in blue or green and are paid by the "pay and display" system.
If you occupy a space designated for the disabled, you face a fine of 10 euros.
As a side note, you don't have to pay for parking on Sundays.
The cost of diesel in Bulgaria in 2019 is 1.18 euros, gasoline 95 – 1.16. A liter of gasoline 98 will cost 1.31 euros. The same prices for similar fuels apply in transit countries.
You can learn more about the cost of gasoline in Europe by following this link.
Traveling through Bulgaria
Investing and buying real estate in Dubai. Guaranteed income of 7-10% per annum in foreign currency. All the pitfalls and personal experience of how to earn and not lose 40% due to wrong investments. All the details – subscribe to the verified telegram channel https://t.me/homeindubai. How to move to live in Dubai with your family: resident visa, bank accounts, choice of housing, school for the child, all from personal experience – https://t.me/homeindubai
Since Russians go to Bulgaria primarily in search of a vacation by the sea, they visit places located on the coast. One of them is the town of Nesebar, one of the first European towns, which has preserved till now many interesting constructions.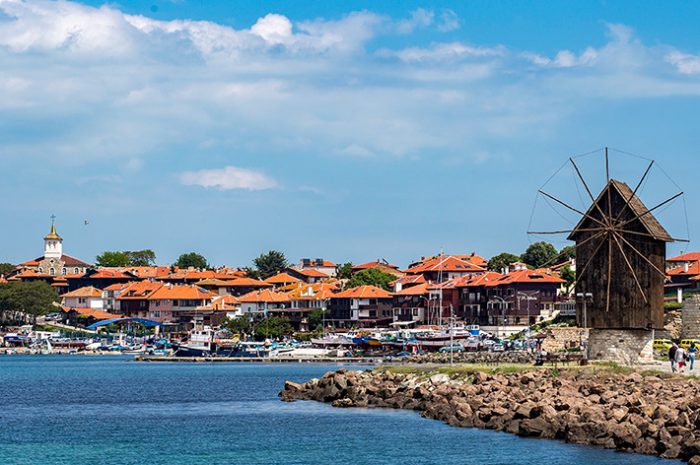 Nessebar is one of the first European cities that preserved up to the present time many interesting constructions.
Orthodox churches in the old town of Bourgas are no less popular.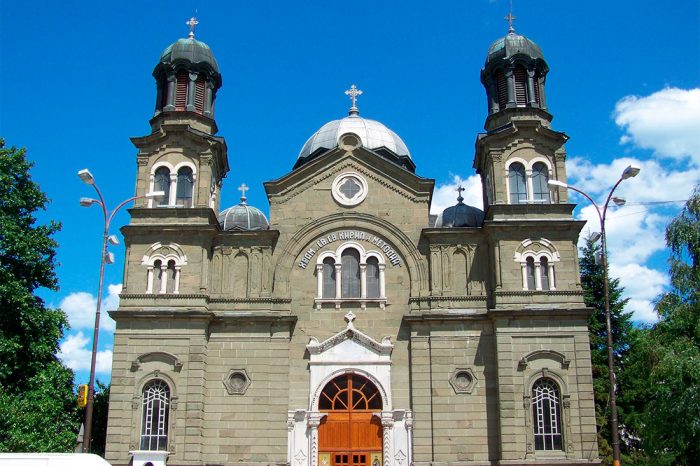 The Church of St. Cyril and Methodius in Burgas
The ancient cloister in the rock, green parks, ecopark, beautiful churches and houses – all this can be seen in Varna. It is separated from the town of Nesebar in a little over a hundred kilometers.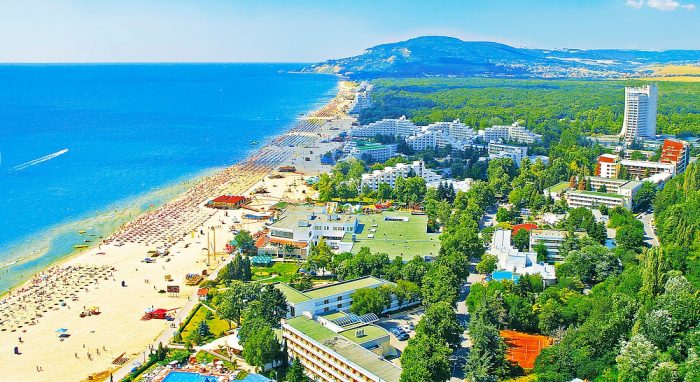 If you continue on the A2 highway and then take the E772 road, you enter the town of Veliko Tarnovo. In the ancient capital of the country one can see the Tzareven fortress, the patriarchal cathedral, the residence of the Bulgarian kings and the old buildings in the narrow streets. In this city there is a special atmosphere, which is typical only for ancient cities.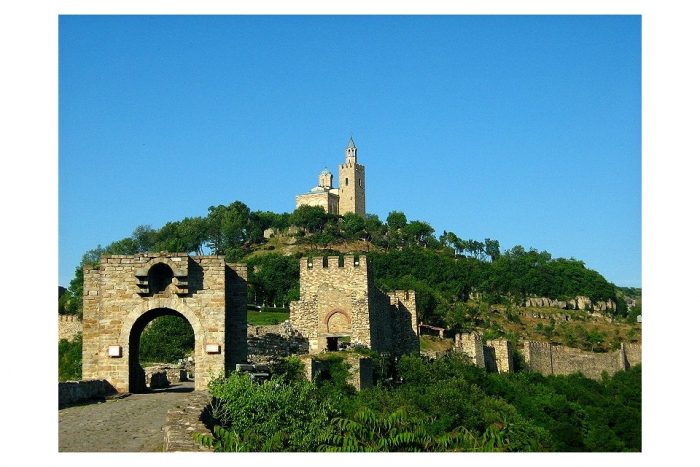 Veliko Tarnovo, Tsarevets Fortress
Hotels in Bulgaria
When booking accommodation for your entire stay in Bulgaria, whether it is one hotel or several, be sure to pay attention to whether there is parking in the hotel description.
Telephone numbers of Bulgarian services
Roadside Assistance – 146.
Emergency number – 112.
Ambulance number – 150.
Fire Service – 160.
Police number – 166.
Important: the Russian embassy is located in Sofia at Dragan Tsankov Boulevard 28. Phone numbers: 963-09-12 and 963-16-63.