Trip to the Crimea by car in 2022
Absolute freedom of movement, the opportunity to see the lost corners of the peninsula, where buses do not go, – that's the main reason why most tourists choose a trip to the Crimea by car in 2022. Once you've packed your tent in the trunk, you can always discover new places and go camping on wild beaches.
Another type of "car" tourists – people who prefer to live in hotels, but like to explore the sights on their own and do not depend on the guide and the group.
A trip to the Crimea by car is convenient for families with children: you can stop at any time to take a break and eat, no mean aunt will not make a comment about the cranky kids, and in the trunk – all the necessary things are always with you.
Convenient routes and stops on the map
1. Simferopol – Yalta
This classic automobile route leads along the South Coast of the Crimea. Start your journey in Simferopol – there is a large concentration of attractions dedicated to the ancient and recent history of the peninsula. Then you have Alushta, one of the favorite Crimean resorts since Soviet times. And finally, Yalta – the Crimean Riviera, the unofficial capital of the peninsula. Journey along the route pleasant – the road is generally smooth, although there are sections with serpentine ascents and descents.
2. Simferopol – Sevastopol
The capital of Crimea, the former capital of the Crimean Khanate and the hero-city Sevastopol are all in one trip. Along the way you will see many major Crimean attractions, located both in the cities themselves, and in the vicinity: there are both natural sites (mountains, caves, reservoirs, bays), and man-made (monasteries, museums and entire cities). The roads are flat, all serpentine roads are left aside, traveling behind the wheel on this route is a pleasure.
3. Kerch – Sudak
This picturesque route starts at the "Crimean gates" – Kerch. Everyone who goes by car comes to the peninsula through this city. On the way you pass through 4 cities and countless places of interest: from wide beaches to art galleries. There are sights to suit all tastes. But be careful on the mountain roads – the views are certainly breathtaking, but it's better to take your time.
4. Saki – Evpatoria.
On your way you will not have steep serpentines, but you will meet wide beaches with soft golden sand and lakes. One healing – Saki, and another pink – Sasyk Sivash. Because of the comfortable road the route will be convenient for those who travel with children. Place to stay overnight will always be found, there are hotels, motels and resorts.
5. Simferopol and the Old Crimea
If you can not sit on the spot and you do not lie on the beach, you like to explore places associated with history, then go from Simferopol to the Old Crimea. You will see the buildings of the 13th-14th centuries, the ruins of ancient churches and mosques. And you'll also pass the "Grin's Way", which is the path along which Alexander Grin went to visit Maximilian Voloshin.
Choose the best accommodation for your trip
Hotel Atlantida
Hotel Cipresso*4
Aquamarine Resort & SPA
Guest House "Triera"
Mini-Hotel "Aileron
Gurzuf Riviera Hotel
Hotel Mriya Resort & SPA
Eco-hotel "Levant
Ribera Medical & SPA
Sanatorium "Saki"
Hotel and restaurant complex "E.V.A.
Holiday camp "YASNO"
Holiday house "Sun Valley"
Sanatorium "Dolossy
Hotel More Spa & Resort
Palmira Palace cares about the rest of auto-travelers
Address
Phone
Palmira Palace Resort & SPA takes care of its guests' rest on the way to Yalta. To make the trip more comfortable and the impressions more vivid the hotel has prepared a unique offer for those, who goes to the resort by car. This is a free stay up to two nights in the historic center of Rostov-on-Don in the premium Mercure 4* hotel with delicious and healthy breakfasts. You can take advantage of the promotion on your way back and forth to Yalta and visit the most beautiful southern corners of our country in one trip. You can spend pleasant vacation moments in cozy rooms of Palmira Palace Resort & SPA on the Black Sea coast. The hotel is surrounded by historical objects and royal palaces – Livadia Palace, Vorontsov Palace, Swallow's Nest. The territory of the hotel offers a spectacular view over Yalta Bay and Ayu-Dag Mountain.
What car should I choose?
If you need a car just to comfortably get to the Crimea, and there to check into a hotel, then suitable for any car that you like – a compact and economical small car, a crossover or a comfortable sedan. However, in this case, your routes are limited to paved roads, which are not always in good condition, and this should be taken into account.
In the Crimea it is convenient to master the off-road on all-wheel drive cars with high cross-country ability. On the peninsula there are plenty of places where you can get only SUVs: Jur-Jur Waterfall, Ai-Petri Plateau, Cape Tarkhankut. And this is only the most "promoted" routes. Get behind the wheel of a jeep to get not only the pleasure of stunning views, but also the drive of the trip itself, where you have to dust the steppe or overcome steep mountain slopes.
Rent a car in the Crimea
Renting a car to get to a tourist attraction or restaurant is much more convenient than traveling by public transportation or cab. We have collected a full guide for carsharing operators in the Crimea: conditions and prices
Bridge across the Kerch Strait
The Crimean bridge opened in 2018. It is the longest bridge in Russia – 19 kilometers. Photo: pixabay.com
The Crimean bridge is the longest in Russia, 19 kilometers. Auto approaches with traffic police posts have already been built on both sides. Passenger cars are checked selectively, "lucky" – about 5% of the total flow.
Across the Crimean bridge it is forbidden to carry any weapons – military, civilian for self-defense (including traumatic), pepper spray, sports or hunting rifles, as well as cold weapons (knives, brass knuckles), explosives, cartridges and dummies that can be used in "acts of unlawful interference". Hazardous chemicals such as ammonia, mustard gas, nitric acid, methyl alcohol, chlorine and formaldehyde are prohibited.
There is a speed limit on the bridge – up to 90 kilometers per hour. In case of bad weather or an accident the speed can be limited to 60 or even 40 km/h. Appropriate notification appears on electronic boards installed over the highway. You are not advised to drive too fast – dozens of cameras watch the traffic and inform the traffic police about the violators, so the "chain letters" will be sent right away. Stopping on the bridge is prohibited, so do not even think about taking selfies on the background of snow-white arches.
On the approaches to the bridge and on the exits from the bridge you should be especially careful. There is no U-turn, and if you, driving on the bridge, do not turn to the highway "Tavrida" (sign "Simferopol / Feodosia"), then you have to return and cross the Kerch Strait twice (!).
Tavrida highway
The length of the highway is 250 kilometers. Photo: commons.wikimedia.org
Traveling in the Crimea has become more convenient. The "Tavrida" highway connected Kerch and Sevastopol through Simferopol. On your way are Feodosia, Belogorsk, Bakhchisarai, as well as many smaller, no less beautiful settlements. In total, the road bypassed 43 villages and six towns.
What motorists need to know in the Crimea
Be careful and cautious while driving in the serpentine mountains. Photo: Anastasia KURDYUKOVA
Gasoline prices
Fuel in the Crimea is a bit more expensive than on the mainland.
| | |
| --- | --- |
| АI-92 | from 46-48 rubles per liter |
| AI-95 | 49-50 rubles per 1 liter |
In the neighboring Krasnodar region you can fill up your car cheaper.
| | |
| --- | --- |
| АI-92 | 43,10 rubles per 1 liter |
| AI-95 | 46.65 rubles per liter |
2. Road blocking
In summer the roads in the Crimea are not blocked, except for repairs. They are closed in winter and fall, when the season of fog and icy roads begins. Be especially careful if you plan to drive through Angarsk pass to the South Coast in winter. This popular road is closed for cars with summer tires and in case of heavy snowfall.
3. Gas stations .
Gas stations on the Crimean peninsula are plentiful. They are on all major roads and towns. The only highway where you can't refuel is "Tavrida". Working two lanes are open only on the 190-kilometer stretch from Kerch to Simferopol. Eventually there will be gas stations and cafes there, but for now there are not even any pockets to stop. So fill up a full tank before the journey.
4. Parking lots
A trip to the Crimea by car in 2022 may be complicated by finding parking. In Yalta, there are many narrow streets, where you can not stand at all, and closer to the waterfront in the holiday season to park is almost unreal. There are several paid parking, the cost – 60 rubles per 1 hour. A similar situation in many resort villages on the southern coast: in Gurzuf, Forose, Simeiz.
In the center of Simferopol the cost of parking – 50-100 rubles per hour, but even there places not enough for everyone. It is better to leave your car a little farther and get to the center by public transportation. Not all hotels have their own parking, this question should be clarified before the trip.
5. Serpentine Mountains
Crimean mountains are lower than the Caucasus Mountains, but the local serpentines are very tricky. The most popular mountain road Simferopol – Alushta – Yalta runs through Angarsk pass, 752 meters above sea level. Protracted descents and ascents, a lot of "blind" turns, where especially zealous "racers" like to overtake. These stunts often end in head-on collisions.
Tourists often relax at the wheel and do not slow down before the turns. To fly out of line on the mountain road in the Crimea is dangerous: many kilometers are laid on the edge of a precipice, so be extremely careful.
To Yalta, the mountain road goes through Ai-Petri (Bakhchisaray – Sokolinoe – Yalta). As much it is picturesque, so dangerous in bad weather. Beginner drivers to choose her not advised. In snowy winters it is blocked because of the danger of avalanches.
Few more serpentine mountains, where you should be careful: the highway Sevastopol – Yalta, Alushta – Malorechenskoe – Sudak – Feodosia, the descent to the village Novy Svet, the road to Sudak through Grushevsky pass.
6. Mobile applications that will be useful on the road
The main mobile applications for drivers in the Crimea are Yandex.Maps, Yandex.Navigator and Yandex.Petrol station. We advise you to use domestic software, because Google maps in the Crimea are poorly updated. Thus, in place of the highway "Tavrida" in Google-navigator for some reason not a road, but a clear field.
Many "mainland" mobile applications do not work in the Crimea. Also keep in mind that on the mountain serpentines internet connection may not be available, so it is better to download an offline map, for example – maps.me.
How far by car to the Crimea from other cities
| | |
| --- | --- |
| Moscow | 1600 km |
| Saint-Petersburg | 2400 km |
| Nizhny Novgorod | 1800 km, 1-2 days |
| Krasnodar | 280 km, 4-5 hours |
| Samara | 1900 km |
| Yekaterinburg | 3000 km |
| Perm | 2900 km |
| Chelyabinsk | 2900 km |
| Voronezh | 1100 km, 12-15 hours |
| Volgograd | 980 km |
| Stavropol | 570 km, 7-8 hours |
| Astrakhan | 1,100 km |
Travelling by car with children to the sea
Prepare for the road with young travelers more difficult, but the trip can be made comfortable. It is important to think about what the child will eat and drink, what to occupy him along the way and how often you have to make stops. Pediatrician tips will help parents consider different nuances and enjoy the upcoming vacation.
The cost of a family trip
We advise to visit the Khan's Palace in Bakhchisaray, a cultural monument of world significance. Photo: pixabay.com
Let's calculate how much a trip to the Crimea by car in 2022 will cost, using a family of three as an example, taking into account that they are leaving Moscow.
It will cost about 16 thousand for gasoline on the way there and back. 7500-8000 rubles – to get to Kerch, if you fill up on the mainland fuel AI-95 at 46 rubles per liter and the average consumption of 10 liters per 100 kilometers.
Consumption in the Crimea will depend on how actively you plan to move around the peninsula. Way from Kerch to Yalta will cost about 1400 rubles (280 km, Ai-95 at 50 rubles per liter).
Accommodation in a hotel or rental apartment costs from 15000 to 45000 for 10 days. The cost of accommodation during the holiday season is from 1500 to 4500 rubles per day depending on the region. You are unlikely to live in a tent with a child. In addition, the autocamps in the Crimea are only planning to develop, there are none yet. Note that during the season, many forests are closed to tourists because of the fire danger. And parking in nature reserves and wildlife preserves is prohibited for the entire year.
The car gives you the opportunity to see a huge number of natural attractions of the Crimea for free. But we advise you to foresee a certain amount of money for excursions to interesting Crimean sites.
| | |
| --- | --- |
| Sightseeing of the main exposition of the Vorontsov or Massandrovsky palace. | 350 rubles (adults) 200 rubles (children) |
| Museum "Swallow's Nest" | 200 rubles (adults) 100 rubles (children) |
| Cave city "Chufut-Kale". | 200 rubles (adults) 100 rubles (children) |
| Entrance to Sudak fortress territory Excursion | 75 rubles (adults), free for children 50 rubles |
| Khan Palace in Bakhchisaray | 250 rubles (adults) 100 rubles (children) |
| Chekhov House-Museum in Yalta | 250 rubles. |
Let's say, accommodation in the Crimea will cost 25000 rubles for 10 days. Approximately the same amount a family of three will spend on food. Consider the cost of tours, entertainment and souvenirs, as well as spending a little money on water, ice cream, and other small things. Total family trip to the Crimea by car for 10 days in 2022 will cost about 70,000,000 including gasoline costs.
How to go to the Crimea by car
Learn how to go to the Crimea by car in 2022! In this review I will tell you about my personal experience and give some useful tips: where to go, what to see, and how much money to prepare for the trip.
As soon as I got behind the wheel of a car, I immediately became a zealous fan of auto travel, and now they are actively promoting them. There is no better way to visit the most beautiful places in Russia, have fun on vacation and save money on expensive flights. And this summer, when the coronavirus has brought total chaos to air travel, traveling by car is especially relevant. Let's see how to plan a successful trip to the Crimea by car!
Content:
The road to the Crimea: how and how much to drive
I have to travel from Perm to the Crimea or the Krasnodar region takes three days one way. It is a long trip, but well worth it. From St. Petersburg, Yekaterinburg, Kazan, and Chelyabinsk you have to go about the same amount. Residents of Moscow and the central regions are luckier – you can get to the Crimea in one and a half days. And from Rostov and Krasnodar – even in half a day.
How much to drive to the Crimea (to Kerch) by car:
| | | |
| --- | --- | --- |
| Point of departure | Distance in kilometers | Travel time |
| Moscow | 1600 | 20 hours |
| Saint-Petersburg | 2400 | 2-3 days |
| Krasnodar | 250 | 5 hours |
| Rostov-on-Don | 500 | 8-9 hours |
| Yekaterinburg | 3000 | 2-3 days |
| Perm | 2900 | 2-3 days |
| Chelyabinsk | 2900 | 2-3 days |
The road to the Crimea by car from Moscow in 2022 is simple – the trip will be easy and fast. If you leave at 7 a.m. and drive along the excellent M4 Don highway, you can get to the Crimean bridge by nightfall. Learn more about toll roads and why you shouldn't drive to the sea via Volgograd in my post about a road trip to the south of Russia.
The distances in the table are only to the entrance to Crimea, and to the main resorts you need to drive a few hundred more kilometers. The closest are Feodosia, Sudak, Novy Svet, but to Yalta, Alushta, Sevastopol, Evpatoria you will have to drive a few hours longer.
Lodging on the road . On the way I figure out where we will be at the end of the day. While I drive, my travel companions look hotels in the right place, choose the best price-quality and book on Hotelluk. There are many accommodations along the way, but not all of them are good. So we do not check into the first option that comes up, and read the reviews of other tourists and only book a normal hotel.
Inspection on the Crimean bridge . At the entrances to the bridge there are vigilant police officers and other security officers – shooting their fire glance at all passing cars, identifying and stopping for inspection of the potentially dangerous. They choose large cars: gazelles, vans, etc. One of the toughest officers gave us a long, fiery look, deciding whether or not to stop this large SUV, and even more so, with a box on top. He did not.
Before the trip I recommend installing the mobile applications MAPS.ME, Yandex.Maps, and Yandex.Gas stations. See also my tips for car travelers – there I tell in detail about safety and preparation of a car trip, suggesting what to take on the road.
I am so used to traveling by car that I almost always rent a car when I travel abroad. If you do not want to go to the Crimea on your car, you can fly there and also rent a car on the spot. It's inexpensive and convenient. I can recommend reliable service Localrent.com – they have a large selection of cars of any class at a price of 1000 rubles per day. If you have any questions, their customer service will help you with everything. Take a look at my tips for renting a car in the Crimea.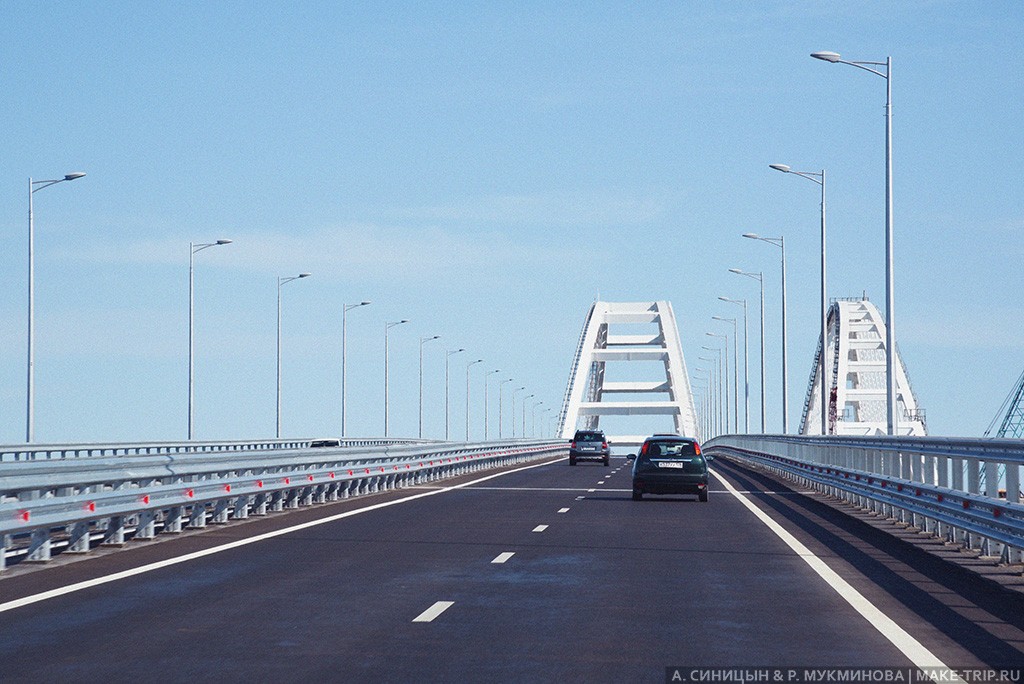 Crimean Bridge.
Our trip to the Crimea by car
Auto-travel – the best way to vacation in the Crimea . For the first time I vacationed in the Crimea in 2014, then I had no driver's license or car. Active (which is how I like to) travel was problematic: dependence on transport schedules, hours of waiting at bus stations, tedious transfers, walking around the city in the middle of the day – all this spoils the holiday. With the car is different: the freedom and comfort!
On a trip to the Crimea by car we went with friends to show them the most beautiful places of the peninsula. We traveled for two weeks and drove all over the Crimea. Then my friends took the plane home and Renata and I stayed behind to organize a vacation for my sister and nephews. After seeing them off as well, we left for the Krasnodar region and the Caucasus.
I will tell you about the results of our extremely busy trip to the Crimea with friends. It will be useful to all active tourists who do not want to sit in one place, and want to see all the coolest things in the Crimea. Here is a summary of our trip:
Mileage in the Crimea – 2000 km.
Liter of gasoline – 280.
Fuel consumption – 14 liters per 100 kilometers.
Spent on gasoline – 12000 rubles.
Our route: Kerch, Beregovoye, Sudak, Novy Svet, Meganom, Koktebel, Old Crimea, Alushta, Yalta, Gaspra, Alupka, Kacha, Sevastopol, Balaklava, Bakhchisaray, Evpatoria, Olenevka (Tarkhankut and Jangulsk coast), Simferopol and Alushta again. Without the car such a busy program would not work.
This journey by car in the Crimea and we, and our friends were satisfied. If you are one of those restless travelers, look at our route of the great trip to the Crimea. If you are primarily interested in relaxing by the sea, then read about the best sandy beaches of the Crimea. See also our detailed map of the Crimea, where we marked all the main resorts and attractions.
Dzhangul landslide coast is a beautiful place in the very west of Crimea. I highly recommend that you visit there!
How to have a good rest in the Crimea by car
What car do you need for a trip to the Crimea. Perfectly suited and ordinary part-wheel drive car. Passable off-road almost does not need: the Crimea – is not the Altai Mountains. Yes, in some places without a four-wheel drive and high ground clearance is not passable, but these points are few. They can get to another way: to go hiking, rent a car or go on a jeep tour (it is well developed here). But the car will eat not a lot of gasoline, which in the Crimea is not cheap.
Use your car at 100% . It makes no sense to take a long car ride to the Crimea and spend your entire vacation at one resort.
Make a travel itinerary of the most interesting and beautiful places of the peninsula – there are a lot of natural and cultural sights. Take a look at our itinerary.
Visit different resorts to choose the best for you. For example, we like the most Sudak, Feodosia, Olenevka, and we do not like hyped and pathos Yalta.
Have a rest on wild beaches. On koiy to you have given these overcrowded in a high season city beaches? Get in the car and go to the city – there are plenty of good beaches in the Crimea.
Save money on lodging. If you have a car, you do not need to settle near the sea – you can live farther from the coast, but half or three times cheaper.
Take your tent, woks, and burners. Outdoor recreation is enjoyable and economical. As a rule, the volume of the trunk is enough to take on a trip tourist equipment. The car will allow you to get to any resting places in the Crimea. Find out where to rest in the Crimea with a tent.
If you want to take tours in the Crimea, look them on Tripster – there is a good choice, adequate prices and real reviews of tourists. We book tours only there, because we don't trust street vendors.
Download our handy guide map of the Crimea on your smartphone! For you we have chosen only the most beautiful, favorite and proven places. The map works without the Internet, which is especially important in the Crimea. Cafes, restaurants, hotels and other places are also marked there. The map costs 200 rubles and will save you a lot of time.
Drove to the top of the mountain Kokluk. "Starfall of memories", Koktebel. And this is the view that opens from the observation deck on Mount Koklyuk.
What you need to know
Lodging . Look for hotels and guest houses in the Crimea on Yandex.Travel (there's a good cashback) and Hotelluk, and apartments, houses and other private accommodation on Sudnok.ru. Learn how to book accommodation in Crimea safely. Also take a look at how hoteliers in the south of Crimea cheat tourists.
Gasoline in the Crimea is almost 10% more expensive than in central Russia. Fill up a full tank in Krasnodar Krai before entering the bridge. However, in the Kuban, gasoline is also more expensive than in the central strip, by about 5%.
Roads in the Crimea . As of 2022, the quality of the pavement is different. Perfect on the South Coast (Alushta, Yalta, Gurzuf, Alupka, etc.). Disgusting roads in Sevastopol and the surrounding area, in Bakhchisaray region and on the road to Tarkhankut. From the Crimean bridge across Simferopol to Sevastopol recently built a new highway "Tavrida" – now traveling in the Crimea by car is even easier.
The driving style of southerners (Crimeans and Kubans) is very different from what the residents of Russia's more northern regions are accustomed to. Be prepared for unpredictable behavior, unwillingness to use turn signals, impertinent maneuvers.
Parking . If you park in the Crimea according to the traffic rules, you will never park. The rules of parking and stopping everyone: both locals and vacationers. If you violate (and you have to), do it elegantly and adequately, without creating accidents.
Serpentines . Roads in the Crimean Mountains (the entire coastline from Koktebel to Sevastopol) – it's countless turns, climbs and descents. The locals are reckless – be prepared. But they are used to, their reaction is good. If you are new to traveling by car along the serpentines, take your time. Drive at a comfortable speed and keep to the right, letting the cars behind you when the opportunity arises.
Don't believe the forbidding signs . Does it say that the road is closed? Don't listen – it's all tall tales! Feel free to go through. We saw these signs on the roads to Ai-Petri, Koktebel, Luchistoe (Demerdzhi Valley) – if you listened, you would not get in these places. Apparently, these signs are relevant only in winter because of possible collapses. Often there are old faded signs that no one removes.
Bargaining . Need a car service or car wash? Ask for a price, frown, haggle. I had an outside car wash in Sudak asked 450 rubles. Pretty expensive, I thought, and began to knock down the price. In the end came to 400 for an external car wash + mats. Bargaining is also relevant in the markets, when buying tours and entertainment.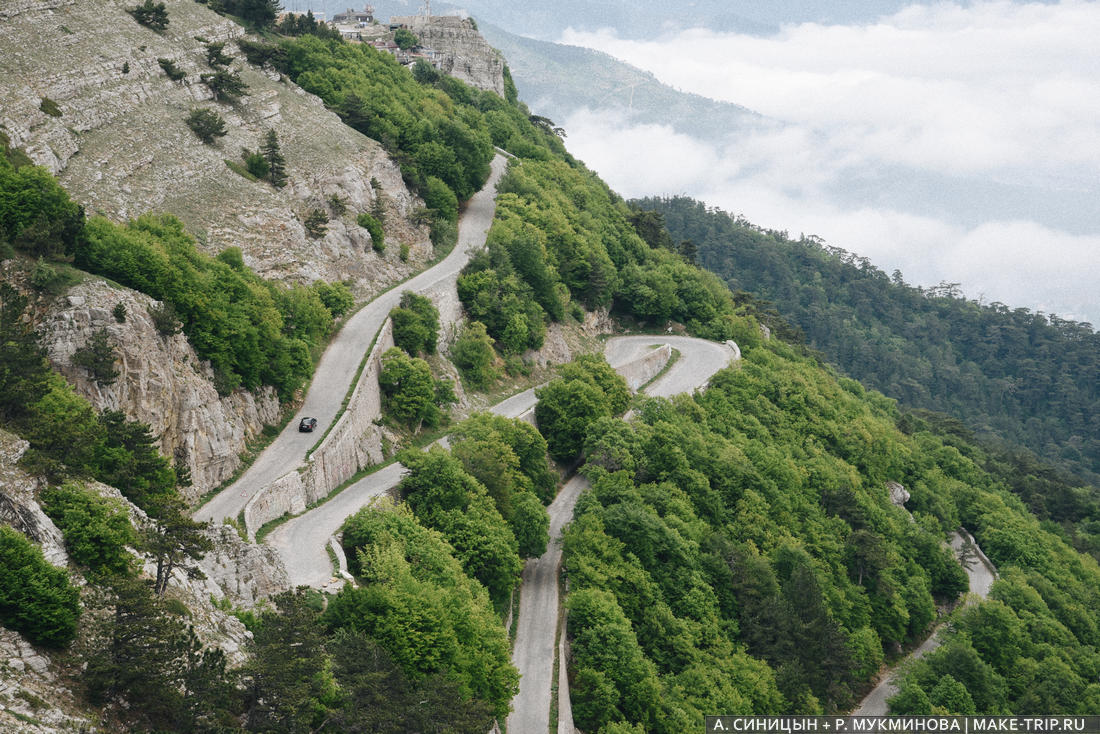 Serpentine on Ai-Petri.
How much to go to the Crimea by car
Costs of travel to the Crimea one way from Perm by car with a consumption of 13 liters per 100 kilometers on the highway:
| | |
| --- | --- |
| Gasoline | 15 000 |
| Hotels on the way (room for two, three overnights) | 3 900 |
| Total | 18 900 ₽ |
Expenses for two weeks of car travel in the Crimea for two people:
| | |
| --- | --- |
| Gasoline | 12 000 |
| Guest houses | 10 500 |
| Cafe and canteens | 14 500 |
| Groceries | 2 500 |
| Wine | 400 |
| Parking | 600 |
| Sightseeing and boat trips | 5 000 |
| Cell phone and internet | 1 000 |
| Total | 46 500 ₽ |
Commentary on expenses. We stayed overnight only in guest houses (we never got a tent), ate in canteens and inexpensive cafes, cooked only simple breakfasts ourselves. Having the car, we did not need to spend money for excursions and transport. Of the excursions we bought only two boat trips – my "Patriot", of course, all-terrain vehicle, but can not swim yet.
Abandoned lighthouse on Dzhangulsky coast.
Results
The advantages of resting on your own car in the Crimea:
A trip to the Crimea by private car is almost always cheaper than rail or airfare.
You save on lodging. With the car you have your hands free: choose cheaper options away from the sea, or vacation wilderness.
You don't spend money on excursions and bus tickets.
The opportunity to visit places not accessible by public transport.
Freedom and independence.
Expenses and inconveniences:
Parking fees (from 50 ₽ per hour).
Possible fines.
Expensive gasoline.
Daredevils on the roads.
Possibility of breakdowns, and I have no confidence in local services.
I am satisfied with my road trip to the Crimea: pluses are much better than minuses. I recommend this format of rest and you. Take a look at our articles about traveling by car to other regions and countries. And good luck on the roads!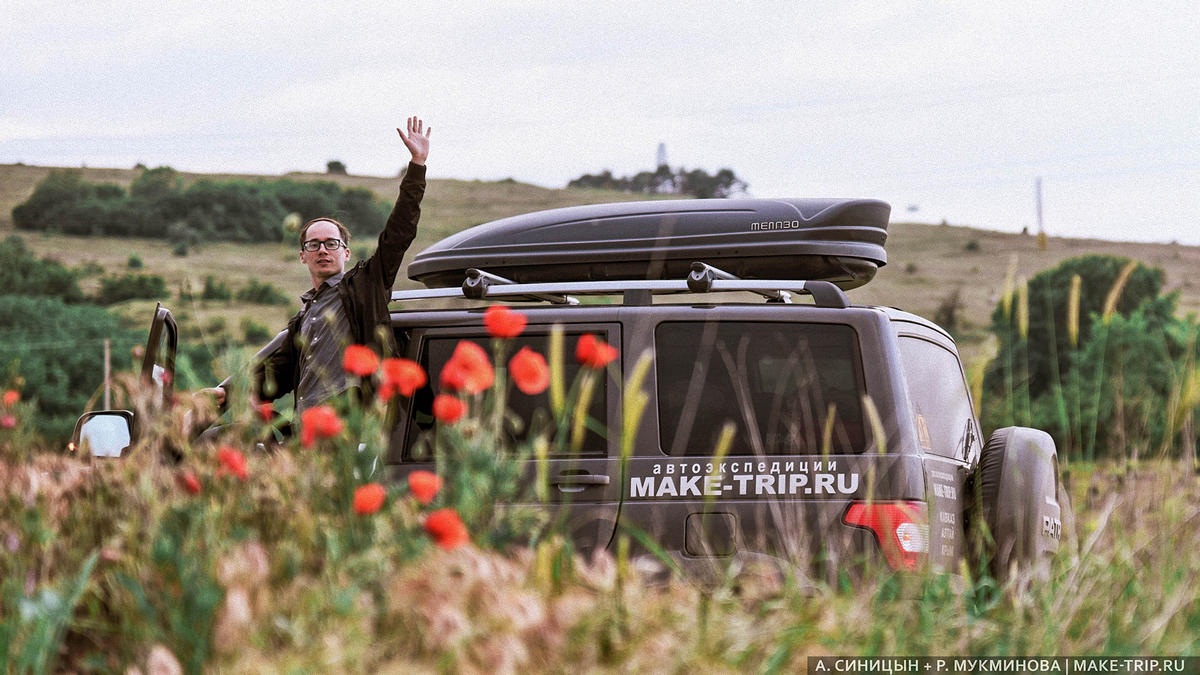 Went to the poppy field in the Crimea – there are a lot of them. To see such beauty, come to the Crimea in May.