Visa to Vietnam, its types and process of processing documents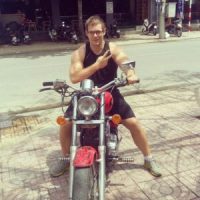 Many travelers, planning a trip to Nha Trang, may have a quite natural question: whether they need a visa to Vietnam for the citizens of the CIS (Russia, Ukraine, Belarus, Kazakhstan, etc.). Let's look into it.
A visa to Vietnam for Russian citizens is not necessary for up to 15 days. For the citizens of Kazakhstan, Ukraine and Belarus – is issued on arrival. Read more in the article.
15 March 2022.

The Government of Vietnam announced the resumption of tourist visas. ( Important! Announcing, but it does not mean that they began issuing.)

Entry conditions.

Foreigners wishing to enter Vietnam for tourism purposes must comply with the provisions of Article 13 of the Law on Entry and Exit, Transit and Residence of Foreigners in Vietnam of 2014 and other government regulations.

1/ visa-free regime.

Based on the vote of the members of the Government on the proposal of the Minister of Foreign Affairs in Document No. 463/BC-BNG-LS-m dated March 1, 2022.

Vietnam resumes unilateral visa exemption (15 days) for arrivals from 14 countries and territories: Belarus, Denmark, Finland, France, Germany, Italy, Japan, Norway, Russia, South Korea, Spain, Sweden and the United Kingdom.

The policy of visa-free entry to Vietnam for nationals of the countries mentioned in Article 1 is for a period of 3 years, from March 15, 2022 until the end of March 14, 2025, and will be considered an extension in accordance with Vietnamese law

No information yet on visas for longer periods.
General Information
Visas to Vietnam can be arranged for one, three or six months . There are ways to make a visa for a year, two or even three years (but it is a residence permit, we will talk about it later).
Also, according to the number of entries, visas are: single entry and multiple entry .
In general, the visa policy of Vietnam is quite flexible. Like many countries in Southeast Asia, Vietnam is making good money from the large flow of tourists, as in this state you can perfectly and inexpensively rest.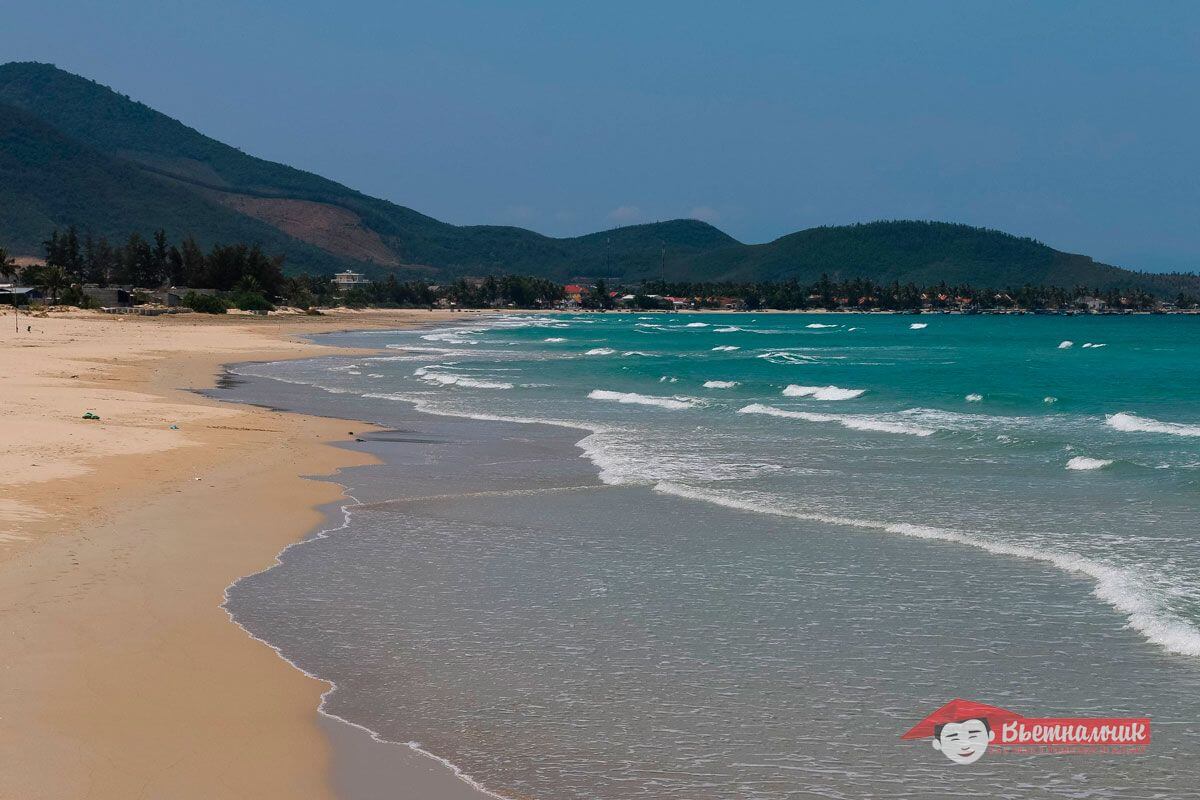 Resort cities such as Nha Trang and Da Nang are famous for their beaches and mud springs, and Dalat itself is a great place. In addition, this Asian country has a rich culture and traditions.
Interesting fact: Vietnam – a favorite place for tourists from the Chinese. As they themselves admit: it is close, cheap, delicious, warm and have the sea. Therefore in Nha Trang, apart from the Russians, there are a huge number of Chinese.
Visa-free entry for up to 15 days.
Vietnam allows visa-free entry for citizens of a large number of countries, but under certain conditions:
the purpose of the trip must be purely tourist and familiarization;
Stay in the country for no more than 15 days.
Tourist visa does not permit to work or study in Vietnam.
To enter the country you must:
availability of a foreign passport, which expires not earlier than 6 months from the final date of travel;
availability of a return ticket;
the period since the last visit to Vietnam, if any, must be more than 30 days;
absence of the tourist's name in the blacklist of the country.
Visa-free entry into Vietnam is possible for no more than 15 days every 30 days. The exception is if you have a visa, then the rule of 30 days does not apply to you.
Also note that it is not necessary to have a return ticket, as you only need to show a reservation for it. At the same time, you can go back to any other country, not just the one from which you arrived in Vietnam.
By the way, for a tourist trip may need insurance . We advise to read our article: "Health Insurance in Vietnam. Is it necessary and what is the best choice?
Visa-free entry to Phu Quoc
We should separately mention the visa-free regime for the island of Phu Quoc. It lasts not 15 days, as on the mainland, but 30 days. This is only possible if you arrive at the international airport, located on the island. However, in this case, you are unlikely to be allowed to leave the island to visit other parts of Vietnam.
Visa for more than 15 days (1, 3, 6 months).
Russian citizens don't need a visa for up to 15 days. You need to apply for it only if you decide to stay for a longer period.
Citizens of Ukraine, Belarus and Kazakhstan require visa on arrival.
A visa to Vietnam can be obtained in several ways:
at the Vietnamese Consulate in your country;
Consulates General in other countries;
Through intermediaries.
Registration through the consulate
You can apply for a visa in advance at the Consulate of Vietnam in Russia (in Moscow, Vladivostok or Yekaterinburg).
Embassy of Vietnam in Moscow Address: 13 Bolshaya Pirogovskaya Street, Moscow, 119021, Russian Federation Tel.: (499) 245-10-92, 245-09-25.
Consular Section of the Embassy of Vietnam in Moscow Address: 119021, Moscow, Bolshaya Pirogovskaya Street, 13 Phones: (499) 246-13-83
Consulate General of Vietnam in Yekaterinburg Address: 620087, Yekaterinburg, Karla Liebknecht St., 22, office 411 Phones: (343) 253-02-84, fax: 253-02-82
Consulate General of Vietnam in Vladivostok Address: Pushkinskaya ul. 1 Phone: (4232) 226-948, 226-927, 205-814, fax: 261-496
In this case you need to collect the following package of documents:
A passport with a validity period of at least 6 months;
2 copies of the application form filled out in English;
1 photo 4×6 cm;
Invitation from host (made through a travel agency).
Then you need to pay a consular fee of $ 25 (depending on the duration of the visa).
Visa on arrival at the airport (entry into the country)
Perhaps the easiest way to get a Vietnamese visa is on arrival: minimum time and money.
So let's see how to get a visa in steps.
Step 1. Before your flight (2-3 weeks)
Before departure you should receive an Approval Letter (or Invitation Letter). This is an invitation to Vietnam, without which you can not get a visa. It has to be ordered 2-3 weeks in advance. The letter must be printed and taken with you to obtain your visa.
Approval/Invitation Letter Invitation to Vietnam
Where to order an invitation letter, read below.
Step 2: On Arrival
Upon arrival at the airport in Vietnam, you should go to the window marked Landing Visa, located in front of the passport control counters.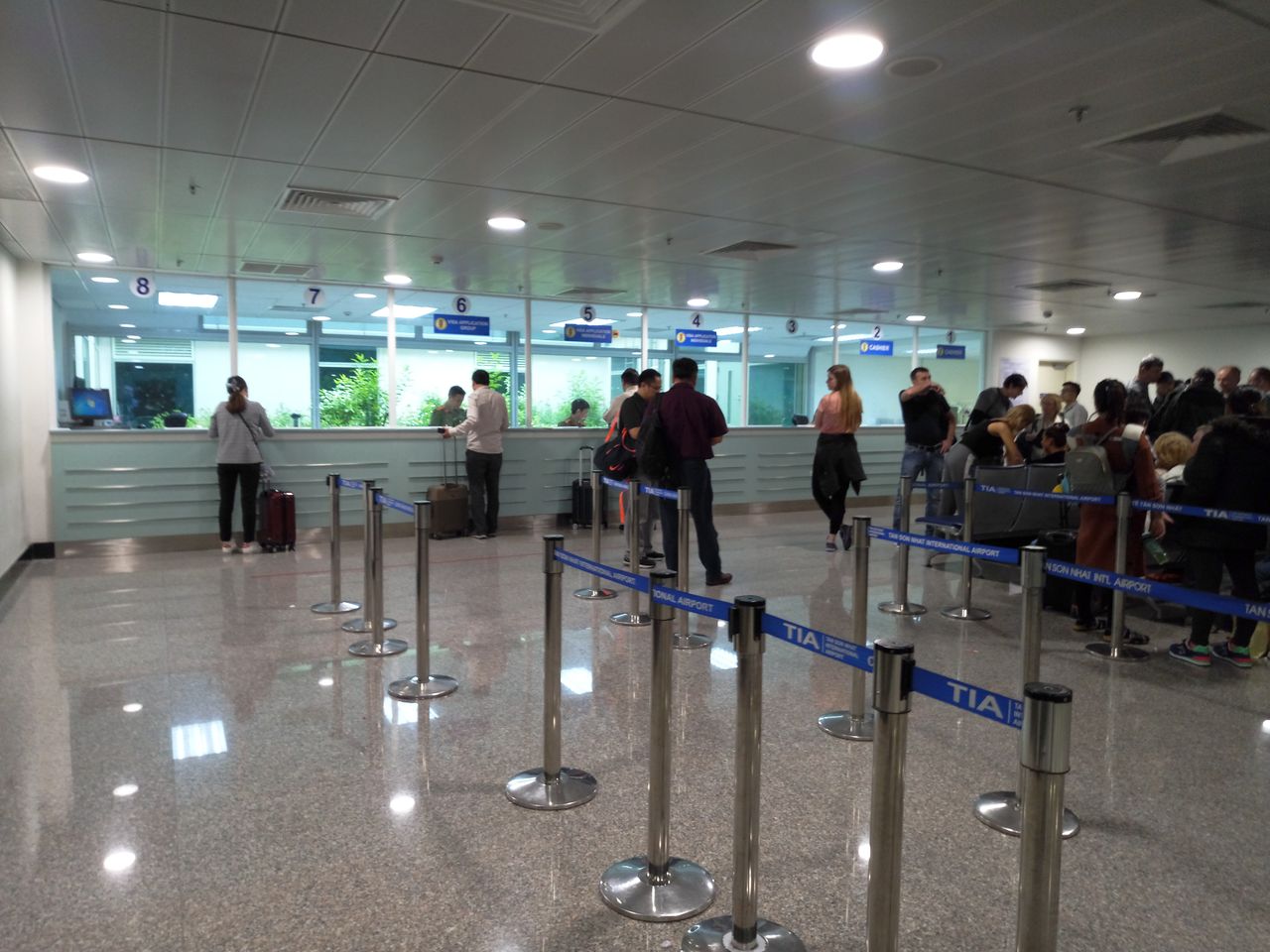 Step 3: Fill out your migration card
Here, at the window marked Landing Visa you can take a blank migration card.
The migration card form. Page 1 Migration card form. Page 2
It is useful to know: you can download the form and fill it out at home, in a quiet environment. This will reduce your time at the airport. The English-language example shows how to enter information in all lines of the document. The Migration Card has its own peculiarities that you definitely need to pay attention to.
Step 4: Submission of documents for visa application
After completing the form you should give your invitation letter, migration card, 2 photos 4×6, and passport to the visa inspector and wait for your turn to receive the visa.
Step 5. visa passport
After a short check (5-10 minutes) your visa will be ready and you will be asked to pick it up.
For a tourist visa for 3, 6 or 9 months the procedure will be the same. Visas for longer periods are issued in the same way, but you will need to provide a different set of documents (read more about this below).
Where to order an invitation?
You can order an invitation to Vietnam (Approval Letter) through a travel agency in your city or through similar companies of the host country.
You can also order this form in advance online.
We have been working with Anpy Ho (Vkontakte, Facebook) for several years, and steadily every three months we make visas through it.
1 month, single entry visa – $8;
1 month, multiple entry visa – $13;
3 months, single entry visa – $20;
3 months, multiple entry visa – $30.
It usually takes from 2 to 5 working days to prepare documents (an urgent invitation is made in 2-4 hours and 1 day). Check directly for details.
Updated. Payment is made to Western Union online, through a personal account, and now also to PayPal .
The invitation you receive will need to be printed out and shown upon entry into the country.
A few more contacts for getting a visa:

The cost of the visa.
Russians do not have to pay for the visa itself, but to obtain it, you must have an Approval Letter. This is an invitation letter to Vietnam, issued by the local Migration Service.
For citizens of other countries (including Ukraine and Belarus) the prices are as follows:
$25 – single entry visa;
$50 – multiple entry visa up to 3 months;
$95 – multiple entry visa for 3 to 6 months; – Not available at the moment.
$135 – Multiple-entry visa for 6 to 12 months. – not available at the moment
In practice, it does not happen that someone is not issued an invitation, although theoretically it is possible.
Coronavirus (Covid-19) visa price
This visa is relevant only for those who are already in Vietnam, as it allows you to extend your stay for several more months without leaving the country. Prices, of course, bite, but when there is no way out – nothing can be done.
In general, the first time you can extend your stay for $10. To do this, go to your consulate to get an NOT (a document that allows you to get a stamp in your passport without leaving for another 1 month).
Then, prices go as follows (check with agents for more detailed prices):
1 month – $110;
2 months – $220;
3 months – $330.
Residence permits and visas for 12 months and longer
For true lovers of Vietnam, as well as businessmen who have decided to settle here tightly, it is possible to obtain a residence permit for a period of 2 to 3 years.
Prices for 2018 are approximately as follows:
One-year visa. ~ $450;
Residence permit for 2 years ~ $600;
Residence permit for 3 years ~ $800.
For more information on the process of obtaining the necessary documents and the current cost, please contact a visa agent.
Important! In 2019, visas have become stricter, visas for more than 3 months are no longer made. In the near future, they promise to introduce only one-month visas (3-month visas are also promised to be removed).
Entry rules for children
A visa to Vietnam is also necessary for minors – the state policy in this regard is quite standard. If the stay in the country will be more than 15 days, the child must be entered in the parent's passport. That is, in fact, one visa is needed for two, but in this case the invitation letter is charged twice.
It is also worth noting such important information that on the hands of grandparents, uncles, aunts, etc. should be a power of attorney from the parents, allowing to leave the country.
The child must have a birth certificate or passport. These documents are also subject to verification by the border guards.
Entry rules for the citizens of the CIS
Citizens of Kazakhstan, Ukraine and Belarus in addition to an invitation letter, you have to pay a consular fee at the border of $25 and above.
Ask a travel agent or visa agent (contacts above) for details.
Penalty for overstaying your visa
Try not to overstay your visa!
However, if you do overstay your Vietnam visa for some reason, try to contact a travel agent and ask about the extension without crossing the border. This will cost you 10 times more expensive than the regular visa, but you can avoid unnecessary problems with the customs.
As the visa agents told us, if a person without a visa exceeded the period of stay in Vietnam, he will be charged the appropriate fine and for 2-3 days overstay will have to pay a fee of $ 50. If the period exceeds these few days, it threatens not only a fine, but also a ban on visiting the country in the future.
Getting a waiver
Get a waiver from the Migration Service of Vietnam from the visa is virtually unreal. This is due to the fact that the country has a flexible visa policy aimed at increasing the tourist flow of people from all over the world. The state receives a significant portion of the profits precisely from the influx of tourists.
Practice shows that if there are no problems with the law, overstaying of visas, etc. on the last trip to Vietnam, the visa is definitely given.
Denial may be due to such factors as:
The inclusion of the person in the blacklist of the country;
Incorrect filling of all documents (making mistakes or inconsistencies);
any deception of migration officers.
Visa extension process (visaran)
With departure
The easiest way to extend your stay in Vietnam, if your visa has expired, is to make a new one. This is called a visa run (visaaran), that is, when you need to leave for another country and come back.
To do this re-issue an invitation, and then with a clear conscience to travel to nearby countries (and you can go further away):
Cambodia (cheapest, you can take a bus from Ho Chi Minh City);
Thailand;
Indonesia;
Malaysia (probably the most convenient way, since there are direct planes from Nha Trang);
Laos (now, too, Russian expats rent a minibus and make a vizaran in a day;
Philippines;
Hong Kong;
etc.
On the way back you need to go through the same procedure for obtaining a visa – and that's all, you can stay in the country for the next few months or even years.
No Departure
Data for 2019: Now it has become stricter, many agents no longer extend, so it is better to clarify more detailed information in the actual case.
If necessary, the visa can be extended without leaving the country. The period of extension can be from 30 to 90 days (i.e. from one to three months). But most often migration services do not offer a maximum period for a foreign citizen. For the prolongation process to be successful, two requirements must be met:
one should not violate the laws of Vietnam (this applies, among other things, to minor offenses, which are punishable by an administrative fine);
The person must apply to a specialized department of the country or to the appropriate intermediaries.
Renewals can have different costs, depending on who you go to. Usually the price ranges from $25 to $50.
Work Visa
Sometimes after visiting Vietnam, some people find a job here and decide to stay and work officially. Most often this applies to industries such as IT, education, shipbuilding, mining, service sector, etc. In this case, some employers arrange a work visa for employees.
The work visa is not issued with the help of the migration service, but through the Department of Labor of Vietnam. In this case, a company registered in this country, must identify a desire to hire a foreigner. Most often, this happens when he has appropriate experience and good specialization.
For the Department of Labor it is important to prepare a certain package of documents:
The job application form;
Confirmation from the company hiring the employee;
certificate of no criminal record in the country of residence;
migration card with an appropriate photograph;
health certificate;
copies of documents confirming specialization and professional skills (notarized diploma);
3 photos 3×4 in color.
Within 15 days the Department of Labor of Vietnam will consider the documents and make a decision on visa issuance. In most cases, this document allows you to work for one to three years.
It is worth noting that you can not change the place of work under any circumstances. This is due to the fact that the person, including the company, which has invited him to Vietnam. If he changes his place of work, the new employer has to re-do the paperwork for the permit.
An example of a Vietnamese company that employs Russians with official registration, can be considered Coc Coc Browser (off. site).
Conclusion
We hope that our tips will help you get a visa and remove most of your questions. You can feel free to ask your questions in the comment form below, we are happy to share our experience.
Vietnam is a country which is easy to get a visa to and very loyal to the citizens of CIS countries.
Have a nice stay in Vietnam!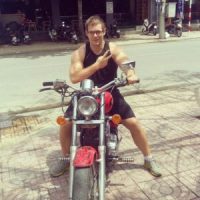 Since 2013, I have been living with my wife in different countries, including China, the Philippines, the USA, and Vietnam. I photograph and write about travel blogs.
Visa to Vietnam in 2022 – how to get it yourself
Russians and Belarusians do not need a visa for a short visit to Vietnam (up to 15 days). However, to travel abroad or for a longer stay in the country, you will have to get a visa. How to do this I will tell in this article. For those who do not like a lot of letters – at the end of the short video story about applying for a Vietnam visa. Important information about Vietnam: since March 15th, 2022 the covid measures have been canceled.
Important Information! From May 15, 2022, Vietnam abolishes the requirement to provide a negative result of PCR or antigen test for COVID -19 for all tourists arriving in the country. The corresponding decree was signed by Vietnamese Prime Minister Pham Minh Chinh. Thus, the country has returned to the pre-pandemic conditions of entry. This news is taken from ATOR.
As of July 2022, Russians can enter Vietnam in two ways:
Visa-free for a 15-day stay.
Obtain an electronic visa for 30 days. Do not confuse with an invitation on arrival (was up to 3 months – this is not yet). Read about electronic visa in the next article – Electronic Visa for Vietnam
Further information presented in the article is not yet up to date.
So, there are a number of cases when a visa to Vietnam is not necessary at all:
For tourists from Russia or Belarus, flying to Vietnam for a short period of time up to 15 days – no visa is required
For citizens of most countries who have decided to spend their entire vacation (up to 30 days) on the island of Phu Quoc – no visa is also not required if you arrive on the island at the international terminal.
Read more about the visa in Phu Quoc
There are reverse situations when you can't do without a visa to Vietnam. How to independently obtain a visa to Vietnam citizens of Russia, Belarus, Ukraine, Kazakhstan and other countries of the former Union, let's understand a little below. This article will be useful for other Russian speaking people from all over the world, because Vietnam visa rules are actual for many countries.
Attention! It is not obligatory for getting a visa to Vietnam, but I strongly recommend you to buy Vietnam travel insurance before the trip.
You do need a visa for Vietnam in the following cases
Visas for Russians and Belarusians are necessary:
If you need to stay in Vietnam for more than 15 days (1 – 3 months, even a one-month visa may be with multiple or single entry)
You came to Vietnam less than one month after your previous entry
You would like to visit neighboring countries during your stay in Vietnam, for this purpose a multiple-entry visa is required

Vietnamese visa for citizens of most other countries (Ukraine, Kazakhstan, Georgia, Azerbaijan and others):

required on a mandatory basis. The only exception is a direct flight to Phu Quoc Island (read the link above)

Three ways to get a visa to Vietnam

A visa can be obtained:

At the Vietnamese consulate in your country or any other, in advance of your flight
Upon arrival at the airport in Vietnam
Electronically through the visa application center website

Which visa is the right way to get a visa

We recommend getting a visa to Vietnam by arrival, but it is necessary to clearly understand for whom such a method is suitable, and for whom it is too complicated and expensive:

For a tourist visa in the Consulate of Vietnam you don't need a letter of invitation, but you will be charged a consular fee of about $ 55 for a visa for three months (the price varies by country)
For a visa on arrival, you need to get a letter of invitation to Vietnam, which, alas, is not free (we can help with its receipt). In addition to this :

For citizens of the Russian Federation, you do not have to pay a stamp fee at the airport
For citizens of other countries at the airport for stamping a visa you have to pay 25 or 50 dollars depending on the type of visa

It is important to know that you can get a visa on arrival only in the following major international airports in Vietnam:

List of required documents for Vietnam visa on arrival and consulate

The first thing to do after buying a ticket to Vietnam is to make a special invitation, which will later obtain a visa. And also you need to fill out a form and prepare photographs.

Approval letter is a letter of invitation to Vietnam. This is an invitation from an authorized Vietnamese travel company. It's easy to find them online. The cost varies on average according to the length of stay and ranges from $ 6 to $ 30. It is important only to understand that the invitation for a visa on arrival, an invitation to obtain a visa at the land border and the invitation to the consulate are signed and made differently.

900 rubles – for single visa invitation for 1 month . The right of single entry to Vietnam
1200 rubles – invitation for a multivisa for 1 month (28 days). Gives the right for multiple entry / exit to Vietnam.
1700 rubles – invitation for single visa for 3 months
2200 rubles – invitation for a multivisa for 3 months (85 days).

Then the visa will be given for the period you indicated in the invitation form. After completing the application and payment, an invitation will be sent by e-mail within 2 to 5 working days.

How to make an invitation to Vietnam on their own, read my separate article, which themselves have received hundreds of invitations for themselves, friends and readers of the site:

How to get an invitation to Vietnam (sample)

A complete package of documents for a visa is as follows:

An invitation letter to Vietnam (Approval letter). The one you received by mail.
It is best to fill out an application form at home so you do not have to waste time when you arrive. The form of this form will send an invitation, so you do not need to look for it separately. You can fill out the form in either English or Vietnamese, and don't forget to sign it.
2 photos: color or black and white, with an open face, not very old, on a light or white background, it is better to make current photos. Frankly, we ourselves all the time handed in photos 3×4 or 3,5×4,5 as they are more suited to the format
The passport must be valid for at least 6 months from the date of entry into the country.
Also at the airport may require a return ticket or its booking. We usually show the invitation itself – and say that we will get the visa on the spot.

Visas for longer visits: for work, study or permanent residence are issued with a different set of documents and according to special rules.

How to get a tourist visa in the airport of Vietnam

Package of documents is ready, now let's deal with how to behave correctly and what to do at the airport, so that you do not accidentally get a normal stamp for 15 days, instead of a three-month tourist visa.

When you arrive at your destination in Vietnam (Ho Chi Minh City, Hanoi, Nha Trang, Da Nang, Phu Quoc) go to the window called "Visa On Arrival" or "Landing Visa" or "Visa Upon Arrival". This is done before passport control (important, because at the control can put a 15-day stamp and all, it has not changed. Only to leave the country or you can extend it at the Ho Chi Minh migration service, for example, for 12-15 days for $ 90, but more profitable to make a visa on arrival).
Give to the window all the documents: an application, invitation, 2 photos and passport
They may require a return ticket and the payment of the visa itself. Remember however that Russian citizens can get visa for free on arrival (you can download here the document for free visa for Russians in Vietnam, item is marked in red). So you should proudly remind the employee that you are a Russian (you can say – Free Viza for Russian)! If you are from another country, you will have to pay a lot of money.
Now we wait for the passport with the visa, it may take 10-30 minutes, plus take into account the fact that there may be a queue. You can walk away from the window and sit waiting to hear your name. They sound it out loud and surprisingly well said my last name, while the names of other people I could not make out. We heard it, got it, checked the visa and went to passport control. In Fukuoka they make visas faster, right in front of you in 5 minutes.
At passport control, give your passport with your visa open. This should be done so they don't accidentally mix up and give you a stamp for only 15 days of stay, check the terms. If there are any inaccuracies go back and demand to have it corrected. Our first Vietnamese visa was for 3 months from 05.12.2016 to 05.03.2017, the photo stamp with that date, all correctly put, you can rest!

Our help for a visa to Vietnam

Again. If you do not want to bury your head in processing a visa to Vietnam on your own, then write and we will help you. We offer our support in processing documentation for tourist visas:

visa invitation request
filling out visa application form
advice on what to do at the airport

Contact us at your convenience:

messengers (telegram, whatsap, viber) : +7 909 671 69 70, +7 926 282 12 99
Social networks: Facebook, Vkontakte, Odnoklassniki
Or email egen.dos@gmail.com

Extension of existing tourist visas to Vietnam

Officially, the extension of tourist visas on the spot in Vietnam occurs only once. This is done at the migration center. Extensions are issued for a maximum of one month. In this case the travel agencies charge a pretty tidy sum for their help (here we are not the helpers).

In most cases, in order to get a visa to Vietnam again for 1-3 months people go to a nearby accessible country again. Such a procedure is called vizaran or borderran:

Visaran to Cambodia across the land border by bus . Until recently, from Phu Quoc island this was the easiest and most affordable way. The average cost is $90-$120 per person. Read more here .
Visaran to Kuala Lumpur and back with AirAsia. As of November 2018, flights on Fukuoka by this low-cost carrier have opened. The minimum cost for a Visaran is $120 (for a day trip). A sightseeing vizaran will cost about $200 to $300. Read more here .
Visaran via Bangkok with Bangkok Airways. Tickets to Thailand from Fukuoka cost about $100, but from the mainland, you can find much more affordable options

To return to Vietnam and get a new visa requires the same package of documents as described in this article. It is possible to use the services of travel agencies to do it faster, but more expensive.

I will summarize the visas, for those who do not like to read, watch the video:

A few words about the sore point – do not be lazy to read

Safety and Travel Insurance in Vietnam (very important)

Many countries require a mandatory insurance policy for obtaining a visa. In Asia, and in Vietnam in particular, insurance is not mandatory for obtaining a visa. Therefore, they safely forget about it and save as much as $15-20 on the huge risk of being without assistance in a foreign country.

However, in the 2018-2019 season alone, insurance came in handy for dozens of people I know. Two good acquaintances were hurt in accidents – and had no insurance, so they had to ask strangers for financial help for expensive treatment. Having already had a lot of experience living in Vietnam, I strongly recommend to all tourists to buy travel insurance in Vietnam. You can do it online from the comfort of your home, right now.

I advise you to read separate articles about travel insurance and travel insurance to Vietnam

Important information for travelers to Vietnam from Ukraine

Information for Ukrainians traveling with children. What you should remember.

Important for Ukrainian citizens with children. Many travel agencies in Ukraine often tell you that if the children are not listed in the parent's passport, they won't be able to get a visa when they come to Vietnam. They say they have to go to the embassy to get a visa. This information is not correct, do not trust it.

We received the correct information from one of our readers, that the Ukrainian children listed in the parent's passport without the pasted photo can not get a visa on arrival. If a child has a passport or is inscribed to a parent with his picture pasted in, he can get a visa on arrival.

And the embassy visa for Vietnam is much more expensive.

Do not forget that a visa is needed for each family member, including infants. When you get a visa on arrival with each one will take Stamp Fee – the fee for setting visa in the amount of 25 or 50 U.S. dollars (depending on the type of visa: single or multi-)