Volkonsky dolmen and the rock Two Brothers – a pagan place near Sochi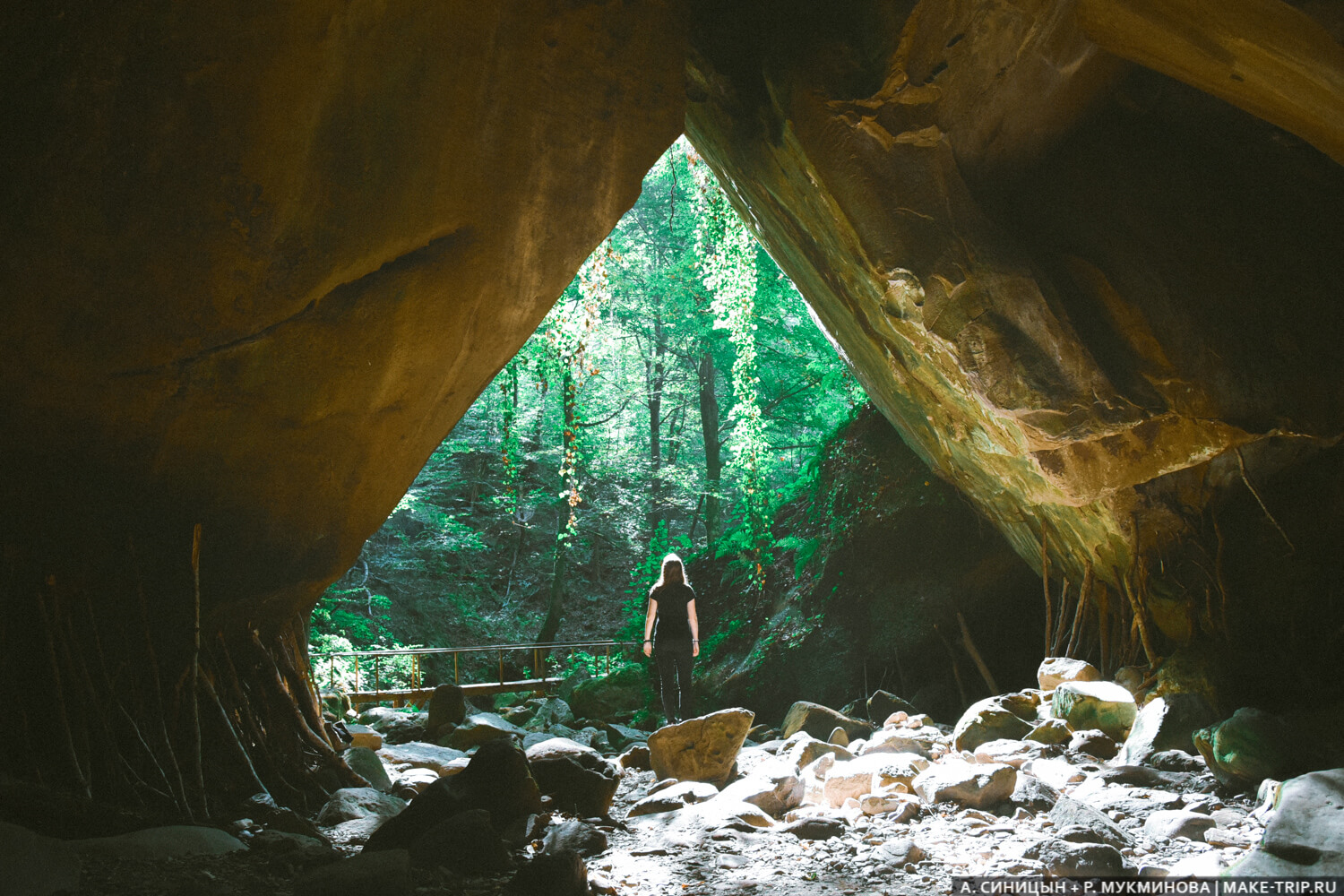 Volkonsky Dolmen and Two Brothers are some of the most ancient and mysterious places in Sochi. Here you make a wish, energized and trying to know yourself. Let's take a walk along the gorge together!
Contents:
Volkonsky dolmen
"The unique monument of megalithic culture, the only preserved in the world full-size dolmen of monolithic type was made in the whole block of sandstone in III-II thousand years B.C.". – so dryly describe Volkonsky dolmen on the stand at the entrance to the gorge. But don't let the description from the history book scare you – ahead there is a short, but beautiful trip.
We arrived from Lazarevsky to Volkonsky Gorge closer to noon, when the sun was shining through. We left our car at a small parking lot right by the trailhead and walked through the woods on a simple, short road. We paid 100 rubles at the ticket office (entrance costs 200 now) and here we are in front of the dolmen. It looks impressive: solid, massive, monolithic. It is impossible to come up close and look inside, but everything is clear to see. The dolmen is truly unique. Unlike other Caucasian dolmens, it is cut directly in the block, not made of plates. Volkonsky dolmen is the same age as the Egyptian pyramids. Impressive, right? Many people consider the dolmen to be a place of power and come here to make a wish, to dig deep inside themselves, or simply to "recharge".
Near the dolmen is a hydrogen sulfide spring, which is considered healing. It is forbidden to drink from it.
It will take you no more than 5-10 minutes to examine the dolmen. But don't hurry to leave! Nearby is not so unique, but no less interesting point of interest, from which the paganism and mystery reek even more than from the dolmen. I am talking about the rock Two Brothers – two mega-huge fragments, which leaned against each other and formed a picturesque grotto.
Volkonsky dolmen.
You will be interested to know:
Two Brothers Rock
The trail to the rock leads along the Volkonsky Gorge along the river Godlik through a bright forest with tall trees, mossy cliffs and boulders. It is very easy, even a small child can walk it. Climb up the swollen, like veins, tree roots, pass a small section of a narrow stony path, cross the picturesque wooden bridge – and here you are at the picturesque grotto, twined with ivy. Through grotto, there is a small river inside.
On the way to the rocks you will see a beautiful forest. You can see a view of the rock Two Brothers.
What does this have to do with paganism, you may ask? Come closer and you will see that from the inside and outside the boulders are supported by hundreds of long and short sticks and branches. Branches, branches, twigs everywhere – a real fence! It feels like you've entered a shaman's cave. Tourists carry these sticks to the rocks, making a pilgrimage, as in a pagan shrine, and make a wish. There are so many of them here that on the way there is not a single free lying branch, so you have to bring your own!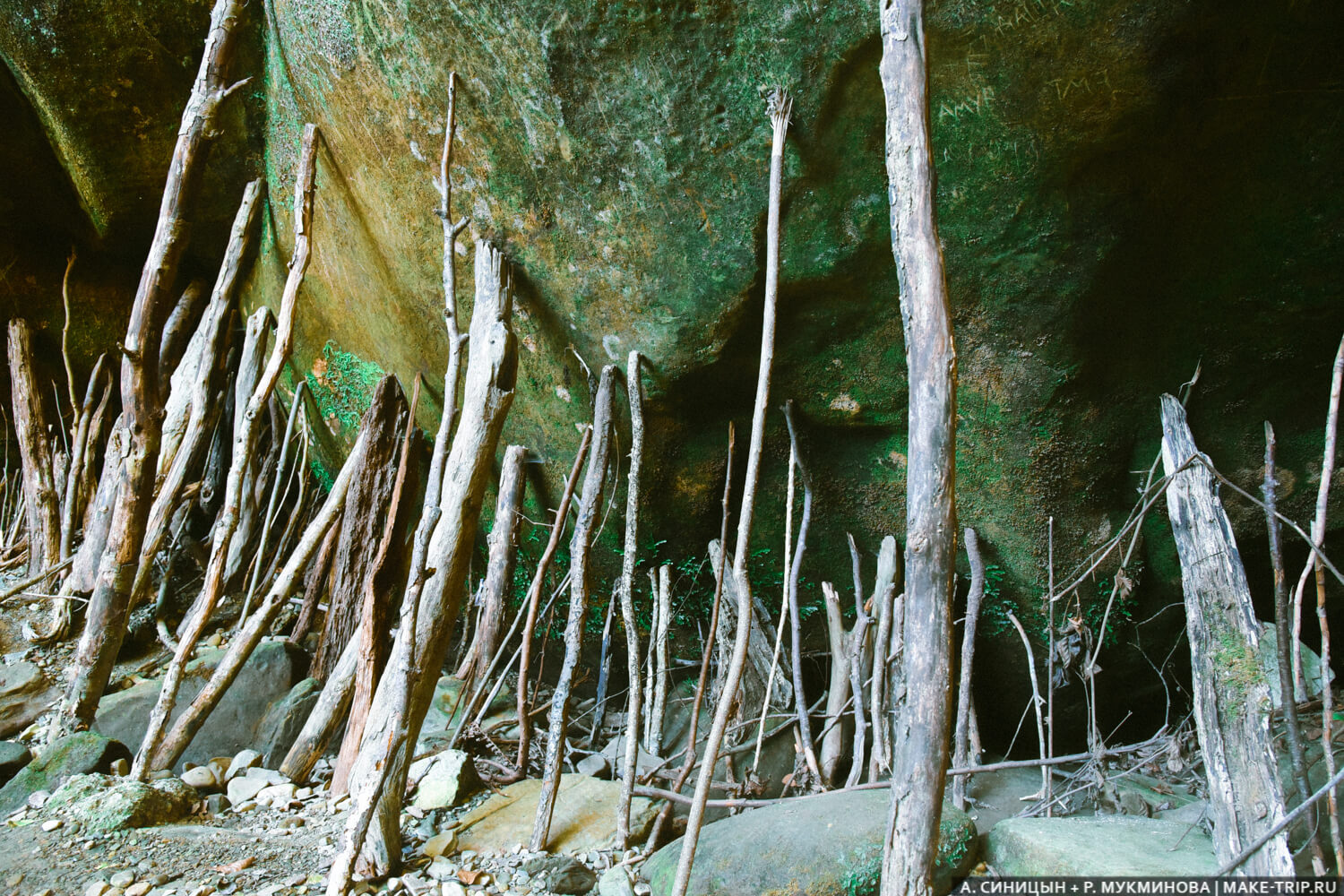 The sticks that tourists bring.
And in the grotto, because of the high triangular ceiling, special acoustics, and the insects that buzz there continuously, creating a vibration that can enter into a trance. Toward noon, the sunlight enters the grotto and beautifully illuminates the stones.
As usual, every place of interest in the Caucasus has a beautiful legend. There once lived two brothers who came from a noble family. And one of them, Aslan, fell in love with a poor girl, Godlik. Of course, in the olden days they could not be together, and then the older brother was against it. In general, Aslan said that he could not live like that – and turned into a rock. The girl could not live without her beloved either and in grief turned into a river flowing under a boulder. Elder Brother Hadjimuk didn't want to live without his brother and turned into the second rock. That's how everyone found peace.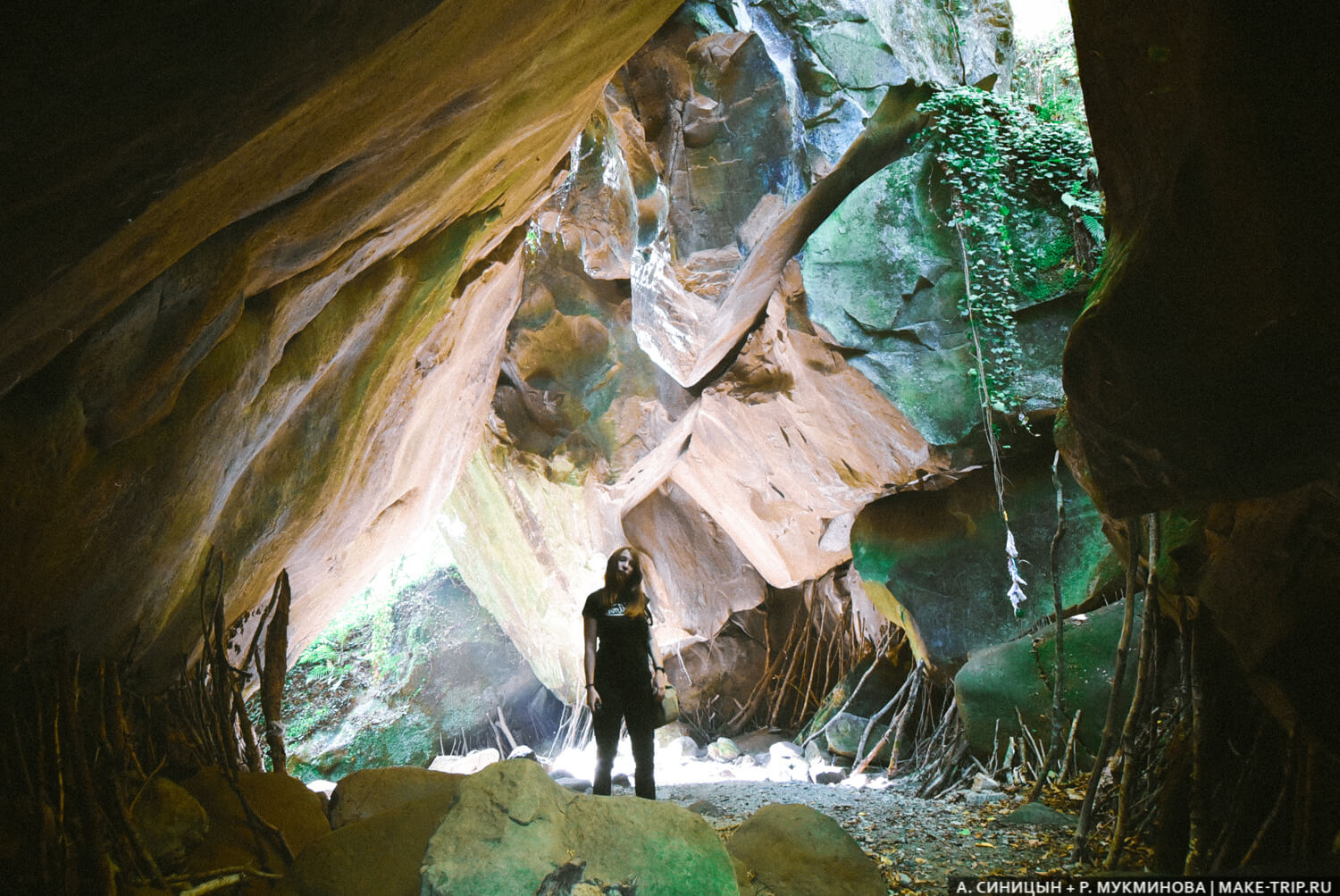 Between the rocks.
How to get to Volkonsky dolmen
By yourself to get to the Volkonsky dolmen by car is very simple – you just need to turn from the highway Dzhubga-Sochi to the parking lot, above which the inscription "Volkonsky dolmen. From Lazarevskoye it is easier to do, because the parking will be on the right.
You can also take buses number 74, 77, 79, 158 and 170. Get off at the "Glinishche" stop.
You can also get there by train – get off at the "Volkonskaya" station, and then walk about 1.5 km along the Volkonka, which takes about 20 minutes. But I think the bus option is easier: you get off right at the parking lot, and you only have to walk about 5 minutes.
Volkon Gorge and Two Brothers Rocks
And the Godlich River flows through the gorge. Quite small, but also picturesque. With stones, rapids, as befits a mountain river.
The main attraction of this place is a monolithic Volkonsky dolmen, the age of which is more than 4 thousand years. I've already told about it in detail in the previous article. If you haven't read about this unique ancient construction, the only such in the Caucasus, be sure to read it.
Volkonsky dolmen – the only such in the world
In the meantime, let's take a walk in the gorge.
Just behind the dolmen is hydrogen sulfide mineral spring. Water flows into it from the depths of the geological fault. It contains sodium, chlorine and hydrogen sulfide, which is written on a plate next to the spring.
Spring in Volkonsky Gorge
You should not drink this water! It is only for external use. You can wash your face and hands.
After the spring you go further into the gorge, along the river on the right orographic side (in the direction of the stream).
Next to the spring is the Glade of Roots.
It looks very impressive. Quite a suitable place for filming a scene of some horror movie.
Some strange creature is leaning against one of the trees at Roots Glade. It was either a dodo with a big beak or something even more outlandish. You can even see one eye.
Did you see it? It must be one of the guardians of this magical forest…
And here a giant stone near the dolmen reminds me of a lying eagle. And our daughter said that it looks like a swimming turtle.
And what do you see – an eagle or a turtle?
We continue along the river. Although the path here goes along the edge of a small cliff and is full of roots and rocks, it is easy and safe to walk. There are wooden stairs and railings at the most difficult parts. It's just a pleasure walk, without any extreme.
The path is very beautiful, full of roots.
On the other side of the river there is a bridge.
Do not even get your feet wet on this walk through the gorge.
Rocks Two Brothers
If you go further, you can see an interesting natural monument – the cliffs of Two Brothers.
Volkonskoe Gorge. Two Brothers Cliffs
There is a touching Adyghe legend about love and loyalty. Once upon a time there lived a young dzhigit. His name was Aslan. He was from a very noble and wealthy family, but fell in love with a poor orphan girl named Godlich.
However, his older brother Hadjimuk told Aslan that he should not only put the crazy idea of marrying the homeless beggar out of his mind, but not to meet her at all anymore. And not even think about her. For such a bride is a disgrace to their glorious family.
The young dzhigit said: "I'd rather turn to stone than give up my love!" And then a miracle happened – the younger brother turned into a stone.
Our Children at the Rocks Two Brothers
The older brother was stunned and began to ask the petrified Aslan for forgiveness. But the latter remained silent. Stones do not speak. Then Hadjimuk pressed himself against the huge boulder and begged, "May I also share my brother's fate!" – and immediately he turned to stone.
The beautiful Godlich passed by. She heard and saw it all. Not wanting to live without her beloved, the girl began to pray to the heavens that she would become a river beside her petrified lover.
One of the stones in the river looks like the face of a man
Did you see this rock?
The Godlich River still flows between two rocks, in a natural tunnel between two rocks. The water gurgles as it runs down the rocks.
Godlich River flows in a tunnel between two rocks.
They say if you listen to this murmuring for a long time, you can even hear the names of Aslan and Godlich.
And in the huge tunnel between the rocks leaning against each other, you can enter. And even go through the tunnel and come out the other side. It's through.
Light at the end of a natural tunnel in the rocks Two brothers
How to get to the Volkonskoe Gorge, I described in detail in the previous article about the Volkonskoe dolmen. In short – it is in Lazarevsky district, near the village Volkonka. Visiting costs only 80 rubles (children under 10 years of age pass without paying).
Coordinates of the Natural Tunnel Two Brothers: N 43 ° 52'29.44″, E 39 ° 23'52.57″.
For those who do not have a car, it remains only to add that you can reach here by train from Sochi or Lazarevskoe (2 stops from the village). You can also get here by bus. Or you can come on a guided tour.
Do you like Volkonskoe Gorge?
All materials of the site "Roads of the World" – copyright. Please, do not take any articles and photos without permission of the author and site administration.
© Galina Schaefer, "Roads of the World" website, 2015. Copying text and photos is prohibited. All rights reserved.
Related posts:
Thank you for sharing a link to this post on social media!
Share on social media
Wonderful places! Thanks for the virtual tour! The one-eyed "keeper of the forest" especially liked it!
I liked it very much too, Olga! It's just like a living thing.
How many interesting and unique places in our country, many monuments of nature, architecture and history. There is a lot to see and tell us about.
Anna, I agree. Our country is big and beautiful. The main thing is to take care of everything we have.
Amazing places, you can safely put on a fairy costume and have a photo shoot.
The only thing left is to get a fairy costume. Galina.
Galina, very interesting story-legend about two brothers, about loyalty, about love. The face of a man? Yes, it is so well discernible, just a shiver went through my body, as if someone out of the water is looking at you … The Glade of Roots impressed me.
We had a chance to visit this interesting place. Unusual, a little bit mystical beauty it has.
Yes, there is something mystical in such places. Only bizarre trees and roots of what stand … And the dolmen itself is rather unusual.
Galina, and when you were there, was the rock, which you rest against when you go to the "Two brothers" was on props? It is a very strange sight – a huge boulder from below is "pinned" with a bunch of twigs, sticks, stakes of different thickness. It looked as if somebody held up the rock with matches
At the exit asked the attendants, the answer somehow inarticulate – as if the stone looks like a fish, and it's fins did….. hm….
No, Eugenia, I don't remember any strutting. But judging by the descriptions, some kind of perversion. Nature itself is perfect there, it is not worth spoiling it.
Maybe the dolmen stands on that place, that those who drank the water immediately carried inside it? :]
What only fanciful forms the nature has not created! And people will always invent a beautiful legend. It's great! Beautiful places and very unusual.
Walking around such places, doesn't it seem that a miracle creature is about to appear? It was my daughter looking through photographs with me and she had such a question))
Once again I am convinced that the natural sights leave the most vivid emotions and impressions. And what a flight of fancy: what just do not make out in the bizarre tangles of roots and unusual stone giants. And very beautiful photos with flowing water (my camera doesn't produce such a beautiful effect).
How beautifully the branches come down from the rocks Two Brothers, as if the hair covers their faces.
Super! From this vashe great pictures. Such beautiful places that just wow.
Photos are not good, it was a little dark, and I did not adjust the camera properly for the conditions. But the places are really wow I agree. ))
The place is very interesting. But I am surprised that there is an entrance fee. The amount though symbolic, but it is not clear why they charge it. If they want to make money or need a wage for a keeper, let them put vending machines with water or coffee next to it, for example. These buildings are created a long time ago, why take the money? Of course, I understand that everywhere, the Egyptian pyramids and Stonehenge is a more expensive entrance, but it is wrong somehow. Well, at least here you can take pictures for free:)
Oh no, that's vending machines with water or coffee there will be quite out of place. This is a natural and historical place. I would be in such places and all sorts of signs, billboards and information would put so as not to spoil the view.
Dmitry, they charge for visits to all such places. This is called an environmental fee. Explained by the fact that someone has to clean up after visitors trash, maintain bridges and stairs. Maybe that's wrong. But on the other hand, if there were no supervision at all, the dolmen and the whole gorge would be covered with a pile of garbage. It is unlikely that there would be volunteers who would agree to keep the gorge clean on a regular basis.
By the way, if you really do not want to pay, you can come early in the morning, when the ticket office is not yet working (there is no fence). Or in winter. When there is no one there at all. We were even before the ticket office opened. Not because we didn't have any money, but because we were going there at that time.
Even though we live here, and sometimes you get the urge to resent what we have to pay for, but… in places like this, it's very noticeable what the fees go to – the cleanup, the bridges, the ladders, the hanging bridges. At waterfalls, sometimes ladders and passages stretch for more than one hundred meters, all made of thick beams, not on snot, as they say. And if it were not for these constructions not many people would be able to see all the beauty. Plus, of course, the security. It is not a pity to pay for it
Oh yes, when everything is equipped and clean – then it's clear what they charge for. And we came early in the morning. I don't even know what the fee is – no one has been there yet.
You live in wonderful places, Eugene!
Roots, as live beings, so mysterious! Very interesting place
Galya, and you at your leisure do not write fairy tales? Here, especially after such walks through the enchanted forest? The Glade of Roots – a beautiful, but creepy place… I was impressed…
I write fairy tales sometimes too I mean it. )) On the right sidebar there are links to more of my blogs. Here are in my literary one, and published fairy tales. Not all of them, though. I haven't run that blog in almost a year. I do not have time!
Yes, the Roots Glade is a very impressive place. The Caucasian forests in general are something. So picturesque!
Wow, how I guessed it :))) I'll go and read before going to bed ;))) Ah, really: how do you have time to do three blogs, with so many children?
Ellinchik, our two children are grown-ups. And the kids are already relatively young – one is 6, another soon – 9. And the blogs are four.
And there are four blogs. You also forgot graphomaniacs, which for two with Sergei Izvozhchik lead. Only I do not have time. In fact, only this blog. I haven't written in the literary one for a long time…
I saw a mammoth lying on its side instead of an eagle, and I have not found the face of a man among the stones. Interesting place, and the legend is beautiful. Thanks for the review.
That's how interesting, how many people see so many different things. Thank you, Inna, I also really liked the gorge. Mysterious, mysterious…
In a clearing of roots, a huge block of rock or stone, very similar to a dog's head. If you look closely and try to compare it to something, you can find a lot of characters in the forest.
Yes, indeed, Sash, it does look like a sleeping dog or a lion cub. That's how interesting! And I hadn't even noticed! It is very interesting to look at stones, roots and trees. I understand Japanese people. ))
We often see such roots in the mountains. Have you visited the gorge in May? Are you afraid of ticks or you have not many of them?
We have a lot of ticks. And this year because of warm winter and early spring they woke up in March. Already by the beginning of summer there were over a thousand bites. The news said that one person even died from Crimean hemorrhagic fever. But this is the gorge in Sochi. I do not know how it is with ticks. We have not seen any, we have not removed from clothes.
Of course, we are afraid of ticks. When we go to the nature, we treat our pants with tick repellent. It must scare them off. I really hope so. Otherwise we have to stay home from April to November. I understand that you have this problem with ticks in the Crimea, too?
And our (Sochi) ticks are not dangerous, they are without encephalitis and lyme. So we walk in the woods in shorts and flip-flops, and do not use repellents. On Volkonsky dolmen I have visited about a month ago – amazing place, all any mystical, mysterious. Also very interesting the origin of these structures – for a simple burial is too labor-intensive. It is necessary to "psychics" to write to the battle:-)
Evegnia, about the mites you are very glad. Just dushki they have. We said the same thing in Zheleznovodsk, when the tick near the ear of our youngest son burrowed into the skin near the ear – I was horrified and panicked! Is it really never any case is not recorded? On the Don, people die of tick-borne infections every year. So I do not believe in goodness of these creatures…
The place – yes, you are right. Exactly terrific! "I don't watch Battle of the Psychics. But they probably have a lot of other interesting things to do. Let them do it. ))
I really liked the Volkon Gorge. It's a beautiful place. And the legend is so touching.