The Crimea: shopping at the best resorts
Souvenirs from the Crimea – that fragrant soap with lavender, fluffy mittens angora, delicious smoked fish. These are wonderful wines and healthy herbal teas. Among the T-shirts "Nyash-Myash" and bracelets made of seashells you can find real treasures. We'll tell you what to bring from the Crimea for tourists. We'll advise where to go shopping and suggest the best prices.
You will need some cash in the Crimea. In the markets and souvenir vendors do not usually take cards. In small resort villages there are problems with "cashless" even in supermarkets.
So, what can be brought from the Crimea?
Clothing and Accessories
In the Crimea there are no huge shopping malls. But the peninsula is full of private stores and markets. For fashionable shopping you should go to Sevastopol or Simferopol. The other places sell beachwear and unique accessories.
Branded things
Prices for clothing in the Crimea do not differ from the average in Russia. There are about a dozen large shopping centers in Sevastopol and Simferopol. Collections in them arrive late, but the selection in stores is relatively good. Residents of megacities will not be surprised by the local shopping malls, but tourists from small towns will enjoy shopping in the Crimea. Go to Simferopol if you want to buy something of clothing. The best shopping centers in the city:
Wool Goods.
Crimean goats and sheep live in a favorable climate and environmentally friendly area. That is why they have such a soft, lustrous wool. From her local masters knit fluffy socks, mittens, shawls. In the Crimea you can bring back slippers and toys made of felted wool for children. For your friends buy Angora accessories, and for yourself choose a sweater with national patterns. In the Crimea take back woolen belts as a gift for mom or dad.
Alupka, Alushta and Kerch are especially famous for such goods and souvenirs. You can buy woolen cloth in the markets or you can buy it from the local grannies, who sell it in the streets. A good price for angora socks – 100 rubles, mittens – 150 (central market in Simferopol, 2021). In souvenir shops more expensive. Because of the influx of tourists in the Crimea, prices rise in summer, and in September gradually decrease.
Decorations
The Crimea is famous for its jewelry made of onyx, turquoise, jasper, crystal. They are framed in silver or gold, sometimes with jewelry steel. In souvenir shops and specialized shops there is always a large selection of bracelets, beads, rings made of semi-precious stones. Here's what to bring from the Crimea as a gift for girls and women. Fakes on the markets almost no, the choice is large, the prices are pleasant. Jewelry traded in all resorts of the Crimea, but it seemed to us that the best prices are in Evpatoria and Yalta.
Cosmetics and medicine
As a gift for girls and women from the Crimea is worth bringing natural cosmetics – reviews of it are just excellent. For shopping in large cities like Simferopol or Yalta you can go to specialized stores. And on the small resorts of the Black and Azov Sea it is sold in the markets, in pharmacies and in cosmetic shops.
Local brands
Crimean cosmetics is famous for its "pure" compositions. In the Crimea you can bring soap as a present to your friends and relatives. As gifts for friends from the Crimea you can bring natural soap. Familiar girls can buy tonics, serums and masks. For the family bring from the sea shampoos or creams.
Top 5 brands of cosmetics in the Crimea:
Crimean Rose.
Pantika
Crimean Collection
House of Nature
Saki mud
Mud remedies
Among the unique products in the Crimea you should buy healing mud or products based on it. You will find the largest selection of such cosmetics in Saki. You can also buy scrubs and shampoos as a useful souvenir for your girlfriends. Also you can buy a cream or mask with a good composition.
For reference – the prices in specialized stores in Saki in 2021:
Pack of dry clay 200 gr – 80 rubles;
mask with Saki Lake mud – 50-60 rubles;
natural mud soap – from 100 rubles.
Floral line
The most popular cosmetics in the Crimea is the floral one. The first thing you should buy is natural distillates. From vacation at the sea you usually bring lavender, Crimean rose, mint, clove, spruce and other fragrant waters. This is a good gift for yourself or a loved one.
A good gift from the Crimea is cosmetics based on floral water or plant extracts. For reference, the prices in the store in Simferopol in 2021:
floral water in pure form – from 150 rubles;
Deodorant on the basis of distillate – 120-150;
Face cream – from 200;
natural body scrub – 250-300 rubles;
products with active ingredients – from 500.
Balms, gels
Crimean natural ointments are the best present from the sea for those who suffer from back pains or joint pains. And remedies for muscle cramps will be appreciated by sportsmen. From the Crimea you should bring back balms for pain relief, antivaricose or tonic. Be sure to pay attention to them. Their composition is perfect: herbs, essential oils, natural fat, therapeutic mud and other natural components. Balms and ointments should buy in pharmacies or natural cosmetics stores. A good price is 150-200 rubles for a bottle.
Souvenirs .
The souvenirs in the Crimea are usually sold from the stalls on the embankment. If you move away from the tourist spots, the prices will still be the same. Is that in specialized shops sometimes there are favorable offers. Buy handmade goods in the resorts of the Crimea is better in the markets.
by cities and resorts
Standard products like seashell crafts or souvenir T-shirts are the same everywhere. However, each resort of the Crimea is famous for something special. We tell you what and where to buy in the Crimea.
Sudak . The city on the coast is famous for its Crimean-Tatar whistles with national ornaments. Look for the largest selection of souvenirs in Sudak at the entrance to the Genoese fortress.
Sevastopol . City of Naval Glory is rich in suitable souvenirs. Ties, telescopes, vest – you can bring these as a gift from the Crimea for men. Our favorite are the prefabricated models of ships. For "souvenir" shopping in Sevastopol go to the city market.
Simferopol . Buy unique goods of local craftsmen: jewelry, caskets, badges. Look for them in the markets or trays along the waterfront. Prices for standard tourist souvenirs like magnets or figurines in Simferopol are higher than in other Crimean resorts.
Balaclava . The first thing to buy as a memento of your vacation is a headdress of the same name – it's a symbol of the city. And as a gift to friends bring from Balaklava local essential oils. Buy souvenirs go to the embankment Nazukina.
Yalta . If you go to the Crimea with a child, be sure to visit the local museum "Glade of Fairy Tales". Here masters create figurines of your favorite characters from wood, stone and other natural materials. Buy such souvenirs in Yalta – it is a wonderful gift from the Crimea for children and collectors.
Alupka . Ah, what souvenirs handmade by local craftsmen! Especially good paintings of Ai-Petri and engravings of the Vorontsov Palace. Go to the market near the cable car – it is the leader in reviews of tourists with the best prices for souvenirs in all Alupka.
Livadia . The royal village is famous for its painted eggs. And also beautiful paintings, postcards, albums and icons with members of the imperial family.
Bakhchisaray . The most popular goods of the resort town are wooden handicrafts, essential oils, and spices. For some reason it is in Bakhchisarai that they are the most popular.
Feodosia . One of the most beautiful cities in the Crimea on the Black Sea coast is the birthplace of Aivazovsky. Most of the souvenirs in Feodosia are dedicated to the artist. There is even a sense to buy postcards with reproductions of his paintings – they are wonderful. From the practical – bags, mugs, T-shirts with prints on the theme of Aivazovsky.
Koktebel . Tourists often bring souvenirs with symbols of the annual jazz festival. Also in Koktebel it is worth buying jewelry made of local gems.
Saki . Here it is good to buy healing mud and figurines on the subject of the sea. For shopping in Saki go to the Central Market or to the bazaar "Pioneer" – the prices are better than everywhere else.
Nikolaevka . The resort is famous for phyto teas, herbal gatherings, essential oils. There are especially a lot of them, and the prices are excellent.
Evpatoria . For traditional goods go to the embankment of Gorky or Frunze Street. The most popular souvenirs from Evpatoria are hookahs, mouthpieces and pipes.
Kerch . The resort is popular, but the prices here are not overpriced. The best souvenirs from Kerch are figurines of onyx, jasper, carnelian. And also dried herbs.
Alushta. The resort is famous for its juniper groves. Therefore, from Alushta tourists often bring beautiful wooden souvenirs. Fragrant juniper or their budget analogues. There is everything from simple wooden combs for 20-30 rubles to hand-carved barrels. Prices for any souvenirs made of juniper in Alushta is almost twice lower than the same goods in Sochi.
Plants
In Yalta you can buy a wonderful gift for your beloved mother or gardening friend. While vacationing in the Crimea, go to Nikitsky Botanical Garden. There you can buy cedars, cypresses, palms and flowers. In souvenir shops sellers will always help you choose seedlings or seeds. Just one variety of tulips in Nikitsky garden, it seems, is not less than in Holland.
These plants are also sold in other cities of Crimea. To do this, go to the local markets. The choice is not as impressive, but you won't be left without roses and thuyas.
Fragrant sachets
A nice gift from the Crimea to your parents or friends is fragrant pads filled with dried herbs. They can be miniature or as big as a real pillow. This Crimean souvenir helps to calm your nerves, sleep or cheer up, and scent your closet. Useful properties are always written on the sachets. Prices for sachets in the Crimea start at 100 rubles. We recommend lavender – our sachet has not lost its fragrance even in a year.
Salt lamps
As a gift for children from the Crimea you can bring a natural salt lamp. This is a useful souvenir for those who are often sick. The simplest ones cost about 1300-1800 rubles. If you want to make a child a gift in the major cities of the Crimea, like Simferopol, Yalta, Evpatoria can find interesting options. For example, with cartoon characters. They are already 2-3 times more expensive.
Food and Drink
In the Crimea the cheapest fruits are sold by local residents. At any resort, always look for bazaars, where to buy local residents. At least one market is always there. Buy delicious souvenirs on the waterfront is definitely not worth it.
Sevastopol mullet, Yalta flounder or gobies from Feodosia? There is so much fish and seafood in the Crimea, and they are so delicious that you will never want to leave your vacation. You will never be able to try everything, but you can try. If you want to bring some souvenirs from the Crimea, you should bring dried, smoked or dried fish. We advise you to buy it in the markets. A good price for the Crimean mullet is 180-200 rubles per kg. Dried fish for beer is sold for 5 rubles apiece. In general, prices in the Crimea are very democratic.
If you are lucky enough to visit the peninsula at the beginning of June, go to Feodosia for the "Red Mullet" festival. There will be a lot of fish, we promise!
Meat and Cheese
The Crimea makes delicious homemade sausages. Buy dried – it will stand up well on the road. In the markets you can find a local product at a price of 200-250 rubles per kg. Tourists advise to take it with beer.
Try the Crimean brine cheeses. In 2021 they are about 150-200 rubles per kg (prices from the central markets of Kerch and Simferopol). You should take unpacked, homemade cheese. You can bring home from the Crimea hard farm cheeses with walnuts, mint, cumin and other additives. Good price – from 800 rubles per kg. There are cheaper, but it is no longer a farm product.
Sweet souvenirs
The most unusual tasty souvenir from Yalta is a sweet braid of onions. Juicy, sugary and not at all bitter. It is made from the famous Yalta onions. You will recognize it by its purple color.
Take candied almonds as a gift for your children. For friends, buy the local halva, nougat, sherbet. The Crimea sells juicy churchella with hazelnuts and walnuts. Take it as a souvenir, you will not regret it.
The best producer of natural sweets in the Crimea is "Crimean dessert". All products are made in the village of Konstantinovka and only from natural ingredients. Top 5 sweets of the Crimean brand:
"Feodosia".
"Lastochka".
"Evpatoria"
"Sudak"
"Alushta."
Buy candy with the same name of the resort where you spend your vacation. A great alternative to the standard magnet! These desserts in the Crimea are made with nuts, dried fruits, rose petals and other goodies. Prices start at 140 rubles for a small box.
Nuts and dried fruits
In the Crimea they are cheaper than at any other Russian resort by the sea. We advise you to buy local, not imported nuts or dried fruits. They are more juicy. Among the unusual things worth trying are dogwood, dried pears and candied peaches. As well as nuts in honey and smoked melon pigtail.
Prices per kg of dried fruit in 2021 (Kerch Central Market):
apricots – from 200 rubles;
raisins: local – 300, imported – from 180;
dates – 200-300 rubles;
figs – 400;
Prunes – 350 rubles.
Jam and honey
From the Crimea they bring jam made of rose petals, rose hips, or walnuts. You can also buy something more familiar: apricots, peaches, white cherries, blackberries, raspberries. Take a walk around the resort during your vacation. Be sure to find a local grandmother, who sells homemade jam. It will be the most natural, delicious, hearty and cheap. However, in the bazaars of the Crimea is quite realistic to buy a jar of jam for 100-120 rubles.
Tourists often say that the best honey in the Crimea comes from the Alushta apiaries. And we like all variants. Take a flower, meadow, mountain. It seems unrealistic, but in the markets of the Crimea really buy 800 grams bucket of honey for 350-400 rubles. In Kerch, Sudak, Alushta – everywhere. Look for it in the bazaars.
Drinks .
For "souvenir" drinks in the Crimea it is worth going to regular supermarkets. Be it tea, wine or something else. Alcohol is most profitable to buy at the excursions to the factories. In the bazaars of the Crimea you can find homemade drinks. But their quality raises questions.
Crimean tea is made from natural herbs – it is a very useful gastronomic souvenir. Buy rose, molasses, rosehip, lavender, chamomile or something else. At popular Crimean resorts like Feodosia, Evpatoria or Alushta, teas are offered everywhere. If you want to save money, go to the supermarkets. Their prices start at 60 rubles per pack, in tourist shops – from 150. Why not visit the chain stores "Tea of the Crimea"? Here the prices are all right, and the assortment is amazing.
In Moscow the herbal teas from the Crimea are 3-4 times more expensive. We advise you to buy in advance. They are really very good.
Already not kvass, but yet not beer – that is what the booze. Bring a couple of bottles of the Crimean drink to try friends. True, bouza does not tolerate the road very well. If you have to travel for more than a day, it is better not to buy it. Drink beuza while on vacation. The drink is an excellent thirst quencher.
The peninsula's products regularly win prestigious awards at international contests. That said, the average price for a bottle of great wine in the Crimea is only 400 rubles. You can buy it in supermarkets or take a guided tour (we promise you'll be delighted).
There are five major wine producers in the Crimea:
Golden Beam.
Inkerman vintage wines
Koktebel
Massandra
Alushta
It is worth trying the products of the "Livadia" winery at Massandra. Take their "White Muscat" or "Red Port" from the Crimea. At one time they even used to supply this alcohol to the emperor's table.
If you vacation in Balaklava, go to the brand store "Inkerman" or "Golden Balk". The prices and selection are better than in supermarkets. Their wines with the best reviews of tourists – "Legends of Inkerman" and "Crimean Riviera". In Sudak it is worth going to the store "Sunny Valley". As a gift for friends here you can buy vintage wines:
"Sun Valley";
"Black Doctor";
"Black Colonel.
Also from Sudak be sure to bring champagne "New Light", which has won more than one award at international exhibitions. From the draught wines tourists praise the products from Dzhankoy. It is a dense, sweet, and strong wine.
Read more about wine tours in the Crimea here.
Strong alcohol
Crimean factory "Bakhchisaray" produces wines, vermouths and strong alcohol. The most famous product of the company is herbal balsam. Tourists often take it home as a present from the Crimea.
It makes sense to buy a souvenir set of 4 bottles with the names:
"Ak-Mosque";
"Tavros";
"Finaros";
"Khan's Palace."
As a gift for men in the Crimea you can buy elite cognac from Koktebel – "Kutuzov" 25 years of aging. It has won dozens of awards and thousands of enthusiastic reviews of tourists. Women usually like Crimean liqueurs and sweet liqueurs. Local breweries are also famous for their balsams, brandies and cognacs.
↓ Haven't you bought a tour to the Crimea yet? Use the services of Level.Travel – it is safe, convenient and profitable! Best deals and last minute tours you will find below ↓
We hope that you will benefit from our tips about shopping in Crimean resorts. We wish you a pleasant and advantageous shopping! Do you have something to add? Write in comments!
What to bring with you from the Crimea
We tell you what you can bring from the Crimea. The prices of popular gifts and souvenirs. Tips and reviews of tourists, where to buy cheaper and how to recognize fakes.
Content:
Clothing of the Crimean Tatars.
A trip to Crimea is a good opportunity to get acquainted with the traditions and culture of the Crimean Tatars. Do you want to bring gifts for women from the Crimea? Lovers of ethnic clothing will be happy to wear oriental shoes with bent toes, beautiful leather belts, velvet hats fez , elegant dresses ather and long shirts keten kolmek .
Price . Individual items cost 500-1000 rubles, national costumes – from 5000 rubles.
Tip . Large selection of Tatar clothes and embroidered handbags in the market and in souvenir shops, which are located near the Bakhchisarai Palace-Museum. Also you can visit the store "Terdzhiman" in Simferopol – Sevastopolskaya st., 44.
Girl in the national dress of the Crimean Tatars. Photo: smmartynenko / Depositphotos.com.
Juniperwood crafts
The enchanting aroma of conifers is a wonderful reminder of a trip to the south. If you do not know what to bring from the Crimea, then you should pay attention to the handcrafted trinkets made of juniper. Crimean craftsmen carve utilitarian items and stylish interior decorations.
Wooden products are not only beautiful but also useful. Volatile compounds from juniper kill up to 30% of harmful germs in the air, help with headaches and have a calming effect.
Price . Comb costs 100-160 rubles, beads and bracelet – 100 rubles, teaspoon – 70 rubles, ladle – 400 rubles, coaster for hot dishes – 240 rubles, hand massager – 250 rubles.
Tip . If you want to avoid fakes, buy wooden gifts in souvenir stores, not from hand.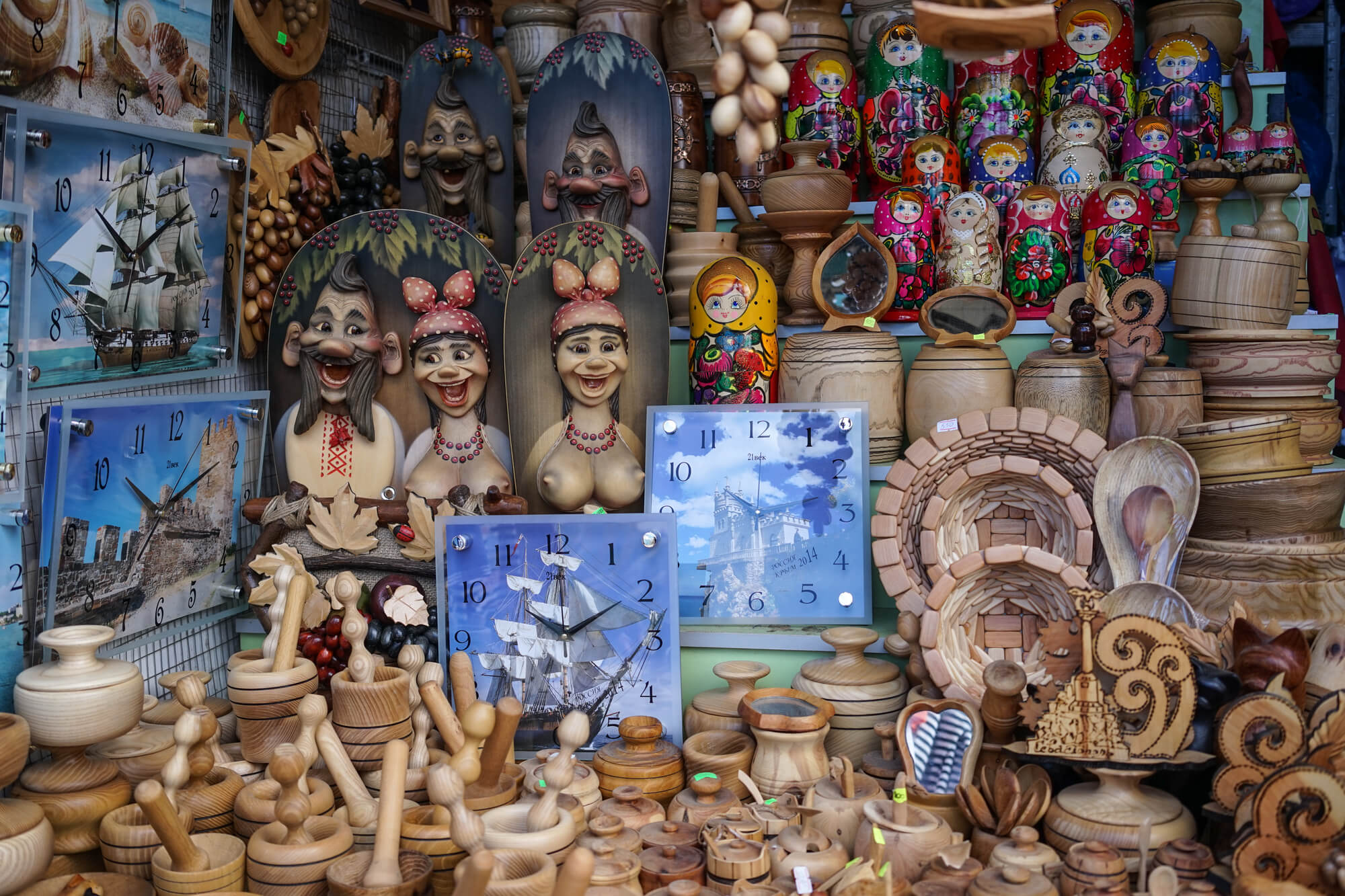 If you do not know what to bring from the Crimea, pay attention to artisanal trinkets made of juniper. Photo: Vvicca / Depositphotos.com.
Herbal teas and gatherings
Russians love to drink tea, so from the Crimea they bring bags and boxes of environmentally friendly Crimean teas. Herbs for them are collected in the mountains, so it retains the flavors of summer and the warmth of the sun.
Price . Packet of 180 g of tea costs 300 rubles, packages of herbal tea collection of 100 g – 30 rubles.
Tip . In addition to teas, there are fragrant rollers, pillows and bags with mixtures of nice-smelling Crimean herbs.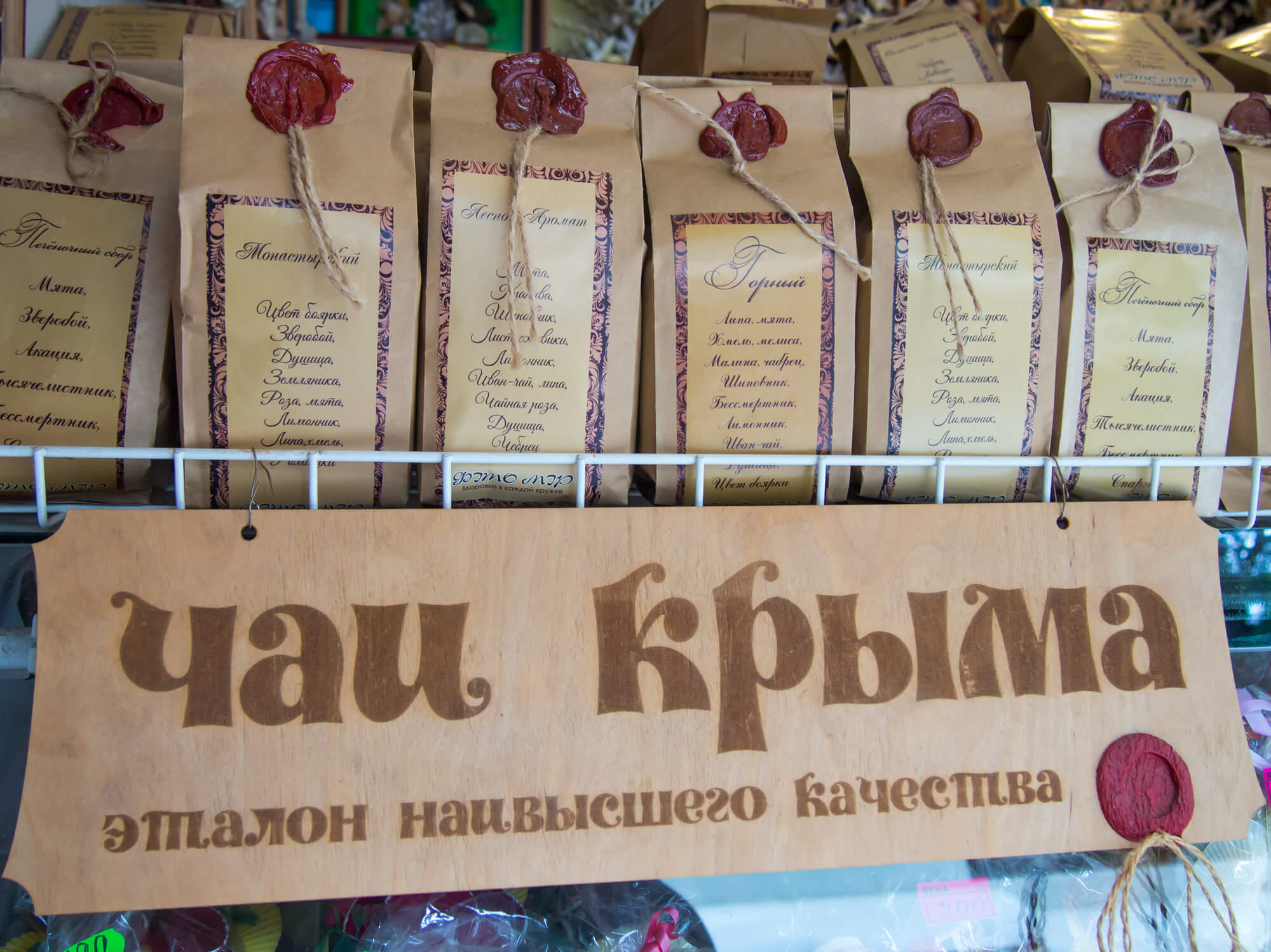 Herbal teas. Photo: potatushkina.gmail.com / Depositphotos.com.
Essential oils
Not sure what to bring back from the Crimea? Buy nice souvenirs that can be used to make home cosmetics, aromatherapy and sauna. Tourists gladly take home the famous Crimean rose petal oil. Popular fragrant oils of Crimean frankincense, cypress, hyssop, lemon mugwort, mountain lavender, mint and clary sage.
Price . A 5 g bottle costs 120-350 rubles. There are sets of oils in gift boxes. Popular among tourists are "Fragrances of Tauris" and "Swallow's Nest" with the sights of the Crimea. They cost 150-200 rubles.
Tip . Choose bottles of dark glass. Their fragrant goods are better preserved.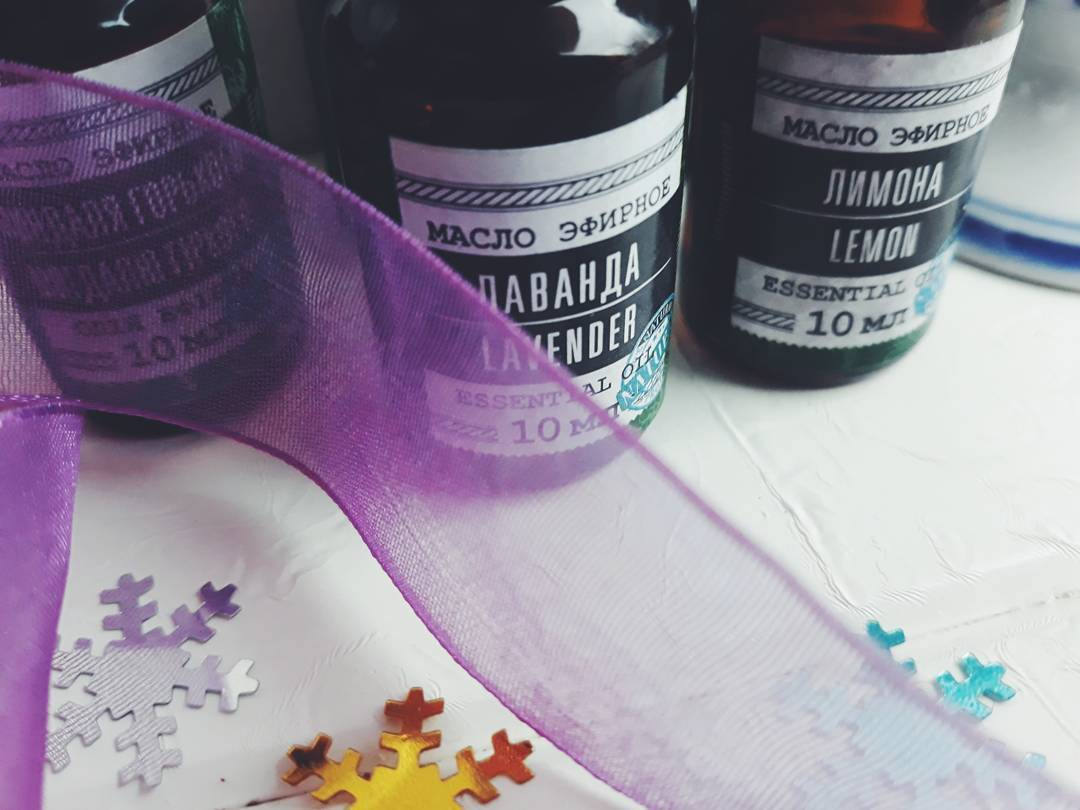 Essential oils of bitter almond, lavender and lemon (Photo: facebook.com/tavridako)
Wine, cognac and champagne
According to tourist reviews, you can bring delicious wine from the Crimea. The traditions of winemaking on the peninsula were established in ancient times. Massandra winery has been operating on the Southern coast since the late 19th century. Its cellars store wine of different ages, including bottles that were produced in the year of the winery's foundation.
In the Crimea you can buy drinks with telling names such as "Crimean Wine", "South Coast Wine", "Golitsyn wines", "Kachinskoye", "The Pearl of Inkerman", "Evpatoria", "Muscat Bakhchisaray", "Khan Palace", "Ancient Chersonese" and "Eski-Kermen". According to the reviews of connoisseurs, the dessert wine "Muscat White Red Stone", "Golitsyn Champagne", port "Livadia" and cognac "Legends of Ai-Petri" have good taste.
Price . Table wine 0.75 liters costs 150-200 rubles, vintage 0.75 l – from 1300 rubles, Crimean cognac 0.5 l – 580 rubles, port, 0.75 l – 590 rubles.
Advice . You should take the wine in glass bottles, because sometimes there are fakes.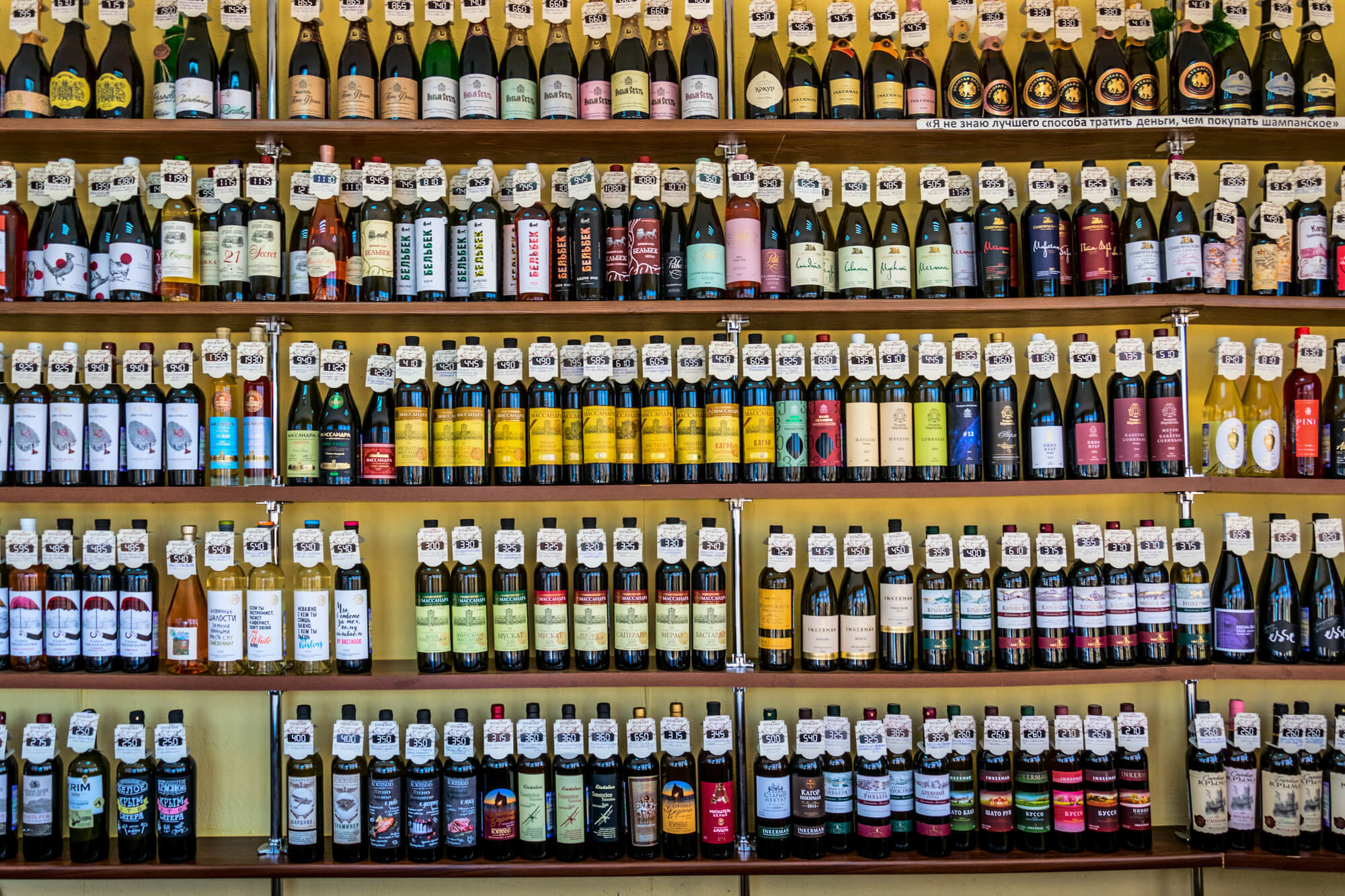 The range of Crimean wines in the store in Koktebel. Photo: vladimirkrotoff1812.gmail.com / Depositphotos.com.
Crimean sweets
What to bring from the Crimea as a gift for sweet tooth? Stop by the local markets, stores and buy delicious sweets that are made according to traditional Tatar recipes. The most popular are baklava, chak-chak, nuts in mountain honey, nougat and rahat-lukum.
Price . A small box of sweets 110g costs 80 rubles, rahat-lukum 0,5 kg – 300 rubles. Rose petal jam 0.4 kg – 250-300 rubles.
Tip . Take the colorful boxes "Crimean sweets". which contain small pieces of different sweets. A pack of 400 grams will cost you 250 rubles.
What to bring from the Crimea: herbs, teas and sweets
Paintings
Many artists live in the Crimea, so vacationers are happy to buy paintings with views of picturesque landscapes of the mountains and the sea, ancient palaces and summer houses.
Price . Small watercolor sketches cost from 300 rubles, works in oil – from 1200 rubles.
Tip . A large selection of paintings on the southern coast of Crimea, especially in Yalta. Many of them depict the Vorontsov Palace and the Swallow's Nest.