What to bring from Tunisia
Colorful Tunisia is a mix of African, Arab, French and Mediterranean cultures. Local markets amaze with colorful fabrics, an abundance of strange products and unusual desserts. The oriental noise and spicy aromas make you dizzy and want to buy and try everything.
Many tourists are lost, not knowing what can be brought from Tunisia useful and wonderful. To avoid wasting money on spontaneous useless souvenirs and looking for special goods, read our article before your trip to Tunisia and save it.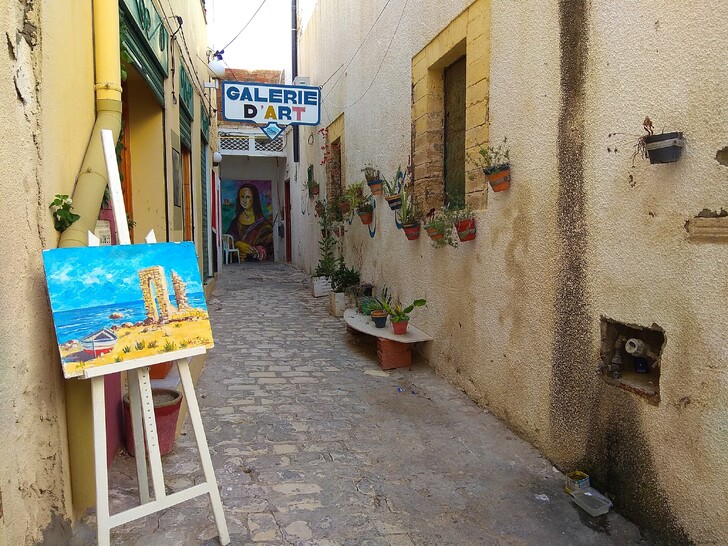 What to bring from Tunisia as a gift
The best place to buy souvenirs from Tunisia are city bazaars and antique markets. From Tunisia they bring copper and silver tableware (the favorite of tourists – coffee pots "like from old fairy tales" and "Aladdin lamp"), oriental sweets, handmade carpets made of silk and wool, old coins, silver jewelry with semi-precious stones, items made of camel leather.
Traditional amulets – khamsa ("Hand of Fatima") – are in demand. Amulets in the shape of a woman's hand painted with ornaments. They can be purchased as a charm, a pendant, or images on tableware. This is the kind of gift you can bring from Tunisia at a lower than average price. The cost starts at $1.
A practical gift would be camel leather goods, from belts and sandals to bags and suitcases. Belts will cost from $4-5, bags from $7, suitcases from $20, shoes from $25-30. The exact cost depends on the exclusivity of performance and the type of leather trim.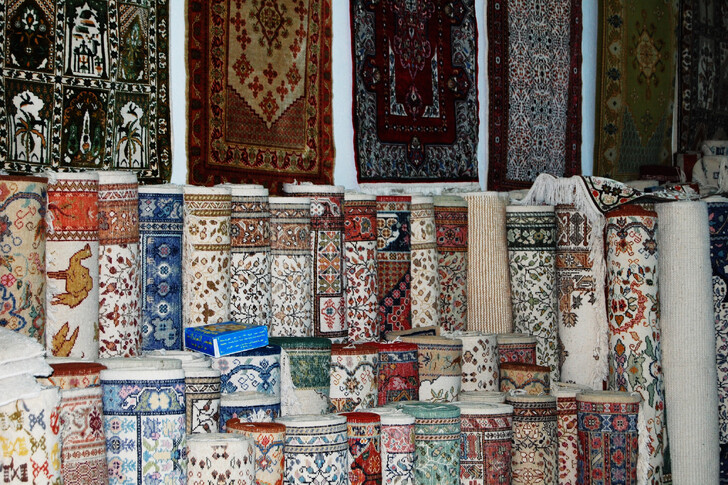 The unique culture of Tunisia is reflected in the original souvenirs that you can take only from here. What can be brought as a gift from Tunisia unusual:
A musical instrument called the darbuka . This is an African drum made of a wooden body (less often clay or metal) in the shape of a cup. The darbuka is covered in leather and painted with traditional ornaments. Such instrument does not necessarily have to be taken as a gift for the musicians; darbuka can become a great decoration for the interior in ethnic style. The cost of such a drum is from $10 depending on the size and material.
Sand Rose . A unique souvenir from the desert is a gypsum mineral, which under the influence of sand winds takes the form of a rose. The most common roses are light beige in color, rarer ones are dark brown. The color of the sand rose depends on the place where it was mined. The cost of a small specimen is from $2.
Tajine . The national utensils of Tunisia and some other North African countries have a cone-shaped appearance. The tajine can be decorative (for serving a cooked dish) or more practical – for cooking. Keep in mind that this utensil is not intended for cooking on a gas stove.
Birdcages . Local craftsmen make true works of art. Small cages can be used as a piece of furniture – you do not need to keep birds in them.
Balgha slippers . Not very practical, but incredibly beautiful souvenir is a traditional Tunisian shoe. The slippers are made by hand, in artisan shops. They are made of genuine leather and then painted with traditional ornaments.
What else do tourists bring back from Tunisia? Traditional men's hats made of milled wool, Berber products (carpets and silver jewelry), olive oil soap, oriental dance outfits decorated with coins.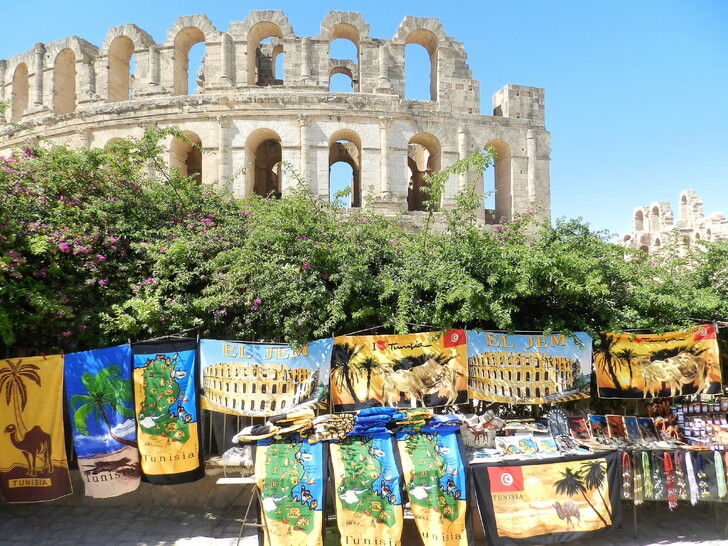 What to bring cosmetics
Tunisia is famous for thalassotherapy and natural cosmetics based on oils and other plant ingredients, including extracts of rare African plants. Recipes of local cosmetic brands are based on centuries-old traditions and with the participation of French cosmetic companies. The result is an authentic and inexpensive product. The only disadvantage of Tunisian cosmetics is a short shelf life because of the lack of chemical preservatives.
What cosmetics to bring from Tunisia
Natural oils . In addition to olive oil, in Tunisia you can buy black cumin oil (combats skin irritations, including chronic), argan oil (anti-aging effect on the skin and regenerating effect on the hair), oil and opuntia extract (moisturizing and whitening the skin).
Algae creams and scrubs . The most popular body cream is "Prickly Pear and Algae" by Lagune. The algae extract not only exfoliates but also repairs damaged skin. You can also purchase dried seaweed separately and add it to your favorite creams.
Olive and Citron sun lotion with olive oil and lemon juice . Many cosmetic brands have similar tanning lotion lines. The lotion not only protects the skin, but also helps to get a beautiful golden tan. The cost is from $1.5 depending on the volume.
Facial masks with Tunisian clay . Such masks provide deep care: saturate the skin with minerals, enrich it with oxygen, smooth out wrinkles and eliminate dryness. Choose masks with local oils: argan and caraway.
Shampoos with tfal clay . Shampoos like these are produced by Lagune. These shampoos are not intended to cleanse, but to nourish the hair.
Balms and conditioners for hair with seaweed . Algae extract makes hair soft and silky and soothes the scalp. The lines of hair products with seaweed are produced by Lagune and Le Secret.
Black soap based on algae and oils . Soap has a rather pungent smell, but the effect, according to reviews, is very strong – the skin is cleansed and moisturized.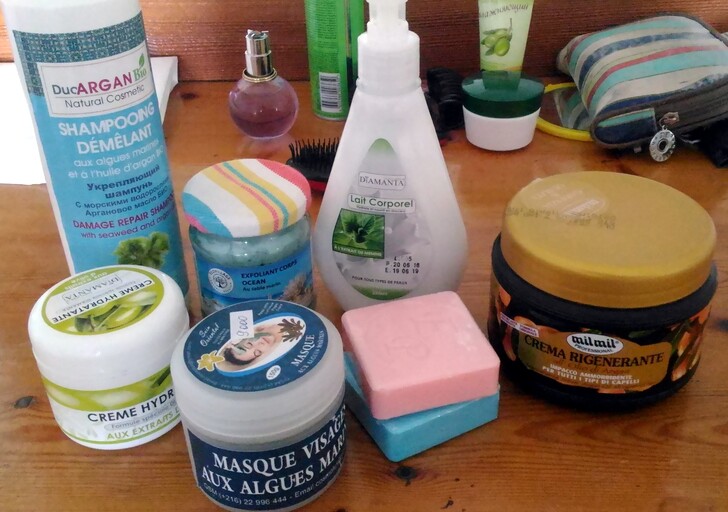 Of cosmetic lines tourists recommend: "Le Secret de Thalasso" with seaweed and clay, "Oriental Organic" with natural oils, "Eva Beauty" with essential oils, sand and clay, "Maison Naturelle" with anti-cellulite series of clay-based products, "Orchide" with therapeutic anti-aging products.
Tunisian cosmetics are available in pharmacies, souvenir shops, spa centers, as well as in major supermarkets Monoprix and General.
Many tourists are interested in Tunisian perfumes. Local perfumes are made from natural oils. Fragrances are mostly floral, fairly persistent. Perfume is packaged in vintage bottles – looks very smart for a gift. The Tunisian perfume should be applied only on the skin-oil perfumes leave greasy traces on clothes. One drop is enough to apply – the perfume has a very high concentration.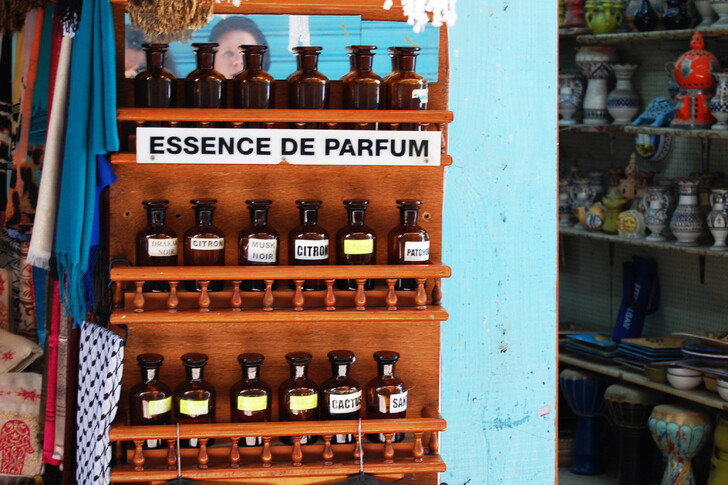 Tunisian cuisine is an explosion of flavors: unusual combinations of spices and spices, original desserts and natural oils. Share the wealth of imagination of Tunisian chefs with your loved ones by bringing delicious souvenirs.
Edible souvenirs from Tunisia: what to bring
Spices . A special feature of Tunisian cuisine are sets of spices. Tourists in reviews of what to bring from Tunisia, advise the following sets: bharat (cinnamon and crushed rose petals); sumac (mixture of rich red color with a sour taste – for hot dishes and salads); harissa (cayenne pepper, parsley, garlic, olive oil); offa (ground pepper, turmeric, cumin, garlic, coriander and anise). 100 grams of spices cost from $1 to $2.
Salted lemons . This unique product can be purchased in the markets of Tunisia. The price starts at 1.5 dollars for 1 kg. The lemons are sold rolled up in jars, like other pickles.
Olive oil . The best oil is marked "Extra Virgin". Also pay attention to the acidity: "
Dates . You can bring both fresh date palm fruit and desserts made from them. The most delicious dates are sold in the Sahara-they have the thinnest peel and the sweetest coarse flesh. Desserts use a special and rare variety of dates called Deglot Noor. The sweets are available in gift boxes at the supermarkets and bazaars. The cost of a box starts at $1-1.5. It is better to buy dates directly on the branch – so you will have a guarantee that they are picked from the ground (there is a risk of buying wormy dates).
Dried figs . At markets, figs are sold strung on string. In stores, you can buy figs in gift packs, with sweet syrups and nuts.
Makrud Cookies . These are a crispy semolina-based dough filled with fig pulp, dates, nuts, and rose petals.
Halva . The best halva, according to tourist reviews – from manufacturers "Shaherezad" and "La Gazelle". The cost of a package – from 2 dollars.
Cactus and fig jam. Cactus jam is sold in jars, so an unusual delicacy can be brought to Russia fresh. Fig jam is also sold in the same form. The cost of a jar ranges from $3-5, depending on the volume.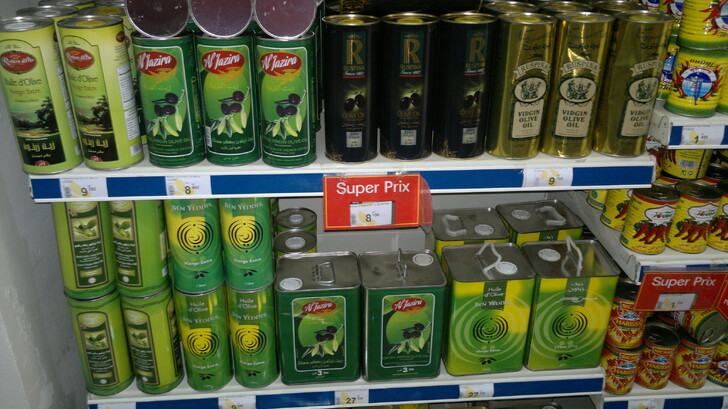 What fruits to bring from Tunisia
Fruit from Tunisia can be brought year-round. What kind of fruit? It all depends on the time of year. In winter you can pick fresh citrus fruits: oranges, mandarins and lemons. In January the dates are ripe (but sold all year round), in February – figs. In spring, if you vacation during the May holidays, you can already taste fresh strawberries. In late May, peaches and apricots are ripe. In early summer the watermelons, melons, cherries and plums. In the autumn you should bring grapes – Tunisian grapes have an unusual floral flavor.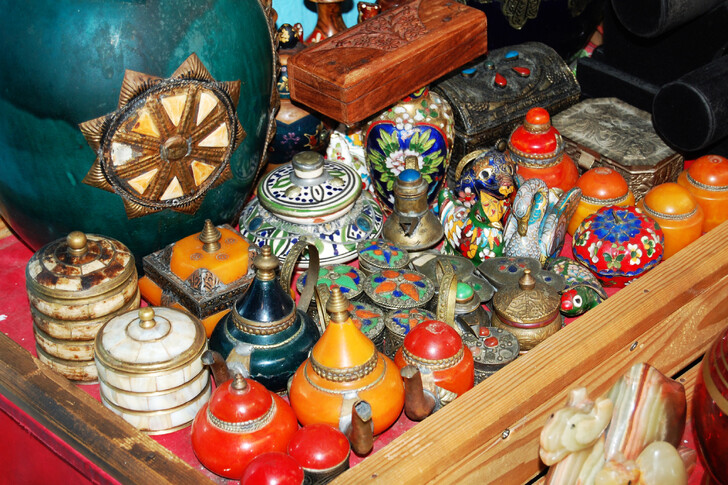 What medicines to bring from Tunisia
Tunisian medicine dates back to ancient times – even then these lands were health resorts. Mostly, tourists bring prophylactics with seawater (for gargling the throat and nose), children's syrups with natural oils.
Of the specific products tourists advise:
Anti-burn remedy "Kalamin".
Fizzy "Efferalgan" in tablets. It helps to bring down the fever, the remedy is mild, suitable for children.
"Tanakan" – a preventive measure against strokes for the elderly.
Also in demand are remedies with harpagophytum – the devil's root. It is one of the most valuable medicines in West Africa. Medicines based on the root relieve joint pain, help fight rheumatism and osteoarthritis. It is sold in dietary supplements.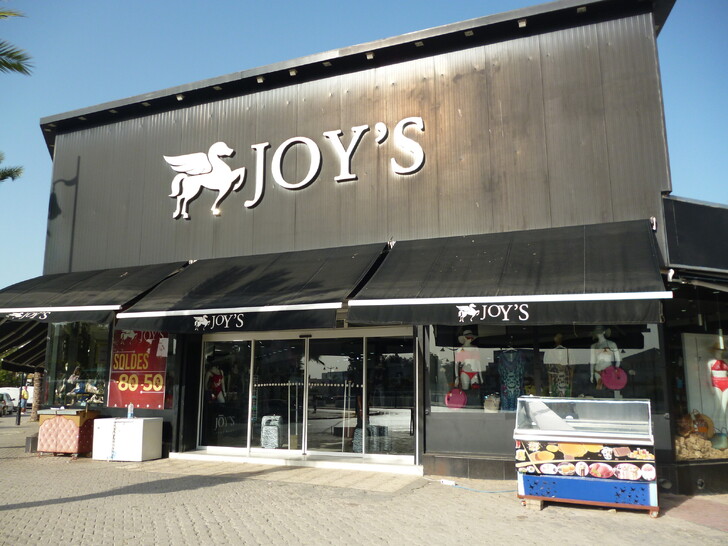 What to bring a man from Tunisia
Tunisian alcohol is not as well known, so it will be an original and unexpected gift for a man. Of alcoholic beverages worth to bring from Tunisia:
Bukha . Fig vodka with an alcohol strength of 36-40%. The drink has a slightly sweet taste and a light flavor of fruit. Bukha is drunk chilled, often diluted with juice or added to cocktails. Housewives add bouhu to fruit salads.
Tibarin Liqueur . This is a strong liqueur based on dates with a bright flavor of spices and a bitter aftertaste. You can drink the liquor pure, add it to coffee, cocktails, and desserts. Liquor costs from $6, bottles in souvenir packaging – from $8-10.
Tincture of citrus and herbs "Sedratin" . The strength of the drink is 30-40%. The taste of the tincture is similar to herbal balsam, but with a refreshing citrus notes. Cedratine tincture will cost from $18.
Wine . Because Tunisia is a former French colony, wine is made to a high standard here. In addition to the three main types, Tunisia also produces gray wine – from a special kind of grape. A quality wine will cost from 6-8 dollars.
Important: in Tunisia, you can not be afraid to buy poor-quality alcohol in supermarkets. The state has a monopoly on the production of alcoholic beverages of local brands. Wine is sold in the state stores "General".
A solid gift will be products made of leather, as from the usual calf, and more exotic camel leather. In the artisan shops you can order the shoes or other items of clothing to your specifications.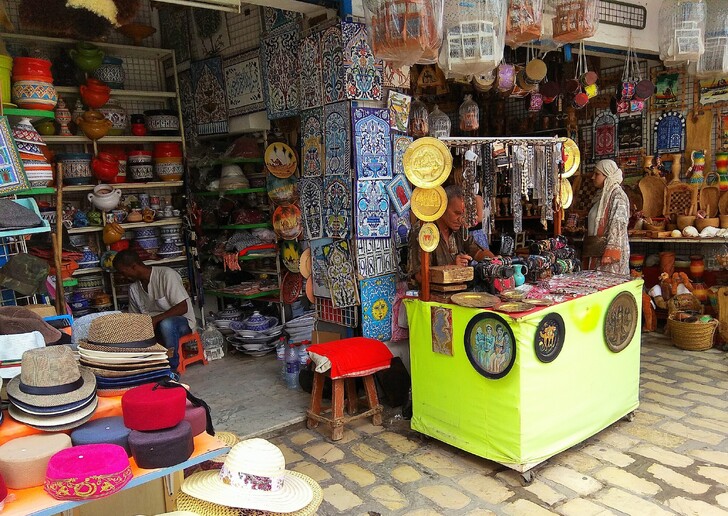 Another option is the Tunisian hookah. In souvenir shops some items have a decorative function – when buying find out if it can be used for its intended purpose. The cost of hookahs – from 10 dollars.
What to bring a woman from Tunisia
Tunisia, like any Arab country, is famous for its fine jewelry. As a gift to a woman can be brought products from precious metals. But it is worth bearing in mind that in most even the most upscale jewelry uses semi-precious stones of not the highest quality.
Gold jewelry is most often made of gold 750 standard, hallmark 585, common in Russia, in Tunisia is considered low, it is rarely used. Silver jewelry is made in the Berber style: massive and with intricate patterns. Such jewelry will not suit everyone, especially those who prefer classical style in their closet. The prices for the jewelry start at $20-25.
For a gift to a woman you can bring clothes made of natural fabrics – linen, silk, cotton. Tunisian clothes are mainly bright and colorful, if the recipient prefers calm colors, you can give a silk shawl or stole.
What to bring from the resorts of Tunisia
Despite the small size of the country, each resort region of Tunisia has its own characteristics and specialization.
What to bring from Hammamet . Tunisia is famous for natural fabrics. According to tourists' reviews, the best flax can be purchased just in Hammamet. Also tourists are advised to buy here pottery – in the vicinity of the resort is the center of pottery production, the town of Nabelle.
What to bring from Sousse . In Tunisia, Sousse is known primarily as a party center with the largest open-air disco in all of Africa. Some things you can't buy in other resorts are not made here. Tourists are advised to go shopping at Soula Center, the largest souvenir supermarket.
What to bring from Djerba . Tunisia has a single resort island – it is Djerba. From here it is advised to take pottery from the town of Gellala – especially worth checking out the special vessels for olive oil.
What gifts are brought from Tunisia from other resorts? From Mahdia they bring local silk, from Monastir – home goods bought in the "Yasmina Center" and olive oil "Ruspina", which is produced here.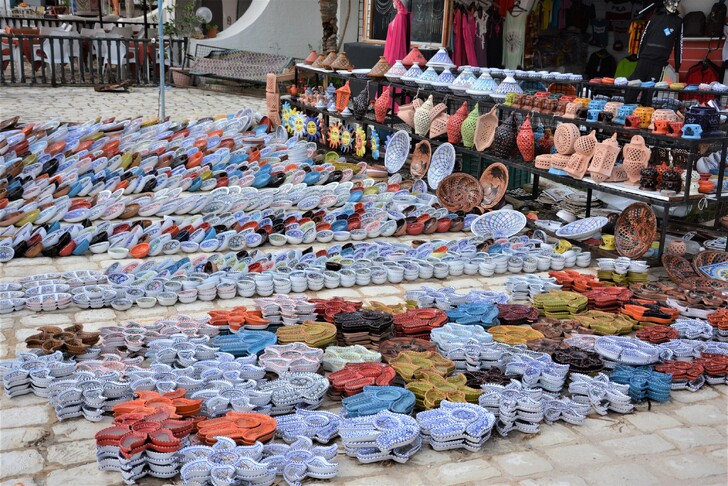 What can't be taken out of Tunisia
It is forbidden to take out of the country of palm wood handicrafts, local currency, plants and animals listed in the Red Book. There are restrictions on the export of certain goods popular among tourists:
dates – 2 kg;
olive oil – 2 liters;
halva – 1 kg;
fruit – 3 kg;
spices – 1 kg.
When buying antique and expensive jewelry must necessarily take the accompanying certificates confirming the fact of purchase. Export from Tunisia prohibited for cultural and historical values.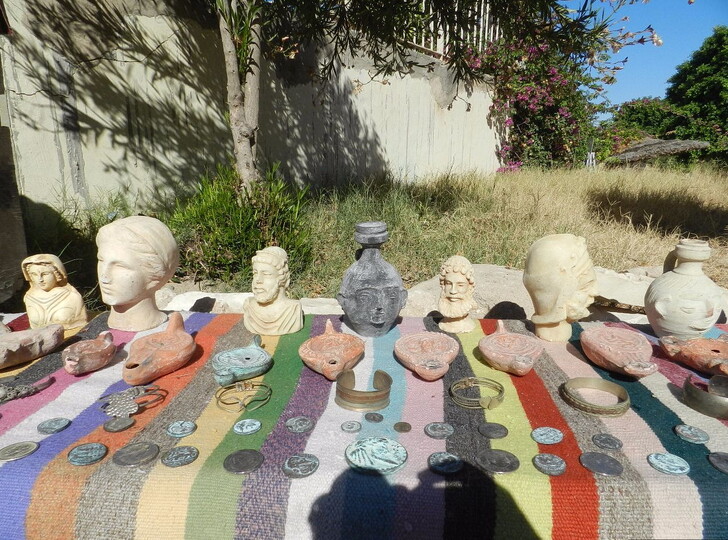 Tourist reviews
"What to bring from Tunisia?" – to this question tourists answer ambiguously. It all depends on your taste and preferences of those to whom you plan to bring gifts. But there are some tips for a successful shopping:
Always haggle. You can knock down the price by 1.5-2 times.
Do not buy in tourist shops, where they bring tourists on excursions. Prices are inflated by 2-3 times.
The best cosmetics without fake oils are sold in thalassotherapy centers. But the prices will be higher than in supermarkets and souvenir shops.
The best pastry shops for buying sweets are Zarrouk and Masmoudi.
Most Tunisian products are not sold outside the country. If you like any product, it is worth buying several copies in stock.
Usually, vacationing in resorts of the country, tourists do not have a question "What to bring from Tunisia. The prices for the goods are quite low, many things are really unique and made by skilled hands. The main thing is not to buy everything at once. Leave the shopping for the second half of the vacation, when you know the prices and the places for shopping.
What to bring from Tunisia – the prices of gifts and souvenirs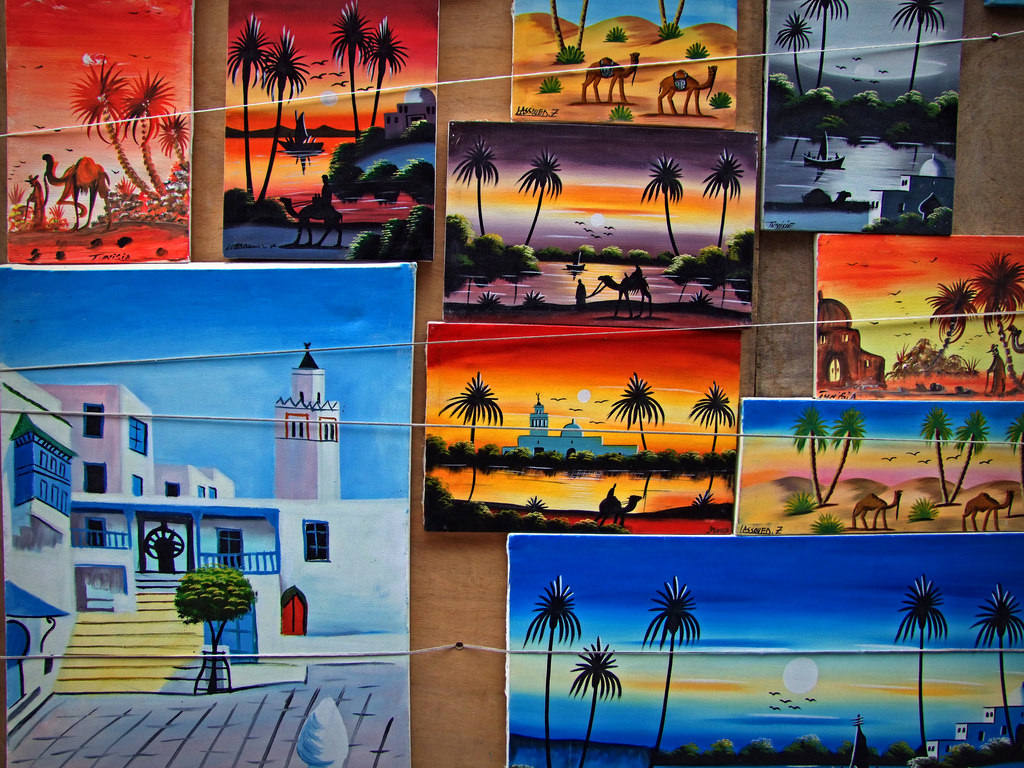 We tell you what you can bring from Tunisia. Tourist reviews and tips. Prices for popular gifts and souvenirs. Places where to buy cheaper.
Exchange rate: 1 Tunisian dinar (TND) ≈ 18 RUB.
Content:
Tunisian ceramics
Ceramics have been made in Tunisia since the legendary days of Carthage. Modern masters try to make cups, saucers, plates and jugs no worse than in antiquity – they turn out very beautiful.
Price . Tunisian pottery is cheap – from 12 TND.
Tip . Buy ceramic souvenirs in the pottery capital of the country – the city of Nabelle or in the village of Gellala on the island of Djerba. The best artisans work there.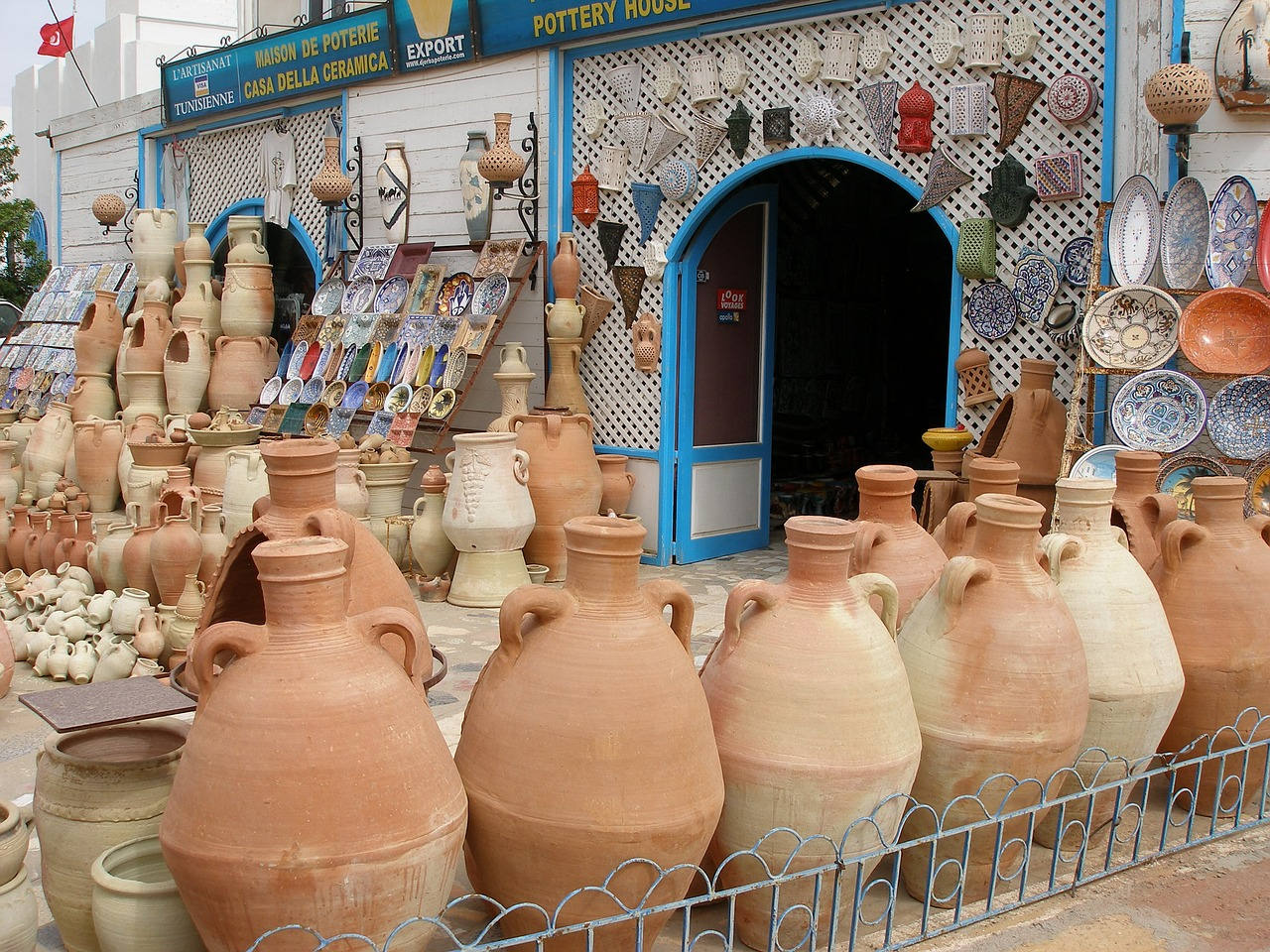 Pottery shop (Photo: Jean-Paul-V / pixabay.com)
Darbuka drums
Not sure what to bring back from Tunisia for a lover of original souvenirs? Pick up a sonorous drum – the darbuka . The African drum is shaped like a goblet. Its body is made of wood, clay or metal. A very unusual and pleasant gift, especially for people with musical abilities.
Price . A Darbuka made of clay or wood costs 25-37 TND. Plastic drums are cheaper and metal drums are more expensive.
Tip . If you don't play any musical instruments, no problem! The drum will make a great interior decoration.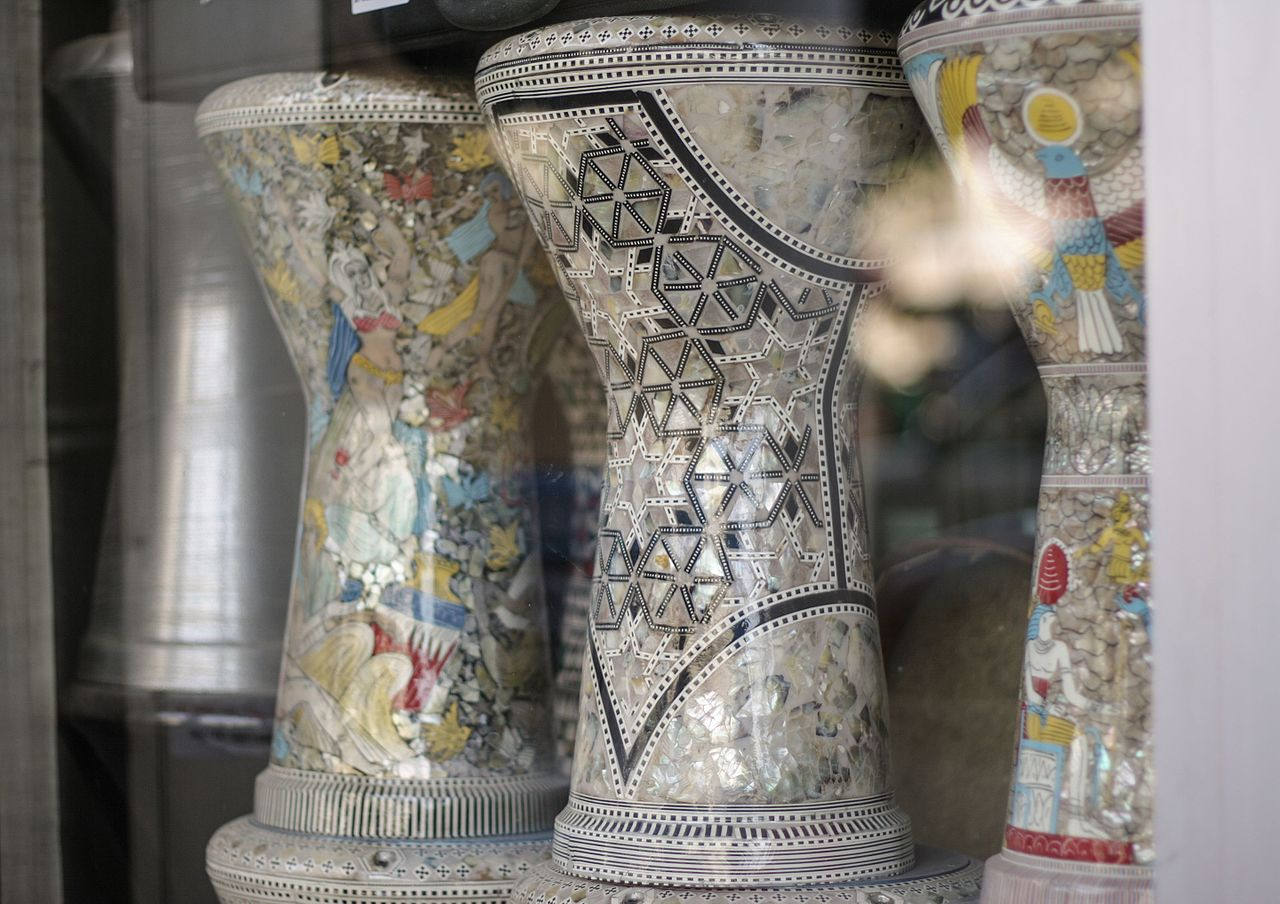 Darbuka drums (Photo: wikimedia.org / Enas El Masry)
Carpets
What to bring back from Tunisia as a gift to the family? Take a look at the real works of art – handmade carpets. A woven cloth is more than a rug to a Tunisian. It is an essential accessory of any home. Tunisian carpets made of pure wool and silk are very high quality and durable. They often outlive their owners and serve their children, grandchildren and great-grandchildren.
Price . Carpets are expensive. Prices start at several thousand TND and depend on the size and material.
Tip . There are rug stores everywhere. If you want to choose the best gift possible, go to the birthplace of Tunisian rug weaving, the city of Kairouan.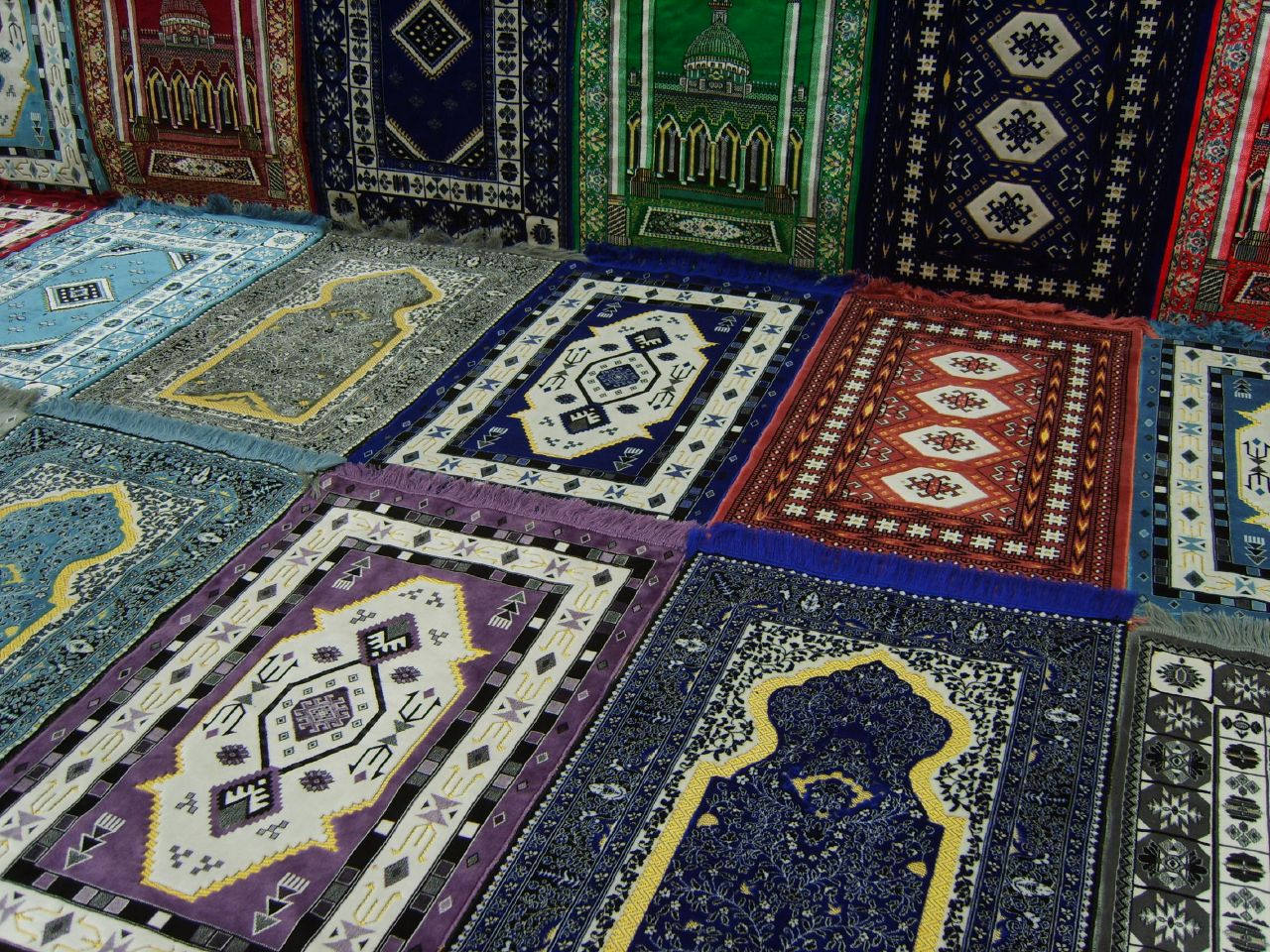 Carpet store in Kairouan (Photo: wikimedia.org / dearbarbie)
Olive Soap
In reviews, tourists recommend bringing olive soap from Tunisia. It is excellent for moisturizing the skin, making it smooth and supple. Tunisian soap is used to remove makeup, and together with sea salt it becomes an excellent scrub.
Price . Olive soap is a cheap souvenir. A bar of 100 g costs from 2.5 TND.
Tip . A large selection of detergents and bath accessories – in the markets of the resort town of Hammamet.
In reviews, tourists are advised to bring from Tunisia olive soap. It perfectly moisturizes the skin, makes it smooth and supple. Photo: kentoh / Depositphotos.com.
Deglot Noor dates.
Not sure what to bring back from Tunisia as a gift for a sweet tooth? The translucent fruits of Deglet nour, or royal dates. or royal dates, have an amazing taste. They are high in sugar, fiber and minerals. The Phoenix dactylifera palm that grows these dates yields up to 100 kilos of fruit per season.
Price . Famous dates cost 3 to 5 TND to 1 kg. They are sold by weight, in packages of 0.2 kg, 0.5 kg, 1 kg and 5 kg.
Tip . In bazaars the choice of fruit is greater, and they are cheaper. In resort towns the prices are higher – 8-12 TND per 1 kg.
Phoenix dactylifera date palm (Photo: Simon / pixabay.com)
Sweets
Tourists often bring back sweet souvenirs from Tunisia. Makroud cookies are made from a mixture of ordinary dough and semolina. It is filled with nuts and date pulp. The result is a very delicate texture and subtle flavor.
Many people like halva. It is produced in different places, and the quality is always high. Sweet eaters love baklava, which Tunisians make from weightless filo dough with honey, sweet syrup and nuts.
Price . Tunisian sweets cost from 25 TND per 1 kg. A 400g packet of halwa will cost 6.5 TND.
Tip . Want to bring halva from Tunisia? Choose goods that are made at Shehrazad , Papillon or La Gazelle .
A great review of gifts and souvenirs from Tunisia
Tunisian alcohol
Since the time of the French colony in the north of the country are engaged in winegrowing and make excellent wine. Tourists prefer the white wine Muscat de Kelibia . Many like the red Magon and pink Chateau Mornag Rose .
What other alcohol can be brought from Tunisia? From ripe figs Tunisians brew moonshine bukha. It has a strength of about 40% and a strong aroma of citrus fruits. According to reviews, a good quality liqueur made from dates "Tibarina" and citrus liqueur "Sedratina" with a strength of 38-40%. They are drunk in small portions, "Tibarin" with cola, and "Sedratin" – coffee.
Price . A 0.5 liter bottle of Tunisian wine costs 7-20 TND, Thibarine liqueur 10 TND, Cedratine liqueur 18 TND.
Tip . They don't sell alcohol in regular stores. Liquor is sold in the chain stores Carrefour and Monoprix . In addition, alcohol is available in special stores called General stores . They are open any day except Fridays from 10:00 to 16:00.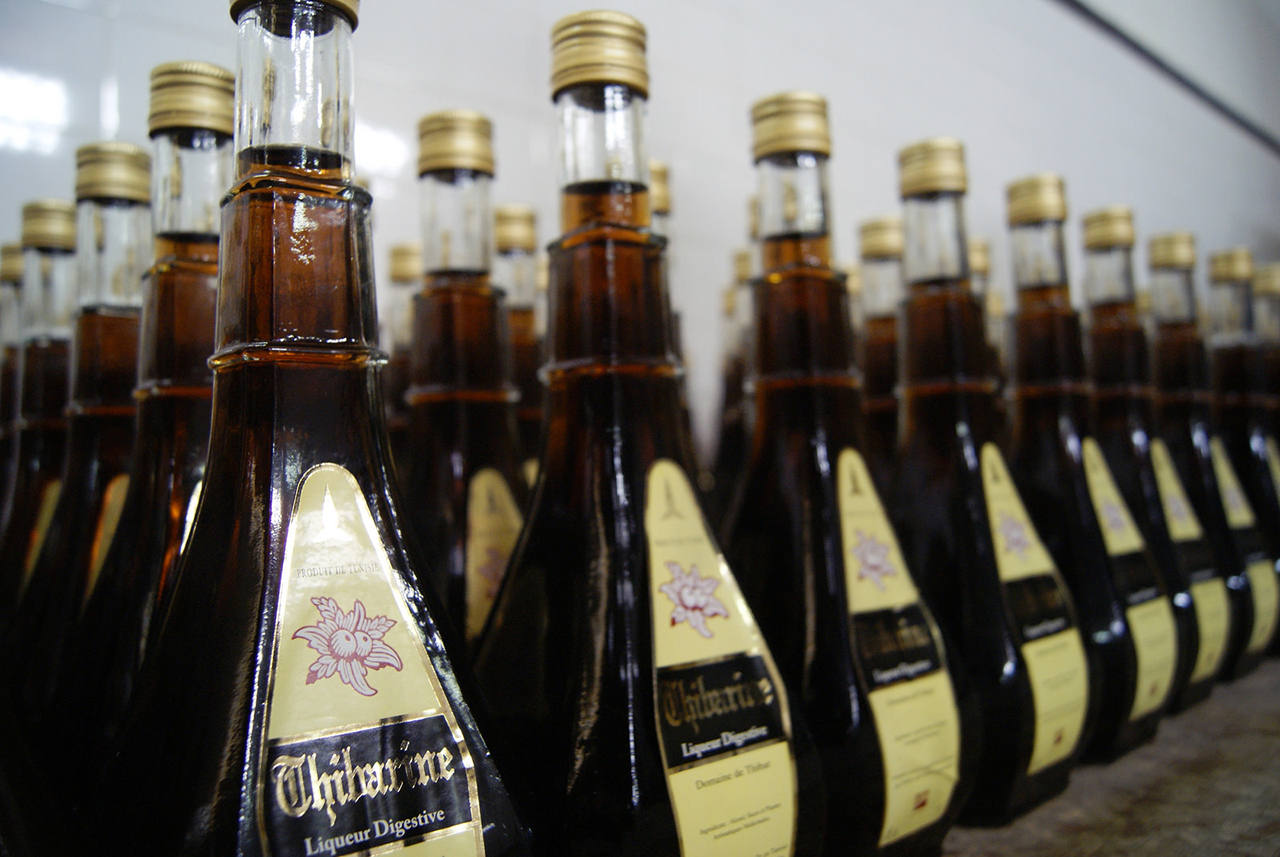 Tibarin liquor has a herbal taste, less sweet than Becherovka and Jägermeister (Photo: elyes djazz / flickr.com)
What else can you take back from Tunisia?
Calligraphy paintings – 35-40 TND.
Arabic style silver jewelry – 6-10 TND.
Scented oils – 4-50 TND.
Cosmetics with tfal clay – 5-9 TND.
Hookah – from 25 TND.
Leather bags – 10-80 TND.
Silk handbags – 15 TND.
Silk shoes – 10 TND.
"Desert Rose. , mineral formation from the Sahara – 10 TND.
Olive oil, 1 liter – 6-12 TND.
Spices, 100g – 3-4 TND.
Salted lemons, 1 kg – 3 TND.
Harissa spicy sauce. 135g jar – 0.5-1 TND.
What can't be brought back from Tunisia
Any objects and products of historical and cultural value may not be exported from the country. Do not take out handicrafts made of palm wood, henna, plants and animals that are listed in the Red Book. Without duty for one person can take out 2 kg of dates, 2 liters of olive oil, 1 kg of halva, 3 kg of fruit and 1 kg of spices.
Tunisian currency for exportation is prohibited categorically, it is allowed to take out money in any other currency. However, amounts in excess of 5000 TND must be declared.