Neighborhoods in Dubai – where do I stay? Our guide

Where can I stay in Dubai? I'll tell you which neighborhoods I liked during my 4 trips, and give you feedback from other tourists.
We usually go to Dubai for a week, so we choose the place especially carefully – there's not much time. In the text I will describe the 6 most popular areas of the city, where there are the most hotels. I'll add information about Sharjah, in fact, it's a suburb, although officially it's a separate emirate.
Content
What hotels did we stay at?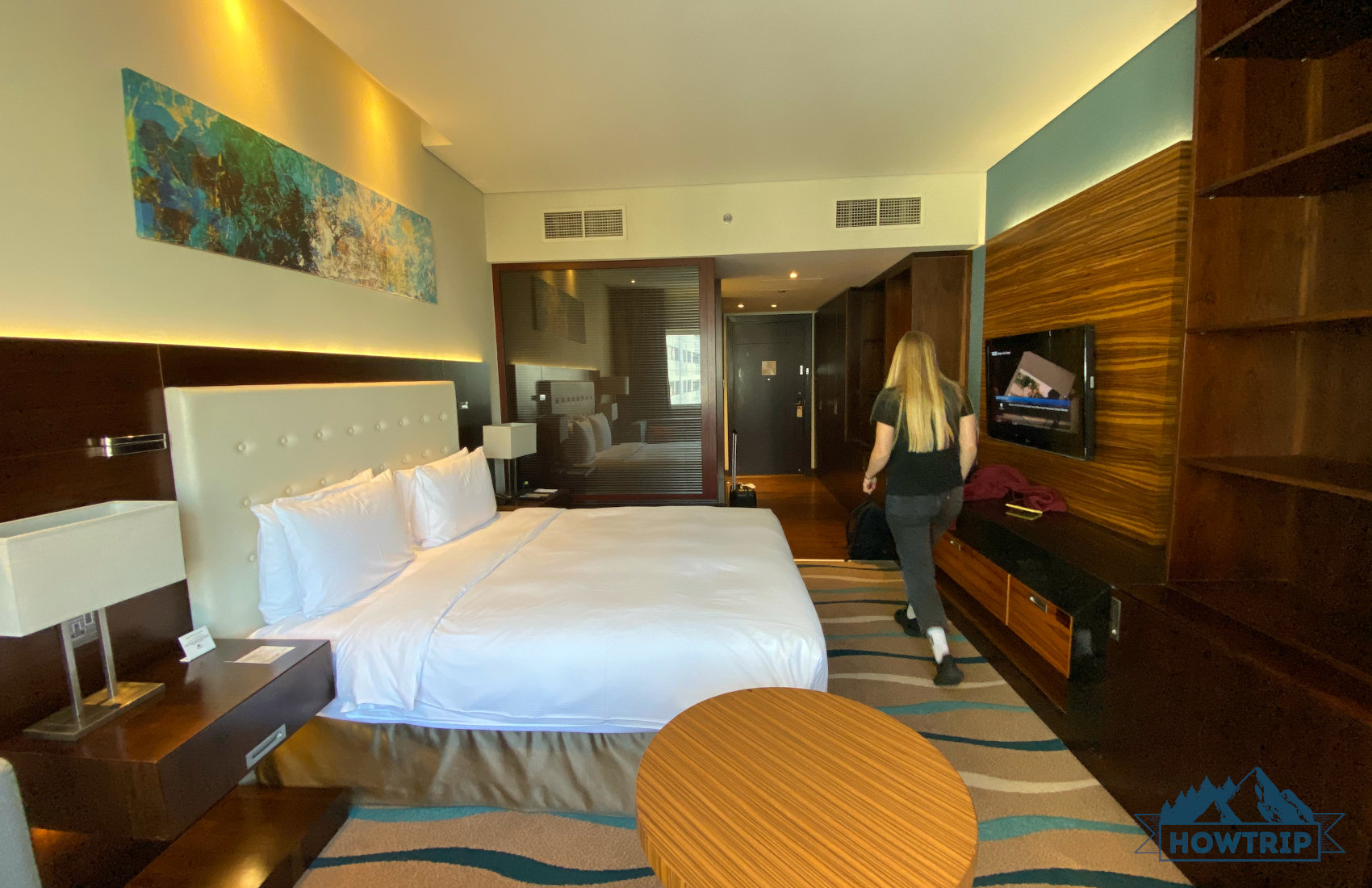 I understand that sometimes to understand the structure of areas and subtleties of infrastructure – lazy. I want a simple human: to rely on the recommendation of the hotel from someone who has been in the country and was satisfied. And it is desirable that the recommender rested not on the luxury foot, but down-to-earth.
So I will start with a list of hotels where we stayed and would definitely come back again. They are not super expensive and will be of interest to those with average budgets:
4* DoubleTree by Hilton Al Barsha (Dubai, Al Barsha) – this is NOT a beach city hotel, which is advantageous to stay in a tour and which wins as follows: is located near a large shopping center Mall of the Emirates, where the amusement park Ski Dubai, cafes and a lot of stores, and where there is an exit to the metro station (which is important for Dubai), and the station is equidistant from both Burj Khalifa and Dubai Marina with a great beach (in 20 minutes). Well, inside the hotel everything is as it should be in a Hilton – clean, nice breakfasts, modern design and pleasant service.
Marina View Hotel Apartments (Dubai, Dubai Marina) is one of the most inexpensive options if you go on your own and want to live in the expensive beach area of Dubai Marina. This, by the way, is a serviced apartment – that is, a full-fledged apartment, but with cleaning and meals in a restaurant, as in a hotel. Is close to the subway and a 15-minute walk to the beach. Views of the rooms, there is where to walk and eat, heated pool on site. The hotel is excellent value for money and its location is excellent for a short stay.
5* Avani Hotel (Dubai, Deira) – Here we could joke that this is the only five-star hotel in Dubai, which we can afford, but in fact there are many of them in the Deira area. That's because it's the "working" edge of the city, but it's also touristy because of the subway, inexpensive restaurants and one of Dubai's best beaches – al-Mamzar.
3* Centro Sharjah by Rotana (Sharjah) is synonymous with budget accommodation, but in decent interiors. This is a business hotel from the international chain Rotana, which means that here at least the standards of quality are maintained. Almost everything is good here, from the breakfasts and winter-heated outdoor pool to the surprisingly low price for such a hotel. The location is not good at all – it is near Sharjah Airport, where there is nothing around for a couple of km. Compensated for the free shuttle to the beach and Dubai Mall. Advise the hotel to those who are going to rent a car (parking is available) and drive yourself to Dubai, or those who are resting a company of 4 people (then you can skip the transfer, Uber at any convenient time and divide the trip for all – to Burj Khalifa will cost 85-100 Dirham).
There are a lot of hotels in Dubai, as it should be in a city with a focus on tourism. In the old days – and in the future post-pandemic times – it was more profitable to go to the UAE by tour. Our example also proves it: we had a vacation in Dubai and Sharjah for 40-60 thousand for two in good hotels, with a flight from the region.
I look for tours online at aggregators – it's more convenient for me, and there are fresh reviews and prices directly from tour operators, and a comparison of what is cheaper (and you can count on a discount):
But right now the situation is different, and it is easier to go to the Emirates on your own: the ticket from Aviasales (it's convenient to check with a mobile app) – while planes to Dubai fly from Moscow, Kazan, Yekaterinburg and Grozny, and hotel reservations with Ostrovka (it is a search engine to replace Buking with the ability to pay by Russian card).
General advice, regardless of whether you go as a tour or a "savage": look for the location of the hotel with the help of maps within the service. If the hotel is located near the subway station, it costs less for transportation. Or you can choose a hotel with a free shuttle "away from civilization" and save a decent amount of money. Or you can just get a room in the Dubai Marina area and not bother. But look at the maps:) So which area of Dubai is the best to stay in?
Neighborhoods of Dubai – where is the best place to stay?
Well, now comes the story about the specific areas of Dubai, where it is better to stay us tourists. First, the three most expensive, where you can't resist recording a hundred stories to the song "Mom, I'm in Dubai," after them – the three with an adequate price tag.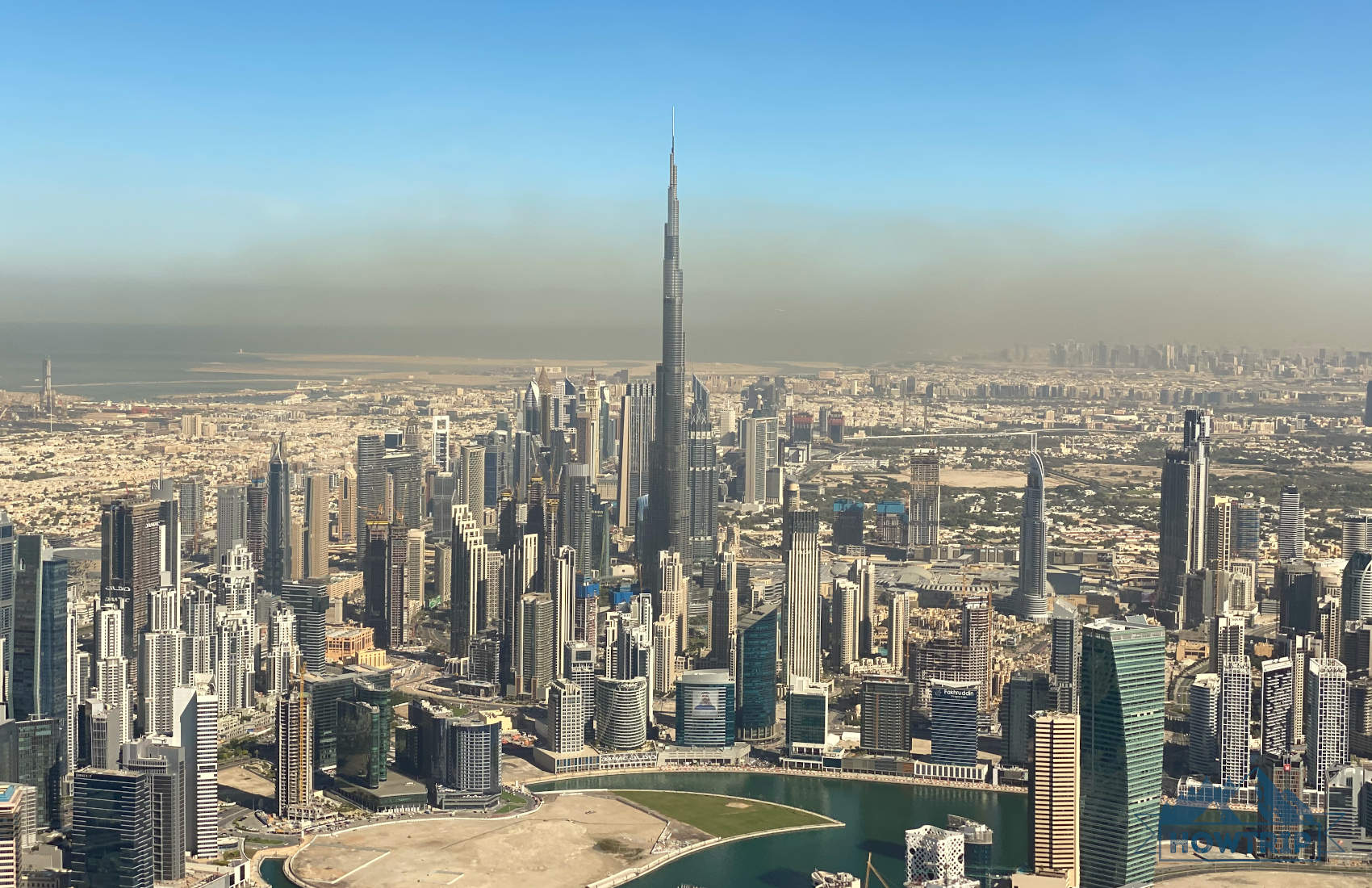 I took this photo from a helicopter during a sightseeing tour.
Downtown Dubai
In-course the center of the city. Modern district of Dubai, where the most significant achievements of developers and the main mass of tourists are concentrated. It is not difficult to find yourself in Downtown, the landmark is the tallest building – Burj Khalifa.
Central Dubai is distinguished by two things:
The exorbitant prices. The prices are crazy – it's impossible to find cheaper place in the center than McDonald's but even there combo-dinner costs from 25 dirhams (500 rubles). The same price for a cup of cappuccino in a coffee shop.
There is no beach within walking distance. So this is not the best place to stay in Dubai for a beach vacation. Tourist options include either a subway to Dubai Marina or a 20-minute cab ride to La Mer Beach.
In my opinion it doesn't make much sense for a first timer to stay here unless the purpose of the trip is shopping (Dubai Mall is nearby), luxury restaurants (and they are right there) and pictures against the background of skyscrapers. Downtown also has some infrastructural amenities, such as a promenade near Citywalk or around the tower along Bin Rashid Boulevard, and a metro station that can take you to both the airport and the Marina. But do you need it if you stay in Downtown hotels, which cost less than 6,000 rubles/night? You should rent a Porsche!:)
+ entertainment and shopping + luxury everywhere and in everything + subway branch + you can watch fountain shows every day.
– No beach nearby – wild prices – no peace and quiet
Dubai Marina.
See that ferris wheel? It's the biggest in the world! And it just opened for everyone. Book your tickets on GetYourGuide to avoid the lines on the spot!
It is the most family-oriented area of the city and at the same time it is equal to the center in… here I want to say "prestige" (in the old way) or "lohar" (in the new way), but I don't like both words, but I think you get the point:)
The perfect neighborhood of Dubai next to the sea – I'd even say it's a city within a city. It is advantageously separated from the main noisy highway by skyscrapers and hides its full-fledged world inside:
With a great beach line and the sea,
with housing options to suit every need – from front line hotels to apartments for rent in the very skyscrapers,
with entertainment – from the promenade and boat trips (great excursion, I advise!) to the world's largest Ferris wheel,
with shopping malls-cafes-restaurants-supermarkets-drugstores.
All this is located compactly (between the extreme points of Marina only 5 km), you can spend your vacation here and keep your head down outside the area. But if you want to go out into the world, there is a metro station nearby. Is it clear why this is the #1 choice for the best vacation in Dubai for tourists with kids?
+ it's one of the best beaches in Dubai + subway + beautiful around + it has everything (okay, there is no Burj Khalifa)
– prices, the city in the city is not cheap; accommodation from 5000 rubles/night – a lot of people in the season
The Palm Jumeirah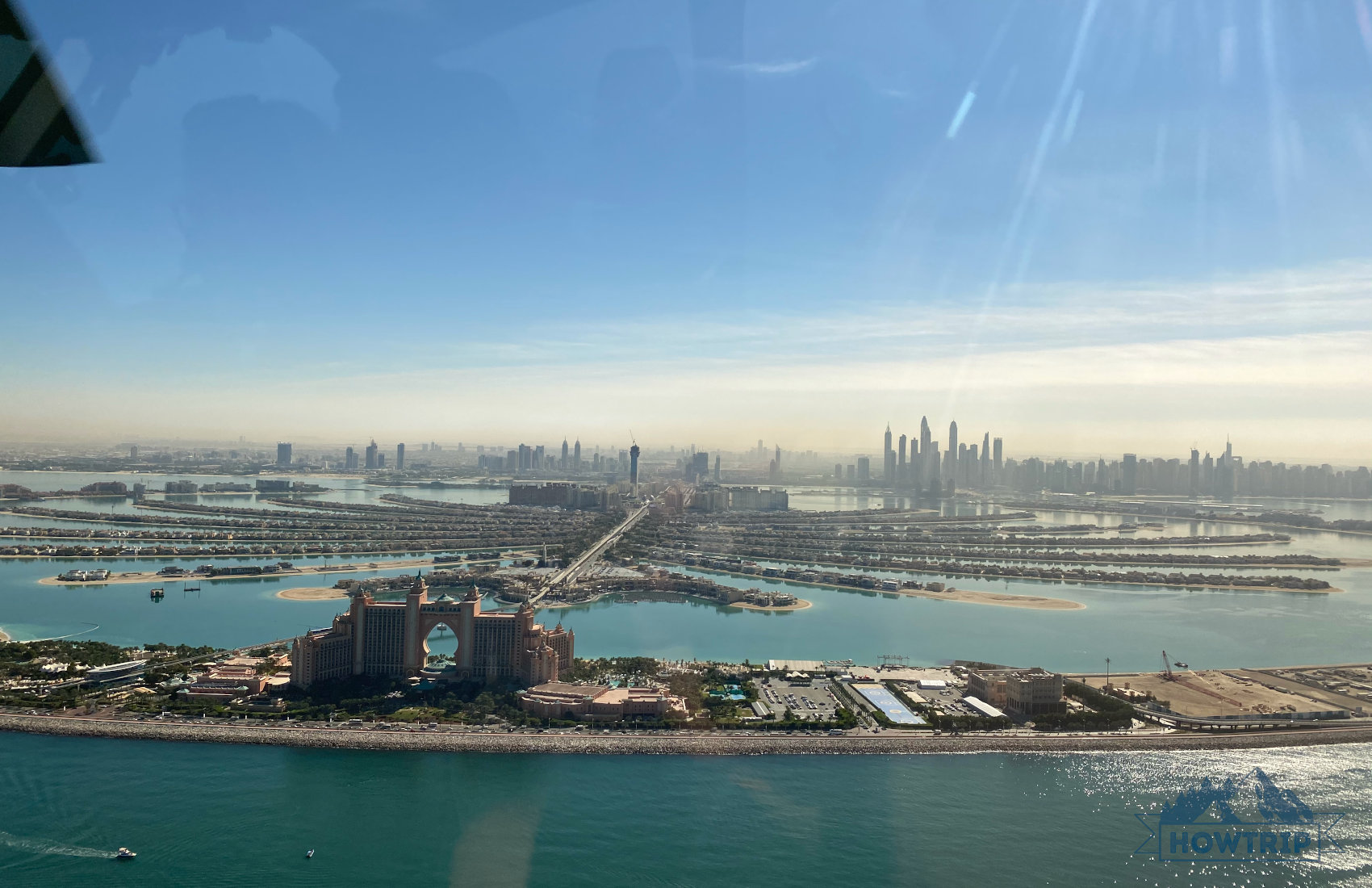 Also a picture from a helicopter flight over Dubai.
If there's anything more expensive than the center, it's The Palm Jumeirah. An area of Dubai with its own beaches, an entire bulk artificial island in the shape of – you guessed it – a palm tree. In addition, the status of "not for mere mortals" determine the hotel-favorite-all-children Atlantis and a scattering of villas with a price tag of 50 000 rubles and above per night.
There are no grocery stores,
few independent (not hotel) restaurants, inexpensive is out of the question,
And there is no public transportation – the monorail connects with continent with the ticket for 20 dirhams one way (400 rubles) or a cab for the same cost.
In a word, everything is arranged for existence only in local splendid hotels, which will feed and entertain, and take you wherever you need. It's a shame that you can't see and admire the shape of a palm tree from the ground. That's why we booked the best excursion of my life – a helicopter flight over Dubai, where you can see the island and a lot more.
Is it worth going here as a sightseeing trip? Well, if only to visit the Atlantis water park… or here to fly in a helicopter.
+ really secluded beaches + the coolest water park in the UAE Atlantis + bad hotels are banned as a phenomenon here + about 10 hotels on "all inclusive" – for Dubai is a lot + where else can you live on a palm-shaped island?
– beaches are only available to hotel guests – hotels from 7000 rubles/night…… – weak infrastructure
Deira.
In the Deira area you can get an inexpensive ride on public transport – boats like these
And now – about the areas of Dubai that do NOT make you scratch your wallet nervously.
Deira is on the border with the emirate of Sharjah, which means it is the outskirts. But don't be in a hurry to swipe. Deira is the most budget and very touristy (as far as the number of tourists is concerned) area. The prices of hotels and food contribute to this.
Plus it's not far to the airport and all the metro lines intersect, which means that almost all of Dubai is at your disposal. No beaches, but for 2 dirhams and 30 minutes by bus (or 15-20 dirhams by cab) you can get to a good al-Mamzar beach. Or in general, stay in Deira not far from it.
Yes, Dubai's working class lives here, but they're here for the same reason tourists are here, because it's cheap. The neighborhood is historic, or it used to be, and you can still find some Middle Eastern authenticity here. There are enough minuses: garbage, heaps of stores, cafes "At Ali's" (where you can eat for only 20-30 dirhams) – it seemed to me that the area consists of them and residential houses. All this "gold", fake shops, noise, markets – I do NOT like it, lively as it is, but it terrifies me. There is also the famous "Gold Market", where I was once and never went back:).
A good portion of tours to Dubai from tour operators – and a nice price tag for accommodation when you book on your own – are in the hotels in Deira. This is a great way to save on your trip, but you have to be prepared for the downside.
+ Adequate low prices (hotels from 3000 rubles/night) + atmosphere of the Middle East (comparable, for example, with the Old City in Jerusalem) + nearby a good beach + metro stations from every branch (there are two in Dubai) + near the airport
– Almost half of the hotels have a rating below 6 out of 10 – Noise and dirt – No attractions
Bur Dubai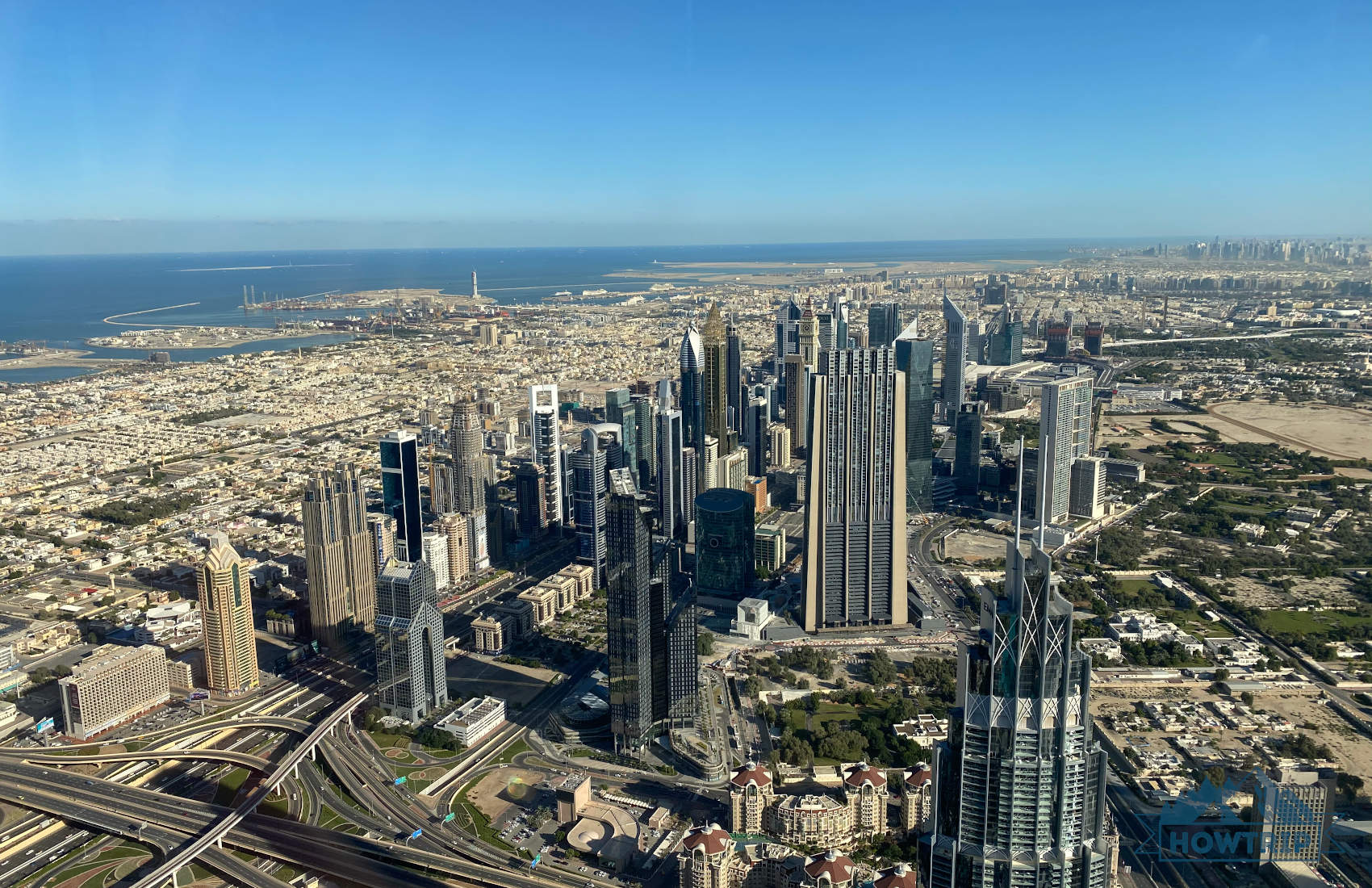 Across the bay from Deira is Bur Dubai – and situated before anyone else. Way, way back when the Emirates didn't have the Burj Khalifa and skyscrapers and locals didn't drive Ferraris but camels, Bur Dubai was the center of life, the Downtown of sorts.
There's still something of the old days here (at least the buildings) along with the buzz and the hustle and the flavor. There are also migrants living in Bur Dubai, but it is said that there are more Europeans, but I haven't compared it so closely, so I can't confirm. The subway runs here as well, and territorially the area is closer to the center of Dubai. The difference from Deira is that Bur Dubai has less markets and more places of interest. There's Al Bastakia, Sheikh's House, Zabeel Palace and the Fort.
+ low prices + there are attractions + closer to the center + hotels from 2500 rubles / night, and here more than half – with a good rating
– no beaches – noisy area – not luxurious
Al Barsha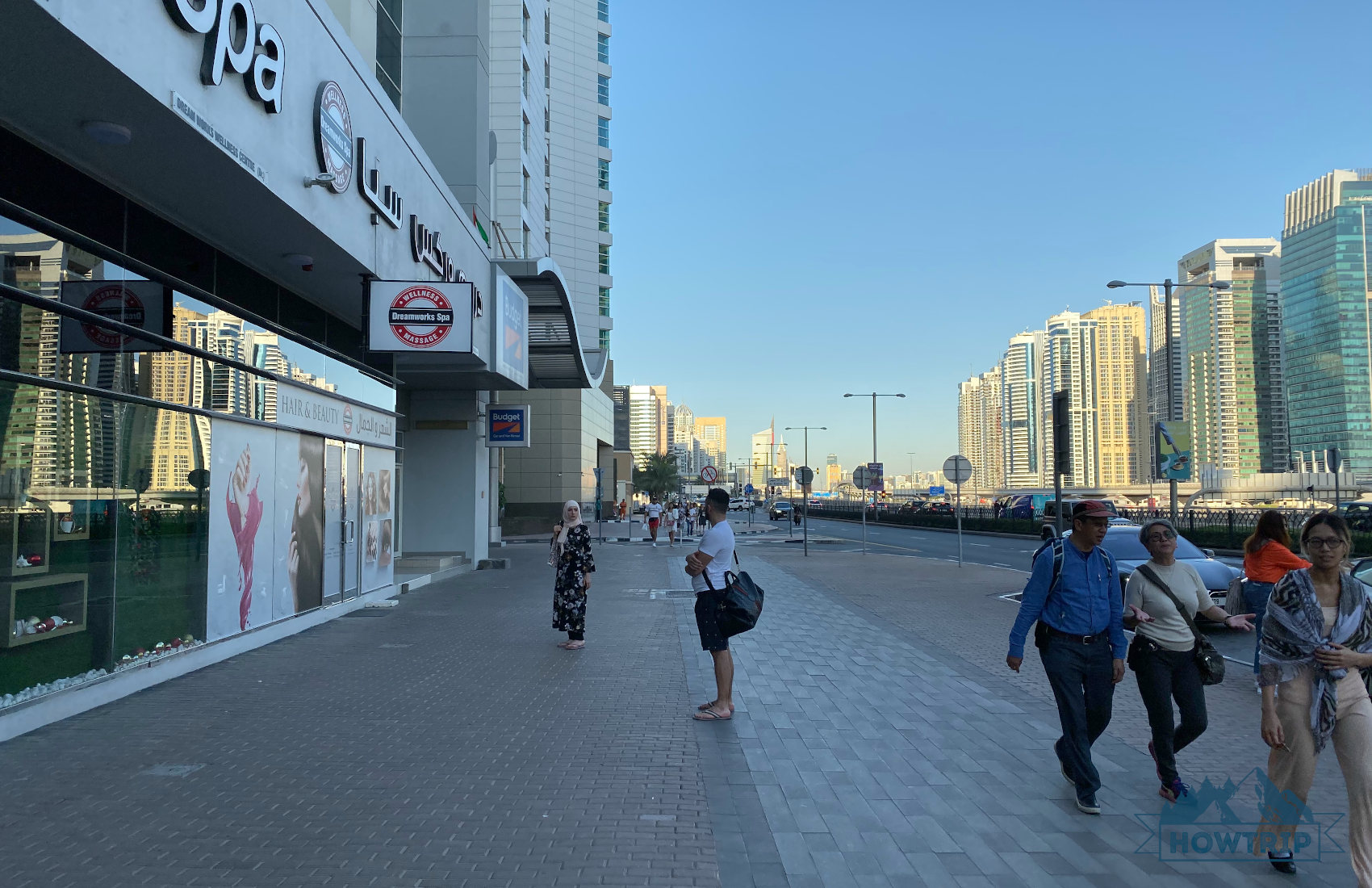 Al Barsha is a gem of a budget tourist between Downtown and Dubai Marina. It's no longer Deira, it's more of an industrial neighborhood with faceless gray buildings and high-rises.
The area does not border on the sea and the beaches, and stretches into the interior – the Mall of the Emirates is of interest to tourists, because the hotels (many chain hotels for a good price tour) are clustered around it, and in the same metro station. Al Barsha is equidistant from the central attractions of Dubai and Dubai Marina.
Most local hotels provide a free shuttle to the beach, so distance is not a problem. In the first section I told you about our hotel in Al Barsha, I highly recommend it. The area is perfect for those who want to live close to the center, but are not ready to overpay.
+ The hotels are still reasonably priced – especially if you go on a tour + an excellent price-quality ratio + a huge shopping mall with all the infrastructure and "ski" Ski Dubai + a metro station
– No beaches – nowhere to walk, except in shopping malls – nothing "lively".
Dubai or Sharjah – should I choose a hotel here?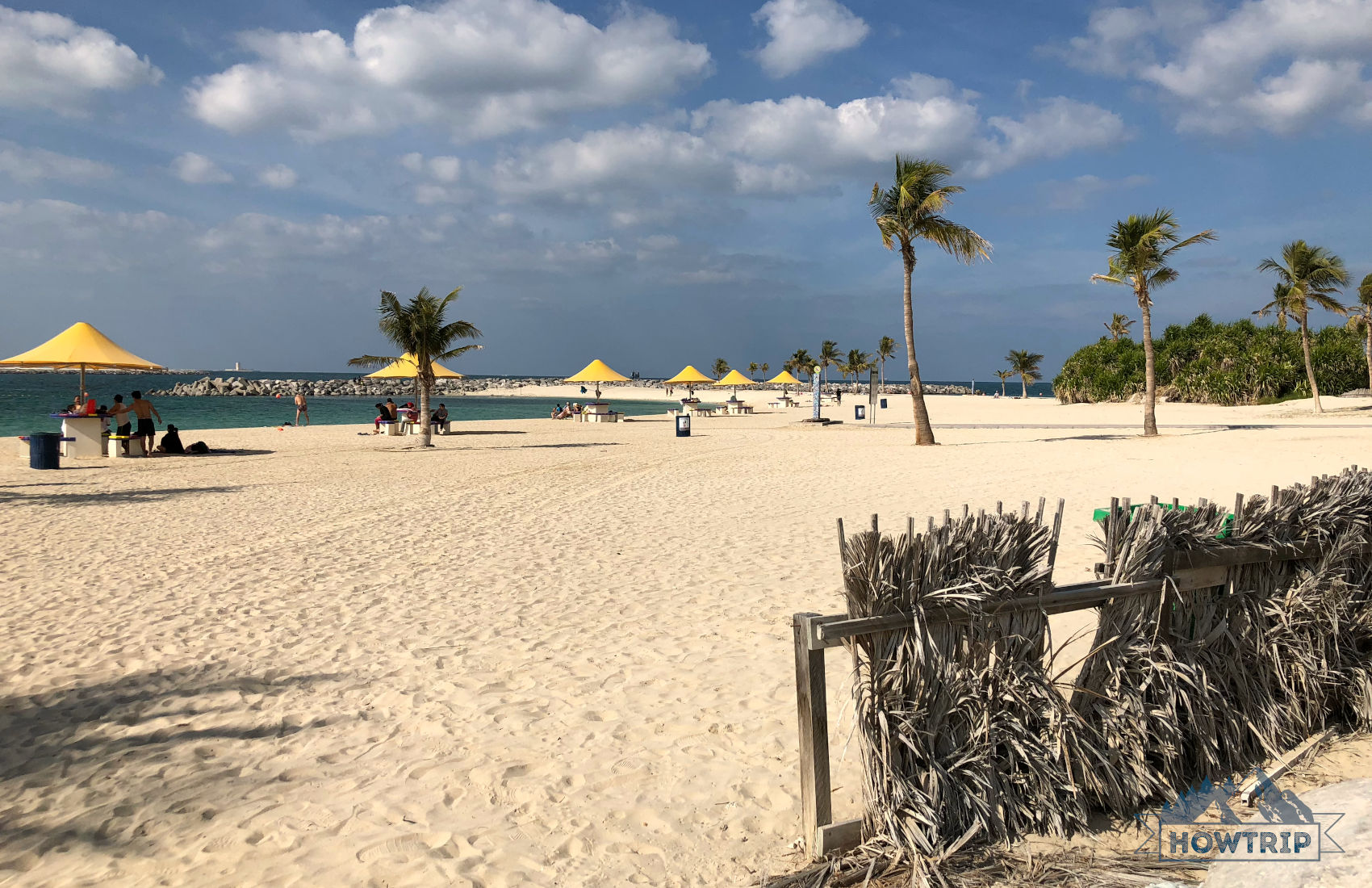 Al Mamzar beach – one of our top 3 favorite beaches in Dubai
Is it better to stay in Dubai or Sharjah? Sharjah is a neighboring emirate and the border between D and S runs through the Sahara Mall (no surprise there). Here the tourist stays as if next to Dubai, but for very inexpensive. Prices here are like in Deira or Bur Dubai.
Yes, you will have to drive 40-60 minutes to Dubai, but in Sharjah you can take a good hotel on the first line for 5000 rubles per day. So if you are looking for a budget holiday, then you can consider this emirate of the UAE. You can get from Sharjah to Dubai by buses, cabs and free transfers from the hotels. The third option is worth specifying, usually normal hotels have it.
Where to look for accommodation in Dubai?
Travelata and Level.Travel – if you go by tour.
Ostrovok if you are going alone and booking a hotel separately. You can pay by Russian card and be safe for your booking.
A little aside, but also on target: if you want to "live" at least a few hours in a convertible, Ferrari and Lamborghini – then the Russian-speaking service LocalRent will help you.
Neighborhoods of Dubai on the map
Marked for convenience the districts of Dubai on the map:
Copying materials is allowed only with a mandatory direct, active and open to indexing hyperlink to howtrip.ru.
Dubai neighborhoods guide: picking the best neighborhoods
Which area of Dubai is best to stay in and why? Here's a pros and cons list and some tips. For each area, a selection of the best and inexpensive hotels.
And Travelata – tours – cheap tickets – discount hotels
Neighborhoods
Deira.
Deira is a mixture of Egypt, Morocco and modern Dubai. Oriental markets, narrow alleys between traditional houses, and skyscrapers. The neighborhood gave us contradictory feelings: clingy callers, signboards in Russian, the glitter of diamonds, gold and Rolexes irritated us. On the other hand, where else in Dubai do you see such a strange mixture of old and new? But all this is only in the area where the markets are concentrated – Al Ras. If you go further along Dubai Creek, it is quite clean and modern area with high-rise and not so high-rise buildings, business centers, shopping malls, cafes, etc.
Cons :
only one public beach (Al Mamzar, there is a free and paid part – entrance 5 AED);
No hotels with their own beach (sometimes with a free shuttle to the beach);
Mostly Hindus and Pakistanis live there – some don't like the proximity;
There are not a lot of attractions and entertainment;
The area is remote from the center – it will take a long time to get to the center by subway or cab.
Pros :
Shopping (lots of markets, 4 large malls);
there are inexpensive hotels, good value for money;
inexpensive food;
flavor;
close to the airport.
Hotels in Deira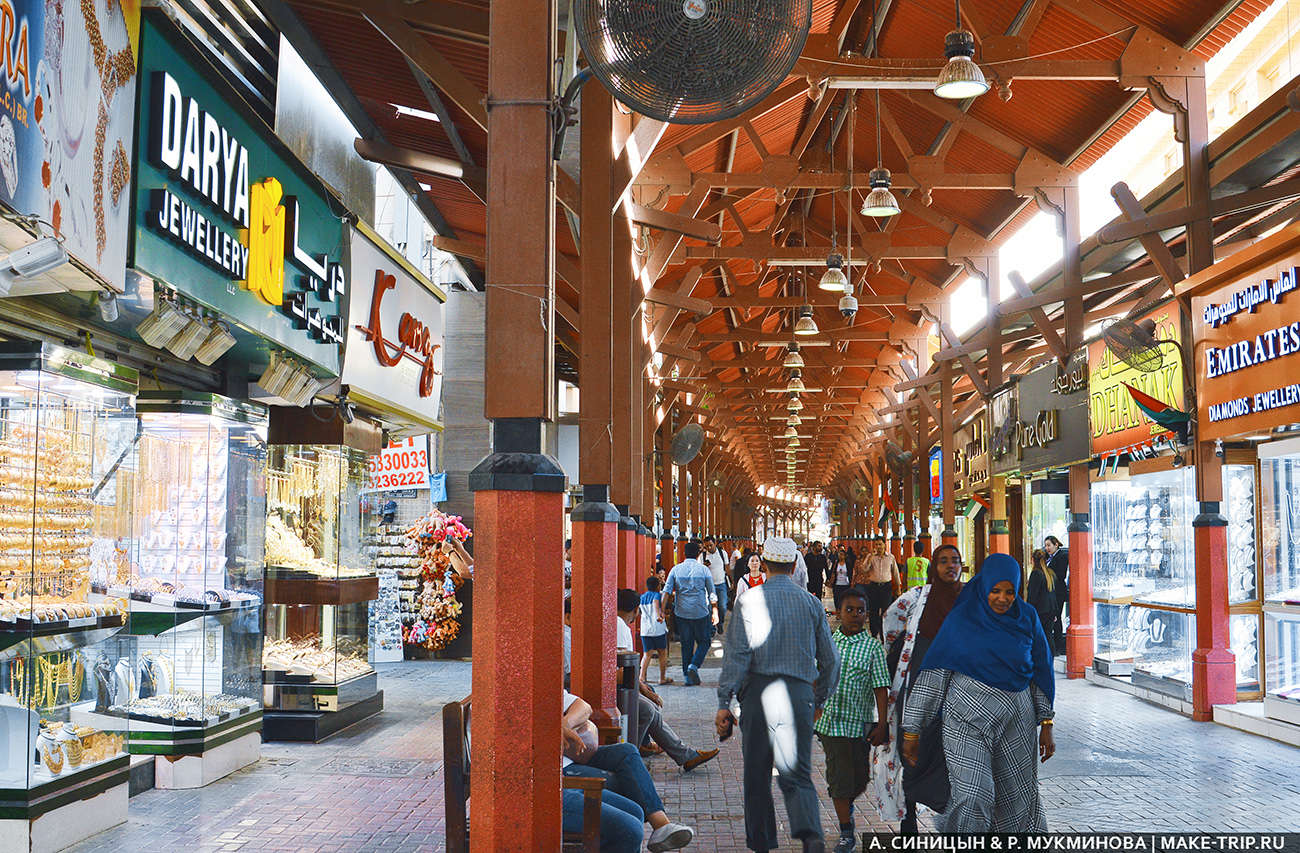 The gold market in the Deira district.
Bur Dubai
Similar to Deira, also historical but less colorful. Also Hindu-Pakistani. It's the Old Town and the administrative buildings. We stayed at Orient Guest House in the Old Town, a lovely place. We walked alone in the evening through the dark, moonlit streets and imagined ourselves in the tale of Ali Baba. It's probably the only quiet place in Bur Dubai – once you step outside of the Old City, the noise comes crashing down.
Pros :
A lot of inexpensive hotels;
inexpensive food;
lots of attractions and entertainment;
several subway stations – easy to get to the center;
close to the airport.
Cons :
Hotels in Bur Dubai.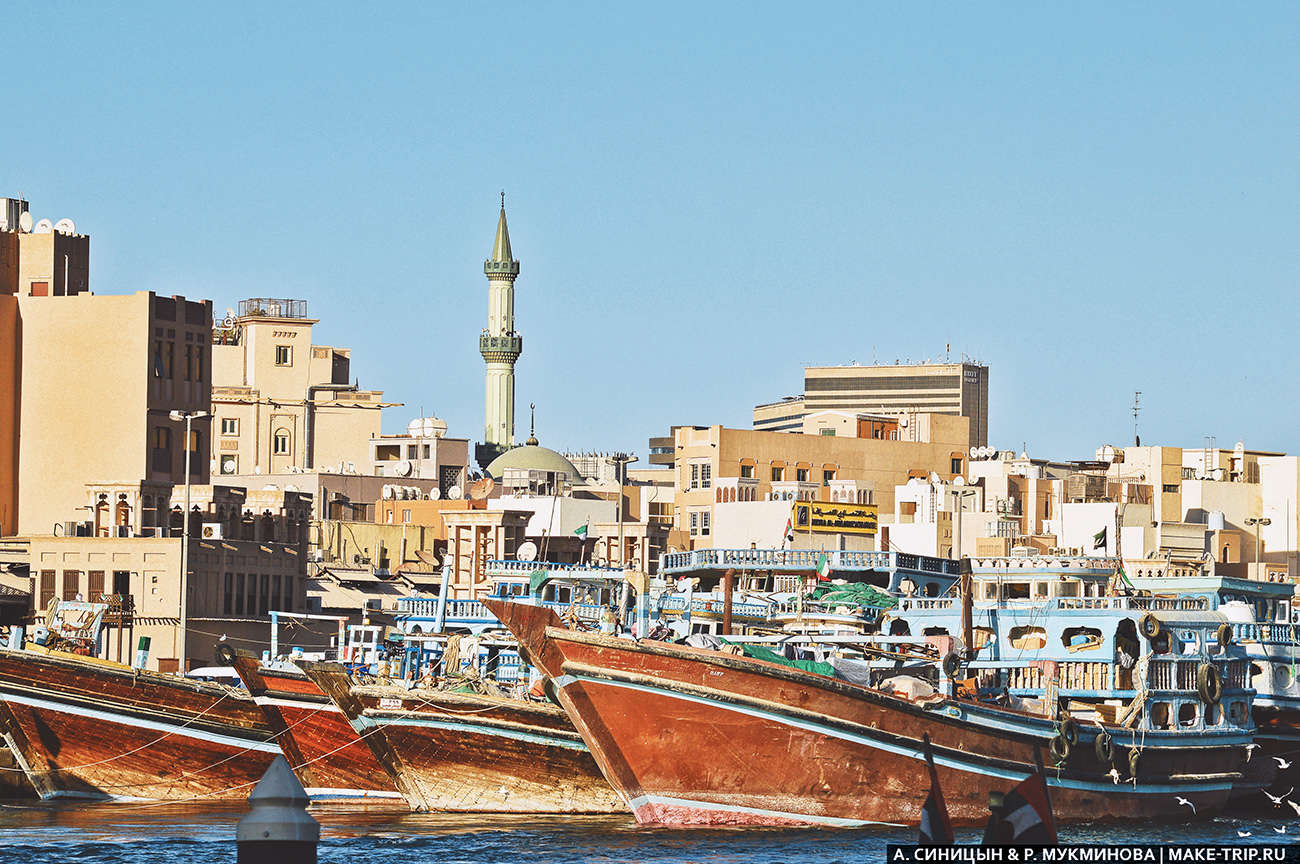 The Bur Dubai area where we lived.
Jumeirah.
Jumeirah is an upscale neighborhood. Luxury hotels, fancy villas, a giant water park, good beaches. Everything is expensive and rich, so we did not like it. There are 4 beaches in the area: Jumeirah Beach, Jumeirah Beach Park, Palm Beach Jumeirah and Jumeirah Beach Residents. Some are off-limits to men on certain days. Dubai Water Parks →
The area stretches for about 21 km along the sea between Bur Dubai and Dubai Marina – and that's a drawback. There is a metro line running parallel to the beach. However, it is a long and uncomfortable walk to the stations, because not everywhere there are sidewalks and almost nowhere there are crosswalks. Tourists catch a cab or take a bus.
Pros :
Comfortable hotels (Burj al Arab, Atlantis and others);
close to attractions (about 20 minutes by subway to the Burj Khalifa);
there is a subway and buses;
well-developed infrastructure;
beaches.
Cons :
everything is very expensive;
Many hotels to the subway must be taken by cab or bus.
Hotels in Jumeirah
Look for excursions on the Tripster website – there are unique author tours that will show the city from a new side.
The famous Sail Hotel in Dubai is one of the most expensive and luxurious hotels in the world. Photo: jovannig / Depositphotos.com.
Dubai Marina.
An impressive area – an artificial yacht bay with glittering skyscrapers and access to the sea. A kind of Dubai Manhattan – expensive and prestigious. The Marina Walk promenade is very popular with tourists. We loved the area, it's beautiful and photogenic.
Pros:
Transportation accessibility;
the beach;
Good restaurants and cafes;
shopping.
Hotels in Dubai Marina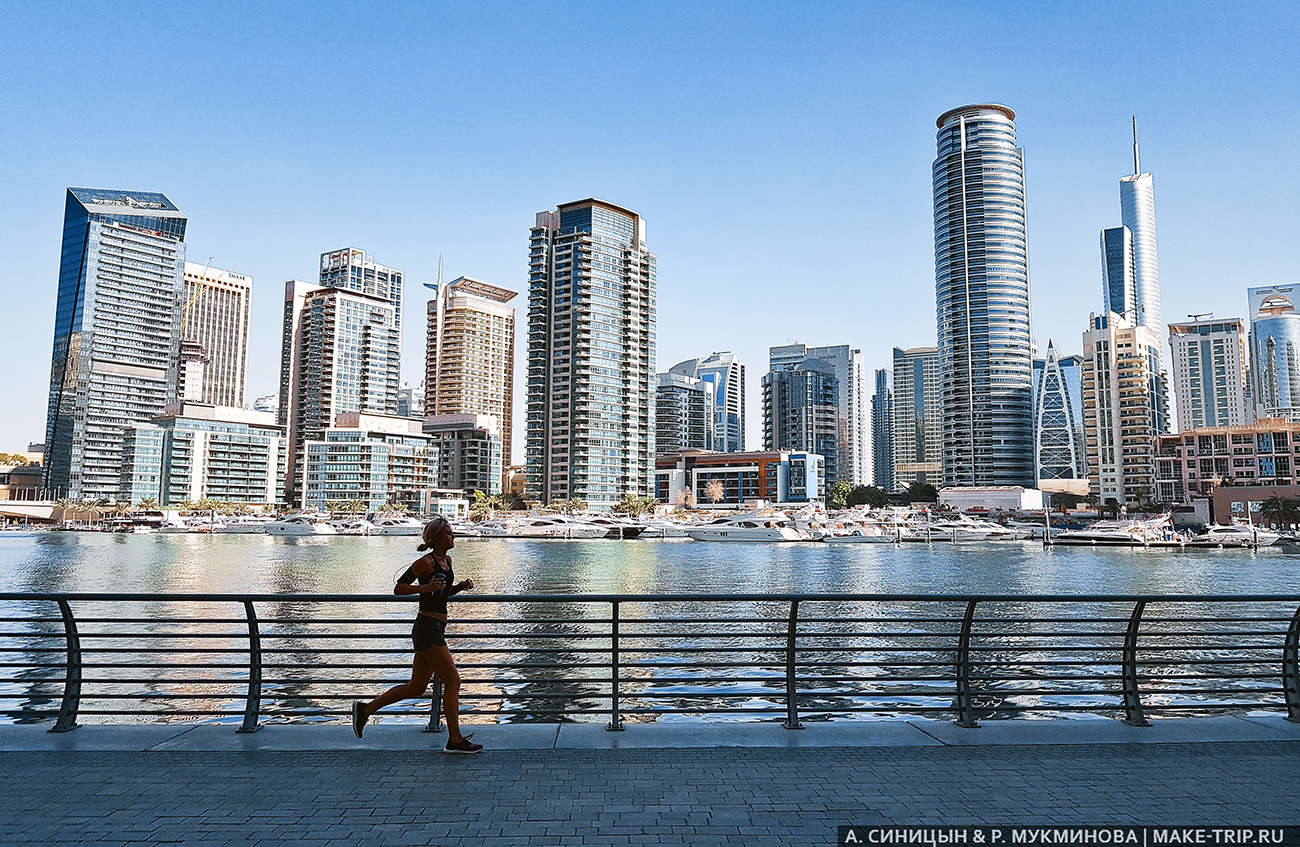 Dubai Marina Promenade.
Downtown Dubai
This tiny (by the standards of Dubai), but ultra-modern area. Here are located the Dubai Mall, Burj Khalifa skyscraper and singing fountains. The hotels in this area are very expensive and don't have any beach hotels.