Ten places to eat cheap in Paris
Paris, no matter what you say, is an expensive city. And not all tourists can afford daily breakfast-lunch-dinners in restaurants. We present you our top ten places to eat fast and cheap if your budget is limited. At the end of the article, you'll find a link to a useful resource for finding cheap restaurants in Paris.
Cheap French Cuisine
Bouillon
If you want authentic French cuisine and also not very expensive, look for Bouillon . It's not the name, but the type of establishment. Be prepared that it's more of a canteen than a restaurant. You will be assigned to a table with a waiter who is fast, but not very friendly. The portions are small, but for the price they are excellent. You can try snails, rooster in wine, and many other purely French dishes. And a bottle of wine costs 13-15 euros. Other places with such a price-quality ratio just can't be found.
And in this restaurant you can not book seats. You have to stand in line. Sometimes it can take up to an hour.
One of the best are the Bouillon Chartier cafés. There's one in Montparnasse but it's most famous in Montmartre. It has been open for more than 100 years and the atmosphere is quite historic.
Flunch Restaurants
Near the Centre Pompidou, a stone's throw from the Rambouteau metro station (line 11), you'll find Flunch, a fast food restaurant (address: 21 rue de Beaubourg). For money comparable to the cost of the mac-menu, you can eat a steak and a salad.
Just be careful: the restaurant has an unusual system. You pick up your food first and then pay at the cash register. You can take a side dish to the second one already in the hall after the checkout as much as you want. But until you get to the side dish you can take "that salad" and "that dessert" in addition to the second course, coffee and bread, because visually it seems too small without the side dish.
There's also Flunch in Montmartre (address: 1-3 rue Caulaincourt).
Pancake houses
At the exit of the Tuileries Garden you will see a kiosk with crepes (French pancakes). You can eat them with different fillings, both sweet (with sugar, chocolate or jam) or savory (with cheese, chicken and egg, for example). Actually, there are plenty of kiosks with crepes in Paris, just like in Russia with pancakes. Take your pick
In stationary pancake houses you can also get a galette. These are not dry cookies, but rather a cross between a pizza and an open pie. Get the ham and cheese galette, your hunger will be defeated.
Sandwiches
Finally, try an authentic French sandwich! Go into any bakery and buy a huge sandwich of baguette, Parisian ham, tomato and cheese. If you add a cup of coffee to it, you have the standard lunch of a French Sorbonne student.
Grocery Stores
Near the Eiffel Tower, there is little to snack on except the crepes and waffles already mentioned. Alternatively, you can walk up the Champs de Mars and turn left, where you'll find several grocery stores (such as Carrefour City).
Buy a baguette, a package of French ham and cheese, and a bottle of wine, beer, or juice and head back to the Champs de Mars and settle in on the grass. A picnic with a view of the Eiffel Tower – what could be better?
Don't feel like eating cold? Many French supermarkets (like Monoprix) have a microwave corner. If you choose a ready-made lunch in a cassalette, you can immediately reheat it and eat it.
Which neighborhoods in Paris can I eat inexpensively?
On the Champs-Élysées, McDonald's.
Don't laugh. In fact, the Champs-Elysées is the most popular tourist spot in Paris, where the most expensive boutiques are also located, and the price per square centimeter is off the charts. As a consequence, the prices for food there are very high. For example, to have a coffee can cost 40 euros.
So in chain cafes like McDonald's and Quick you at least know exactly how much your meal will cost. There are also McDonalds by the Louvre, in the Louvre itself, in the Latin Quarter and other parts of the city.
Latin Quarter
The area around the Fountain Saint-Michel. Are you hungry walking around Notre Dame? Go to the left bank of the Seine and walk to the left of the Fountain Saint-Michel or to the right of the cathedral. You will get to the area of the cheapest tourist restaurants in Paris. Here you can taste the real French cuisine for. say, 10 euros.
True, for that money it won't be quite real, to be honest. We recommend that you stay alert, choose a "more expensive" menu and don't hope to meet a French chef here. Once again, be VERY careful. You may be forced to buy water in this area, and it should be free if served in a carafe, or offered microscopic portions.
Montmartre
The entire hill of Montmartre is full of a variety of cafes, bars, and restaurants. Closer to the Place du Tertre, there are many touristy restaurants, like on Saint-Michel, that is inexpensive and not always tasty. You'll also find expensive restaurants there, taking their history from the diners where the Impressionists hung out.
French cafes and brasseries, Italian pizzerias and foreign restaurants abound on the slopes of the hill. It's enough to turn down any of the streets from the metro instead of taking the stairs up to the Sacré-Coeur.
Place de la Bastille
The Bastille is not only the former royal fortress or the current opera house. The Bastille is the main nightlife district of Paris! Incredible number of discos, bars, cafes and eateries where you can eat, drink and enjoy life .
Shawarma and falafel in Paris.
A Parisian-style kebab is a flatbread filled with sliced meat, vegetables and sauces. French fries are also added to it. The result is a rather tasty, nutritious and completely inexpensive dish that you can quickly snack on while sitting on the steps of the Theater Garnier. There are kebabs in all parts of the city, such as near Place de la Republique or near Saint-Michel.
Another truly Parisian experience is the falafel in the Jewish quarter. In the Marais district, where the Jewish community has lived for centuries, a couple of streets (rue Rosiers is the main one) sell falafel with chickpea balls and vegetables. Very tasty, inexpensive and authentic. Try the falafel.
Sushi and Chinese food
Parisians treat sushi as a quick and inexpensive office lunch. The standard menu consists of soup, salad, rice and a set of sushi and maki. It's enough to get you through the day! As well as kebabs, there are sushi and Chinese cafes in all areas of the city, including Rue de Rivoli, in the Saint-Michel and Défense neighborhoods.
Top tip of the day.
Of course, you should not take these tips as a gastronomic guide. Nevertheless, they will help you get through a few hours or even days. But it is possible to be craftier.
If you want to eat on a budget and are willing to spend some time on theoretical preparation, visit the website Les Petites Tables . It's in French, but it's generally intuitive, and you can use the automatic Google translator.
Les Petites Tables was created by two gourmet friends. They collect on their resource eateries and restaurants, where you can really have a good meal for less than 10 euros. The main advantage is that you can find small, family-run French restaurants with low prices and eat normal food, not fast food.
The best places to eat cheap in Paris
Where to eat cheap in Paris, the most popular places and ideas.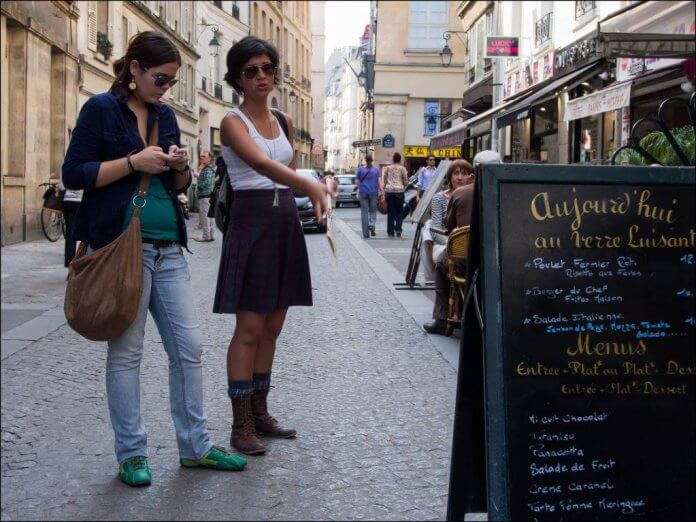 Cheap to eat in Paris
Where to eat well and cheaply in Paris
Going to the most elegant capital of Europe, you have to be prepared to pay for the pleasure. Even in the most remote corners of the city prices are tangible, not to mention the central streets, where visitors are trying to rip off as carefully as possible.
And yet, it is possible to find an inexpensive place to eat in Paris, and you don't even have to leave the well-trodden tourist paths.
Paris is a city of gastronomic diversity. Representatives of different countries surprise with their national delicacies and if you prefer a certain cuisine you can easily find it in one of the institutions of the metropolis.
And since life here is bustling from dusk to dawn and again to dusk, restaurants, bars, fast and cafes are ready to take visitors around the clock.
Buying in-store or at the market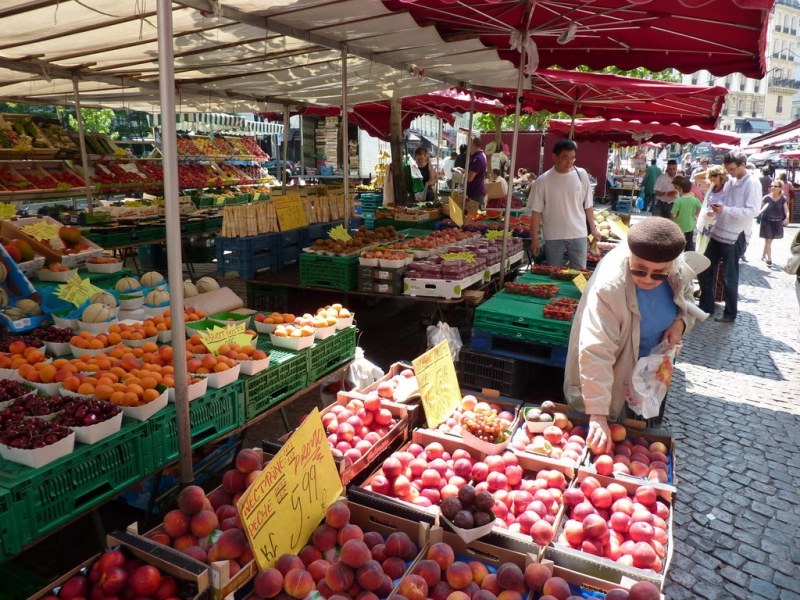 Meals in Paris
The most frugal travelers prefer to rent apartments or settle in hostels with an area equipped with appliances and utensils to cook on their own. Although so you lose the very concept of "French cuisine," but it's really a radical way to cut costs.
Grocery stores, stores, stalls and supermarkets in Paris are scattered around the neighborhood in abundance, so it makes no sense to give addresses. Just look into those that are closest to the place of your temporary residence, and you will see a decent range of products.
There are also enough markets, there are about 80 of them in different parts of the city. For example, in the 12th arrondissement, close to Ledru-Rollin station, visit the Marche d'Aligr butcher's market. There's also an indoor pavilion with olive oil at a low price from the leading producers.
In the 2nd arrondissement, close to Sentier and Les Halles subway stations, you will find Montorgueil shopping street with fish and meat, fruits and vegetables, cheeses, and more.
The third district is famous not only for its sights, boulevards and squares, but also for the oldest bazaar Le Marche des Enfants Rouges (Market of the Red Children), which appeared under Louis XIII. To find it, stay on the northern edge of the Marais. Here you can buy plant food and many kinds of cheese and seafood.
If you live in the 7th district, be sure to drop by Rue Cler Market Street, aiming for the Ecole Militaire metro station. Locals like to come here for pastries, dairy and meat products, fish, and homemade chocolates. It's a street with lots of shops where you'll find everything to prepare a hearty or light meal.
In the 16th arrondissement, there is an excellent choice of groceries on Marché Président Wilson (be guided by the Alma-Marceau or Iéna metro stations). In the 11th district, along Boulevard Richard Lenoir, close to Place de la Bastille and Ledru-Rollin station, you will find a large outdoor market, The Marché Bastille.
A quick bite
But come on, you didn't come to the city you've been dreaming about for a long time just to be at the stove again! If you want to store, you should store in jewelry, perfume and fashionable boutiques, not in pursuit of butter and meat. And it's better to be impressed with monuments and paintings than with the assortment of shrimp on the counter hawker.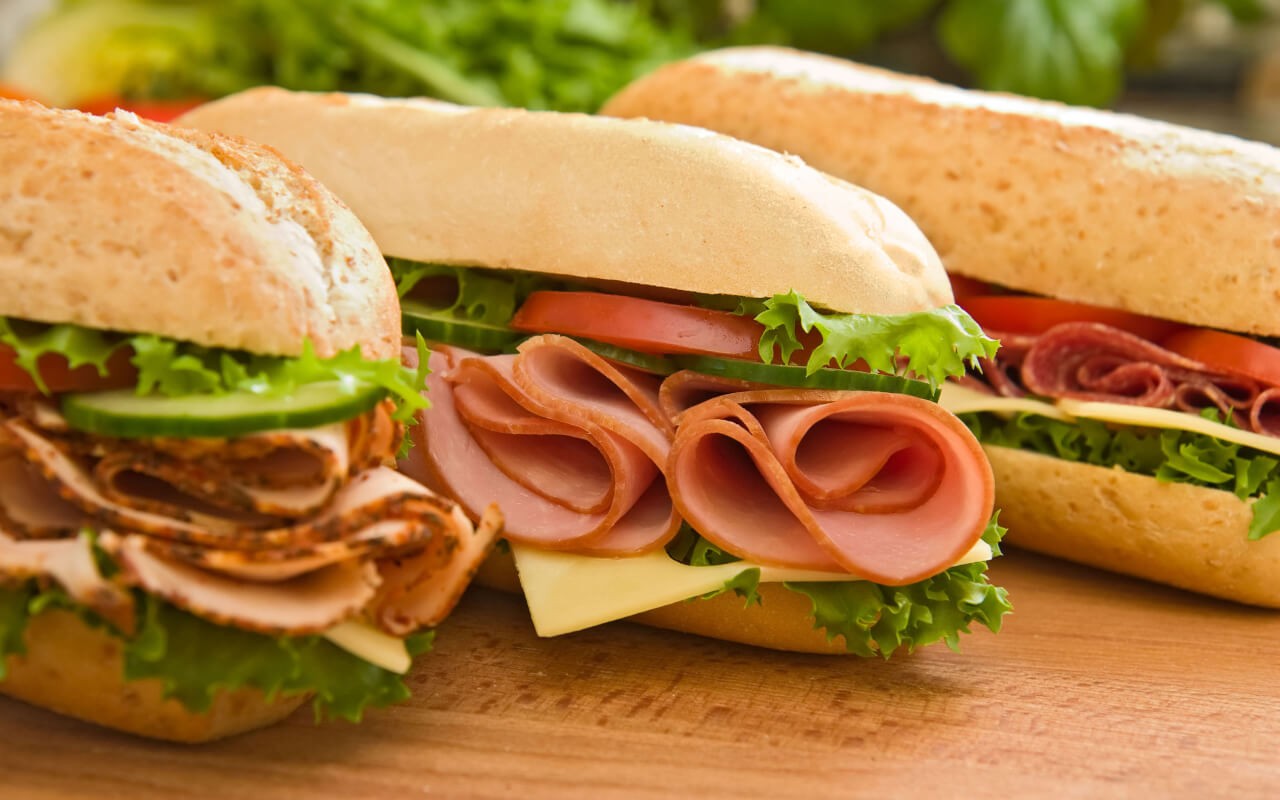 Where to eat cheap in Paris?
You can satisfy your hunger in different ways, and the most common is a quick snack almost on the go. Sure, it's not the benchmark for healthy eating, but if you do not abuse it, it is good enough to "soak the worm.
A regular sandwich is a fancy thin sandwich, but the French baguette is a baguette stuffed with cheese, ham, tomatoes, and herbs. It looks impressive, and is sold at any bakery that is scattered throughout the city.
Another option is French kebab. This is nothing less than the analog of shawarma, which is adored by Parisians. The filling can be anything – meat with vegetables, fish and other seafood, cheese, or vegetarian with vegetables only.
The contents are seasoned with sauces, so it turns out very tasty and nutritious. There is no shortage of outlets selling them either, especially on Place de la Republique, next to the Théâtre Garnier and on Place Saint-Michel.
Roasted chestnuts are another local delicacy. Bags of a dozen are sold on the street from October until the last days of winter, and cost only 4-6 euros. They are also added as a condiment to salads, second courses and desserts.
What to say about croissants and colorful macaroons, the famous French pastry that has conquered the stomachs of the world. Tender, sweet, with endless variations of flavor, they are sold in all stores, coffee shops, bakeries and confectioneries. With a glass of juice, tea or coffee, you can grab a quick snack in true Parisian style.
Eat quickly in bistros
The next most popular are the bistros of Paris. These can include Chinese and Japanese cafes that serve sushi. This food is equal to shawarma and sandwich, that is, it does not take much time to prepare and the very process of eating, in addition, it is cheap.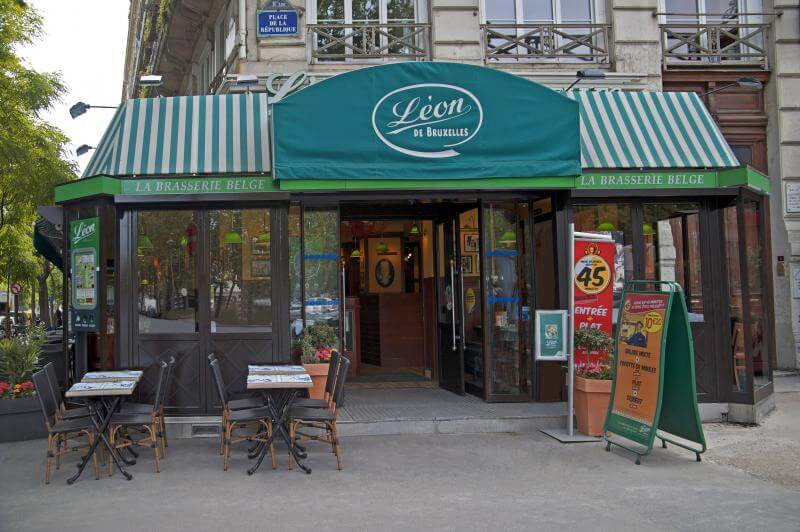 Dinner in Paris is inexpensive!
The set can include soup, plain rice, salad and a set of rolls. They are very popular with office workers, who always have little time for a meal. If you find yourself on Rue de Rivoli, Place Saint-Michel and in the La Défense district, you won't miss these places.
The 10th, 11th and 13th arrondissements have Asian cuisine in the most affordable price range. In the 16th arrondissement, there is a little restaurant called OKA SUSHI at Duban 8, not far from the Parc Pasi.
Soups and salads there from 2 euros, sushi from 4 euros, mixed menus from 13 euros, desserts from 3.5 euros. There is an opportunity to order delivery – if you order from 15 euros, it will be free.
We can not not mention McDonald's, but it's for a fan. The food there is relatively cheap and certainly not healthy.
If you look bistros on a map of Paris, it is dotted with them like freckles – choose any that is closer to you.
As a rule, they are a network and located in different regions. For example, Léon de Bruxelles, or simply Leon, can be found on the boulevards Saint-Germain, Montparnasse, Beaumarchais, Place d'Italie, Champs Elysees.
It's more of a bar where beer is served with mussels cooked in many ways in divine sauces, come in a set with fries, and the portions are so large that not everyone can manage. At the same time, the prices are more than friendly – from 15.90 euros.
To eat in Paris inexpensively, walking around Montmartre, you can easily find an inexpensive bistro, where for 12-15 euros they offer salad, sausages, potatoes and a bottle of wine. One such place is Flam's, which serves the famous Alsatian open tarte resembling a pizza for 7-13 euros. Combined with a beer (€5.30 for 500ml), the snack is excellent. From 16:00 to 21:00 there is a "happy hour" when beer costs 3-4 euros.
But the lowest prices are in the Latin Quarter, although there are pitfalls of its own. Sometimes the portions are much smaller than in the picture and not necessarily prepared with fresh products, and the water in a jug that goes on the table for free may be included in your bill.
If you want to try the famous frog legs and other delights of French cuisine, check out Chez Margot. One is at 25 B Boulevard Henri IV and the other at 37 Brunel St.
The food here is excellent without breaking the bank. For instance, the cream soup costs 7 euros, fried Camembert – 10 euros, country pate – 8,5 euros, vegetarian risotto – 18 euros, pasta with vegetables – 14 euros, and the very feet of frogs – 18 euros.
If you want to eat sweet pancakes – 9 euros, and for a milk dessert with berries – 8 euros. A complex lunch menu, which includes starter + main course or main course + dessert, excluding weekends and public holidays, will cost 14,50 euros.
Pancake houses can also be classified as bistros, but remember that the pancakes here are called crepes. There are plenty of outlets throughout the city, and one of the best is located near the Tuileries Garden near the exit.
The choice of toppings is dizzying: chicken, eggs, mushrooms, cheeses, honey and walnut mix or individually, chocolate, jam, raisins and berries, Nutella… It's impossible to list everything, so you better go there and choose in person.
In the main building of the Galeries Lafayette on the 6th floor there is a buffet-style food court where you can choose your own dishes for a single plate for only 4 euros. There are also individual dishes for the same price. A glass of wine is also included, but since everyone pours their own, many people take advantage of the moment to "sip an extra."
In the same building you'll find Lafayette Gourmet – it's 2 floors full of all sorts of delicacies, confectionery, a large Asian food department, and everything is cheaper than ever.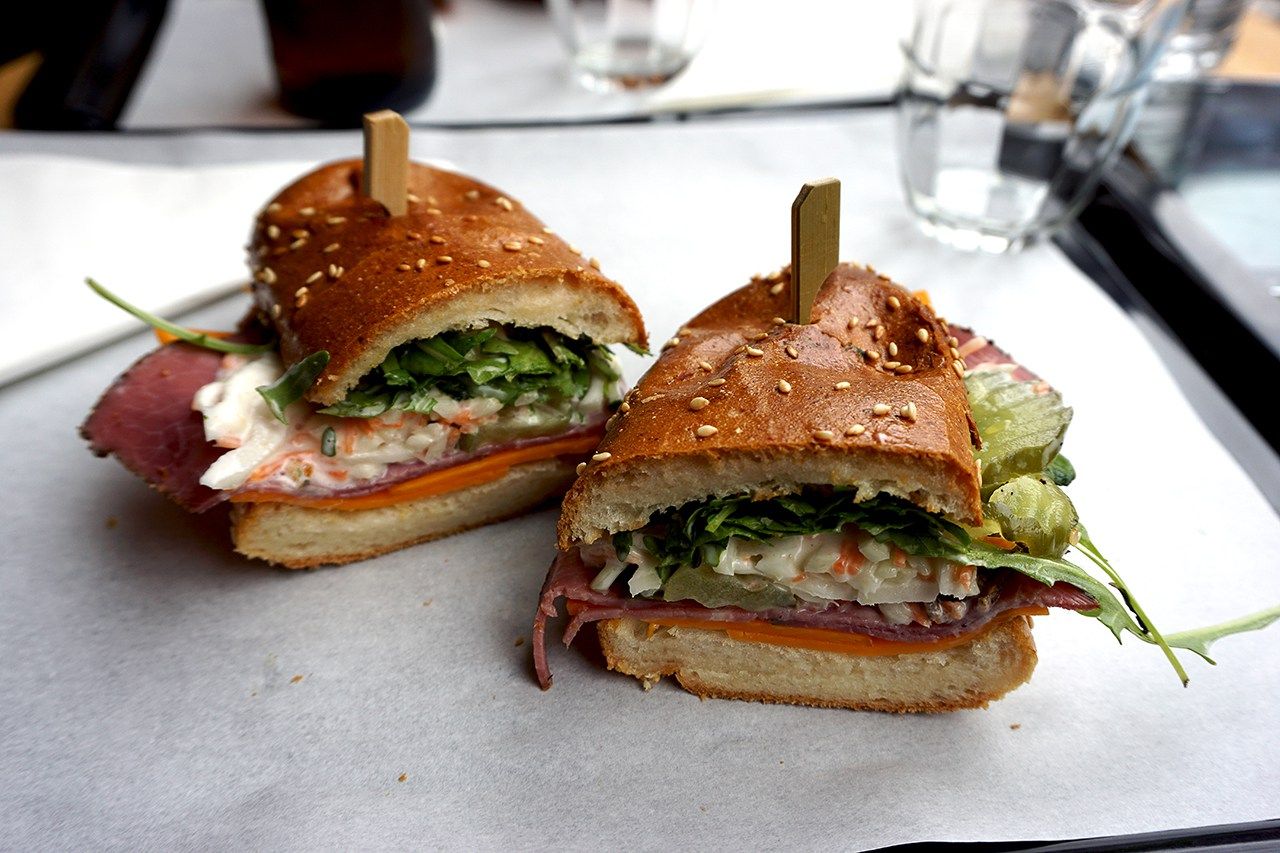 Bears & Raccoons.
In District 11, you'll find a gluten-free fast food restaurant with the original name of Bears & Raccoons. If you are gluten- or lactose-intolerant, you will be offered an individual menu. Salads from €8, desserts from €2.50. There is also delivery if you want to order something to your hotel room.
In the 12th arrondissement, not far from Lyon train station, there's Crémieux street with colorful houses. If you're looking for a place for colorful photos, you'll definitely love it here. When you get hungry during your photo shoot, nearby Rue de Lyon 17 you will find La Cappadoce restaurant with Greek, Turkish, Mediterranean and Middle Eastern cuisines. You can eat there from 5 euros.
Cafes and restaurants: tasty and cheap
Now take a look at the cheap cafes in Paris. Thanks to the film "Amelie", Café des Deux Moulins at 15 rue Lepic has become incredibly popular. Here you can drink espresso for 2,7 euros, cappuccino – 5,9 euros, have breakfast for 12 euros, and lunch – 17,5 euros.
There is even a special menu "Amelie" for 32,5 euros and dessert (coffee + Vienna chocolate + crème brûlée + fresh raspberry + your instant photo) for 19,90 euros. If you get here during happy hour, you'll pay 6 euros for a cocktail.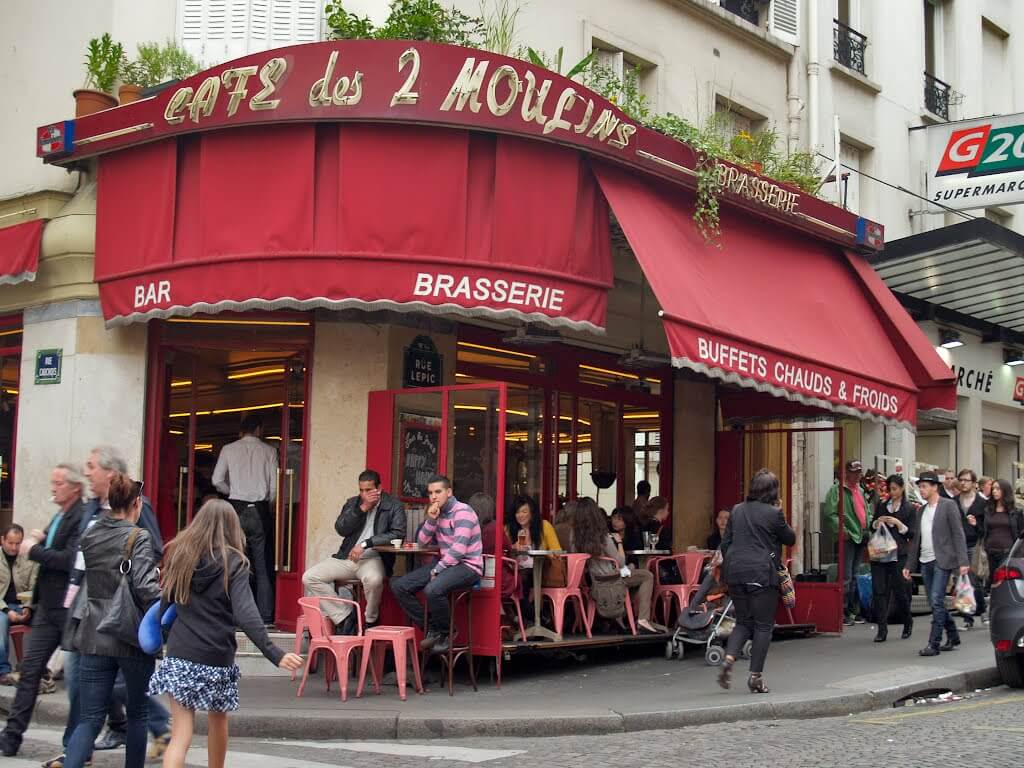 Where's the best place to eat in Paris?
Very attractive establishments under the sign "Flunch". These are inexpensive restaurants in Paris, located on Caulaincourt, 1-3 and Beaubourg, 21. They work on the principle of "buffet" – you pay for a plate for 3 – 5 euros, depending on its size, and fill it with any salad and side dishes.
You have to pay separately for meat and fish, sweets and drinks. But even in this case, for 7 – 9 euros you can eat very, very tightly. If you prefer pizza, it is offered with different toppings for 6.95 euros.
They also have a children's menu to choose from for 3.95 euros. For those who are watching their figure and prefer to snack on salads, they are only 1.95 euros, and it can be a nutritious version with pasta, cheese and vegetables or a fruit assortment.
The desserts here are excellent and in great variety, and the price: 1,95 – 2,5 euros. The can and bottle drinks are in the same price, and the usual water in a jug is free addition.
The Basque cuisine restaurants Chez Gladines at 30, rue des cinq Diamants and 44, rue Saint Germain, are also noteworthy. The places look stylish, the food is appetizing and the prices are as follows: salads 9 – 12,5 Euro, all potatoes 5 – 9,5 Euro, specialties 12,5 – 20 Euro, desserts 5 – 7,5 Euro, hot drinks (tea, coffee …) 1,5 – 5 Euro.
If you walk from the Arc de Triomphe on Place Charles de Gaulle to Avenue de Wagram, 9, you'll see a restaurant called Monte Carlo that also has a buffet and, depending on which plate you choose, charges 12 – 16.5 euros.
If you get hungry during your walk around Notre Dame, head to Café Panis at Quai Montebello 21. You'll love the interior – the wooden tables have comfortable sofas and armchairs and the food is always top-notch. You can have breakfast for 9 euros, lunch – for 13 euros.
Soup aficionados should visit Le Bar à Soupes (soup bar) at 33 rue de Charonne, close to Place de la Bastille. There are only 20 seats and about 10 kinds of soups for 5-6 euros, although there are also complex dinners with wine and dessert from 3 euros.
There's also Le Grenier à Pain bakery nearby, which has famous croissants for 1 euro and sandwiches for 3.20 euros. Across the street is Blé Sucré, whose range of pastries also whets your appetite.
In Paris, there are also many original zucchinis, where you can not only eat delicious food, but also leave a lasting impression. For example, in the technological bar-restaurant Touch'In Paris (20, rue Vignon) they like to experiment with products, and after drinking a cocktail, you can snack on an edible glass. During the day you will be fed for 20-25 euros, and after 6:00 p.m. a bar with a touch table-stand opens.
When looking for a place to eat in Paris in the 11th arrondissement, go to 4 rue Rampon and visit the Atelier des artistes. This unusual establishment covers 500sqm and is somewhere between a bar, a restaurant, a smoking lounge and an artist's studio. The restaurant is on the ground level and everything else is in the basement. Prices are low and the atmosphere is peculiar but friendly.
Another cocktail bar where you can enjoy a cigarette is Moonshiner at 5 Sedaine St. (District 11). And if you like table tennis, go to Rue Victor Gelez, 4 at Gossima Bar. There are vegetarian dishes for 8 euros and meat/fish from 10 euros, served on plates in the form of rackets.
In the 12th arrondissement at 21 rue de Lyon, the organic restaurant Le Crémieux offers vegan and gluten-free options in addition to traditional dishes. Prices for dishes start at 9 euros.
In the 3rd arrondissement, at 54 rue de Saintonge, you will find Ob-La-Di, a coffee shop known for its delicious avocado toast for 10 euros and vegetarian breakfasts for 13 euros.
In the 2nd arrondissement, close to Place de la Victoire with the equestrian statue of Louis XIV at 44 rue d'Argout, you will find the Blend Hamburger. It is suitable for those who like to walk a long time, enjoying the beauty of Paris at night.
It is open from 12:00 to 23:00 and is famous for its huge and juicy hamburgers for 9,90 euros. If you order a side dish and a drink, the price will be between 16-20 euros.
Afterword
The notion of "eating in Paris inexpensive", is not quite correct, because it's not about the figure, but the currency and its conversion to our money. And as the French capital is one of the most developed tourist places, the standard of living here requires a certain expenditure, especially if you want to get the maximum experience.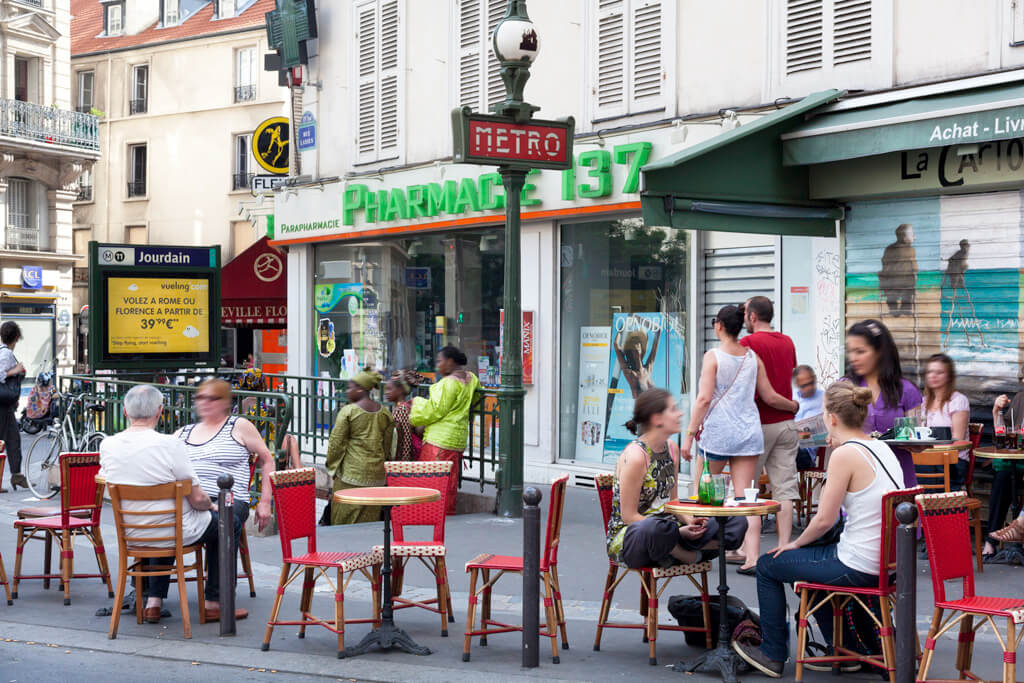 Have lunch in a cafe in Paris!
The multifaceted ethnic side of the city also affects, and along with national restaurants there are representatives of other nations competing in business, from which Chinese, Italian, Basque, Afghan, African and God knows what other variations can go one after another.
If you want to enjoy not only the food but also its history while in Paris, stay close to Montmartre, the Champs Elysees, the Latin Quarter or the Marais.
These are the areas where talented artists, sculptors, poets, musicians, actors and famous politicians once gathered, and the memory of them is still preserved in many old cafes. Perhaps Picasso, Lautrec, Hugo, Renoir, Van Gogh, Braque, Modigliani, or Cardinal Richelieu himself used to sit in the same spot you have occupied. However, modern establishments are also quite interesting.
Walking up and down the famous avenues it's hard to find a cheap restaurant and even bistros and open sandwich, crepe or kebab outlets overcharge for their food. But once you turn down a secluded street away from the crowds of tourists, everything changes. Exploring Paris beyond the sightseeing routes, you'll discover many of its surprising secrets.
For example, in the 11th arrondissement at Place Auguste Baron, 11 under the bridge is the Freegan Pony café. Although it is considered secret, it is becoming increasingly popular. Its idea is to cook without waste, that is, to use 100% of the food in the process.
There is no clear menu in the restaurant, as purchases are made daily, and dishes are made up from the resulting set. Volunteers often help in the kitchen. Prices are also low: 5-10 euros. On Tuesdays and Wednesdays it is closed, on Sunday it is open from 20:00 to 01:00, on other days until 00:00. Until midnight entrance is free, after 00:00 – 5 euros.
As you can see, it is not difficult to find an inexpensive place to eat in Paris. A thousand roads open up in front of you, and all we have to do is wish "Bon appétit!"