Massage in Pattaya
Massage in Pattaya, as in all of Thailand, is a very common phenomenon. It occurs at every step. It is safe to say that if in any place are a few hotels, then next to necessarily there is a massage parlor. Of course, most of them in popular tourist spots – near Wolkin Street, on Second Street and at the beginning of Jomtien Beach.
We advise to go for a massage in Pattaya. At the same time its varieties are so many that you can go every day for a week and not repeat it. The most popular types are foot massage, oil massage and Thai. All types of massage both tone and relax (just like swimming in the sea). So that the procedure is not only pleasant, but also useful.
Often massage can be done directly on the beach.
The quality of the massage depends not on the high cost of the salon, but on the masseuse. If she graduated from a special school, then get a professional job. If she took a couple of lessons, you get unprofessional work. In the case of foot massage and oil massage is not too bad, but if you do the traditional Thai massage unskillfully, you can pinch a nerve or something else.
It is worth noting that the massage in Patagia has a peculiarity that distinguishes it from all other places. If you're a woman, you will not notice the difference, but for men it will be huge. We mean that massages with "continuation and a happy ending" are widespread. I don't think we need to explain what we mean. "Continuation" is offered everywhere and, of course, for an additional fee. Even if you do a foot massage in front of everyone, the masseuse can hint at privacy on the bed behind the curtain. Well, if you have agreed to an oil massage from the beginning, the end will be predictable and it will be offered almost 100% (although sometimes there are masseuses who do not do it).
How can you tell such a "special salon" from an ordinary one? Almost nothing. It all depends on the masseuses who work there. If they do not want to do it, they will not. The only 100% guarantee can be given in the case, if at the entrance are sitting young girls in sexy clothes: miniskirts, denim ripped shorts, t-shirts with a large neckline. In this case, for men it's the door to heaven, and for their wives it's the door to hell. But even masseuses in modest identical clothes do not guarantee that there will only be a massage.
There are also special salons of body massage for men.
This is a 100% erotic massage, which is done with soap foam. Such massage with continuation costs from 2500 baht. Several large salons are located on Second Street, near its intersection with North Street, near the show of drag queens Tiffany and Alcazar. You'll notice them immediately by the signs. You can get there for 10 baht on a songteo that runs along Second Street.
What the massage parlor looks like
On the outside it may look different – it may be large or small, one-story or two-story. But you can easily identify it by the Massage sign (often duplicated in Russian in recent years) and the women of different ages sitting at the door. As a rule, they are wearing the same work clothes. If you walk by, you'll almost always be told something like, "Mister, massaaa" (they used to say "Hello, massaaa", but in recent years you hear it less and less often).
Inside the massage parlor it's almost the same everywhere – chairs for foot, head and shoulder massages, beds for Thai and oil massages (which are covered with curtains, creating some privacy). If the salon is large or has two floors, there may even be small 2x2m oil massage rooms. Almost everywhere there is air conditioning, so that the massage in Pattaya takes place in a comfortable environment, not in the stuffiness.
Many salon owners, in order to stand out and create a more cozy atmosphere, hang pictures on the wall, put flowers, buy vessels with overflowing water (like mini waterfalls). May include calm relaxing music with oriental motifs.
If you want you can choose your favorite masseuse. If you say that you just came for a massage, then you will be massaged by the one, whose turn it is.
What kinds of massages there are
As in all of Thailand, massage in Pattaya has a dozen varieties, of which we will tell you about the main ones.
Foot massage (Foot massage)
Its purpose is clear from the name. This massage massages the feet, the lower legs and the thighs. At the end there are about 10 minutes of massage on the neck and the upper back. Foot massage in Pattaya is the most affordable and popular. It is done in comfortable chairs, which are almost always turned toward the street, so you can watch what is happening outside the window.
Thai Massage
It is a traditional Thai massage, which is different from the European massage. It is static, i.e. there is no stroking, but there is a lot of pressure on various points. It often hurts when there is pressure on a muscle. Try it once, and if you do not like it, do not do it in the future. In addition, it requires professionalism, which many masseuses can't always boast of. For this kind of massage it is better to take an older woman who has more experience and less chance that you will get something pinched.
Traditional Thai massage in Pattaya is done in the clothes on a bed or mattress. Sometimes such a bed is covered with curtains, sometimes not.
If you want to try a real Thai massage, then visit the school of Thai traditional massage Wat Po in Bangkok.
Oil Massage (Oil Massage)
This kind of massage in Pattaya is almost always synonymous with massage "with continuation". In its original form it is a European massage, when massaging the whole body with oil. The procedure is pleasant and relaxing, but then you have to wash off the oil with soap twice (this can be done directly in the massage parlor, where there is always a shower and a toilet).
If you decide during the massage to "continue," it will be for a fee. This money is given to the masseuse, and the official cost of the oil massage is paid at the "cash register." See below for prices.
Oil massage in Pattaya for men is often done without clothes at all, even underwear. Sometimes they let you cover the middle part of the body with a towel.
Head and back massage
This type of massage is very pleasant. It is done differently in different salons. Sometimes the chair massages the head, arms and upper back for an hour. If on a mattress, in addition to the head and hands, the entire back is massaged.
Other types of massage
In addition to the most popular, described above, there are other types: massage with aloe vera, coconut oil, milk, aromatherapy. These are mostly for women who want to make their skin firmer and smoother. Manicure and pedicure are also possible in Pattaya massage saloons.
Prices for massage
Massage in Pattaya costs almost the same everywhere. On the beach at 50-100 baht more expensive than the salons on the street. Away from the sea you can find options for 50 baht cheaper than will be written below. We are looking at the cost of services in massage parlors on the street, not in specialized spas. In them it can be 200-1000 baht more expensive. Naturally, they do not take just anyone, which means you can be sure that you will be massaged by certified people.
The cheapest massage can be found on Soy Buakao, where the Thai and foot massage costs 100-150 baht, and oil massage 200 baht. In other places the cost is standard and written below.
So, the prices for massages in Pattaya are as follows (per 1 hour):
foot massage and traditional Thai massage – 200 baht;
oil massage – 300 baht
head + back – 200 baht;
aloe vera, coconut oil, milk massage, aromatherapy, manicure and pedicure – 400 Baht
"Continuation" massage: "manual" work – 500 baht, oral sex – 600-700, classic – 800-1000 baht.
Tip
You don't have to give a tip, but considering such low prices on massages you can tip 50-100 baht. If you decide to tip less than 40 baht then it is better to keep the money because the masseuse will take it as a penny handout and will be really offended.
Keep in mind that tips are a source of income for masseuses. With each massage session she gets half of it from the "cash register". For example, a foot massage costs 200 baht and she gets only 100 baht. If you had a "massage with the continuation," then there is no point in giving a tip, you have already paid enough for it. Otherwise, they will get used to it, and next time they will immediately call a higher price or demand a tip.
Massage for the blind in Pattaya
It is believed that therapeutic massage is better for the blind. They have a more developed tactile sensitivity, and by touch can locate the problem area. They give a very hard and painful massage, so it is better not to go to them for relaxation. But if you are bothered by various pains, then you will not find a better place. And the procedure is cheaper than in a regular salon for 50 baht. The price for a traditional Thai massage – 120-180 baht (depending on the place).
The massage for the blind in Pattaya (in English Thai Blind Massage Institute, an acronym TBMI) is not found at every step. There are only a few famous places. You can also ask at the hotel. You may even be able to get transportation to the salon.
Here are three addresses where the blind craftsmen work:
1) Jomtien Complex 413/89 Thappraya Road, Moo 12. Located almost at the intersection where Thappraya Road turns sharply toward Jomtien Beach. Go under the arch and walk about 30 meters. The East Suites Hotel can serve as a landmark.
2) Jomtien Soi 8. A small salon, which is in the alley. From the sea walk 3 minutes on Soi 8.
3) Naklua Soi Street 20 and 22. You can enter from these two streets. Nearby are The Green Park Resort and Royal Orchid Resort hotels, which will serve as a guide.
Where to find the best massage in Pattaya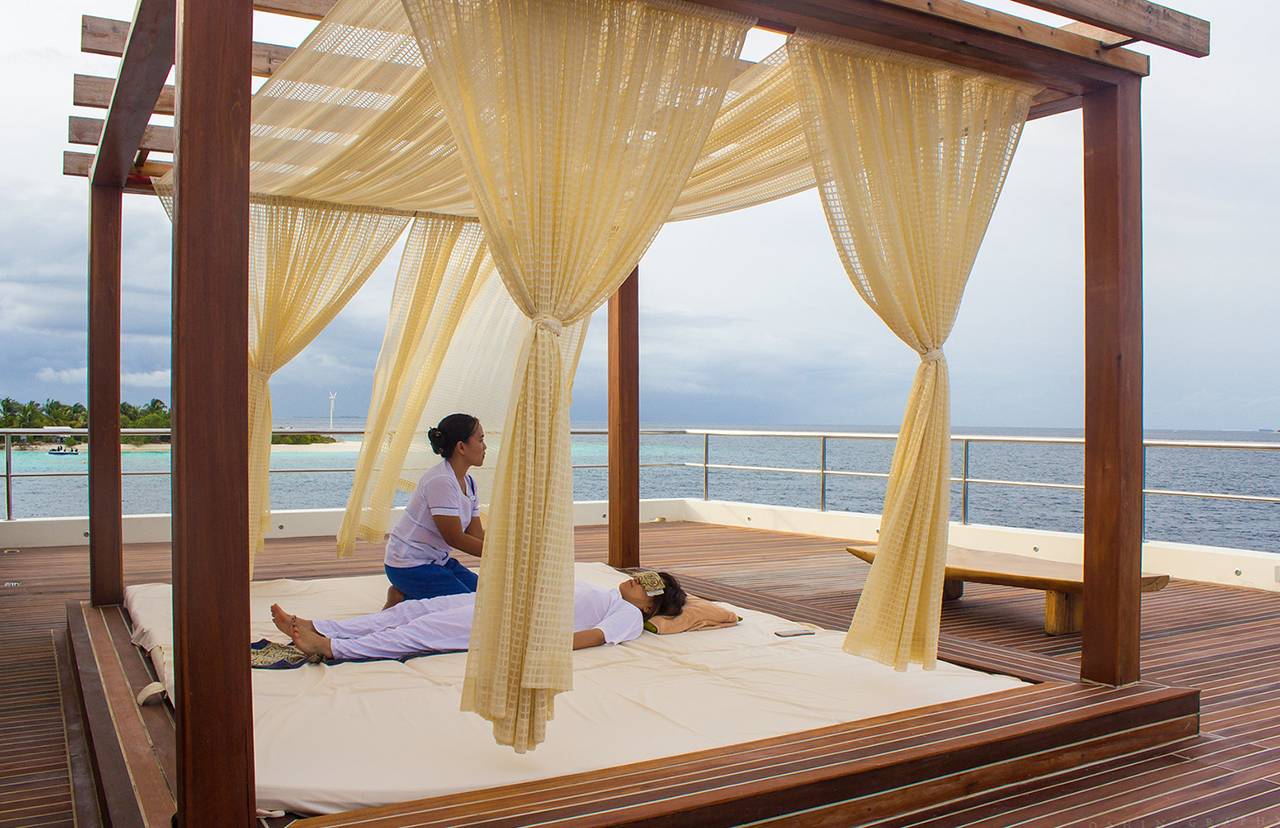 Would you like to try the famous Thai massage? We have done massage in Pattaya many times and share the addresses of the best massage therapists. How to choose a massage parlor, peculiarities of massage on the beach and sessions with blind masseurs. Are there any contraindications?
Content:
Types of Thai massage in Pattaya
Let's figure out what types of massage are offered in Pattaya and how much it costs.
Classic Thai massage Thai Massage is not done in a light mode. Its motto is "no pain, no result". 1 hour costs 150-250 baht.
After a long walk on foot we advise to relieve fatigue with Foot Massage . Foot massage is done in special chairs. 30 minutes costs 100-130 baht and 1 hour costs 200 baht. We think half an hour is quite enough!
During Oil Massage after warming up and warming up you will be rubbed with coconut oil – 300 baht. For Aroma Massage you'll pay from 500 baht. Don't be afraid of pungent smells! For Aroma Oil Massage the Thais choose not strong smelling oils with gentle scents.
Facial Massage in Pattaya looks unusual. At Facial Massage you will not only have your face cleaned, massaged, and given a mask, but also other parts of the body will be kneaded. The price for "all inclusive" is quite humane – from 250 baht per hour. The resort has other pleasures – head massage, herbal compresses, hot stones and hot oil massage.
If you liked the session, be sure to leave a tip. The amount is up to you, 50-100 baht is enough. Leaving less than 20 baht is not worth it – your masseur will be offended.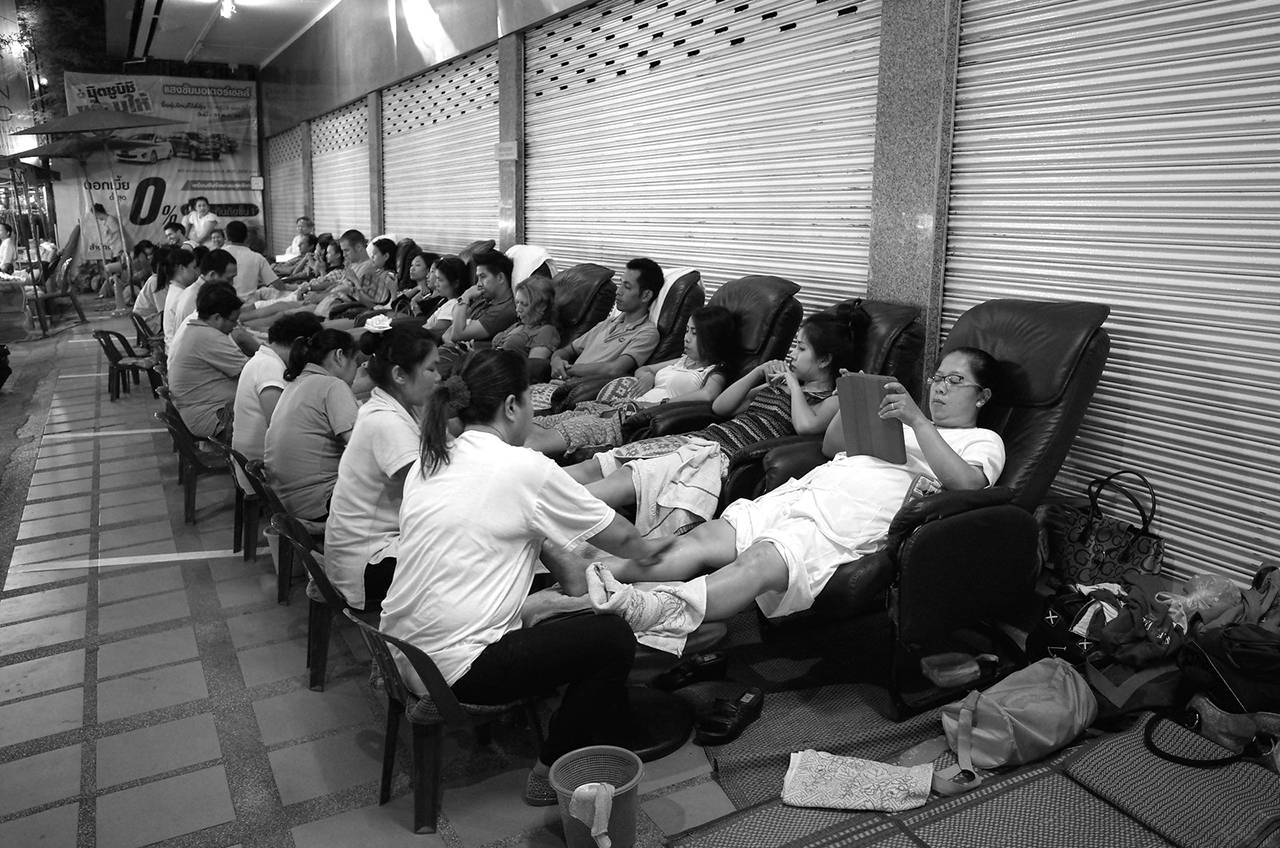 Foot massage (Photo: Lordcolus / flickr.com)
How to choose a massage parlor in Pattaya
Where in Pattaya do the best Thai massage? The answer to this question no one will give. We are all different, do not perceive massage techniques in the same way and have different expectations from the sessions. From the same salon leave both satisfied people and those who experienced disappointment.
The quality of massage in Pattaya is in no way connected with the pompousness of the institution and the prices. It all depends on the master. How to choose? Talk to those who have already had a massage or read online reviews. In our opinion, it is better to choose the old masseuses, which have been operating for a long time.
In Pattaya, there are many massage parlors with young attractive girls who curiously look at foreigners opening the door. Such establishments are in demand, but not for those looking for the best Thai massage. These are salons for body massage and other erotic pleasures. In Pattaya, everyone finds what they are looking for!
So where is the best massage in Pattaya?
Separating one office from the other is not easy, but it is necessary to do it, as you are handing your health to the masseur. We have tried different places for massages. The best one for us in Pattaya turned out to be Suksabai Massage on Soi Buakao, in the central part of the resort.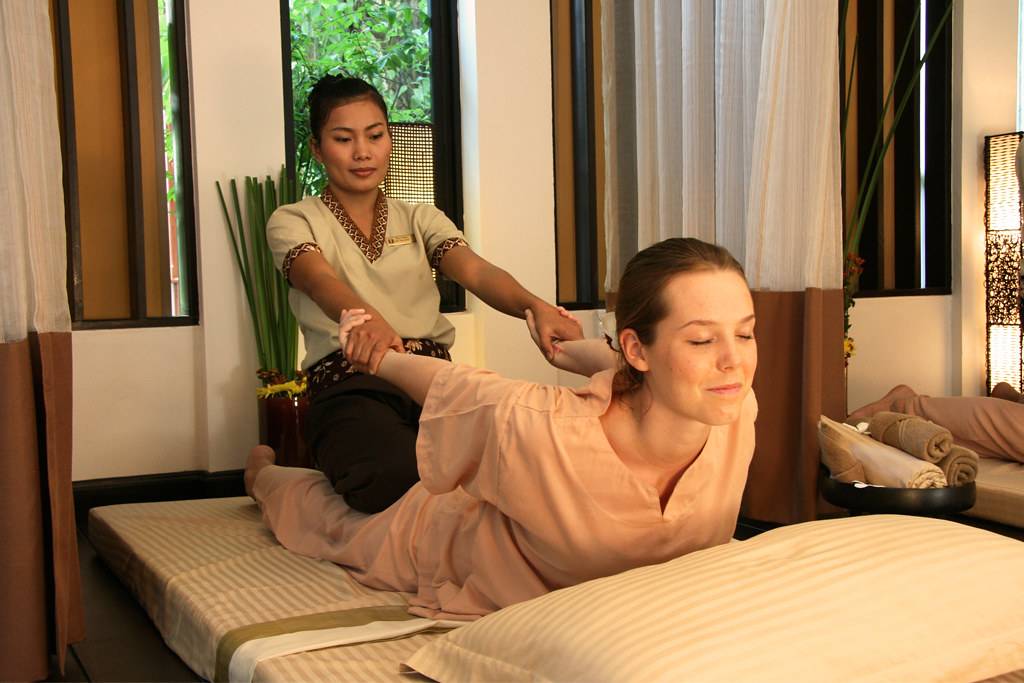 Thai back massage (Photo: Tara Angkor Hotel / flickr.com)
Pros and cons of massage on the beach
Many tourists give themselves into the hands of massage therapists right on the beach. Ironically, the beach massage is one of the best you can find in Pattaya. He costs less than in the salons – 150-250 baht per hour. The people working on the beaches are of an age that understands well what you need. They try to make you completely relaxed and say, "God, what a buzz!".
Of course, they won't show clients a professional degree at the beach. But do we often ask for certificates in a medical center or salon?
The main disadvantage of beach massage – you lie in front of everyone. Passers-by and holidaymakers on the sunbeds stare at the Thai's work and discuss the peculiarities of your figure and anguish: "Poor guy, how he gets it!
If you're not embarrassed by a simple beach bed and prying eyes, feel free to get a massage on the beach! Many people like it so much that they fall asleep under the hands of Thai massage therapists or fall into nirvana.
Massage on the beach (Photo: robertofaccenda.it / flickr.com)
Blind massage in Pattaya
Masseurs with vision problems have strongly developed tactile sensitivity, so they can easily identify the problem area by touch. Blind masters can work real miracles! With the help of their hands they can understand what hurts, and massage it so that you get a real pleasure.
Keep in mind that blind masseurs work quite hard, because they practice therapeutic rather than relaxing massage. If you are used to gentle stroking and rubbing, prepare for the fact that it will hurt. Our acquaintance was satisfied after the session, but he was oohing and aahing for two days!
The best Thai massage in Pattaya at the Thai Blind Massage Institute in the north of the resort – Na Kluea, 20 Alley. The popular Blind Massage salon operates on Jomtien, Soi 8. Another Blind Massage Institute with a herbal bath is on Third Street, 250 meters east of the intersection with Tappraya Street.
Who can't.
Thai massage has contraindications. They are not written about them on the walls of massage parlors. Business is business! The decision to go or not to go to the massage is up to everyone.
Classical Thai massage is contraindicated in pregnancy, cancer, leg diseases – varicose veins and thrombophlebitis. You should not go to the masseur with skin diseases, infectious diseases and alcohol intoxication. But if you are healthy and want a new experience, be sure to give it a try!