Where to go from St. Petersburg for a day: 10 favorite places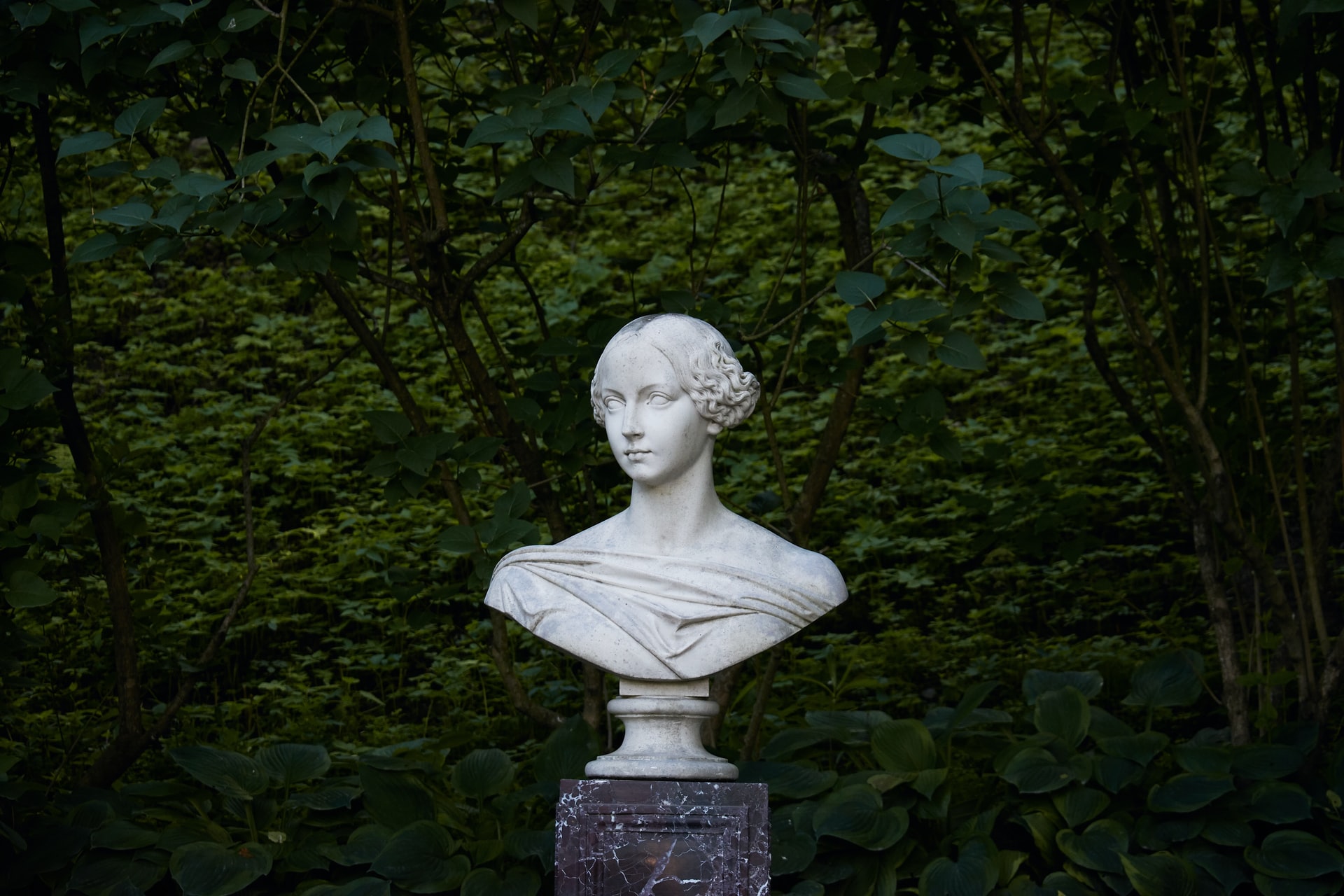 When I lived in St. Petersburg, I loved going to the suburbs. Everything is nearby: palaces and parks, manors and beaches, lakes, forests and even geysers and caves – and you can see everything in a day or two. And if you want you can even go to Finland for a weekend. What a life, a fairy tale. I've chosen for you my favorite places around St. Petersburg, where I've been and which strike a chord with me.
Pavlovsk
If you're tired of the city and museums, come to Pavlovsk park. His smooth tranquil lines – a rest for the eyes. The park is beloved by locals and tourists alike: here you can feed the nimble squirrels, ride a boat and bike, walk or jog. There are beautiful statues, palaces and museums. We walked around Pavlovsky Park in the spring and summer, but in the fall it is also very beautiful.
Admission costs 100 rubles, from 6 to 10 am and after 6:00 pm – free. The park is very interesting – you can get there from the train station "Kupchino" or from Vitebsk. There are also shuttles, you can see the list here. From St. Petersburg you can easily go by car alone or take a tour: there is an individual tour by car, and there is a group tour Pavlovsk + Gatchina + Tsarskoye Selo.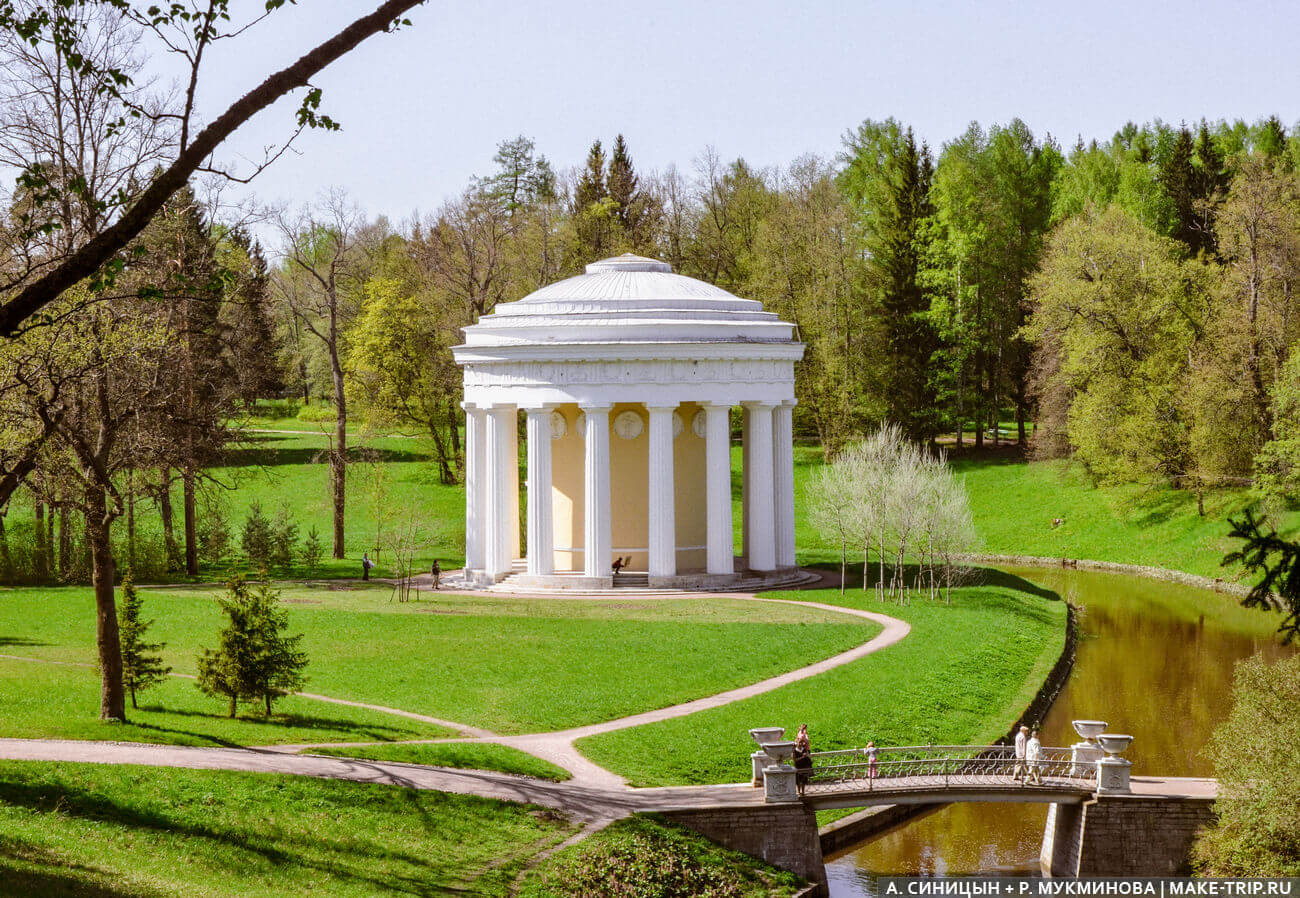 Pavlovsky Park – a great place to go from St. Petersburg inexpensively.
Shlisselburg
We went to Shlisselburg spontaneously, when there was a warm February day. We arrived and drove straight to the fortress "Oreshek". The ice looked a little thawed and crumpled underfoot, but the path to the fortress was treaded and marked with branches. It was a very adventurous trip – we could have fallen through the ice, but we walked along Lake Ladoga anyway. The fact that we did not meet any tourists did not embarrass us for some reason.
The fortress was deserted, only from somewhere were heard the voices of workers and muffled beats of instruments. Having seen everything to our shores, we started our way back when it got dark. Almost on the shore we met a man. He asked where we were coming from, and we answered naively, without suspecting anything, that we were coming from the fortress. You should have seen the look in his eyes and the dishevelled moustache! He made a threatening announcement that he was going to set the dogs upon us if we did not leave at once. We did not have to tell him twice, and quickly retreated. As it turned out later, the fortress takes tourists only until October 31.
The trip was unforgettable, but I advise against repeating it at home. Find out in advance on the website when the fortress is open. Entrance costs 250 rubles + 300 rubles for the ferry to the island and back. The ancient Russian fortress is very authentic, go for sure! For one day from St. Petersburg – and even for half a day – you can manage quite well. To get to Shlisselburg you can take bus 575 from metro Dybenko or 440 from metro Rybatskoe. Now you can also cross from the right bank of the Neva, check the link above. In addition, there are excursions from St. Petersburg to the "Oreshek".
Fortress "Oreshek", where we managed to go in winter.
Peterhof
Peterhof is probably the most famous suburb of St. Petersburg! The Russian Versailles is gorgeous: lots of gilding, fountains, sculptures and greenery. But don't expect to stroll along the shady paths in peace and quiet. In summer, especially a lot of Chinese tourists – it seems they are teleported from the Hermitage straight to Peterhof.
However, the fountains turn on only from May to September, and the rest of the time life in Peterhof is not so boisterous. The entrance to the Upper Park is free, to the Lower Park – for a fee. The territory is huge, come early. It took us 5-6 hours to get there. The passengers can get to the park from the Baltiysky railway station by shuttle bus.
The trip to Peterhof is usually done by meteors, which is a good opportunity to combine the sightseeing and the boat trip. It is fast and convenient, unlike the bus. Over Peterhof you can even fly a plane!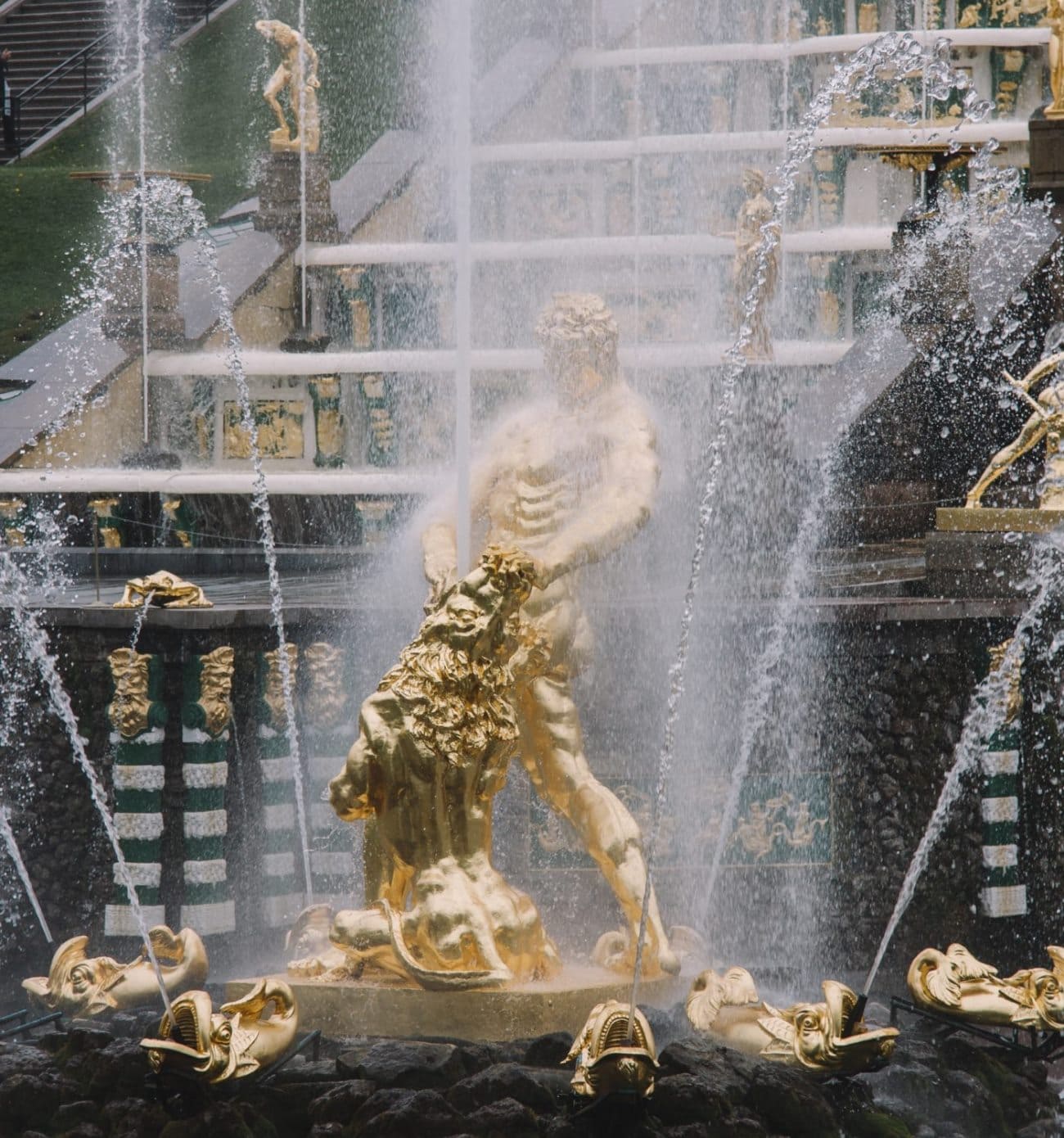 The fountains at Peterhof are amazing! Photo: iam_os / unsplash.com.
Kronstadt
We went to Kronstadt on a February day – it was unbearably dank and so gray that it seemed like the sky was about to crush this island city. So first thing we raced to a coffee shop, where we ate an eclair and sat for a long time, trying to warm up after the shuttle.
Of all the trip I remember the black silhouettes of warships, wind-blown pier, austere white lighthouse, Makarov bridge, the embankment and the impressive St. Nicholas Naval Cathedral, the richness of interior decoration and chandeliers, reminiscent of Istanbul's Ayia Sophia. Consider properly the dome of the cathedral.
Kronstadt is not far from St. Petersburg – there is a place for a day trip, but not in winter (it's freezing!). The city looks a lot more fun in summer and you can take a ship to the forts. To get there, take minibus K405 from metro station "Chernaya Rechka", bus 101 from "Staraya Derecha" and minibus K407 from "Prospekt Prosperity" station.
St. Nicholas Cathedral in Kronstadt reminded me of Istanbul's Ayia Sophia. Photo: Ninara / flickr.com / CC BY 2.0.
Vyborg
This cute little town that fell into my heart is no longer Russia, but not yet Europe. It is not Russia, because there is a castle with a gorgeous panorama, the Old Town Hall Square, a number of burger houses, cozy cafes, not a bad embankment and an absolutely stunning Monrepo Park, the landscapes of which bring us back to Finland. Not Europe – well, because it's still a long way off: behind the beautifully restored facade you'll see the ruin, ugly graffiti, advertising, and remnants of sovietism. But the city is gradually being put in order, buildings are being restored, and that's a relief!
If you want to get to Vyborg from St. Petersburg for a day, take a train at Ladozhsky or Finland Railway Station and it'll take you about an hour and a half, depending on the train. Also you can take bus number 850 from "Parnas" metro station. In general, during the day we had time to see everything, but I wanted to have more free time. I think on my next trip I'll take two days to see the city and the park slowly and thoughtfully.
You can go to Vyborg with a tour – there are group tours by bus and individual tours by car.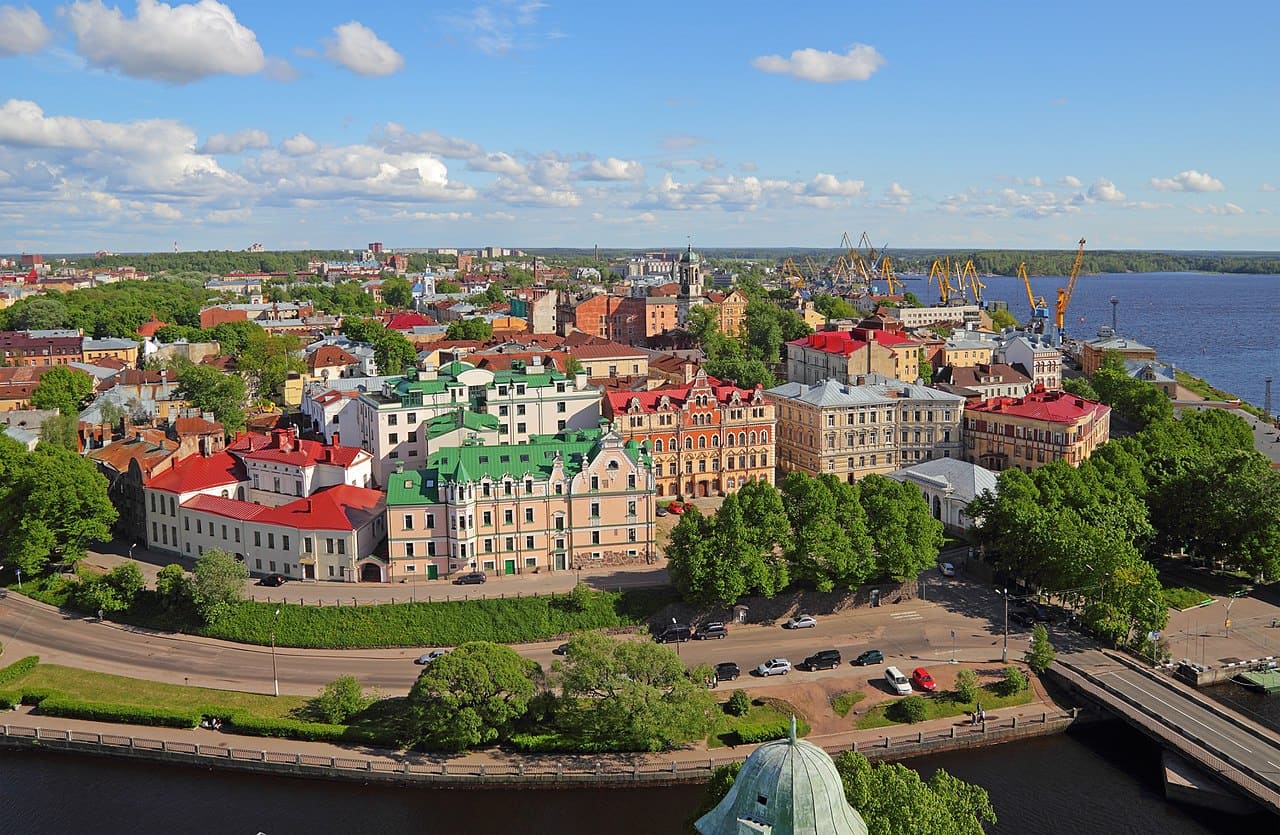 The most photographed view of Vyborg is from the tower of St. Olaf. Photo: A.Savin / commons.wikimedia.org.
Komarovo
Another charming St. Petersburg suburb where you can rest pleasantly for a day or two is the famous Komarovo from that very Soviet song. We used to come to Komarovo for a couple of hours to sit in the sun and watch the waves of the Gulf of Finland lazily licking the sand. Sleek pine trees, a refreshing breeze and. a swarm of mosquitoes, which fully justified the name. To be fair, on the beach they were dispersed by the wind, but in the village itself there was not a second of peace.
The beach in Komarovo is wonderful: long, with light sand and here and there picturesquely scattered stones. No development – only nature. The beach is closely approached by the forest. There is a well-groomed eco-trail with wooden paths, you can also take a look at the lake of Schuch, you can see the sights: the necropolis, the rests of the Reno villa, the Akhmatova cottage and the Yukhnevich cottage in Art Nouveau style.
To get there, take a train from Finland Station or the Udelnaya Railway Station, or bus #411, which leaves from Chernaya Rechka and Staraya Derevnya metro stations.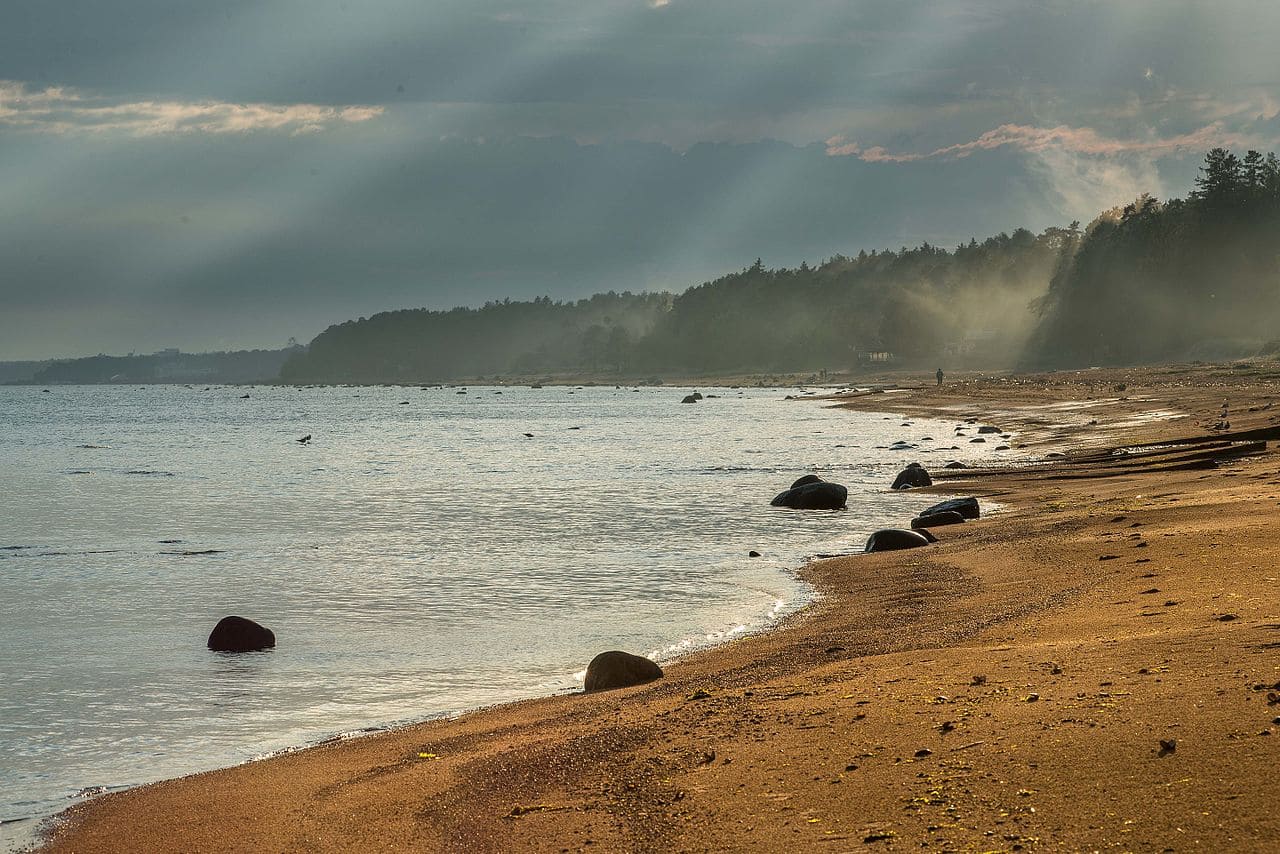 Komarov is cozy and quiet. Photo: Oopt.spb / wikipedia.org / CC BY-SA 4.0.
Alexandria Park
Go for a walk from St. Petersburg to Alexandria Park – it's not far and inexpensive. Unlike its famous neighbor Peterhof, the lovely landscape park with its Gothic chapel is empty. We walked there almost alone. In autumn the park looks quite Pushkin style. In the autumn, the park looks very Puskin-like.
On Tripster is an interesting tour "Unknown Peterhof". In addition to the park "Alexandria", the program has a lot of interesting things: palaces, estates, mansions, cottages. The guide will show you the world of estates on the southern coast of the Gulf of Finland.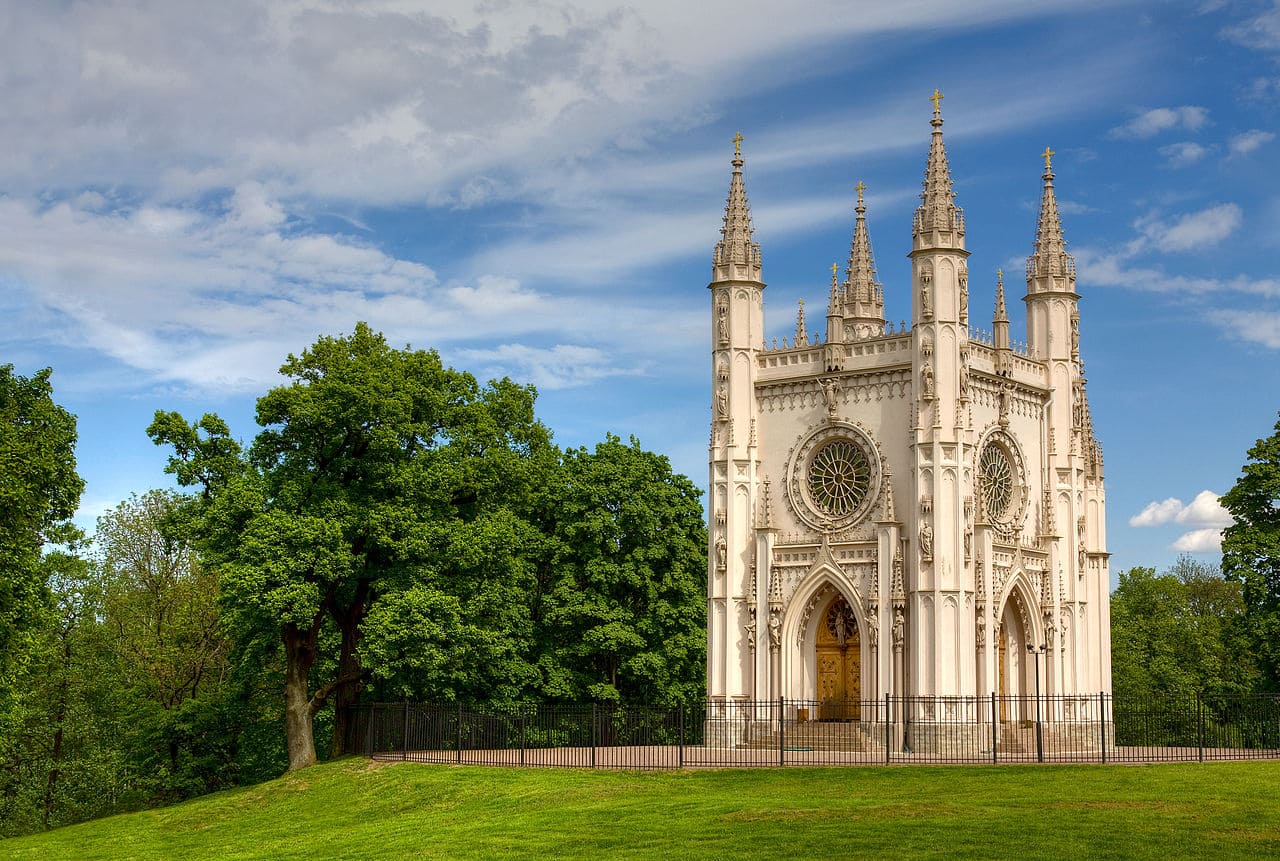 The Gothic Chapel in Alexandria Park is a very unexpected building in Russia. Photo: Pavlikhin / wikipedia.org / CC BY-SA 3.0.
Tsarskoe Selo
For a day out of St. Petersburg, I recommend a trip to Pushkin to visit the Tsarskoye Selo Museum-Reserve. There is a pleiad of parks and palaces. The main one is the baroque Catherine Palace, which is surprisingly reminiscent of the Winter Palace. It is there you can see the famous Amber Room.
We did not go into the palaces and pavilions, because we arrived late. If you wish to visit Pushkin earlier, take a good look around, walk around and see the interiors – the scale of the museum is impressive. We took a minibus, but it's better to take a train at the Vitebsk vokzal. At the site of the museum you can find out what else you can get by.
Many people visit Tsarskoe Selo with a guide – you can take an individual tour for up to 7 people or a group tour by bus and visit three residences in one day.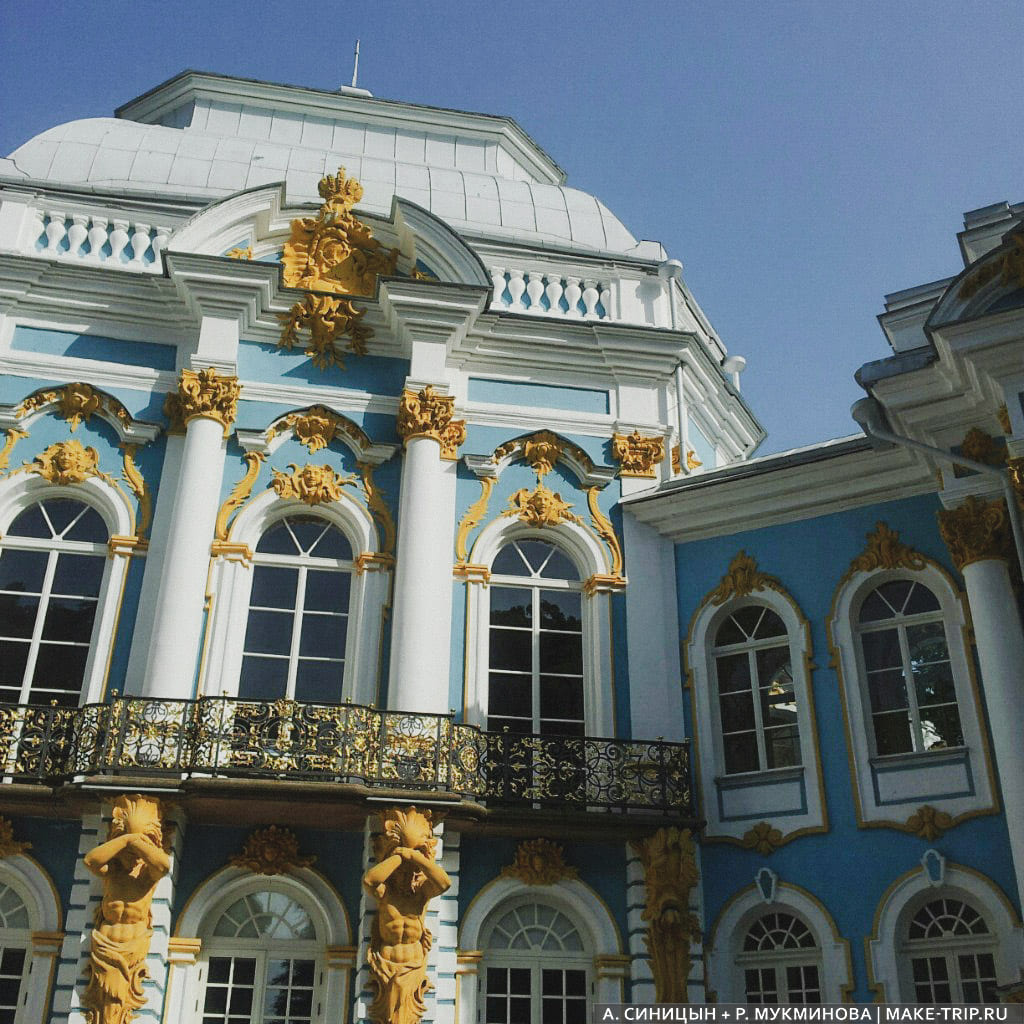 Catherine Palace in Tsarskoe Selo.
Karelia
It's great if you can make a weekend trip from St. Petersburg to Karelia! Mossy forests, mirrored lakes, pink sunsets. You can see the Marble Canyon in Ruskeala, go to Petrozavodsk, go on some active tours, camping in a cozy camping site near a lake or pitching a tent on a wild beach near a lake.
Usually people come to Karelia for a couple of days, but we've been traveling all over the republic for two weeks, and then we moved to the Kola Peninsula. What can I say, the northern nature is harsh, but extremely beautiful! Learn how to travel to Karelia by car.
Read more about Karelia: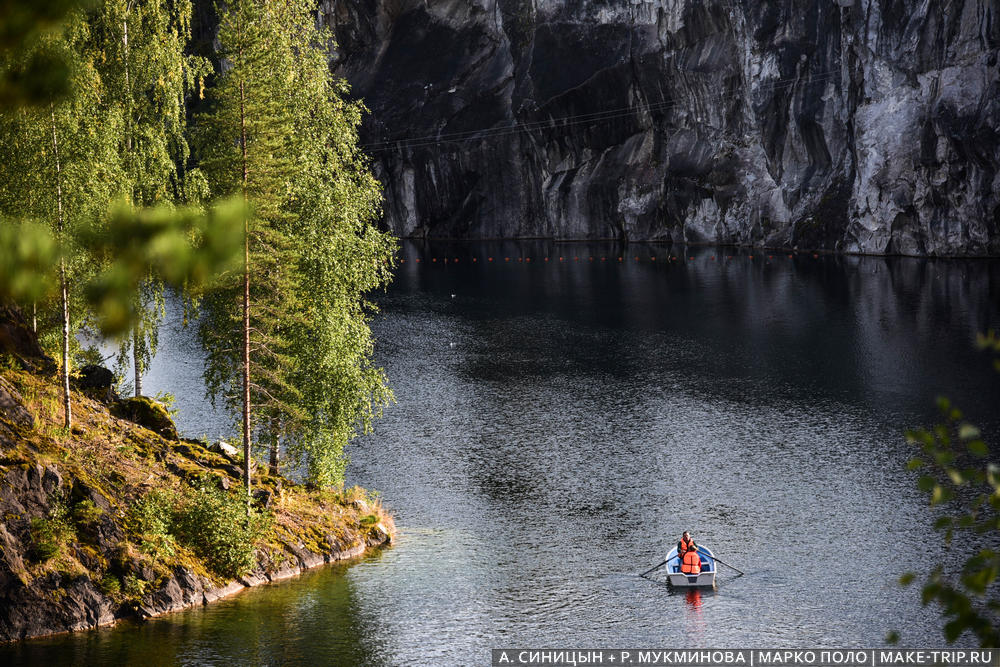 Marble Canyon in the Ruskeala Mountain Park.
Other places
We have not yet been to Lomonosov, Sestroretsk, Gatchina, Roschino, Zelenogorsk, Vsevolozhsk. There are so many interesting places in Leningrad region: Priozersk, Staraya Ladoga, Vyritsa. They say it's great there. If you know some other nice places to go from St. Petersburg for a day or two, write in the comments!
Oranienbaum in Lomonosov. Photo: Ninara / flickr.com / CC BY 2.0.
Where to go for a weekend getaway from St. Petersburg? 8 routes and personal experience
Hi, my name is Alexandra. I lived in St. Petersburg for 6 years. From personal experience, I know where to go inexpensively from St. Petersburg for a weekend, where to look for accommodation for the night and how to get to cool locations. And if you do not want to do the planning of the trip yourself, I have collected in the article examples of ready-made tours and excursions from St. Petersburg for the weekend.
Where to look for lodging and a car?
There are more than 200 museums in St. Petersburg, dozens of theaters, and more bars and pubs than in Moscow. Do not write off the places in the vicinity of St. Petersburg, the suburbs, neighboring cities and even the republics, where you can also go for a vivid experience.
The booking services Airbnb and Booking are no longer working in Russia – it has become more difficult to find lodging. Few people know that there are convenient domestic analogues with an excellent interface. And there are more offers for accommodation in Russia than on the once popular booking service. Here are the sites you can use to search and rent accommodation in our country:
– apartments, houses, rooms, like Airbnb – the largest database of hotels and hostels in Russia and abroad – hotel aggregator from Yandex – hotel aggregator from Aviasails – domestic search engine with the best prices on the Black Sea hotels
Fans of more unconventional accommodation options should try glamping – there are many of them in the Leningrad region, and all so unusual!
Most places can be reached by bus or by train. If you want to have a summer road trip, but don't have your own car, you can get help from carshare.
– from 8,5 p/min, from 1500 p/day. – from 5 p/min, 2450 per day. – from 12,63 p/min, 2097 p/day.
Finland
Distance from Saint-Petersburg: 148 km How to get there: by car, by bus
My favorite destination for a trip from St. Petersburg for 2 days is not a city, not a suburb, and not even a republic, but the whole country. The border with Finland is 148 km from St. Petersburg. The easiest way to go to Finland for the weekend is to take a bus to Helsinki. I go only on Luxexpress and Ecolines after bad experience with other carriers.
Finland is especially urgent now, because since July 15 Russia has abolished covid restrictions on crossing land borders. Now it is possible to travel overland without grounds, including tourist purposes. There's a big rush at the visa centers, so if you do not have a Schengen, it's worth booking a day and time to visit in advance to apply for a visa.
I was very much helped by the premium hall at VFS Global on Stremyannaya Street – the hall staff would serve tea and help fill out the form.
I want to come to Finland again and again. The first reason is that almost every house has a sauna. Even in hostels you can enjoy a sauna. The second reason is that large-scale buildings are very rare, which makes breathing easy and very comfortable. And finally, near the reservoir in Helsinki, there is certainly a recreational area with sun loungers – all very neat and thoughtful.
I first came to Finland in the mid-2000s. Chain stores like H&M and Zara were a rarity in Russia back then. I remember coming back with huge bags of foreign things. And it seems like the good old days of shopping in Europe are coming back.
Of the places of interest, I was particularly impressed by the Kiasma Museum of Contemporary Art with its macabre, mystical displays by Scandinavian artists. Another must-see place is the church in Temppeliaukio Rock. And in the Linnanmäki amusement park there is an observation deck that offers a stunning view of the entire city.
If you go to Finland with children in winter, go to Lapland, to the village of Santa Claus. On the way you may meet reindeer – I had more than one run across the road. The village has many souvenir shops, a complex with a cafe with ice tables and benches, slopes for sledding and entertainment park "Santa Claus Cave. This trip is one of my favorite memories from my childhood.
Where to stay:
– A modern hotel with an outdoor spa and an affordable price. Helsinki, Mannerheimintie 109 is a budget hostel with a central location. Double and even single rooms are available. In the morning you can visit the sauna. I am not a fan of hostels myself, but this one seemed comfortable and decent. Helsinki, Linnankatu 9
If you're thinking about where to go from St. Petersburg abroad, Finland is an easy and affordable destination, all thanks to an open land border.
Karelia
Distance from St. Petersburg: 300 km How to get there: by car, by bus, by train
Karelia and the Ruskeala Mountain Park will please you at any time of year. In winter, you can see the snow-covered marble canyon, take a dog sled ride, see the northern lights. In summer, popular are boat trips on the islands of Lake Ladoga, hiking and overnight stays in tents. The weather in Karelia is changeable, so pack clothing for any occasion. And the main thing: take bug spray, otherwise mosquitoes and flies will badly spoil your vacation.
The most comfortable way to travel in Karelia is by car. You can plan your own route and stay not in a boring hotel but in the camping or glamping areas which are not accessible by public transportation.
Where to stay:
– Cozy Scandinavian lodges in the Karelian forest with a Russian bathhouse. Located two hours drive to Ruskeala. Essoyla – unique accommodation in samma kuvaks and bungalows on the lake shore. Lahdenpohja – barrel-shaped cottages with all amenities. Lyaskelya, Sovetskaya ul. 52 – budget cottages on the lake shore. Shui rural settlement – standard hotel with sauna, swimming pool and good reviews. Petrozavodsk, Gulling embankment, 2
In Karelia you can always find weekend excursions with a departure from St. Petersburg for all tastes and wallets.